Search and Buy Jin Air Flights Online with Alternative Airlines
---
About
Jin Air is a Korean low-cost airline based in Seoul, South Korea. The airline uses Incheon International Airport as its hub and flies to destinations within east Asia, as well as to the US and US territories. Overall, the airline flies to more than 30 destinations within these areas.
The airline was founded in 2008 and flew its inaugural service with a long-haul flight from Incheon International to Honolulu Airport.
After Jeju Air, Jin Air is the second-largest low-cost carrier in Korea and is one of the most well-connected airlines in the country.
Did you know? If you book your Jin Air flights through Alternative Airlines, you can pay later with one of the many flexible payment plans we offer at checkout. Read our Fly Now Pay Later with Jin Air guide for more information.
---
Fleet
Jin Air is the only low-cost airline in Korea that uses widebody aircraft to operate its flights. The airline has a fleet that is comprised entirely of Boeing, with a mix of Boeing 737-800 and Boeing 777-200ER aircraft.
---
Destinations
Jin Air flies to over 30 destinations overall.
Domestic Destinations
CITY
AIRPORT
Busan
Gimhae International Airport (PUS)
Cheongju
Cheongju International Airport (CJJ)
Gwangju
Gwangju Airport (KWJ)
Jeju
Jeju International Airport (CJU)
Seoul
Gimpo International Airport (GMP)
Incheon International Airport (ICN)
International Destinations
COUNTRY
CITY
AIRPORT
China
Hong Kong
Hong Kong International Airport (HKG)
Macau
Macau International Airport (MFM)
Shanghai
Shanghai International Airport (SHA)
Xi'an
Xi'an Xianyang International Airport (XIY)
Guam
Hagåtña
Antonio B. Won Pat International Airport (GUM)
Japan
Fukuoka
Fukuoka Airport (FUK)
Kitakyushu
Kitakyushu Airport (KKJ)
Naha
Naha Airport (OKA)
Osaka
Kansai International Airport (KIX)
Sapporo
New Chitose Airport (OKD)
Tokyo
Narita International Airport (NRT)
Laos
Vientiane
Wattay International Airport (VTE)
Malaysia
Johor Bahru
Senai International Airport (JHB)
Kota Kinabalu
Kota Kinabalu International Airport (BKI)
Northern Mariana Islands
Saipan
Saipan International Airport (SPN)
Philippines
Angeles
Clark International Airport (CRK)
Cebu
Mactan–Cebu International Airport (CEB)
Kalibo
Kalibo International Airport (KLO)
Taiwan
Taipei
Taiwan Taoyuan International Airport (TPE)
Taiwan
Kaohsiung
Kaohsiung International Airport (KHH)
Thailand
Bangkok
Suvarnabhumi International Airport (BKK)
Phuket
Phuket International Airport (HKT)
United States
Honolulu
Daniel K. Inouye International Airport (HNL)
Vietnam
Da Nang
Da Nang International Airport (DAD)
Hanoi
Noi Bai International Airport (HAN)
---
Route Map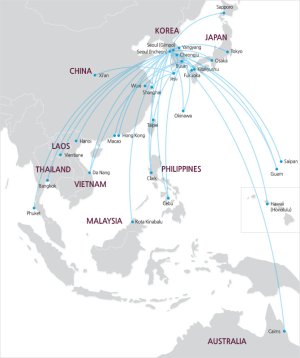 ---
Baggage
Carry-on Baggage
Passengers are allowed one item of carry-on luggage, weighing a maximum of 12kg and must fit within the combined dimensions of 115cm.
In addition, passengers are permitted one small personal item, for example, a small handbag, a coat or a laptop case.
Checked Baggage
The free baggage allowance for checked baggage depends on the route flown and the age of the passenger. Take a look at the table below for more information.
AGE
ROUTE
NO OF. FREE BAGGAGE
WEIGHT ALLOWANCE
Adults & Children (+2 years)
Southeast Asia, Japan,
Hong Kong, Macau, Taiwan
1
15kg
China
1
20kg
USA & US Territories
2
23kg per piece
Australia
1
23kg
Infants (under 2 years)
All flights
1 (+1 stroller/child car seat)
10kg (+ weight of stroller/child car seat)
---
Check-In Information
Online Check-In
Jin Air offers online check-in for domestic flights and international flights that depart from Incheon or Busan. This opens 24 hours before flying and will close 30 minutes prior to departure for Korean domestic flights, or 90 minutes prior to departure for international flights. To check-in visit the link online check-in page. Please note this service is not available for Guam or America.
Airport Check-In
Passengers who cannot check-in online must report to the Jin Air check-in desk at the airport and check-in in person.
---
Economy Class
Currently, Jin Air offers one class fare on its flights, Economy Class.
Economy Facilities
Passengers can enjoy a light meal onboard with hot and cold beverages. Passengers can also stay entertained onboard with Jin Air's in-flight magazine and SkyShop Duty-Free catalogue. Tablets and Wi-Fi are available onboard.
Economy Seating
Enjoy comfortable and spacious seating with a good amount of legroom.
The airline also offers JINI PLUS seats, which are larger and available to purchase at an additional cost. JINI PLUS seats are 15cm wider than other seats in Economy Class.
---
In-Flight Entertainment
Passengers can enjoy a range of movies, TV shows, music and more with Jin Air's in-flight entertainment system, JINI Entertainment. To use JINI, passengers must download the JINI PLAY app to their IOS or Android device prior to the flight and — once in-flight — connect to the JINI PLAY in-flight Wi-Fi network to access JINI.
The in-flight entertainment system works on a pay-as-you-go basis. Once you've selected the entertainment that you want to play, you'll be taken to a payment page where you can complete the purchase to access the entertainment.
JINI Entertainment is free to use on select domestic flights.
---
Food
In-flight, Jin Air offers a range of hot meals and sandwiches that are inspired by Korean cuisine, as well as a few international dishes. Meals are complimentary on long-haul flights and are subject to availability on short-haul flights.
As well as meals, the airline also offers a selection of snacks and drinks, which are available to order once in-flight.
---
WIFI
Jin Air's WIFI network, JINI PLAY can only be used to access the airline's in-flight entertainment system. The WIFI cannot be used to browse the web.
---
Frequent Flyer
Nabi Points
Passengers can collect Nabi Points for every Jin Air flight that they purchase and use their collected points to purchase flights in the future.
Points are earned for each one-way flight purchased, with more points earned for international flights than earned for domestic flights.
---
Airline Alliances
Jin Air isn't a member of any airline alliance. However, it does have codeshare and/or interline agreements with the following airlines:
Codeshare
Interline
---
Hub Airport
Incheon International Airport
Incheon International Airport is the hub airport for Jin Air. It's one of the largest and busiest airports in the world, with seeing over 60 million passengers and 2.9 tonnes of cargo handled annually. It has two terminal, three runways runway and one helipad.
The airport has a range of facilities, including special amenities such as a spa, sleeping rooms, casino and the Museum of Korean Culture.
Incheon International Airport is also a hub for Air Incheon, Asiana Airlines, Eastar Jet, Jeju Air and Korean Air.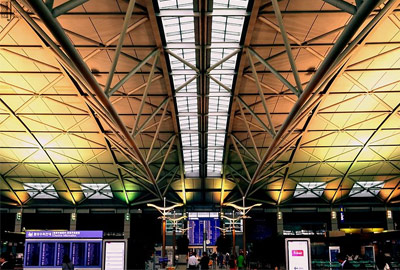 Credit: Kmonsoor on Wikimedia Commons
---
Book Jin Air Flights in English
Book your chosen Jin Air flight with Alternative airlines as we offer to book in English. This is paired with a wide choice of flight times, itineraries and payment methods, including chosen currency, providing a trusted company with great choice and prices. Any questions or problems you may have can be dealt with by our excellent customer service team in English.
---
Alternative Airlines to Jin Air
Please click on the logos below to find out more about airlines that fly similar routes to Jin Air: