Search and Buy Eastar Jet Flights with Alternative Airlines
Make a Eastar Jet reservation with amazing deals
---
About
Eastar Jet is a low-cost airline headquartered in Banghwa-dong, Seoul, South Korea.
Founded in 2007 and in 2009 Eastar Jet flew its first flight from Gimpo International Airport to Jeju International Airport. Today the airline operates passenger services to 14 destinations. In 2009 Eastar Jet received its air operators certificate and later in 2009, the airline flew its first international flight from Incheon to Kuching, Malaysia. In 2016, Eastar Jet became a member of the U-FLY Alliance.
Eastar Jet aims to "Go beyond Asia and popularise the air travel". The airline has created a new hub at Saemangeum, which will provide new opportunities for Korea and expanded domestic routes that connects Jeju, Gunsan, Gimpo and Busan.
Eastar Jet Destinations
| | | | | | | |
| --- | --- | --- | --- | --- | --- | --- |
| | | | Cambodia | | Siem Reap | |
| | | | China | | Hong Kong | |
| | | | | | Kinan | |
| | | | | | Ningbo | |
| | | | | | Shanghai | |
| | | | | | Shenyang | |
| | | | Japan | | Fukuoka | |
| | | | | | Naha | |
| | | | | | Osaka | |
| | | | | | Tokyo | |
| | | | Malaysia | | Kota Kinabalu | |
| | | | Republic of Korea | | Chongju | |
| | | | | | Gunsan | |
| | | | | | Jeju City | |
| | | | | | Seoul | |
| | | | Taiwan | | Taipei | |
| | | | Thailand | | Bangkok | |
| | | | | | Phuket | |
| | | | Vietnam | | Hanoi | |
---
Baggage
Carry-on Baggage
Passengers are permitted 1 piece of hand luggage each. This must not exceed the dimensions 20 + 55 + 40 cm, and the weight of 7kg.
In addition, passengers are permitted one personal item, such as a laptop, briefcase, handbag or cosmetics bag.
Event Fare: Checked Baggage can be pre-purchased and must not exceed 15kgs Discount Fare/ Package Fare: 15kg Free Regular Fare: 15kg Free
Checked Baggage
Eastar Jet passengers are allocated checked baggage allowance according to the type of fare purchased:
Passengers who have purchased a Discount Fare or Regular Fare are permitted 15kg of free checked luggage.
For Passengers who have purchased an Event Fare are permitted, there is no free checked baggage. Passengers can purchase 15kg prior to flying, for both domestic flights and international flights.
Checked luggage must fit the combined dimensions of 203cm (length x height x width).
---
Check-In Information
Online Check-In
Eastar Jet offer online check-in, or web check-in, for domestic travel. This service is for passengers who are not travelling with any checked baggage. This service opens 24 hour hours before departure, and will close 1 hour before departure.
Airport Check-In
Passengers who were not able to check in online are required to check in at the airport. The check-in desk opening and closing times are dependent on the airport flying from, which you can look up on their Airport Information page.
---
Economy Class
The airlne offers a single cabin class: Econony
The cabin has standard seating for all economy passengers, offering comfortable padded seats with overhead storage, fold-down trays, personal lighting and air-con. Within the Economy class there are three fare types, which can be purchased to customise your experience: Event, Discount and Regular
Eastar Event Fare
In the Event fare, which is purchased during a sale for the chance to get a super-cheap flight ticket, passengers do not have any checked baggage, seat assignment, flight meals or cancellations and changes to the ticket. These, however, can be purchased for a additional fee if required.
Eastar Discount Fare
Discount fare is the middle fare. Included in the ticket price is 15kg of checked baggage, for both domestic or international flights. Passengers can also choose to select their seat or purchase an in-flight meal for a small charge.
Eastar Regular Fare
The regular fare provides the most flexibility in Eastar's only cabin class; economy. Passengers get 15kg of free checked baggage on this fare. Passengers can choose to purchase a seat selection on both domestic and international flights, and also can choose to purchase an in-flight meal on international flights. Passengers can also change their journey with no fees on this airline.
---

Hub Airport
Incheon International Airport
Incheon International Airport is South Korea's largest airport. It is located west of the city centre of Incheon, with its features including indoor gardens, a spa, a golf course, a casino and a Museum of Korean Culture. As one of the busiest airports in the world, 2017 saw it process over 62 million passengers, and 2.9million tonnes of cargo.
Incheon Airport is also the hub for airlines such as Air Seoul, Air Incheon, Jin Air and Korean Air.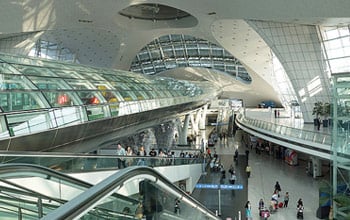 ---
Book Eastar Jet Flights in English
Alternative Airlines provides passengers with the opportunity to book their flight in English. Get peace of mind by making your reservation in English with Alternative Airlines and having a wide choice in payment method, including the opportunity to book flights with Paypal.
---
Route Map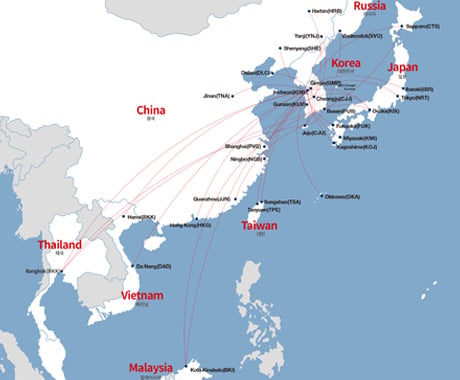 ---
Eastar Jet Fleet
As of April 2019, the airline operates a fleet of the following aircraft:
Boeing 737-700
Boeing 737-800
---
Alternative Airlines to Eastar Jet
Please click on the logos below to find out more about airlines that fly similar routes to Eastar Jet:
---
Eastar Jet News
29th June 2018
Eastar Jet opens route to Vladivostok
The budget airline Eastar Jet has commenced operations on a new route from Incheon to Vladivostok. Incheon in South Korea's main gateway located west of the capital Seoul. The carrier said it will offer three daily flights with the 189-seat B737-800 passenger jet. The service will be available on Wednesdays, Fridays and Sundays up till July 29, perhaps in time for the world cup! The latest move raised the number of Asian Pacific routes operated by Eastar Jet to 28 foreign destinations, including Hong Kong, Tokyo and Bangkok.