Buy
Eastar Jet

Flights

Search and Buy Eastar Jet Flights Online with Alternative Airlines
Make a Eastar Jet reservation and find some amazing deals with discounted Eastar Jet at Alternative Airlines
---
Eastar Jet is a low-cost airline headquartered in Banghwa-dong, Seoul, South Korea.
Founded in 2007 and in 2009 Eastar Jet flew its first flight from Gimpo International Airport to Jeju International Airport. Today the airline operates passenger services to 14 destinations. In 2009 Eastar Jet received its air operators certificate and later in 2009, the airline flew its first international flight from Incheon to Kuching, Malaysia. In 2016, Eastar Jet became a member of the U-FLY Alliance.
Eastar Jet aims to "Go beyond Asia and popularize the air travel". The airline has created a new hub at Saemangeum, which will provide new opportunities for Korea and expanded domestic routes that connects Jeju, Gunsan, Gimpo and Busan.
Eastar Jet utilizes a Boeing B737-NG, which provides safety thoughtout its services and also operates an around the clock maintenance system with business tie-up of world's most distinguished airline maintenance companies. Eastar Jet has codeshare agreements with T'way Airlines, a low-cost airline based in Seoul, South Korea.
---
News
29th June 2018
Eastar Jet opens route to Vladivostok
The budget airline Eastar Jet has commenced operations on a new route from Incheon to Vladivostok. Incheon in South Korea's main gateway located west of the capital Seoul. The carrier said it will offer three daily flights with the 189-seat B737-800 passenger jet. The service will be available on Wednesdays, Fridays and Sundays up till July 29, perhaps in time for the world cup! The latest move raised the number of Asian Pacific routes operated by Eastar Jet to 28 foreign destinations, including Hong Kong, Tokyo and Bangkok.
24th May 2018
Six Korean low-cost airlines see huge profit jump in Q1 2018
Budget airlines in Korea have seen a massive year-on-year rise in profit in the first quarter of 2018. Their total profit has more than doubled in comparison to the same time frame in 2017.
The figures are taken from the combined operating profits of Korea's six low-cost carriers — one of which is JinAir — and show that numbers increased by 131% to bring in 186.1 billion won. Meanwhile, revenue was at 1.18 trillion won, meaning that the combined revenue grew by 34.2%. The other five low-cost Korean carriers include Jeju Air, T'way Air, Eastar Jet, Air Busan, and Air Seoul.
The boost in numbers could be due to the fast-growing demand for international and domestic flights within Korea and the rest of the world.
16th May 2018
Eastar Jet launches new service to Vladivostok
Eastar Jet, the South Korean low-cost carrier, said it will open a route to Russia's far eastern city of Vladivostok next month in its latest move to expand its service in the region. Eastar Jet has stated that the route will take off from Incheon, South Korea's main gateway located west of Seoul, on June 13. The service will carry passengers between the two nations three times a week on a 189-seat B737-800 passenger jet. The latest move raised the number of Asian Pacific routes operated by Eastar Jet to 23 foreign destinations, including Hong Kong, Tokyo and Bangkok.
16th February 2016
South Korea's Low Cost Carriers achieve huge increase in profit!
The main budget carriers in South Korea have reported a combined revenue of 278.8 billion won, ($257.9 million) in 2017, up twofold from the year before. This impressive figure was achieved by the diversifying of Low Cost Carrier (LCC) routes and extending the breadth of their markets. Easter Jet, along with Jeju Air, Jin Air and others have increased their sales by 35% year-on-year. Operating income has surged by a whopping 92.7%. This has come despite a loss in China traffic due to diplomatic tension in the region. Of the six largest budget airlines, Jeju Air's earnings topped 101 billion won, with its sales reported at 996.3 billion won. The operating profit marks the first time that a budget carrier exceeded the 100 billion-won mark. Eastar Jet saw gains in sales and operating profit in 2017.
Related to last year's market developments, a transport ministry official said there will be even greater competition to attract travelers this year, with local LCCs moving to acquire more passenger jets and generally engaging in aggressive marketing efforts. "Every effort will be made to reduce any fallouts from stiffer competition, with companies to be encouraged to expand flights and offer more services to customers," he said.
23rd May 2017
EastarJet in the 3rd quarter of 2017 plans to introduce add service to Hokkaido, with the offering of Seoul Incheon – Sapporo New Chitose route. This route will be served 1 x Daily effective from 1st Juky 2017
24th April 2017
Eastar Jet has opened 5 new air routes using connecting flights of other low cost carriers affiliated with the U-Fly Alliance - the world's first alliance of low-cost carriers. U-Fly Alliance was launched in January 2016 with the participation of HK Express, Lucky Air, Urumqi Air and West Air, focusing on Hong Kong, China and Southeast Asia.
The new routes are ones linking Incheon-Hong Kong-Kunming, Incheon-Hong Kong-Nha Trang, Incheon-Narita-Hong Kong, Incheon-Osaka-Hong Kong and Incheon-Fukuoka-Hong Kong. Passengers of the tickets linking the new air routes are allowed to stay for up to 15 days in stopover cities.
Eastar Jet joined the alliance in July 2016 and launched in December 2016 an air route to Thailand's Chiang Mai from Incheon using the HK Express flight connecting Hong Kong and Chiang Mai.
---
Destinations
Cambodia (Siem Reap)
China (Hong Kong; Kinan; Ningbo; Shanghai; Shenyang)
Japan (Fukuoka; Naha; Osaka; Tokyo)
Malaysia (Kota Kinabalu)
Republic of Korea (Chongju; Gunsan; Jeju City; Seoul)
Taiwan (Tapei)
Thailand (Bangkok; Phuket)
Vietnam (Hanoi)
---
Route Map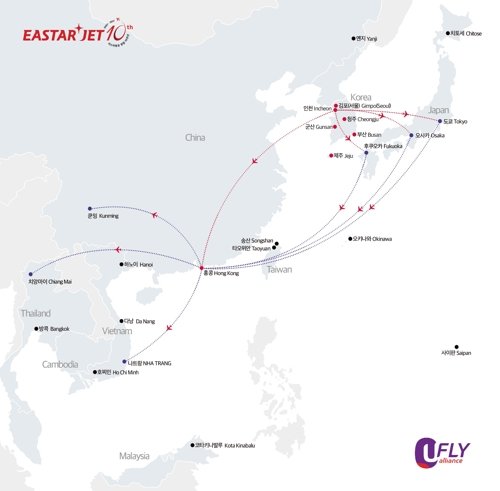 ---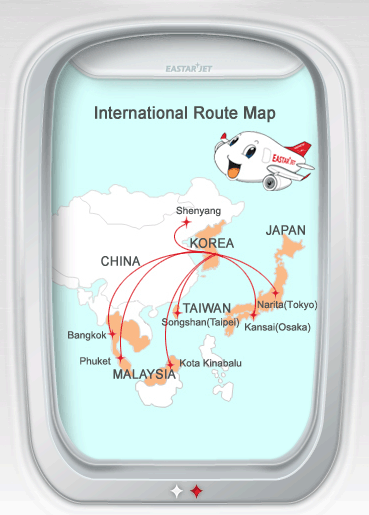 ---
Baggage
1 hand luggage is permitted for each passenger to take into the cabin, with a maximum of 7kgs. Size: 20cm x 55xm x 40xm
Event Fare: Checked Baggage can be pre-purchased and must not exceed 15kgs
Discount Fare/ Package Fare: 15kg Free
Regular Fare: 15kg Free
---
Fleet (as of August 2016)
3 Boeing 737-700
14 Boeing 737-800
Book Flights with Eastar Jet Airlines
Make a Eastar Jet reservation and find some amazing deals with discounted Eastar Jet at Alternative Airlines. Eastar Jet flies to many destinations, offering a cost effective and safe service to all its passengers. Let Alternative Airlines help find you cheap Eastar Jet tickets and make reservations on Eastar Jet today.
Browse the most popular Orient Thai Airlines flight routes to destinations within the Thai regions. Alternative Airlines can help you make reservations on Eastar Jet. Use the following list of routes to help you plan your next flight. Eastar Jet flights on Alternative Airlines to save big! Alternative Airlines is an online travel agency, specialising in booking lesser known airlines and remote destinations.
Alternative Airlines is an Online Travel Agency bonded by the International Air Transport Association (IATA). We specialise in finding the best available fares on the widest range of airlines and making them available to you online, with prices in the currency of your choice.
Alternative Airlines handles all your travel arrangements and payments, complete with ticketed confirmation. We do not direct you to other websites or service providers.
We help you through the process. This is what makes us Alternative Airlines.
Browse for flights, find some amazing deals, make a reservation and pay in the currency of your choice today with Alternative Airlines.
Let Alternative Airlines help find you the best prices and make international and domestic flight reservations with us today.
Join the Alternative Airlines Members Club and get £100.00 back on your 5th booking with Alternative Airlines. You will have insight to many benefits and exclusive deals on over 450 airlines. Click on the Members section on the Alternative Airlines website for more information and join today.
We are open every day from 8am until 8pm (UK local time).
How to pay
You can pay for your flights with Eastar Jet in the currency and payment method of your choice when booking through Alternative Airlines.
We accept PayPal making flight purchases with Eastar Jet easy and more secure for customers. PayPal is one of the leading forms of online payment, with more than 169 million accounts worldwide.