Donghai Airlines Reservations with Alternative Airlines
Make a Donghai Airlines Booking and Find Some Amazing Deals
---
About Donghai Airlines
Donghai Airlines is a Chinese airline headquartered in Shenzen, Guangdong in China and was founded in 2002.
Donghai Airlines flies to 45 cities and 37 of them are in China, these cities include Shenzhen, Ningbo, Dalian, Harbin, Hailar Nanjing, Changchun, Kunming, Haikou and Shenyang, Manila, Hong Kong, Ho Chi Ming City, Chengdu, Shanghai, Beijing, Hangzhou, Wuxi and more. The airline was first launched as Jetwin Cargo Airline in 2005 and has frequently changed its name since and in 2010 it officially became Donghai Airlines. The airline's main hub is in Shenzhen Bao'an International Airport (SZX) and its parent companies are Sichuan Airlines, Shenzhen Donggang Trade, Donghai United Group and Yonggang.
In 2015 the airline increased its operations to include long-haul and international flights within the next 8 years intends to have an aircraft base of 120 by 2025. Donghai Airlines plans to offer features such as large stow bins, dimmable windows, lower cabin altitude and modern LED lighting as well as a comfortable, smooth journey for the passenger.
---
Donghai Airlines Fleet

As of January 2020, the airline's fleet consists of 23 Boeing 737-800s. It's also looking to update its fleet with the addition of 25 Boeing 737 MAX 8 and 5 Boeing 787-9s.
---
Destinations
International Destinations
COUNTRY
CITY
AIRPORT
Australia
Darwin
Darwin International Airport
Myanmar
Mandalay
Mandalay International Airport
Myanmar
Nay Pyi Taw
Naypyidaw International Airport
South Korea
Jeju
Jeju International Airport
Thailand
Rayong
U-Tapao International Airport
Thailand
Chiang Rai
Chiang Rai International Airport
Vietnam
Haiphong
Cat Bi International Airport
Vietnam
Van Don
Van Don International Airport
Domestic Destinations
CITY
AIRPORT
Baotou
Baotou Airport
Beijing
Beijing Capital International Airport
Changchun
Changchun Longjia International Airport
Changsha
Changsha Huanghua International Airport
Chengdu
Chengdu Shuangliu International Airport
Chongqing
Chongqing Jiangbei International Airport
Dalian
Dalian Zhoushuizi International Airport
Dongying
Dongying Shengli Airport
Guilin
Guilin Liangjiang International Airport
Guiyang
Guiyang Longdongbao International Airport
Haikou
Haikou Meilan International Airport
Handan
Handan Airport
Hangzhou
Hangzhou Xiaoshan International Airport
Harbin
Harbin Taiping International Airport
Huaihua
Huaihua Zhijiang Airport
Jining
Jining Qufu Airport
Kunming
Kunming Changshui International Airport
Lanzhou
Lanzhou Zhongchuan International Airport
Lianyungang
Lianyungang Baitabu Airport
Nanchang
Nanchang Changbei International Airport
Nanjing
Nanjing Lukou International Airport
Nantong
Nantong Xingdong Airport
Nanyang
Nanyang Jiangying Airport
Qingyang
Qingyang Airport
Quanzhou
Quanzhou Jinjiang International Airport
Shenzhen
Shenzhen Bao'an International Airport (HUB)
Shiyan
Shiyan Wudangshan Airport
Tianjin
Tianjin Binhai International Airport
Wenzhou
Wenzhou Longwan International Airport
Wuxi
Sunan Shuofang International Airport
Xi'an
Xi'an Xianyang International Airport
Xingyi
Xingyi Wanfenglin Airport
Yichang
Yichang Sanxia Airport
Yinchuan
Yinchuan Hedong International Airport
Yiwu
Yiwu Airport
Zhengzhou
Zhengzhou Xinzheng International Airport
Zhuhai
Zhuhai Jinwan Airport
---
Book Donghai Airlines Flights in English
Find flights around China in English with Alternative Airlines. We offer Donghai Airlines flights in English so that you can have the easiest booking experience possible. We want our customers to have a stress-free flight reservation that's why we have an excellent customer service team here to help you with any of your queries.
---
Frequent Flyer Program
Donghai Airlines is part of the SeagullsClub offering passengers many benefits such as an exceptional lounge service, buy products and services with earnt travel miles.
---
Donghai Airlines Baggage
Carry-on Baggage
Passengers flying Economy or First Class on Donghai Airlines are entitled to one piece of 5kg free carry-on baggage per passenger.
Passengers flying Business Class on Donghai Airlines are entitled to two pieces of 5kg free carry-on baggage per passengers.
Carry-on baggage must no exceed 20 x 40 x 55 cm.
Checked Baggage
The following baggage rules apply for both international and flights operated by Donghai Airlines.
Passengers flying Economy Class on Donghai Airlines are entitled to 20kg of free checked baggage.
Passengers flying Business Class on Donghai Airlines are given a 30kg free checked baggage allowance.
Passengers flying First Class on Donghai Airlines are allowed 40kg of free checked baggage.
No one piece of baggage can weigh more than 32kg and must fit within the overall dimensions of 158 cm.
---
Donghai Airlines Check-In Information
Online Check-In
Online check-in is available on the Donghai Airlines online check-in page. Passengers must enter the relevant travel details to complete online check-in. Online check-in closes 90 minutes before flight departure time on all Donghai Airlines flights.
Airport Check-In
Passengers can check-in for their Donghai Airlines flight by presenting the relevant travel documents to a Donghai Airlines check-in agent at the check-in counter at the airport of departure.
---
Route Map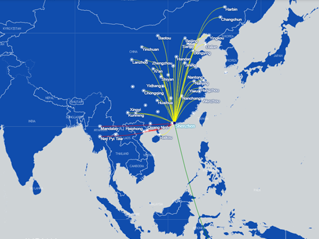 ---

Donghai Airlines Hub Airport
Shenzhen Baoan International Airport (SZX)
Shenzhen Baoan International Airport (SZX) is located 32 kilometres northwest of the city of Shenzhen, near Fuyong and Huantian villages in Bao'an district in Shenzhen, China. Shenzhen Baoan International Airport (SZX) also offers connectivity to domestic Chinese cities.
The airport serves as an Asian-Pacific cargo hub for UPS Airlines, has 2 runways and a new terminal that recently opened in 2013. The airport is known to be one of three largest airport hubs in Southern China, near Hong Kong International Airport and has handled over 26 million passengers since opening in 1991. The airport also has direct ferry routes, allowing passengers to transit without going through custom or immigration checks. Other airlines that fly to the airport include Hebei Airlines, China United Airlines and 9 Air.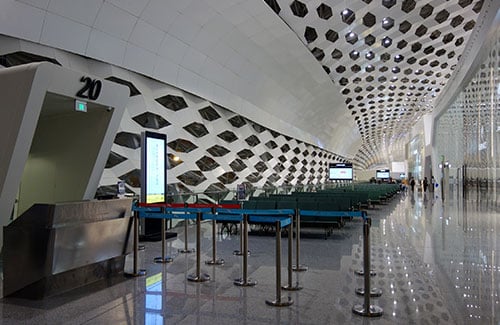 Photo credit: 颐园新居
---

Alternative Airline to Donghai Airlines
---
Donghai Airlines News
27th June 2018
Donghai Airlines fly to Myanmar twice a week from next month
Donghai Airlines will add a new route to its network that will see the airline fly between China and Myanmar twice a week. Donghai Airlines will fly between Shenzhen Bao'an International Airport (SZX) and Mandalay International Airport (MDL) using a Boeing 737-800. The airline will operate its inaugural flights on 9th July of this year. The flight is expected to take 3 hours.