Bhutan Airlines Reservations with Alternative Airlines
Make a Bhutan Airlines Online Booking and Find Some Amazing Deals
---
About Bhutan Airlines
Bhutan Airlines is the trading name of Tashi Air. Bhutan Airlines was launched in 2011 as Tashi Air, which operated for 6 months before stopping operations. They commenced operations again in October 2013, where they renamed and began operating under the name Bhutan Airlines.
Tashi Air and thus Bhutan Airlines is owned by and is a subsidiary of the Tashi Group, which was founded in 1959 by Dasho Ugen Dorji.
Bhutan Airlines operates its private flight schedule on regular routes to India, Thailand and Nepal, from its headquarters in Thimphu, Bhutan.
---
Bhutan Airlines Destinations
Bhutan
Paro
Thailand
Bangkok
India
Kolkata
Delhi
Nepal
Kathmandu
Future Destinations
In addition to the current destinations offer, Bhutan Airlines currently have plans to develop routes to the following destinations:
Dhaka - Bangladesh
Singapore
Yangon - Myanmar
---
Economy Classs
Facilities
The onboard service and food are to a high class. Hot and cold beverages are also provided on the flight. There's in-flight shopping available on board for perfumes, jewellery, watches and alcohol.
Seating
Economy Class seating is comfortable with a generous amount of legroom.
---
Business Class
Facilities
Bhutan Airlines crafts their own food from the finest ingredients made by executive chefs. Hot and cold beverages are served in-flight. Priority boarding is also given allowing passengers to pass through immigration.
Seating
Seats in Business Class are even more comfortable with extra legroom for passengers to stretch.
---
Bhutan Airlines Baggage
Carry-on Baggage
Carry-on baggage for Bhutan Airlines has to be 55 x 40 x 20cm or less, weighing no more than 7kg.
One personal item, such as a laptop case or briefcase is also permitted in addition to the carry-on bag.
Checked Baggage
Bhutan Airlines allocate checked baggage depending on the route flying and the class of ticket purchased.
For the majority of flights, Business Class are allowed 40kg of checked luggage, and Premium Economy and Economy class are allowed 30kg.
One exception for this is for passengers who are flying from Gaya - Paro. For this route, checked bags must be less than 30kg for Business Class, and 20kg for Premium Economy and Economy Class.
Excess Baggage
Bhutan Airlines will charge for baggage which exceeds the free allowance by either weight or dimensions.
---
Bhutan Airlines Check-In Information
Online Check-In
Bhutan Airlines are yet to offer online check-in, or web check-in, for their flights.
Airport Check-In
Passengers flying with Bhutan Airlines will need to check-in at the Airport prior to departure. The airline recommends that passengers arrive at the airport 2 hours before flight departure.
The check-in desks will open 3 hours prior to flight departure time. These desks will close 45 minutes prior to departure time.
---
Bhutan Airlines Class Types
Bhutan Airlines offer 3 different types of ticket classes.
The standard ticket is Economy Class, but this can be upgraded to Premium Economy or Business Class.
---
Alternative Airlines to Bhutan Airlines
Please click on the logos below to find out more about airlines that fly similar routes to Bhutan Airlines:
---
Bhutan Airlines Route Map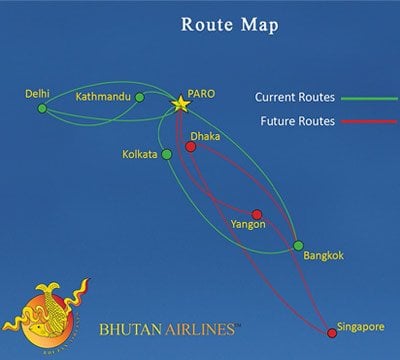 ---
Bhutan Airlines Fleet
Bhutan Airlines, currently operate their services on the following fleet of aircraft:
4 x Airbus A319
1 x Airbus A320.
---

Bhutan Airlines Hub Airport
Paro Airport
Paro Airport is one of four airports in Bhutan and is the only one that operates international flights. Due to its scenic location in the valley of the river Paro Chhu and being surrounded by mountains, flights are only allowed to take-off and land from this airport when there is good visibility from weather and daylight hours.
The airport was initially just an airstrip, built in 1968, which was later extended and developed in 1990. In addition, a terminal building was constructed in 1999.