Drukair Tickets and Reservations with Alternative Airlines
Book Your Drukair Flight Tickets and Find Some Amazing Deals
---
About Drukair
Drukair Corporation Limited (འབྲུག་མཁའ་འགྲུལ་ལས་འཛིན།), also known as Drukair— Royal Bhutan Airlines, is the flag carrier of Bhutan. The airline was founded in 1981 and commenced operations in 1983 with flights from Kolkata to Paro. Drukair operates a scheduled flight network within southern Asia from its base at Paro Airport and currently consists of twelve destinations in six countries. Until 23 August 2010 Drukair was the only airline flying into Bhutan and has a codeshare with Nepal Airlines.
Alternative airlines to Drukair include Buddha Air and Bhutan Airlines.
---
Drukair – Royal Bhutan Airlines Destinations
Drukair flies to a broad range of international destinations as well as domestic destinations in Bhutan.
COUNTRY
CITY
India
Siliguri
Delhi
Gaya
Mumbai
Kolkata
Guwahati

Bhutan

Gelephu

Jakar
Paro
Trashigang
Thailand
Bangkok
Nepal
Kathmandu
Bangladesh
Dhaka
Singapore
Singapore
---
Drukair Baggage Allowance
Carry-on Baggage
Please be aware that the weight of your unchecked baggage/cabin baggage is part of your free baggage allowance.
Regulations issued by the Drukair - Royal Bhutan Airlines stipulate that your cabin baggage must be placed under the seat in front of your own. Therefore the overall dimensions are limited to 45 + 35 + 20 cm (17 ½ + 13 ½ +8 inches). The weight must not exceed 5 kg (11 pounds).
Checked Baggage
Please be aware that the weight of your unchecked baggage/cabin baggage is part of your free baggage allowance.
Business class: 40 kg (88 pounds)
Economy class: 30 kg (66 pounds)
---
Drukair Check-in
Online Check-in
When you make an online booking with Drukair you may be able to check in online. Visit the Drukair website to find out the web check-in requirements for your specific flight our contact us and we will do it for you.
---
Class Fares
The class fares available depend on the aircraft being used. the airline operates two class fares: economy and business.
---
Economy Class
Economy Class Facilities
Enjoy comfortable padded seating, and the option to purchase onboard beverages and snacks. There is no in-flight entertainment system.
Economy Class Seats
Enjoy comfortable padded seating, set out in either a 2 x 2 or 3 x 3 formation.
---
Business Class
The airline's A319's have 16 business class seats.
Business Class Facilities
Onboard, enjoy warm towels and the choice of water or apple juice before takeoff. After takeoff, enjoy complimentary snacks and drinks.
Business Class Seating
The comfortable seats are spread across four rows in a 2 x 2 configuration, optimising your personal space. Spacious legroom will let you relax.
---
Fleet
Airbus A319-100
ATR 42-500
Airbus A320neo - to be delivered July 2019
ATR 42-600 - to be delivered July 2019
---
Drukair Frequent Flyer Program
"My Happiness Reward" was launched by Drukair on 10 November 2014. The members of the program can accumulate miles corresponding to the distance flown on Drukair and the class of service availed. Accrued miles may then be redeemed for free air tickets (Happiness Reward Ticket), upgrades at airports (Happiness Class Upgrade) and other benefits. Drukair Royal Bhutan Airlines currently offers 3 tiers of membership: Silver (Basic tier), Gold and Platinum (the elite tier).
It's really easy to collect frequent flyer points with us. Have a look at our Airline Alliances page to find out how,
---
Hub airport
Paro Airport
Paro Airport, Bhutan's only international airport, is the main hub for Drukair Royal Bhutan Airlines. Only a few pilots are certified to land at this airport as it is considered one of the world's most challenging airports. Paro airport was the only airport in Bhutan until 2011.
---
Drukair Route Map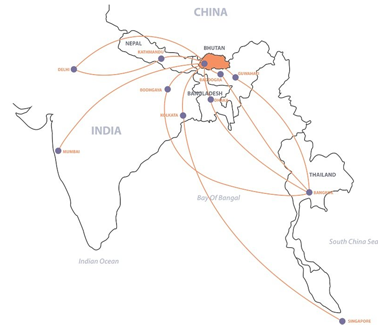 ---
Alternative Airlines to Drukair
---
Drukair News
26th March 2018
Bhutan's Drukair commences chartered flights to Hong Kong
Drukair has started chartered flights to Hong Kong in a chartered capacity. Between February 12 and 24, Drukair made three chartered cycles (to and from) to Hong Kong. Four more chartered cycles to Hong Kong are expected between July and August 6, and two cycles from September to October 6. Despite delving into the chartered world before this is a new route, possibly prompted by the new arrival of an aircraft. The new A-320 NEO Airbus in its fleet will have a seating capacity of 140 (20 Business and 120 Economy) along with spacious interiors, improved safety features and additional entertainment facilities. Drukair has experienced interest for flights to other South East Asian destinations such as Vietnam and Indonesia.