Nepal Airlines Reservations with Alternative Airlines
Make a Booking and Find Some Amazing Deals
---
About
Royal Nepal Airlines is the flag carrier airline of Nepal. Nepal Airlines flies to both international and domestic destinations from its base Tribhuvan International Airport, Kathmandu. The airline was established in July 1958 as Royal Nepal Airlines Corporation (RNAC) and is Nepal's first-ever airline. Currently, Nepal Airlines offers seven weekly flights between Kathmandu and Delhi and one weekly service between Kathmandu and Mumbai.
Nepal Airlines has a codeshare agreement with Druk Air. However, Nepal Airlines, along with all other Nepalese airlines, are currently banned from flying within EU airspace.
---
Destinations
In May 2019, it was announced that Nepal Airlines were launching operations in Japan by the end of Q3. This comes after a 12 year gap from this operation, caused by the extended certification of the carrier in Japan.
International Destinations
| Country | City | Airport/th> | IATA |
| --- | --- | --- | --- |
| Qatar | Doha | Hamad International Airport | DOH |
| Thailand | Bangkok | Suvarnabhumi Airport | BKK |
| United Arab Emirates | Dubai | Dubai International Airport | DXB |
| Hong Kong | Hong Kong | Hong Kong International Airport | HKG |
| Malaysia | Kuala Lumpur | Kuala Lumpur International Airport | KUL |
| Nepal | Kathmandu | Tribhuvan International Airport | KTM |
| Thailand | Bangkok | Suvarnabhumi Airport | BKK |
| India | Bengaluru | Kempegowda International Airport | BLR |
| India | Delhi | Indira Gandhi International Airport | DEL |
| India | Mumbai | Chhatrapati Shivaji International Airport | BOM |
| Japan | Osaka | Kansai International Airport | KIX |
| Japan | Tokyo | Narita International Airport | NRT |
Domestic Destinations
| CITY | AIRPORT | IATA |
| --- | --- | --- |
| Baglung | Baglung Airport | BGL |
| Bajura | Bajura Airport | BJU |
| Bhadrapur | Chandragadhi Airport | BDP |
| Bhadrapur and Meghauli | Meghauli Airport | MEY |
| Biratnagar | Biratnagar Airport | BIR |
| Bhojpur | Bhojpur Airport | BHP |
| Chaurjahari | Chaurjahari Airport | RUK |
| Dhangadhi | Dhangadhi Airport | DHI |
| Diktel | Man Maya Airport | KDN |
| Dolpa | Dolpa Airport | DOP |
| Jomsom | Jomsom Airport | JMO |
| Jumla | Jumla Airport | JUM |
| Khotang Bazar | Thamkharka Airport | N/A |
| Lamidanda | Lamidanda Airport | LDN |
| Lukla | Tenzing-Hillary Airport | LUA |
| Nepalgunj | Nepalgunj Airport | KEP |
| Phaplu | Phaplu Airport | PPL |
| Pokhara | Pokhara Airport | PKR |
| Rara | Talcha Airport | - |
| Rukumkot | Chaurjhari Airport | RUK |
| Rumjatar | Rumjatar Airport | RUM |
| Siddharthanagar | Gautam Buddha Airport | BWA |
| Simara | Simara Airport | SIF |
| Simikot | Simikot Airport | IMK |
International Destinations
COUNTRY
CITY
AIRPORT
IATA
Hong Kong
Hong Kong
Hong Kong International Airport
HKG
India
Bengaluru
Kempegowda International Airport
BLR
Delhi
Indira Gandhi International Airport
DEL
Mumbai
Chhatrapati Shivaji International Airport
BOM
Japan
Osaka
Kansai International Airport
KIX
Tokyo
Narita International Airport
NRT
Malaysia
Kuala Lumpur
Kuala Lumpur International Airport
KUL
Nepal
Kathmandu
Tribhuvan International Airport
KTM
Qatar
Doha
Hamad International Airport
DOH
Thailand
Bangkok
Suvarnabhumi Airport
BKK
United Arab Emirates
Dubai
Dubai International Airport
DXB
---
Check-In Information
Airport Check-in
Manual ticket booking & airport checking at standard timings as 2 - 3 hours before departure time is available for this Airline.
Online Check-in
Web Checking for Nepal Airlines is available you can input in your PNR no and the last name to access web check-in. Check-in online up to 24 hours before your flight, until 90 minutes before departure
---
Baggage
Carry-on Baggage
Passengers are permitted one item of hand baggage with them on their flight. This must not exceed 7 kg in weight, and not exceed 22 x 18 x 10 inches.
In addition, passengers are permitted one personal item, consisting of items such as a handbag, wallet, laptop, camera or walking stick.
Checked Baggage
Checked baggage on Nepal Airlines flights depends on your route and class flying.
---
Economy Class
Economy Class Facilities
On the economy, you can enjoy a variety of exclusive meals specially delivered by top-class chefs from five-star hotels in Kathmandu. You can select from a range of drinks and there is something for everyone from cocktails, wine to soft drinks. Meals served on board are either chicken, fish or mutton based. Vegetarian meals are available on special request when you book. There is no wi-fi or in-flight entertainment system onboard, however.
Economy Class Facilities
You can relax in a comfortable seat with a good pitch between seats and an ample amount of legroom.
---
Business Class
Business Class Facilities
All food and drinks are served on exquisite china and crystal ware. You can stay entertained whilst reading the magazines and local newspapers are available onboard. Flight attendants are ready to take care of your needs. A comfortable pillow and a blanket are also provided to our Business Class passengers.
Business Class Facilities
You can be assured you're in full comfort when in Business Class. Business-class has 16 seat configuration; you don't have to worry about sitting in the middle because there is no middle seat. The two-seats-in-a-row arrangement ensures more legroom and comfort and seats being wide.
---
Frequent Flyer Program
With Tashi Miles membership, you enjoy a great experience with unique privileges across four membership tiers: Tashi Red, Tashi Orange, Tashi Yellow and Tashi Black. You can gain miles depending on the distance you've flown on our flights and the fare amount paid. Earnt miles can be redeemed for free air travel, privileges, upgrades and other benefits.
---
Route Map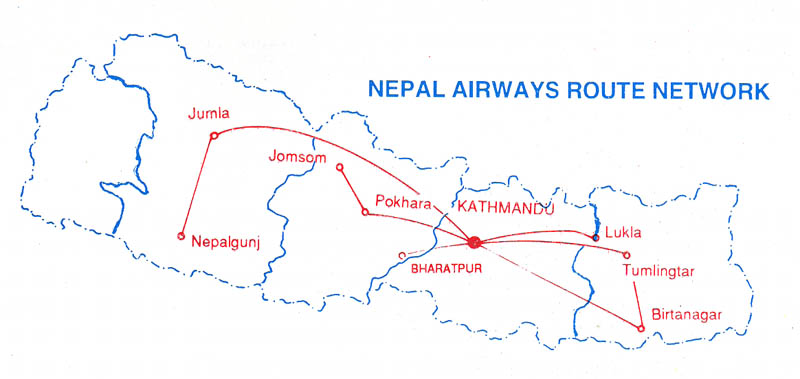 ---
Fleet
The airline's first aircraft was a Douglas DC-3, which used to serve domestic routes and to a handful of destinations in India. Then in 1972, the airline acquired it's first jet aircraft, Boeing 727. The first of Nepal Airlines' two 757s arrived in 1987. Flying on long-haul routes and displaying the national flag at world airports, they helped Nepal make its presence felt in the international aviation scene. As of November 2019 Nepal Airlines fleet consisted of:
2 x Airbus A320-200
2 x Airbus A330-200
3 x de Havilland Canada DHC-6 Twin Otter
4 x Harbin Y-12
2 x Xian MA60
---
Alternative Airlines to Nepal Airlines
Please click on the logos below to find out more about airlines that fly similar routes to Nepal Airlines:

Nepal Airlines Hub Airport
Tribhuvan International Airport (KTM)
Nepal Airlines hub is Tribhuvan International Airport (KTM) — an international airport in Kathmandu, Nepal. The airport is about six kilometres from the city centre, in the Kathmandu valley. It is the sole international airport in Nepal and has served as an airfield since 1949.
Airlines that fly from and to Tribhuvan International Airport (KTM) include Thai Airways, Etihad, Turkish Airlines, Yeti Airlines and Air Asia.
---
Airline Alliance
The airline doesn't currently partake in any airline alliance.
---