Thai Vietjet Air Tickets and Reservations with Alternative Airlines
Book Your Thai Vietjet Air Flight Tickets and Find Some Amazing Deals
---
About
Thai Vietjet Air is a Thai low-cost airline. The airline is based at Suvarnabhumi International Airport, Bangkok and offers domestic flights within Thailand, as well as international flights to various destinations across Vietnam, Taiwan and India. Currently, the airline operates a route network covering more than 10 destinations.
The airline is an associate of Vietnamese airline, VietJet Air. It was founded in 2014 and flew its inaugural flight with a charter service between Bangkok and Gaya in the same year. In 2015, it started scheduled services, with its first flight between Bangkok and Phuket.
---
Fleet
Thai VietJet Air's fleet consists of entirely Airbus aircraft. The airline has a mix of Airbus A320-200 and Airbus A321-200 aircraft. Overall, it has 10 aircraft within its fleet.
---
Destinations
Domestic
| CITY | AIRPORT |
| --- | --- |
| Da Lat | Lien Khuong Airport (DLI) |
| Hai Phong | Cat Bi International Airport (HPH) |
| Hanoi | Noi Bai International Airport (HAN) |
| Ho Chi Minh City | Tan Son Nhat International Airport (SGN) |
International
COUNTRY
CITY
AIRPORT
India
Gaya
Gaya Airport (GAY)
Thailand
Bangkok
Suvarnabhumi International Airport (BKK)
Chiang Mai
Chiang Mai International Airport (CNX)
Chiang Rai
Chiang Rai International Airport (CEI)
Krabi
Krabi International Airport (KBV)
Phuket
Phuket International Airport (HKT)
Udon Thani
Udon Thani International Airport (UTH)
Taiwan
Taichung
Taichung International Airport (RMQ)
---
Baggage
Carry-On Baggage
All passengers are entitled to one item of free carry-on baggage and one small personal item.
For passengers on the basic Economic fare, the combined weight of these bags must not exceed 7 kg. For passengers flying on the Skybass fare, the combined weight of these bags must no exceed 10kg.
Baggage must not exceed the dimensions of 56cm × 36cm × 23 cm.
Here are examples of small personal items given by Thai VietJet Air:
Handbag or book, magazine, camera, children food kit, duty-free bag, with dimensions no larger than 30cm × 20cm × 10 cm
Jacket bag with dimensions no larger than 114cm × 60cm × 11cm
Laptop bag with dimensions no larger than 40cm × 30cm × 10cm
Checked Baggage
There's no free checked baggage allowance on the basic Economic fare. However, checked baggage is available to purchase at an additional fee. Passengers flying on the Skyboss fare are entitled to 30kg of free checked baggage.
No one piece of baggage can exceed 32kg and dimensions must fit within 119cm × 119cm × 81cm
---
Check-In Information
Online Check-In
Online check-in is only available for select domestic VietJet Air flights and isn't currently available for Thai VietJet Air flights.
Airport Check-In
Passengers who aren't able to complete online check-in or would rather check-in in person can do so at the airport. To complete airport check-in, passengers must visit one of the airline's check-in desks and present the check-in agent with the relevant travel documents.
---
Economy Class
Economy Class is the most basic cabin class that VietJet Air offers. The Economy Class cabin is clean and comfortable, with a professional and friendly service delivered by the airline's expert cabin crew. Food and drink are served in Economy Class at an additional cost.
Economy Seats
The Economy Class gives 29" of seat pitch. At an additional cost, passengers can choose a seat with extra legroom.
---
Business Class
The Business Class cabin, SkyBoss, is the airline's highest-tier of cabin class, with the best level of service both on and off the ground.
Benefits
Passengers with a Skyboss ticket are given an extended baggage allowance, free seat selection, lounge access (outside of domestic flights in Thailand), priority check-in and free changes and cancellations on the flight.
Once in-flight, passengers can enjoy a larger seat at the front of the cabin and a priority meal-service.
Business Seats
SkyBoss seats are the largest on the aircraft, giving extra space and comfort. SkyBoss seats are always located at the front of the aircraft so that passengers can quickly and easily disembark from the aircraft.
---
In-Flight Entertainment
There's no in-flight entertainment system. However, passengers can enjoy reading materials, such as the airline's in-flight magazines.
---
Food
Food and drink are available to pre-order or purchase once onboard. On domestic flights, passengers can enjoy a range of light snacks and drinks. On longer, international flights, passengers can pre-order hot meals, as well as the same selection of light snacks and drinks that are on domestic flights.
---
WIFI
At this time, there's no WIFI network on Thai VietJet Air flights.
---
Frequent Flyer Program
Thai VietJet Air doesn't have a frequent flyer program. However, it's working on starting an accumulated point program soon.
---
Airline Alliance
Thai VietJet Air isn't currently part of an airline alliance.
---
Hub Airport
Suvarnabhumi Airport
Suvarnabhumi International Airport is one of two international airports serving Bangkok, Thailand and is the hub airport for Thai VietJet Air. The airport opened for all commercial domestic and international flights in 2006 and was created to take over as the main international hub for Bangkok. This allowed the cities previous international hub, Don Meuang International Airport, to put more of a focus on facilitating flights from low-cost regional airlines.
Despite being a low-cost airline, Thai VietJet Air has used Suvarnabhumi International Airport instead of Don Mueang as its hub since it was founded in 2005. It is one of six airlines that use Suvarnabhumi Airport as a hub, with the other five being Bangkok Airways, Jet Asia Airways, Orient Thai Airlines, Thai Airways, Asia Atlantic Airlines and Thai Smile.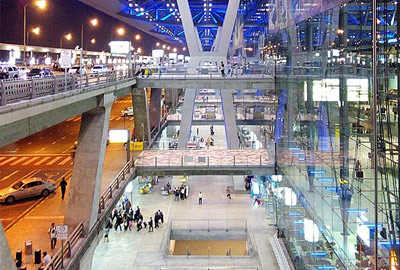 Credit: Alex Blokha on Wikimedia Commons
---
Alternative Airlines to Thai VietJet Air