HK Express Reservations with Alternative Airlines
Make a Booking and Find Some Amazing Deals
---
About Hong Kong Express (HK Express)
Hong Kong Express renamed as HK Express, is a low-cost airline which provides flights to many destinations in Asia. The airline flies to destinations such as Siem Reap, Dunhuang, Hailar, Huangshan, Kunming, Lanzhou, Ningbo, Wuxi, Hong Kong, Fukuoka, Osaka, Tokyo, Nagoya, Hiroshima, Busan, Jeju and Seoul.
HK Express is Hong Kong's first and only low-cost carrier.
In April 2019, the airline Cathay Pacific announced that it had bought the Hong-Kong based budget airline. This premium airline is said to have made the purchase in order to enter new budget markets. The deal, which saw Cathay Pacific pay $HK2.25 billion, will also see Cathay repaying the $HK2.68 billion debt that the budget airline currently owes.
Did you know? At Alternative Airlines, you can book your HK Express flights today and pay later! Check out our Fly Now Pay Later with HK Express guide to find out more information.
---
Destinations
HK Express flies to destinations from Hong Kong to Ningbo, Fukuoka, Kagoshima, Osaka, Tokyo, Jeju, Seoul, Phuket and more.
Siem Reap,
Cambodia
Dunhuang,
China
Ningbo,
China
Hong Kong,
Hong Kong
Fukuoka,
Japan
Hirosima,
Japan
Ishigaki,
Japan
Kagoshima,
Japan
Nagasaki,
Japan
Nagoya,
Japan
Osaka,
Japan
Shimojishima,
Japan
Takamatsu,
Japan
Tokyo,
Japan
Saipan,
Northern Mariana Islands
Busan,
South Korea
Jeju,
South Korea
Seoul,
South Korea
Taichung,
Taiwan
Bangkok,
Thailand
Chiang Mai,
Thailand
Chiang Rai,
Thailand
Phuket,
Thailand
Da Nang,
Vietnam
Nha Trang,
Vietnam
Okinawa,
Japan
---
Route Map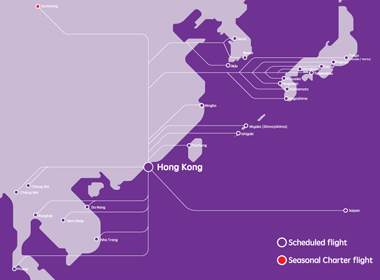 ---
Baggage Allowance
Carry-on Baggage
The baggage allowance is one item with a maximum weight limit of 7kg. One personal item is also permitted. Both items should not exceed the combined dimensions of 56 x 36 x 23cm (22" x 14" x 9").
Checked Baggage
The checked baggage allowance will depend on the class of ticket purchased. So be sure to check your flight details on your ticket or itinerary to see what is included in your fare. In general, checked baggage must not exceed 158cm when combining the height, length and width dimensions.
Excess Baggage
If you want to purchase excess baggage, you can do so via our website as you book your flight. If you have any problems, please contact our expert customer service team.
---
Book Hong Kong Express Flights in English
Book Hong Kong Express tickets in English with Alternative Airlines. We offer our customers to opportunity to have a stress-free booking process by letting them book Hong Kong Express flights completely in English. Avoid miscommunication and be wowed by our simple and trustworthy online booking service.
---
Economy Class
Economy Class on HK Express flights is branded 'Fun'. This is the most basic of classes that you can choose to fly with on HK Express and provides a comfortable and enjoyable flying experience.
Economy Class Facilities
Passengers in economy class get 7kg of hand luggage included in their fare, but checked baggage is not included and is available at an additional fee.
Economy Class Seats
Seats are set up in 3-3 configuration in most aircraft, with a 28 x 17 inch seat pitch. Passengers can choose to select their seat, which offers the option of a 'Sweet Seat'; a seat with extra legroom benefits. Seats are made of a comfortable material, with a meal tray attached to the armrest seat.
---
Premium Economy Class
HK Express have a 'Fun+' fare, which is equivalent to premium economy.
Premium Economy Class Facilities
This Fun+ fare includes 25kg of free checked baggage allowance, in addition to the 7kg free carry-on luggage permitted in Fun class.
Premium Economy Class Seats
Passengers in Fun+ get a premium seat location, which is located up-front of the plane. This means that passengers can board and depart the plane first due to the location of being near the exits.
---
Business Class
Business Class on HK Express is called U-Biz. This fare is for a premium complete plane and airport experience. U-Biz passengers are also able to change their date / time of flying up to 3 hours before departure free of charge, with the exception of OTA admin fees and any changes in fare differences.
Business Class Facilities
Passengers flying on U-Biz can enjoy 30kg of checked baggage, in addition to the 7kg of hand luggage permitted in other classes Passengers can also enjoy priority check-in, boarding and baggage retrieval, meaning less time waiting around. Passengers will also have use of the dedicated lounge in Hong Kong Airport.
What are the Business Class Seats Like?
Passengers in Business Class can choose to select their seats, which include the option of Sweet Seats which are upfront in the plane and include additional legroom.
---
First Class
First Class is not currently available on HK Express. If passengers wish to experience a premium flight, choose U-Biz, as detailed above.
---
Popular Routes
Hong Kong

Lanzhou
Phuket

Hong Kong
Hong Kong

Taichung
Ningbo

Hong Kong
Chiang Mai

Hong Kong
Hong Kong

Busan
---
Check-In Information
Online Check-In
This airline offers online check-in for its passengers. This can be done 48 hours prior to scheduled departure time and closes 75 minutes prior to departure time. Online check-in can be completed on the HK Express website or on their mobile app.
Mobile Check-In
Passengers can check-in with their app, it will then provide you with a boarding pass. With this boarding pass, passengers can proceed straight to the gate once at the airport if you have no luggage to check-in.
Airport Check-In
HK Express also offer passengers to check-in at the airport. The airline recommends arriving at the airport at least 1 and a half hours before scheduled flight departure. However, most check-in desks at airports will open earlier than this. Airport check-in desks close 1 hour prior to departure.
---
The Fleet
The Hong Kong low-cost airline has eight Airbus A320-200, five Airbus A320-200neo and 11 Airbus A321-200 in their fleet. In addition to that, the airline also has 2 A320-200neo on order.
---
Hong Kong Express Seat Selection
At Alternative Airlines, we understand the difference that flying on your preferred seat can make. Alternative Airline offer passengers travelling with Hong Kong Express to book their seat in advance, before flying. By using an interactive seat map, passengers can check which seats are available, whilst viewing seat features such as extra legroom or aisle or window seats.
---
Hub Airport
Hong Kong International Airport
The airline Hong Kong Express is based at Hong Kong International Airport (HKIA), or Chek Lap Kok Airport, which is the primary airport of Hong Kong. It commenced commercial operations in 1998 and currently operates flights from over 100 airlines to over 180 cities in the world. There are plans in progress to develop the capacity of aircraft and passengers for the airport, due in 2030.
Other airlines which are based at Hong Kong International Airport include Cathay Pacific, Cathay Dragon and Hong Kong Airlines. Greater Bay Airlines will be based and headquartered in Hong Kong. Airlines that fly in and out of HKIA include Air Canada, Air China, American Airlines, British Airways, Delta, Emirates, Ethiopian Airlines, United, Thai Airways, Singapore Airlines, Qatar Airways, Qantas and more. The airport has two runways and has a 65 million passengers capacity per annum. The airport is one of the hubs of Oneworld alliance.
---
Alternative Airlines
Please click on the logos below to find out more about airlines that fly similar routes to Hong Kong Express:
---
News
24th June, 2019
HK Express to fly Hong Kong-Okinawa
Hong Kong-based low-cost carrier HK Express will launch Hong Kong-Okinawa flights on 26 September, joining two other compatriot airlines. The flight will be operated daily with its A320 family aircraft, according to HK Express.