Search & Buy Citilink Flights
Let's fly!

Select your payment method to view total prices including any payment fees:
Airlines will always try to sit children with their parents (subject to check-in)
Some airlines will allow travel for unaccompanied minors. Please email us to check.
The fare is based on the child's age on the date of travel.
More detailed information can be found here Traveling with children
Most airlines will let infants travel with their parent(s) for free. However some airlines will charge up to 10% of the adult ticket price. Click on 'Price Breakdown' to find out more.
If you are pregnant, but due before the flight departure date, please contact us once your baby is born and has a name. We can then add him/her to your ticket.
Infants will not be given a seat. The airlines expect parents to travel with them on their lap.
Airlines regard infants as being under 24 months old.
The fare is based on the child's age on the date of travel.
More detailed information can be found here Traveling with children

Buy
Citilink

Flights
Citilink Reservations with Alternative Airlines
Make a Citilink Booking and Find Some Amazing Deals
---
About Citilink
Citilink is an Indonesian low-cost airline headquartered in Jakarta. Citilink was established in 2001 as part of Garuda Indonesia and was established to operate shuttle services between Indonesia cities. In July 2012, Citilink started operating as a separate business entity from Garuda Indonesia with its main hub at Juanda International Airport, Surabaya, East Java.
Citilink flies to many destinations including Bandung, Denpasar, Jakarta, Mataram, Malang, Semarang, Surabaya, Yogyakarta, Solo, Kupang, Banda Aceh, Batam, Bengkulu, Jambi, Medan, Padang, Pangjai Pinang, Palembang, Pekanbaru, Tanjung Pandan, Balikpapan, Banjarmasin, Palangkaraya, Pontianak, Kendari, Makassar, Manado, Ambon, Jayapura and Jeddah. Citilink Indonesia was operating as a low-cost carrier in form of Garuda Indonesia's business division before August 2012, by operating using a number of aircrafts and routes, limited bandwidth management, the business unit was also a focus point of Garuda Indonesia's brand development as a premium airline.
Citilink Indonesia operates flights to 31 cities, 62 routes, and more than 244 flight frequencies. In 2017, Citilink Indonesia opened flights to four new destinations namely, Jayapura, Kendari, Gorontalo and Ambon and one regional route to Dili in Timor Leste.
---
Citilink Fleet
Citilink's fleet is made up of 44 Airbus A320-200, eight Airbus A320neo and two Boeing 737-500 aircraft.
---
Citilink Baggage
Carry-on Baggage
Passengers are entitled to one piece of carry-on baggage and one small personal item weighing no more than 7kg collectively.
Checked Baggage
The baggage allowance for Citilink passengers is 20kg for domestic flights and 10kg for international flights. Be wary that your individual baggage allowance will vary according to the fare class purchased.
---
Citilink Online Check-in Information
Online Check-In
Online check-in opens 48 hours before the flight and closes two and a half hours prior to scheduled departure.
Airport Check-In
Citilink airport check-in counters at the airport open two hours before departure and close 30 minutes prior.
---
Book Citilink Flights in English
Alternative Airlines offers you Citilink flights in English. Flying around Indonesia? We offer you the best and safest booking service in English when booking your Citilink flights. Choose from multiple Indonesian airlines and make your booking completely in English.
---
Citilink Frequent Flyer Program
Citilink participates in the frequent flyer program called Garuda Miles to reward its regular passengers. Passengers will earn mileage points for flights, priviledge to enjoy Super++service and 5% off return flights.
---
Citilink Discount and Promo Code
Enjoy grabbing a discounted Citilink flight ticket with Alternative Airlines, with the wide range of PayPal travel coupons on offer! Pay with PayPal and get a discounted airfare with a Citilink promo code.
---
Alternative Airlines to Citilink
Please click on the logos below to find out more about airlines that fly similar routes to Citilink:
To find out more about other Indonesian domestic airlines and to find out how to book your multi-stop trip around Indonesia please visit our Flights Around Indonesia page.
---
Citilink Hub Airport
Soekarno-Hatta Airport
Citilink is based at Soekarno-Hatta International Airport, which is the main airport serving Indonesia's capital, Jakarta. The airport operates as a hub for Garuda Indonesia, but also for Batik Air, Indonesia AirAsia, and Lion Air. The airport has two runways and handles around 65 million passengers a year.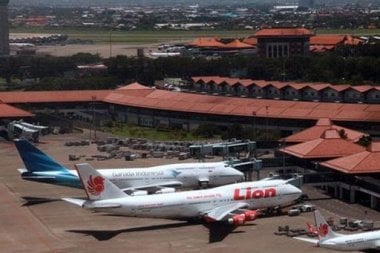 ---
Citilink News
31st May 2018
Citilink to offer 86,400 extra seats for Eid holiday period
Citilink, subsidiary of Garuda Indonesia, is planning to add 86,400 seats for Eid Day and the surrounding holiday period, according to Corporate Secretary of Garuda Indonesia, Hengki Heriandono. The additional seats will be available across 480 flights for Citilink, operating between the period of 8th June and 24th June 2018.
Heriandono said that they have already received permission from authorities and they look to operate most Citilink flights out of Jakarta to a number of domestic destinations. He added that passengers tend to book their flights for Eid close ahead of Eid Day as they first need to get their religious holiday allowance approved.
21st May 2018
Citilink is most punctual airline in Southeast Asia
Citilink can boast the title of "most punctual airline in Southeast Asia" after a monthly report from the Official Airline Guide (OAG) put them in the number one position for April 2018. Citilink were on time for 89.02% of their flights last month, beating second placed airline, Scoot, who scored 85.4%. Citilink operated a total of 8,590 fights last month.
This sees a significant increase for the company. According to the airline's Vice President Cororate Scretary and Corporate Social Responibiity Manager, Ranty Astari Rachman, the company was ranked 14th, being on-time to 80.7% of 7,445 flights. He added that the awards has motivated them to further improve their pefromance in the future.
26th September 2017
Citilink Available On GDSs Via Hahn Air Systems
Global consolidation service Hahn Air Systems has signed an agreement with Citilink Indonesia, enabling the low-cost carrier to offer its flights to travel agents without needing its own GDS interface.

Juliandra Nurtjahjo, CEO, Citilink Indonesia, commented "This cooperation is an important strategic step for Citilink Indonesia especially in our efforts to take our indirect distribution to the next level. By leveraging on Hahn Air Systems' innovative distribution solution, we are now able to unlock new business opportunities and capture incremental bookings via travel agents."

Hahn Air Systems connects more than 70 air partners to all major GDSs through its H1 network and provides a similar service for rail and shuttle providers.
9th September 2017
Citilink now offers direct flights Yogyakarta - Medan
Subsidiary airline of Garuda Indonesia Citilink Indonesia opens new direct route from Medan to Yogyakarta, The flight starts on September 20. "We hope to encourage the growth of tourism in Yogyakarta and Medan," said Director of Citilink Indonesia Juliandra Nurtjahjo in Yogyakarta, Friday (9/8/2017). The new route shows Citilink'scommitment in realizing Ministry of Tourism's target to bring in 20 million foreign tourists to Indonesia by 2019.
Flight number QG 980 will fly passengers directly from Medan to Yogyakarta and will be reached in three hours 10 minutes. The flight departures from Medan at 12.00 Western Indonesia Time (WIB) and arrives in Yogyakarta at 15.10 WIB. Meanwhile, QG 981 direct flights from Yogyakarta to Medan take two hours and 55 minutes with departure time at 15:55 WIB and arrives in Medan at 18:50 WIB.
19th August 2017
Citilink wins second Asia best employer brand award
Indonesian Low Cost Carrier (LCC) Citilink Indonesia won the second "Asia Best Employer Brands Awards" in a row from Singapore's Employer Branding Institute as the most attractive company in Asia. This is the second Citilink's achievement after previously won the same award in 2015. This event was attended by CEO and top leaders from 200 leading companies from across Asia. This award placed Citilink as a company leveled with some world's leading companies such as Telstra Australia, Standard Chartered Bank China, Hutchison Hong Kong, Disneyland, Dell, Telkomsel, Samsung, and Singapore's Changi Airport.
8th March 2017
Citilink Indonesia announces its cooperation with the Indonesia Assembly of Industrial Area to expand Citilink's customer segment to the industrial workers.
Low Cost Carrier (LCC) Citilink Indonesia is cooperating with the Indonesian Assembly of Industrial Area (HKI) to expand Citilink's costumer's segment to the industrial workers. "This cooperation is a strategic step for Citilink especially in effort to expand Citilink's costumer segment into the industrial sector," said Citilink Indonesia Director of Finance Mega Satria in Jakarta, Thursday (28/7). The signing of the Memorandum of Understanding (MoU) between Citilink Indonesia and the Industrial Area Assembly (HKI) was carried out by Citilink Indonesia Director of Finance Mega Satria and the Chairman of the Industrial Area Assembly Sanny Iskandar in Jakarta. The cooperation form of Citilink Indonesia and HKI is the special provision for HKI employee that fly with Citilink Indonesia. Currently, Citilink Indonesia is serving 54 flight routes to 27 cities in Indonesia with frequency more that234 flights per day.
13th August 2016
Citilink Indonesia inked an agreement with Telkom University in Bandung
Indonesian Low Cost Carrier (LCC) Citilink Indonesia inked an agreement (Memorandum of Understanding/MoU) with Telkom University in Bandung in improving cooperation concerns in the education sector to improve the human resources quality in the national aviation industry.
The agreement of Citilink Indonesia and Telkom University were signed by the President & CEO of Citilink Indonesia Albert Burhan and the university's rector Prof. Ir Mochamad Ashari, M. Eng., Ph.D at Telkom University Convention Hall, Buah Batu, Bandung, Saturday (13/8). Along with the signing of the agreement, Citilink Indonesia would be able to create a strategic partnership in preparing Telkom University alumni's future career, especially in civil aviation industry. Citilink Indonesia and Telkom University will cooperate in various activities such as recruitment program, internship, workshop, community service, research and development, and also company visit.