Pegas Fly Reservations with Alternative Airlines
Make a Pegas Fly Booking and Find Some Amazing Deals
---
About
Pegas Fly, the operating name of Ikar Airlines LLC, is a Russian-based airline company who run both international and domestic flights. Although founded in 1993, it was originally run under the Ikar brand. This was rebranded in 2015 where they changed their operating name to Pegas Fly. The company's headquarters are in Krasnoyarsk, but operates flights in many locations.
---

Destinations
Pegas Fly currently operate routes between the following destinations, although some are only seasonal.
Destinations Served
Azerbaijan - Baku
Tajikistan - Dushanbe and Khujand
China - Fuzhou, Guangzhou, Haikou, Jinan and Xi'an
Russia - Moscow
Israel - Tel Aviv
---
Fleet
The Pegas Fly fleet includes four Boeing 737-800, six Boeing 767-300ER, three Embraer 190AR and two Embraer 190LR aircraft.
---
Baggage
Carry-on Baggage
Every fare and class with Pegas Fly flying both domestically and internationally includes the bare minimum of one piece of carry-on baggage, weighing up to 5kg. However, some Pegas Air baggage allowances will allow two pieces, for example the Comfort Promo, Comfort Optimum, Business Promo and Business Optimum which will all allow 2 pieces of hand luggage.
The dimensions of hand luggage must fit within the given sizes of 55cm x 40cm x 20cm, equalling 115cm. Be sure to check your ticket to ensure you know what booking class and fare you have purchased.
Checked Baggage
As with Pegas Air carry-on baggage, the amount and weight of checked luggage is dependant upon the service class and fare type that is chosen when booking a flight. All but one class and fare category will allow 1 piece up to 20 kg. This exclusion is economy promo which does not permit any checked luggage. All other fares and classes will allow 1 piece of hold luggage weighing 20 kg.
Certain fares and classes allow for more: Comfort Optimum allowing 2 pieces up to 20kg, and Business Optimum which allows 2 pieces up to 30 kg. There are size restrictions which apply to checked luggage, where suitcases must not exceed total dimensions of 203cm. You will find information on which booking class and fare you have purchased on your booking information and ticket.
---
Check-In Information
Online Check-In
Pegas Fly offer online check-in 24 hours before departure, which closes 1 hour before departure. When flying from a country outside of Russia, back to Russia, online check-in will close 4 hours before departure.
Airport Check-In
Check-in will open at the airport 3 hours before the scheduled departure time, and close 40 minutes prior to departure.
---
Alternative Airlines to Pegas Fly
Please click on the logos below to find out more about airlines that fly similar routes to Pegas Fly:
---
Class Information
Economy Class
Economy class passengers can enjoy hot meals, and soft and hot drinks on board for mid and long-haul flights, and a selection of complimentary soft drinks on board short-haul flights for free. Economy class cabins are comfortable, with premium seats available for a purchase upgrade.
Business Class
Business Class passengers have premium seats on board, with the most premium seats available to purchase for a small fee. Passengers will also have premium meal choices on board, also receiving hot meals and tea or coffee on shorter flights where economy class passengers do not.
---

Hub Airport
Zhukovsky International Airport
Zhukovsky International Airport is located 36 km outside Moscow, Russia. Although it is located on a former airport, the current version was officially opened in May 2016, with commercial flights beginning in June 2016. It is built to hold a capacity of 4 million passengers per year. It was built to have two working runways but the shorter one has now been closed.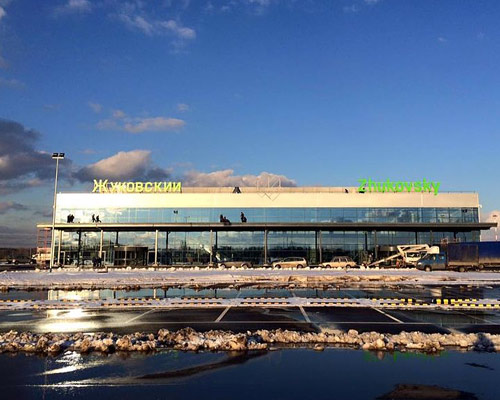 Attribution: Jefroz
---