Search & Buy SriLankan Airlines Flights
Airlines will always try to sit children with their parents (subject to check-in)
Some airlines will allow travel for unaccompanied minors. Please email us to check.
The fare is based on the child's age on the date of travel.
More detailed information can be found here Traveling with children
Most airlines will let infants travel with their parent(s) for free. However some airlines will charge up to 10% of the adult ticket price. Click on 'Price Breakdown' to find out more.
If you are pregnant, but due before the flight departure date, please contact us once your baby is born and has a name. We can then add him/her to your ticket.
Infants will not be given a seat. The airlines expect parents to travel with them on their lap.
Airlines regard infants as being under 24 months old.
The fare is based on the child's age on the date of travel.
More detailed information can be found here Traveling with children
Buy
SriLankan Airlines

Flights
SriLankan Airlines Reservations with Alternative Airlines
Make a SriLankan Airlines Ticket Booking and Find Some Amazing Deals
---
About SriLankan Airlines
SriLankan Airlines is the flag carrier of Sri Lanka and is headquartered in Katunayake, Sri Lanka. The airline is a member of the Oneworld alliance. SriLankan Airlines flies to many destinations including Abu Dhabi, Bangalore, Bangkok, Beijing, Chennai, Colombo, Dubai, Frankfurt, Guangzhou, Hong Kong, Kuwait, Kunming, Kuala Lumpur and many others. SriLanka Airlines was launched in 1979 and currently flies to 94 destinations in 44 countries. In 2015, SriLankan Airlines won the award for "Superior Achievement in Passenger Experience" from APEX Passenger Choice Awards and Future Travel Awards 2015: Best in the Region. SriLankan Airlines has codeshare agreements with Air Berlin, Finnair, Japan Airlines, Malaysia Airlines, Qantas, S7 Airlines, Air Canada, Air India, Alitalia, Asiana Airlines, Etihad Airways, Niki, Oman Air and Saudia. SriLankan Airlines also had a codeshare agreement with Mihin Lanka, before it ceased operations in 2016.
In January 2016, SriLankan Airlines launched non-stop flights from Guangzhou to Colombo becoming the first airline operating direct flights between Guangzhou and Colombo in the South China market. SriLankan airlines seats are known for their ample room and width. Seating is in a two-class system of Business and Economy. Business classes on long-haul aircraft are equipped with seats that convert into fully-flat beds. Sri Lanka Airline's Thales Avant in-flight entertainment system has the latest Audio / Video On Demand function.
---
SriLankan Airlines Frequent Flyer Program
SriLankan Airlines operates a frequent flyer program called FlySmiles to reward to regular passengers. SriLankan Airlines is a member airline of the world's leading airline alliance Oneworld. Oneworld is an alliance of the world's leading airlines committed to providing the highest level of service and convenience to frequent international travellers. FlySmiles has 5 membership levels: Platinum, Gold, Classic, Silver and Blue. Members can also opt for the Baggage Bonus Programme offering exclusive additional luggage allowances.
---
SriLankan Airlines Baggage
Carry-on Baggage
SriLankan Airlines baggage allowance is one piece of hand baggage for Economy Class passengers weighing no more than 7kg. Business and First Class passengers flying SriLankan Airlines are permitted two pieces of 7kg of hand baggage.
Checked Baggage
Sri Lankan Airlines First and Business Class passengers are permitted one piece of checked baggage weighing no more than 40kg. SriLankan Airlines Economy class passengers are permitted one item weighing 30kg and infants 10kg. The maximum dimensions for checked baggage are 158 linear cm/ 62 in. For infants, bags must not be greater than 115cm/ 45in.
For routes to and from North, Central and South America, First and Business Class passengers are permitted two pieces of checked baggage weighing 32kg. Economy Class passengers are permitted two pieces two pieces weighing 23kg each. Infants are permitted one piece of checked baggage weighing 23kg.
---
SriLankan Airlines Check-in Information
Online Check-in
Sri Lankan Airlines passengers can save time by checking in online. Online check-in is available from 24 hours prior to your flights departure and closes two hours prior.
---
SriLankan Airlines Fleet
Airbus A330 and A350s were bought and they continued to have an all Airbus fleet. With the new aircraft, SriLankan airlines expect to have a growth in passenger count by 2017, as they seek to add new routes to their service and remove the less demanded ones.
---
Buy your flights to the 2019 Cricket World Cup with SriLankan Airlines
---
SriLankan Airlines Route Map
Please see the route map below for an outline of SriLankan Airlines destinations: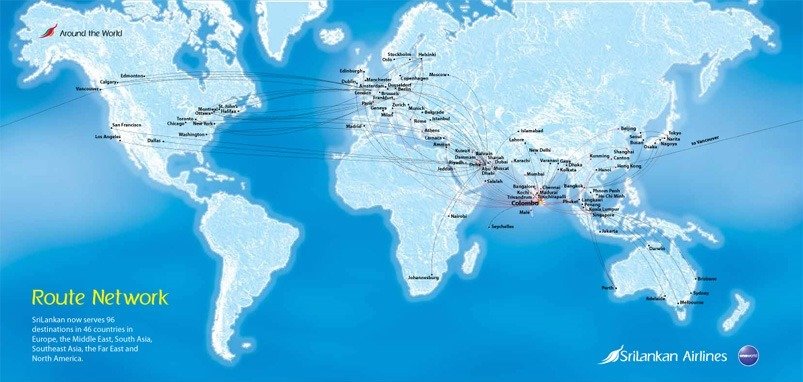 ---
SriLankan Airlines Popular Routes
London

Colombo
London

Male
Colombo

Male
London

Bangkok
Chennai

Colombo
Colombo

Bangkok
---
SriLankan Airlines Hub Airport
Bandaranaike International Airport
SriLankan Airlines is based at Bandaranaike International Airport, which is the main international airport serving Sri Lanka. It is the hub airport for SriLankan Airlines. It has one runway and can handle nearly 8 million passengers every year. Other airlines which fly to and from this airport include Air Arabia, Air Asia X, Air China, Air India, Cathay Pacific, Emirates, Korean Air, Kuwait Airways, Malaysia Airlines, Oman, Qatar Airways and Saudia.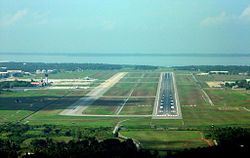 ---
SriLankan Airlines One World Alliance
SriLankan Airlines is part of One World Alliance which is a leading global airline network, with 15 member airlines. Some of SriLanka Airlines' partner airlines include Cathay Pacific, Finnair, LATAM Airlines, Malaysia, Qantas, Qatar, Iberia, British Airways, American Airlines and many others. Oneworld alliance covers more than a thousand destinations in 155 countries.
---
Alternative Airlines to SriLankan Airlines
---
SriLankan Airlines News
28th June 2018
SriLankan Airlines has New CFO
The new Chief Financial Officer and Chief Operating Officer for SriLankan Airlines is Vipula Gunatilleka.
SriLankan Airlines is revamping its management team. From next month, Chairman of SriLankan Airlines Ranjith Fernando said that Vipula Gunatilleka would assume duties. Gunatilleka currently serves as CFO and Board Member at TAAG Angolan Air Lines.
17th April 2018
SriLankan Airlines achieves record passenger revenue
SriLankan Airlines, the flag carrier of the island nation, on Monday said it had achieved a record annual passenger revenue of $830 for the 2017-18 fiscal, the highest ever in the company's 38-year history.
In a statement, the airline said the revenue came as a result of its recent expansion to several new destinations such as Hyderabad (India), Gan Islands (Maldives) and Melbourne with additional frequencies to popular cities in its network, reports Xinhua news agency. Both passenger and cargo divisions exceeded their annual target, enabling the SriLankan Airlines Group to exceed the overall annual revenue target.
SriLankan Airlines CEO Captain Suren Ratwatte said this was the first instance of the airline achieving its annual revenue target since Emirates left as its managing partner 10 years ago. 'This comes at a turbulent time for the industry when most airlines are facing difficulty maintaining their yields due to intense competition. SriLankan has just completed a year of significant expansion with minimal erosion on yields and ended the year comfortably exceeding the revenue target,' Ratwatte said.
The airline said the year had been one of transformation in which it inducted four brand new fuel efficient narrow-bodied aircraft to the fleet, becoming the first A321neo aircraft operator in Asia.
A new Board of Directors was also appointed last month to accelerate the restructuring process and create the enabling environment to proceed with entering into a Public-Private-Partnership with a strategic investor. In February, Sri Lankan President Maithripala Sirisena appointed a special Presidential Commission to investigate alleged large-scale frauds and malpractices in SriLankan Airlines, after the company recorded severe losses.
26th March 2018
SriLankan Airlines scores a hat-trick at Golden City Gate Awards 2018
SriLankan Airlines, the National Carrier of Sri Lanka and a member of the Oneworld alliance, has won a staggering three awards at Golden City Gate Awards 2018 at ITB Berlin, the world's largest tourism trade fair. The 18th edition of the awards saw a jury 40 members judging 157 submissions sent by over 30 countries. SriLankan Airlines was awarded the 'First Star' in the campaign category, for its Melbourne launch campaign "Two Cities, One Spirit." It also bagged the 'Second Star' in the same category, for its brand campaign in China themed "The Spirit of China, the Story of Sri Lanka." The third, another 'Second Star', was bestowed upon SriLankan for its video "The Largest Carrier to India" in the TV Cinema Spot category.
This is the second consecutive time the airline was commended at the Golden City Gate podium, having been the recipient of the 'First Star' for its destination video "Epic Journey of Sri Lanka on SriLankan Airlines" in the MICE Promotions category last year. SriLankan Airlines Chairman Ajith Dias said: "We at SriLankan Airlines are truly delighted to receive three prestigious awards at this year's Golden City Gate Awards. This proves that our marketing communications endeavors have been universally accepted."
10th December 2017
SriLankan Airlines adds 5 flights to India
Currently the airline offers flights to 14 Indian destinations but that is soon to become 19. Having already established a strong presence in the country, the flag carrier of Sri Lanka plans to add five flights a week to New Delhi and Mumbai, as well as some brand new routes. This is to cater for the growing demand from India.
As India is the biggest source market for Sri Lanka, the airline already has a wide footprint all over the country. "India continued to be the top source market with 384,628 arrivals (up 7.8 per cent) followed by China with 268,952 (down 1 per cent) and UK 201,879 (up 7.3 per cent). In 2017, tourist arrivals in Sri Lanka reached an all- time high of 2,116,407." a release by Sri Lanka Tourism Development Authority said. According to a PTI report, the higher number of arrivals has been achieved despite serious setbacks to the tourism industry in 2017, including the partial closure of the country's main airport from January to April and devastating floods that cut off access to many resort areas. Currently, SriLankan Airlines operates direct flights to 14 Indian destinations with a total of 135 flights a week.
10th December 2017
SriLankan Airlines increases Doha-Colombo flight
With this enhancement, there are now two flights per day on Sunday, Monday, Tuesday and Thursday, increasing from its earlier daily service, the airline has said in a statement. The new flights depart Doha on Sunday, Monday and Tuesday at 4.35pm and arrive in Colombo at 11.50pm. On Thursday the flight departs Doha at 4.30pm and arrives in Colombo at 11.45pm. The existing flights depart Doha at 10.50pm and arrive in Colombo at 6.05am the following day. The airline stressed that the strengthened capacity "comes following an increase in passenger demand, both from Qataris travelling overseas and the migrant labour market".
"Sri Lanka's national carrier is strengthening its routes following the arrival of several sophisticated new Airbus A320 and A330 aircraft that it is deploying to both the Middle East and its South Asian sectors," it added.
SriLankan Airlines is a member of the Oneworld Alliance.
"SriLankan has strategically re-engineered its global route network to focus on more rewarding markets throughout Asia, including the Middle East, South Asia, the Far East and the Indian Ocean region, providing convenient onward connections through Colombo. It recently launched daily non-stop services to Melbourne," the statement added.
The airline operates a route network of 103 cities from its hub in Colombo. In addition Oneworld member airlines link over 1,000 cities in 160 countries. SriLankan has in recent times been honoured with a series of global accolades. These include a Four Star Rating from the Airline Passenger Experience Association in the first ever global airline industry rating programme based solely on passenger feedback.
9th November 2017
SriLankan Airlines voted as Best Airline in South Asia
SriLankan Airlines became the toast of the region's airline industry when it was chosen as the 'Leading International Airline' at the second annual South Asian Travel Awards 2017, convincingly beating out other airlines from several countries, while SriLankan's Business Class was named the 'Best in Class' among all airline cabin classes in the region.
The awards were presented at a gala ceremony at Equator Village Resort in Addu City on Gan Island in the Maldives on 28th October 2017.Awards were presented in 50 categories covering the entire travel industry, including full service airlines, low cost airlines, hotels, various types of resorts, conference facilities, travel agencies, tour operators, adventure tourism, wellness centres, airports, travel technology providers, transport providers, and even industry CSR activities. Dimuthu Tennakoon, Head of Worldwide Sales Delivery at SriLankan Airlines, said: 'These awards demonstrate the high all-round quality of SriLankan Airlines, from the choice of destinations that we provide our passengers, to our superb product and service both in the air and on the ground throughout our global route network.'
SriLankan has won a host of accolades in recent times including 'World's Leading Airline Operating to the Indian Ocean Region' at the World Travel Awards; 'Best Full Service Airline in Central and South Asia' for the second consecutive year at the Future Travel Experience Asia Awards; 'Best International Airline - Asia' at the Tamil Nadu Tourism Awards;'Most Innovative Marketing Airline in China' by Life Weekly magazine; and 'Best Airline in South Asia' at the Top Travel Awards, also in China.
Just weeks ago, SriLankan Airlines was honoured with a prestigious Four Star Rating by the Airline Passenger Experience Association (APEX) in the first ever global airline industry rating programme based solely on feedback from passengers.
In the quest to be chosen as the 'Leading Airline in South Asia' SriLankan Airlines overcame competition from Air India, Indian Airlines, Druk Air, Himalaya Airlines and Nepal Airlines who were the other nominees.
---