SriLankan Airlines Reservations with Alternative Airlines
Make a Booking and Find Some Amazing Deals
---
About
SriLankan Airlines is the flag carrier of Sri Lanka and is headquartered in Katunayake, Sri Lanka. The airline is a member of the Oneworld alliance. The airline was launched in 1979 and flies to many destinations in over 20 countries.
In 2015, SriLankan Airlines won the award for "Superior Achievement in Passenger Experience" from APEX Passenger Choice Awards and Future Travel Awards 2015: Best in the Region.
The airline has codeshare agreements with a number of airlines, including Air Berlin, Finnair, Japan Airlines, Malaysia Airlines, Qantas, S7 Airlines, Air Canada, Air India, Alitalia, Asiana Airlines, Etihad Airways, Niki, Oman Air and Saudia. SriLankan Airlines also had a codeshare agreement with Mihin Lanka, before it ceased operations in 2016.
Top Tip: Do you plan on visiting Sri Lanka? Check out our guide to domestic flights within Sri Lanka for more information, including an airport and airline guide and FAQs. You can even book your SriLankan Airlines flights today and pay later in instalments with payment plans such as Afterpay, Klarna and Tabby, among others - only when you book through Alternative Airlines!
---
Destinations
SriLankan Airlines flies to more than 100 destinations. This includes Melbourne, Dhaka, Frankfurt, Bangalore, Delhi, New York, Mumbai, Tokyo, Doha, Seoul, Colombo, Dubai, London and more.
COUNTRY
CITY
AIRPORT
Australia
Melbourne
Melbourne Airport
Sydney
Sydney Airport
Bahrain
Manama
Bahrain International Airport
Bangladesh
Dhaka
Shahjalal International Airport
China
Beijing
Beijing Capital International Airport
Guangzhou
Guangzhou Baiyun International Airport
Shanghai
Shanghai Pudong International Airport
Germany
Frankfurt
Frankfurt Airport
India
Ahmedabad
Sardar Vallabhbhai Patel International Airport
Bangalore
Kempegowda International Airport
Chennai
Chennai International Airport
Coimbatore
Coimbatore International Airport
Delhi
Indira Gandhi International Airport
Hyderabad
Rajiv Gandhi International Airport
Kochi
Cochin International Airport
Kolkata
Netaji Subhas Chandra Bose International Airport
Kozhikode
Calicut International Airport
Madurai
Madurai International Airport
Mumbai
Chhatrapati Shivaji International Airport
Thiruvananthapuram
Trivandrum International Airport
Tiruchirappalli
Tiruchirappalli International Airport
Indonesia
Jakarta
Soekarno–Hatta International Airport
Japan
Tokyo
Narita International Airport
Kuwait
Kuwait City
Kuwait International Airport
Malaysia
Kuala Lumpur
Kuala Lumpur International Airport
Maldives
Gan
Gan International Airport
Malé
Velana International Airport
Nepal
Kathmandu
Tribhuvan International Airport
Oman
Muscat
Muscat International Airport
Pakistan
Karachi
Jinnah International Airport
Lahore
Allama Iqbal International Airport
Qatar
Doha
Hamad International Airport
Saudi Arabia
Dammam
King Fahd International Airport
Jeddah
King Abdulaziz International Airport
Riyadh
King Khalid International Airport
Singapore
Singapore
Singapore Changi Airport
Seychelles
Mahé
Seychelles International Airport
Sri Lanka
Colombo
Bandaranaike International Airport
South Korea
Seoul
Incheon International Airport
Thailand
Bangkok
Suvarnabhumi Airport
United Arab Emirates
Abu Dhabi
Abu Dhabi International Airport
Dubai
Dubai International Airport
United Kingdom
London
London Heathrow International Airport
United States
New York
John F. Kennedy International Airport
Los Angeles
Los Angeles International Airport
Miami
Miami International Airport
Chicago
Chicago O'hare International Airport
---
Route Map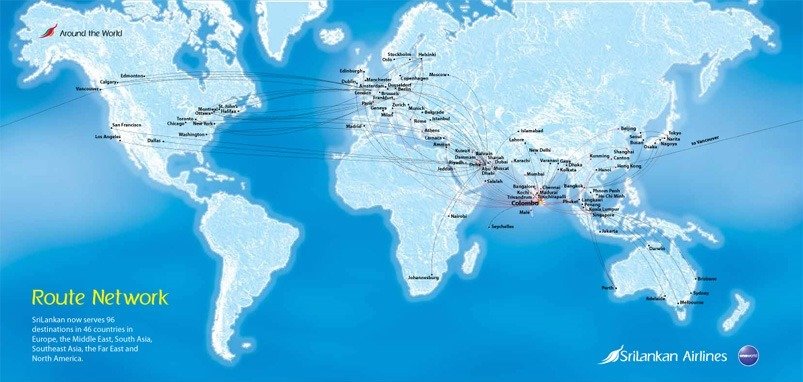 ---
Baggage
Carry-on Baggage
SriLankan Airlines carry-on baggage allowance is one piece of hand baggage for Economy Class passengers weighing no more than 7kg. Business and First Class passengers flying SriLankan Airlines are permitted two pieces of 7kg of hand baggage.
Free permitted carry-on items in addition to hand baggage include:
One laptop
One handbag or purse
One overcoat or blanket
One umbrella or walking stick
One small camera
Checked Baggage
Sri Lankan Airlines First and Business Class passengers are permitted one piece of checked baggage weighing no more than 40kg. SriLankan Airlines Economy class passengers are permitted one item weighing 30kg and infants 10kg. The maximum dimensions for checked baggage are 158 linear cm/ 62 in. For infants, bags must not be greater than 115cm/ 45in.
For routes to and from North, Central and South America, First and Business Class passengers are permitted two pieces of checked baggage weighing 32kg. Economy Class passengers are permitted two pieces weighing 23kg each. Infants are permitted one piece of checked baggage weighing 23kg.
Excess Baggage
Excess baggage fees with SriLankan Airlines depend on your route, departure time and fare type. You can add excess baggage to your trip when booking through Alternative Airlines.
---
Check-in Information
Online Check-in
Sri Lankan Airlines passengers can save time by checking in online. Online check-in is available from 24 hours prior to your flights departure and closes two hours prior.
---
Economy Class
Facilties
SriLankan Airlines Economy class is where intricacy meets simplicity; the perfect combination for an enjoyable flying experience. Adjustable seats, mouth-watering cuisine with a choice of up to three main courses (on long haul flights), light snacks, teas, coffee and complimentary bar service including a range of wines, spirits and soft drinks, and an inflight entertainment with over 100 movies to choose from for all ages - these are the little luxuries that make pleasant travel memories for everyone on-board.
Seating
Enjoy comfortable and spacious seating with a good amount of legroom. The team will be on-hand to help.
---
Business Class
There's no better way to fly than SriLankan's Business Class. It's an experience of comfort and sophistication, sealed with traditional Sri Lankan hospitality and warmth.
Facilties
You can indulge in delicious meals prepared with extra care to please your palate, with a wide array of healthy options. Stay entertained with the state of the art Thales AVANT in-flight entertainment system which has the latest blockbusters from Hollywood to Bollywood, and a collection of classics and favourites. Business Class features 15.4-inch screens, with over 50 TV channels, 120 movies. Onboard you are offered an amenity kit to give you that little extra comfort of Business Class.
Prior to boarding: Your Business Class starts at the airport, where you receive priority check-in at the silk route and complimentary access to the Serendib Lounge.
Seating
Experience the highest levels of privacy and comfort, relaxing in bed that recline to full 180 degrees. You can enjoy individual storage space providing room for all your personal belongings and you'll find more knee room and living space.
---
WiFi
Stay connected while you fly with in-flight WiFi onboard SriLankan Airlines. WiFi is currently only available to purchase on the A330-300 and A320/321 fleet. The cabin crew will notify you if your flight is equipped with WiFi.
---
Frequent Flyer Program
SriLankan Airlines operates a frequent flyer program called FlySmiles to reward to regular passengers. SriLankan Airlines is a member airline of the world's leading airline alliance Oneworld. Oneworld is an alliance of the world's leading airlines committed to providing the highest level of service and convenience to frequent international travellers. FlySmiles has 5 membership levels: Platinum, Gold, Classic, Silver and Blue. Members can also opt for the Baggage Bonus Programme offering exclusive additional luggage allowances.
---
Hub Airport
Bandaranaike International Airport
SriLankan Airlines is based at Bandaranaike International Airport, which is the main international airport serving Sri Lanka. It is the hub airport for SriLankan Airlines. It has one runway and can handle nearly 8 million passengers every year. Other airlines which fly to and from this airport include Air Arabia, Air Asia X, Air China, Air India, Cathay Pacific, Emirates, Korean Air, Kuwait Airways, Malaysia Airlines, Oman, Qatar Airways and Saudia.
---
Fleet
Airbus A330 and A350s were bought and they continued to have an all Airbus fleet. With the new aircraft, SriLankan airlines expect to have a growth in passenger count by 2017, as they seek to add new routes to their service and remove the less demanded ones.
---
Oneworld Alliance
SriLankan Airlines is part of the Oneworld Alliance which is a leading global airline network, with 15 member airlines. Some of SriLanka Airlines' partner airlines include Cathay Pacific, Finnair, LATAM Airlines, Malaysia, Qantas, Qatar, Iberia, British Airways, American Airlines and many others. Oneworld alliance covers more than a thousand destinations in 155 countries.
---
Alternative Airlines
---
News
23rd May 2022
SriLankan Airlines Receives Resilience Award
SriLankan Airlines has recently received a Resilience Award at the 15th Changi Airline Awards in Singapore due to its efforts to maintain its uninterrupted flight schedules and routes throughout the COVID-19 pandemic.
---
FAQs
Does SriLankan Airlines fly to the USA?
Yes, SriLankan Airlines flies direct to a range of cities in the USA including New York, Chicago, Philadelphia, Miami, San Francisco, Dallas, Los Angeles and Washington.