Search and Buy Meridiana Flights Online with Alternative Airlines
Make a Meridiana Reservation and Find Some Amazing Deals
Meridiana ceased operations is 2018 and rebranded to Air Italy. Check out our Air Italy page to find out more on the airline and search for flights on Air Italy.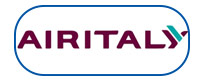 ---
About
Meridiana was an Italian airline that offered scheduled and charter passenger flights. The airline was based at Olbia Costa Smeralda (OLB) and, in the year that it shut down, offered flights to destinations across Europe, South America, Africa and to New York City.
The airline launched in 1964 under the name Alisarda and flew its first series of flights in 1964 with domestic services from Sardinia. The airline rebranded to Meridiana in 1991, which is what it was known as until ceased operations.
Having previously flown charter flights to similar destinations, the airline launched its first scheduled intercontinental flights in 2009, with flights to several destinations in Africa and following, transcontinental flights to South America.
At the time that it ceased operations, Meridiana was part-owned by Qatar Airways and the original company that launched the airline, Alsirada. In March 2018, the two companies agreed to shut Meirdiana down and relaunch it as Air Italy, with many of the flights on Meridiana's route network transferred over to the new airline.
Meridiana had codeshare agreements with Air Malta, Air Moldova, Blue Air, Blue Panorama Airlines, British Airways, Iberia, S7 Airlines.
---
Fleet
At the time that it ceased operations, Meridiana had a fleet of 11 aircraft, which consisted of Boeing 737-700, Boeing 737-800 and Boeing 767-300 ER models.
Historically, the airline has also used aircraft from other manufacturers, including Airbus (A320 family) and regional jets from ATR, British Aerospace and McDonnell Douglas.
---
Destinations
Domestic Destinations
CITY
AIRPORT
Bari
Bari Karol Wojtyła Airport (BRI)
Bergamo
Orio al Serio Airport (BGY)
Bologna
Bologna Guglielmo Marconi Airport (BLQ)
Catania
Catania–Fontanarossa (CTA)
Cagliari
Cagliari Elmas Airport (CAG)
Florence
Florence Airport (FLR)
Genoa
Genoa Cristoforo Colombo Airport (GOA)
Lamezia Terme
Lamezia Terme International Airport (SUF)
Lampedusa
Lampedusa Airport (LMP)
Milan
Linate Airport (LIN)
Malpensa Airport (MXP)
Naples
Naples International Airport (NAP)
Olbia
Olbia – Costa Smeralda Airport (OLB)
Palermo
Falcone–Borsellino Airport (PMO)
Rome
Leondardo da Vinci-Fiumicino Airport (FCO)
Trieste
Trieste – Friuli Venezia Giulia Airport (TRS)
Turin
Turin Airport (TRN)
Venice
Venice Marco Polo Airport (VCE)
Verona
Verona Villafranca Airport (VRN)
International Destinations
COUNTRY
CITY
AIRPORT
Brazil
Fortaleza
Fortaleza International Airport (FOR)
Natal
Greater Natal International Airport (NAT)
Recife
Recife/Guararapes–Gilberto Freyre International Airport (REC)
Cape Verde
Sal Island
Amilcar Cabral International Airport (SID)
Colombia
Cartagena
Rafael Núñez International Airport (CTG)
Dominican Republic
La Romana
La Romana International Airport (LRM)
Egypt
Cairo
Cairo International Airport (CAI)
Marsa Alam
Marsa Alam International Airport (RMF)
Sharm el Sheikh
Sharm el-Sheikh International Airport (SSH)
France
Nice
Nice Côte d'Azur Airport (NCE)
Paris
Charles de Gaulle (CDG)
Ghana
Accra
Kotoka International Airport (ACC)
Greece
Athens
Athens International Airport (ATH)
Heraklion
Heraklion International Airport (HER)
Kos
Kos Island International Airport (KOS)
Mykonos
Mykonos Island National Airport (JMK)
Rhodes
Rhodes International Airport (RHO)
Santorini
Santorini National Airport (JTR)
Skiathos
Skiathos International Airport (JSI)
Zakynthos
Zakynthos International Airport (ZTH)
Kenya
Mombasa
Moi International Airport (MBA)
Madagascar
Nosy Be
Fascene Airport (NOS
Maldives
Malé
Malé International Airport (MLE)
Mauritius
Port Louis
Sir Seewoosagur Ramgoolam International Airport (MRU)
Nigeria
Lagos
Murtala Muhammed International Airport (LOS)
Russia
Moscow
Domodedovo International Airport (DME)
Senegal
Dakar
Blaise Diagne International Airport (DSS)
Spain
Fuerteventura
Fuerteventura Airport (FUE)
Ibiza
Ibiza Airport (IBZ)
Madrid
Adolfo Suárez Madrid–Barajas Airport (MAD)
Menorca
Menorca Airport (MAH)
Palma de Mallorca
Palma de Mallorca Airport (MAH
Tenerife
Tenerife South Airport (TFS)
Switzerland
Geneva
Geneva Airport (GVA)
Tanzania
Zanzibar
Abeid Amani Karume International Airport (ZNZ)
United Kingdom
Belfast
Belfast International Airport (BFS)
London
Gatwick Airport (LGW)
United States
New York City
John F.Kennedy International Airport (JFK)
---
Baggage
Carry on Baggage
Passengers are allowed 1 piece of carry-on baggage with the sum overall dimensions of 115 cm and 1 piece of a personal item with a dimention of 40x30x15 cm.
Checked Baggage
The sum of three dimensions of any hold baggage item must not be larger than 158 cm. 1 x 23kg, 2 x 23kg and 2 x 32kg.
---
Check-in Information
Online Check-in
Meridiana did have online check-in and online allowed passengers to check-in luggage in advance, select your seat, meal options and much more, before you depart for the flight.
Airport Check-in
Meridiana airport check-in was available at its airports.
---
Route Map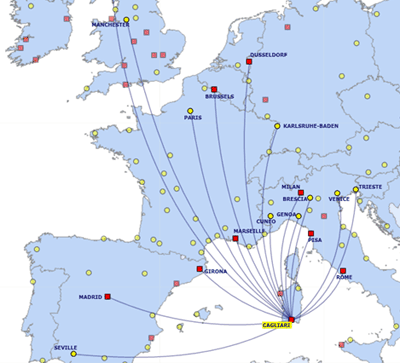 ---
Economy Class
The Economy Class cabin was spacious and comfortable.
Passengers could order a range of snacks and drinks from the airline's in-flight menu, with hot meals served on long-haul flights.
Economy Class Seats
Seats were set out in either a 3 x 3 formation (narrow body planes) or a 2 x 3 x 2 formation (wide body planes).
---
Business Class
The Business Class cabin offered a more luxurious cabin, with more space, larger seats and an attentive Busines Class cabin crew. The Business Class cabin was only available on flights operated by the Boeing 767-300ER.
Business Class Facilities
Passengers were given a number of benefits on the ground, including access to the airline's airport lounges and priority boarding and check-in.
In-flight, passengers were treated to hot meals, snacks and drinks from the airline's Business Class menu.
The Business Class cabin also featured a shared TV screen, which showed movies for passengers to enjoy. Each passenger was given their own set of headphones, which they can plug into the audio socket found on the arm of their seat.
Business Class Seats
Business Class seats were wider and gave significantly more legroom than seats in Economy Class. The Business Class cabin was set out in a 2 x 1 x 2 formation
---
In-Flight Entertainment
Passengers in Business Class could enjoy movies selected by the airline and shown on shared screens. Passengers were given headphones to plug into the connector on the seat of the aircraft so that they could each hear the audio from the movie.
---
Food
All passengers were served complimentary hot meals on long-haul flights and Business Class passengers were served hot meals on short-haul, medium-haul and long-haul flights.
In addition to meals, passengers could order a selection of snacks (sweet and salty) and hot, cold, alcoholic and non-alcoholic beverages on all flights.
---
WIFI
Meridiana didn't have a WIFI network.
---
Airline Alliance
Meridiana Airlines didn't partake in any airline alliance.
---
Special Services
The airline didn't have any information regarding its special service online.
---
Frequent Flyer Program
The airline operated a frequent flyers program called Meridiana Club to reward regular travellers, in partnership with Avios. Avios is the reward currency of frequent flyer programs run by Iberia and British Airways. Avios can be collected as everyday purchases with the help of a card similar to a credit card. Avios are awarded from the moment the flight is booked and can be summed to those earned with flights from Iberia and British Airways in connection flights or flights completely booked with them. They can be exchanged for reward flights with any of the airlines that make this alliance.
Meridiana Club offered different levels of membership in order to reward its regular passengers, such as increased baggage allowance, access to priority check-in counters and more. There were three levels of Meridiana Club, the standard Fly Pass, Fly Pass Silver and Fly Pass Gold, with each offering a varying number of benefits.
---
Hub Airport
Olbia Costa Smeralda Airport (OLB)
Olbia Costa Smeralda Airport (OLB) is an airport in Olbia, Sardina and was the hub airport for Meridiana. The airport mainly facilitates flight from airlines flying seasonal services to destinations within Italy and throughout the rest of Europe. However, airlines such as Vueling, easyJet, Transavia and Volotea operate year-round flights to/from the airport.
Currently, the only airline that uses Olia Costa Smeralda Airport as a hub is Air Italy.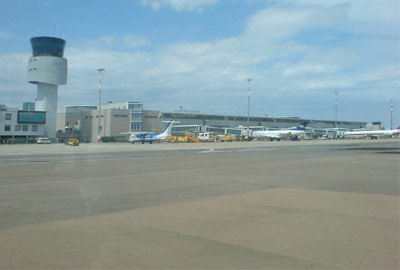 Credit: Christian Stocker on Wikimedia Commons
---
Alternative Airlines to Meridiana