Blue Panorama Reservations with Alternative Airlines
Make a Blue Panorama Booking and Find Some Amazing Deals
---
About
Blue Panorama Airlines is an Italian airline that offers both scheduled and charter flights. The airline is based at Rome-Fiumicino Airport and offers flights across Europe, as well as to other international destinations in North America, Central America and Asia. The airline flies to more than 30 destinations overall, although, many of them are only flown to on a seasonal basis.
The airline was founded in 1998. It operates most of its short-haul and medium-haul flights under the brand name Blu-Express and all of its charter flights under the brand name Executive Blue.
---
Fleet
The airline operates a fleet that consists of entirely Boeing aircraft. The airline has Boeing 767-300 and 737 models. Overall, it has more than 10 aircraft.
---
Destinations
Domestic Destinations
CITY
AIRPORT
Ancona
Marache Airport (AOI)
Bari
Bari Karol Wojtyła Airport (BRI)
Bergamo
Orio al Serio International Airport (BGY)
Bologna
Bologna Guglielmo Marconi Airport (BLQ)
Florence
Florence Airport (FLR)
Genoa
Genoa Cristoforo Colombo Airport (GOA)
Milan
Milan Linate Airport (LIN)
Milan Malpensa Airport (MXP)
Perugia
Umbria international Airport (PEG)
Pisa
Pisa International Airport (PSA)
Rimini
Federico Fellini International Airport (RMI)
Rome
Leonardo da Vinci-Fiumicino Airport (FCO)
Turin
Turin Airport (TRN)
Venice
Venice Marco Polo Airport (VCE)
Verona
Verona Villafranca Airport (VRN)
International Destinations
COUNTRY
CITY
AIRPORT
Albania
Tirana
Tirana International Airport (TIA)
Antigua and Barbuda
St.John's
V.C. Bird International Airport (ANU)
Brazil
Porto Seguro
Porto Seguro Airport (BPS)
Cape Verde
Sal
Sal International Airport (SID)
Croatia
Rijeka
Rijeka Airport (RJK)
Cuba
Cayo Largo del Sur
Vilo Acuña Airport (CYO)
Havana
José Marti International Airport (HAV)
Holguin
Frank Pais Airport (HOG)
Santiago
Arturo Merino Benítez International Airport (SCL)
Dominican Republic
La Romana
La Romana International Airport (LRM)
Santo Domingo
Las Américas International Airport (SDQ)
Dusseldorf
Dusseldorf
Düsseldorf Airport (DUS)
Kenya
Mombasa
Moi International Airport (MBA)
Mexico
Cancún
Cancún International Airport (CUN)
Tanzania
Zanzibar
Abeid Amani Karume International Airport (ZNZ)
United Kingdom
London
Stansted Airport (STD)
---
Baggage
Carry-On Baggage
On all flights, each passenger may carry one piece of free carry-on baggage with a maximum weight of 10 kg. This baggage must not exceed the overall dimensions of 55 cm x 40 cm x 20 cm (21.6" x 15.7" x 7.8").
Checked Baggage
On domestic flights and non-long haul international flights, passengers are not given a free checked baggage allowance. However, they do have the option to purchase checked baggage either online prior to the flight or at the airport.
On intercontinental flights, passengers are given a free checked baggage allowance of 23 kg, with the option to purchase additional baggage online prior to the flight or at the airport.
Checked baggage should not exceed the overall sum of 160 cm overall (h + l + w).
---
Check-In
Online Check-In
Passengers can check-in for their flight by visiting the Blue Panorama Airlines online check-in page, clicking the check-in tab and entering their last name and reservation number. Online check-in opens 15 days prior to departure and closes two hours before scheduled flight departure time.
Airport Check-In
Alternatively, passengers can check-in at the airport of departure by visiting one of the check-in agents at the airline desk.
For flights within Italy or international flights within Europe Albania or Isla Sal, airport check-in opens two hours before scheduled flight departure time and closes 35 minutes before on domestic flights and 45 minutes before on international flights.
For long-haul intercontinental flights, airport check-in opens three hours before scheduled flight departure time and closes 45 minutes before.
---
Economy Class
Economy Class is one of two cabins that the airline offers. While Economy is the more basic of the two cabins, it still offers a spacious and clean cabin with friendly flight attendants.
There are three different fares that can be purchased within Economy — SAVE, BASE and FLEX. Depending on the fare purchased, passengers are given more flexibility with their flight and will be able to change or cancel and refund their flight for a smaller fee.
Economy Class Facilities
Passengers are served food and drink on flights.
On select flights, passengers can enjoy the airline's in-flight entertainment system.
Economy Class Seating
Enjoy comfortable and spacious seating with a good amount of legroom. Seats are set out in a 3 x 3 formation on narrow body planes and 2 x 3 x 2 formation on wide body planes.
---
Business Class
Business Class is the airline's more luxurious cabin, with personal space perfect for relaxation or catching up with work.
Economy Class Facilities
Passengers are served food and drink on flights, from the airlines Business Class menu.
Passengers can enjoy the airline's in-flight entertainment system through a personal TV screen attached to their seat.
Economy Class Seating
Business Class seats are designed to give more room and comfort. Seats are set out in a 2 x 2 x 2 formation, ensuring that every passenger is either sat by the aisle or window.
---
In-Flight Entertainment
Blue Panorama Airlines in-flight entertainment system is available on select flights and lets passengers watch fantastic movies and TV shows for the duration of their flight.
Passengers in Business Class will have their own personal in-flight monitor. Whereas, passengers in Economy Class use their own personal electronic device to connect to the in-flight entertainment system.
---
Food
Passengers can order a range of light snacks and drinks on all flights, with complimentary hot meals served on long-haul flights.
Business Class passengers are treated to a special Business Class dining experience, with an exclusive menu that offers a wider range of food and drink.
---
WIFI
There's no WIFI network installed on Blue Panorama Airlines flights that allows passengers to surf the web. However, passengers can connect to the airlines' WIFI network to connect their personal electronic device to the airline in-flight entertainment system.
---
Frequent Flyer
Blue Panorama Airlines doesn't currently offer a frequent flyer program to reward its regular passengers.
---
Airline Alliance
Blue Panorama Airlines isn't a member of an airline alliance at this time. However, it does have a codeshare agreement with Albawings, which allows both of the airlines to operate flights on each others behalf.
---
Route Map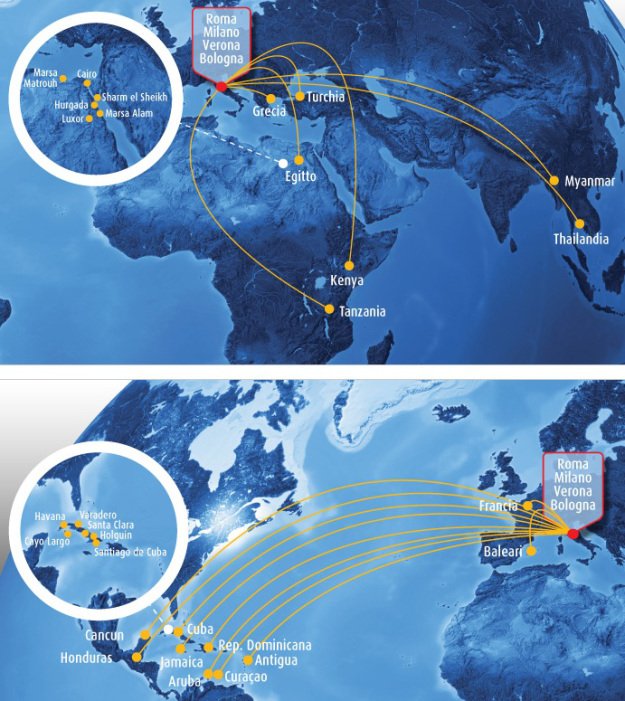 ---
Hub Airport
Leonardo da Vinci–Fiumicino Airport
Leonardo da Vinci–Fiumicino Airport (FCO) is an international airport in Rome, Italy and is the hub airport for Blue Panorama Airlines. Rome Fiumicino is the main airport in Italy and with around 45 million passengers handled each year, is one of the busiest airports in Europe. The airline has three terminal buildings and four runways.
Other than Blue Panorama Airlines, Alitalia and Vueling also use the airport as a hub. Other airlines that fly to/from Rome Fiumicino include Air India, Air Serbia, Belavia, Bulgaria Air, Czech Airlines, Delta, Ernest Airlines, Estelar Latino America, Istair Air, Lauda, Montenegro Airlines, Neos, Sichuan Airlines, TAROM, Uzbekistan Airways, Wizz Air and many more.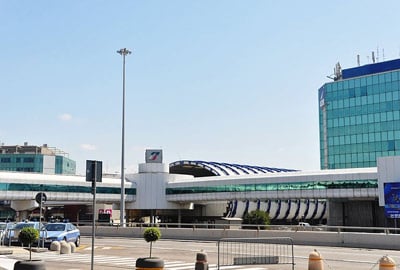 Credit: Ra Boe on Wikimedia Commons
---
Alternative Airlines