Search and Buy Ernest Airlines Flights with Alternative Airlines
Make an Ernest Airlines Booking and Find Some Amazing Deals
---
About Ernest Airlines
Ernest Airlines is an airline headquartered in Milan Malpensa Airport, with a secondary hubs in Tirana, Albania. Founded in 2015 as Fly Ernest, the airline didn't begin flying until 2016. Ernest Airlines flies to destinations within Italy and surrounding countries such as Ukraine and Albania. Fly Ernest offers 35 weekly flights, with a daily service from Ancona – Bari. The Italian airline operates a low-cost airline business model with its modern fleet of Airbus-only planes.
---
The Fleet
| AIRCRAFT | IN SERVICE | ORDERS |
| --- | --- | --- |
| Airbus A319-100 | 1 | / |
| Airbus A320-200 | 3 | 3 |
| Airbus A320neo | / | 1 |
---
Ernest Airlines Destinations
This airline currently offers flights to around 20 destinations across the region.
Domestic Destinations in Italy
| CITY | AIRPORT |
| --- | --- |
| Bergamo | Il Caravaggio International Airport (BGY) |
| Bologna | Guglielmo Marconi Airport (BLQ) |
| Cuneo | Cuneo International Airport (CUF) |
| Genoa | Genoa Cristoforo Colombo Airport (GOA) |
| Milan | Milan Malpensa Airport (MXP) |
| Naples | Naples International Airport (NAP) |
| Pisa | Pisa International Airport (PSA) |
| Rome | Leonardo da Vinci–Fiumicino Airport (FCO) |
| Verona | Verona Airport (VRN) |
| Venice | Venice Marco Polo Airport (VCE) |
International Destinations
| COUNTRY | CITY | AIRPORT |
| --- | --- | --- |
| Spain | Barcelona | Barcelona El Prat Airport (BCN) |
| Spain | Madrid | Madrid Barajas Airport (MAD) |
| France | Bordeaux | Bordeaux Mérignac Airport (BOD) |
| France | Lyon | Lyon Saint-Exupéry Airport (LYS) |
| France | Marseille | Marseille Provence Airport (MRS) |
| France | Nice | Nice-Côte d'Azur Airport (NCE) |
| France | Paris | Charles de Gaulle Airport (CDG) |
| France | Toulouse | Toulouse Blagnac Airport (TLS) |
| Ukraine | Kharkiv | Kharkiv International Airport (HRK) |
| Ukraine | Kyiv | Kyiv International Airport (Zhuliany) (IEV) |
| Ukraine | Lviv | Lviv Danylo Halytskyi International Airport (LWO) |
| Ukraine | Odessa | Odessa International Airport (ODS) |
| Albania | Tirana | Tirana International Airport Nënë Tereza (TIA) |
---
Ernest Airlines Baggage
Carry-on Baggage
Ernest Airline passengers are permitted 1 item of hand luggage, weighing a maximum of 10kg. This must not exceed 55 x 35 x 25 cm in dimensions.
Checked Baggage
Checked luggage is not included in the Ernest Airlines ticket, unless specified otherwise in your ticket tariff. Passengers can purchase checked luggage up to three hours before departure, or at the airport where a higher price will be charged. Three weights are available for purchase: 15kg, 20kg and 25kg, and each passenger is eligible to purchase 3 items.
---
Ernest Airlines Check-In Information
Online Check-in
Passengers can check-in online for their flights, via the airline's own website. This can be done from 7 days before, up to 3 hours before your flight is due to depart.
Airport Check-in
Passengers who have not checked in online can do so at the airport. This service opens 2 hours before your flight time, and will close 45 minutes before the scheduled departure time.
---
Ernest Airlines Hub Airport
Milan-Malpensa Airport
Milan-Malpensa Airport is Milan's largest international airport. The airport currently has 2 passenger terminals, 1 cargo terminal and a dedicated cargo terminal. In 2017, the airport handled over 22 million passengers, making in Europe's 26th busiest airport in Europe.
The airport is also a focus city for Alitalia, Blue Panorama Airlines, EasyJet, Neos and Ryanair.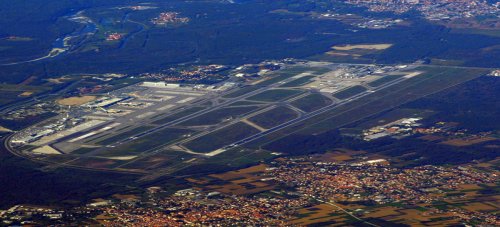 Photo credit: Philipp Tropschug
---
Ernest Airlines Class Information
Economy Class
Passengers can enjoy a relaxed service in Economy Class. Passengers can also personalise their flying experience by selecting a different fare. Each of the four fares has varying levels of flexibility, such as lower costs to change or cancel the booking. The fares available are Pro, Fly, Plus and Top.
Facilities
Passengers are given the option to order snacks and drinks from the airline's in-flight menu.
For in-flight entertainment, passengers can read the airline's in-flight magazine. This can be found in the pocket on the back of each passengers seat.
Seats
Economy Class seats are laid out in a 3 x 3 formation. Each seat is designed to give passengers ample legroom and space around them.
Premium Economy
There is currently no premium economy service onboard Ernest Airlines flights.
Business Class
The Business Class cabin offers a unique service in a separate section of the cabin. The airline doesn't offer a full Business Class service but does give some added extras at a fair price.
Facilities
Business Class passengers are given complimentary snacks and wine as soon as the aircraft has taken off and is airborne. Business Class passengers can enjoy an attentive service delivered by the airline's expert flight attendants.
Seats
Business Class seats are set out in a 3 x 3 configuration. The middle seat of each row is left vacant as to give passengers extra space and comfort for the duration of the flight.
First Class
There is no first-class currently offered. Upgrade to Business Class for a premium flying experience.
---
Alternative Airlines to Ernest Airlines
Please click on the logos below to find out more about airlines that fly similar routes to Ernest Airlines:
---
Ernest Airlines In-Flight Entertainment
This low-cost carrier keeps its operational costs down by not providing costly extras such as in-flight entertainment. On some services, there will be an in-flight magazine that passengers can read during the flight.
---
Ernest Airlines Food
On most flights with Ernest, there is a catering service where passengers can purchase items such as snacks, drinks and light meals. Passengers flying in business will receive a complimentary snack on board.
---
Ernest Airlines WiFi
There are currently no WiFi services onboard Ernest Airlines flights.
---
Ernest Airlines Frequent Flyer
There is no frequent flyer program associated with Ernest Airlines.
---
Ernest Airlines Airline Alliance
Ernest Airlines is not part of any main airline alliance programmes. However, it has a codeshare agreement with the Russian Pobeda Airlines.
---
Ernest Airlines Special Services
Flying with a disability
Passengers who are flying with reduced mobility can request airport assistance at both the departure and arrival airport. Ernest Airline request that reduced mobility passengers travel with an accompanying passenger with full physical abilities to help in an emergency. Passengers can check their wheelchairs as luggage, and another courtesy wheelchair can be available for you. Contact the airline directly to request assistance or anything else at least 48 hours before flying.
Travelling with Pets
Cats and dogs are permitted onboard flights, providing they meet all the requirements. Contact the airline for details of these requirements, and to arrange the transport for your pet.
Flying whilst pregnant
Passengers who are in their 31st week of pregnancy or after can fly providing they have a medical certicicate from their doctor stating that they are fit to fly. For advice about flying when pregnant, see our guide here.
---