Search & Buy Air Dolomiti Flights
Let's fly!

Select your payment method to view total prices including any payment fees:
Airlines will always try to sit children with their parents (subject to check-in)
Some airlines will allow travel for unaccompanied minors. Please email us to check.
The fare is based on the child's age on the date of travel.
More detailed information can be found here Traveling with children
Most airlines will let infants travel with their parent(s) for free. However some airlines will charge up to 10% of the adult ticket price. Click on 'Price Breakdown' to find out more.
If you are pregnant, but due before the flight departure date, please contact us once your baby is born and has a name. We can then add him/her to your ticket.
Infants will not be given a seat. The airlines expect parents to travel with them on their lap.
Airlines regard infants as being under 24 months old.
The fare is based on the child's age on the date of travel.
More detailed information can be found here Traveling with children

Buy
Air Dolomiti

Flights

Air Dolomiti Reservations with Alternative Airlines
Flights to and from Italy
Make an Air Dolomiti Booking and Find Some Amazing Deals
---
About Air Dolomiti
Air Dolomiti is an Italian regional airline owned by Lufthansa and serves passengers with a fleet of 12 Embraer ERK-190 to Italian destinations. The airline flies from Ancona, Bari, Bergamo to destinations such as Berlin, Ireland, Milan, Frankfurt and Moscow.
Air Dolomiti was founded in December 1989 by the L.A.E (Linee Aeree Europee). The 'Dolomiti' in the name derives from the Italian area of the Alps, known as the The Dolomites. The airline began operating in 1991 with a Trieste to Genoa route and in 1992 commenced international services with flights from Verona to Munich.
---
Air Dolomiti Fleet
The Air Dolomiti fleet includes 12 Embraer 195 aircraft.
---
Air Dolomiti Destinations
Austria (Vienna)
Czech Republic (Prague)
Italy (Ancona; Bari; Bergamo; Bologna; Cagliari; Crotone; Catania; Florence; Milan; Naples; Olbia; Palermo; Perugia; Pisa; Rome; Salerno; Turin; Trieste; Venice; Verona)
Ireland (Cork)
France (Nîmes)
Germany (Berlin; Germany; Frankfurt; Munich)
Romania (Timisara)
Russia (Moscow)
Switzerland (Zurich)
---

Air Dolomiti Baggage Rules and Information
Baggage Allowance for Air Dolomiti depends on which fare has been booked. If you go over your allocated allowance, Air Dolomiti may charge baggage at additional fees. Alternative Airlines customers are now able to book extra baggage onto your Air Dolomiti flight at the time of purchase.
Carry-on Baggage
Light
1 carry-on bag, weighing no more than 7kg.
Plus and Emotion
1 carry-on bag, measuring no more than 55 x 40 x 20cm, plus one personal item. The weight of these two items must not exceed 10kg.
Checked Baggage
Light
No checked baggage permitted.
Plus and Emotion
1 checked baggage. Must not weigh any more than 23kg.
---

Air Dolomiti Check-In Information
Online Check-In
Air Dolomiti open their online check-in 23 hours prior to departure.
Airport Check-In
Air Dolomiti offer airport check-in free of charge. For all airports, the check-in desk will open 2 hours before scheduled flight departure. However, the closing time for check-in at the airport is as follows:
Verna Valerio Catullo and Bari Palese - 30 minutes before departure
Florence Peretola - 35 minutes before departure
München Franz Josef Strauss and Bologna Marconi - 40 minutes before departure
Venice Marco Polo - 45 minutes before departure
Torino Caselle - 35 minutes before departure for Business Class; 45 minutes before departure for Economy Class
---
Air Dolomiti Route Map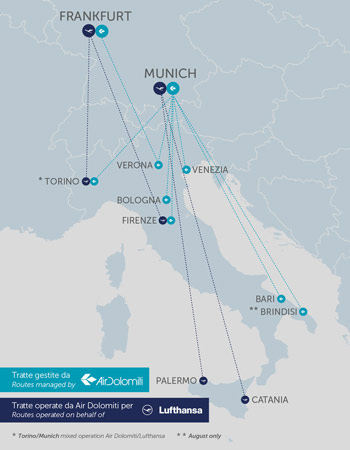 ---

Alternative Airlines to Air Dolomiti
Please click on the logos below to find out more about airlines that fly similar routes to Air Dolomiti:
---

Air Dolomiti Codeshare agreements
The following airlines are those which have codeshare agreements with Air Dolomiti:
---
Book Air Dolomiti Flights in English
At Alternative Airlines, we book Air Dolomiti flights in English to ensure that communication is such that we provide a trusting service from a helpful and approachable company, meaning any queries that arise from your booking are dealt with in a prompt manner.
---
Air Dolomiti Star Alliance
Air Dolomiti is part of the Star Alliance, which is one of the leading global airline networks. The Star Alliance was founded in 1997 with the five founding airlines: Scandinavian Airlines, Thai Airways International, Air Canada, Lufthansa and United Airlines and now has 27 members. The alliance has grown considerably now to airlines which fly to 1,321 airports and has a variety of different loyalty programs.
---
Air Dolomiti Business Class
Air Dolomiti Businesss Class passengers are offered amenity kits to help them enjoy their journey in maximum comfort.
---

Air Dolomiti Hub Airport
Munich Airport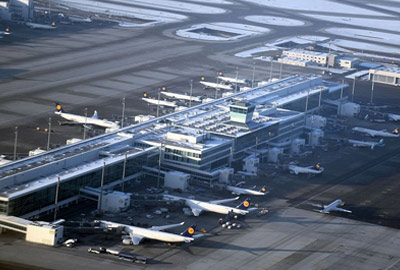 Photo Accreditation: Vasyatka1
Munich Airport, located in Bavaria in Germany is the hub airport for Air Dolomiti. It was opened in 1992, and currently has two terminals and two runways, with a third runway being planned. The airport currently serves over 44.6 million passengers, making it the 15th busiest airport in the world in terms of passengers handled. Munich Airport also serves a number of airlines, including Condor, Eurowings, easyJet, Lufthansa, Norwegian and Astra Airlines.
---
Buy Discounted Air Dolomiti Tickets at Alternative Airlines
---
Air Dolomiti News
21st June 2018
Air Dolomiti is recruiting flight attendants
Air Dolomiti is currently looking to recruit a number of new flight attendants. The position is currently open for applications and the airline have stated that they will make selections over four days in September. Air Dolomiti has expressed that they're looking for professional individuals with a passion for looking after others. Air Dolomiti also stated that air attendants must be flexible, punctual and speak both English and German.If you're interested in this opportunity, you can apply via the Air Dolomiti.
11th May 2018
Air Dolomiti bring parmesan and cured meats to in-flight menu
Passengers flying business class with Air Dolomiti can enjoy an updated menu throughout May, which will include anoptionof parmesan and cured meats – a signature combination from Parma's cuisine.
Two local food production businesses in Parma have teamed with Air Dolomiti to bring these light refreshments to the menu. Azienda Agricola Bertinelli specialises in cheese and La Fattoria di Parma specialises in cured meats. Executive of Azienda Agricola Bertinelli, Nicola Bertinellii, said that their products are already present in many airports across Europe, and that this new agreements an important first step to getting them on board.
3rd April 2018
Air Dolomiti launch 7 daily flights from Verona to both Munich and Frankfurt
Air Dolomiti looks to strengthen operations by reaching seven daily connections to Frankfurt and Munich inGermany. The airline, a subsidiary of Lufthansa will have 3 flights going to Munich and 4 to Frankfurt. This will open up the possibility for connecting flights to so many of the world's major airports, such as New York and New Delhi. This is great news for the people of Verona and passengers coming from afar!
16th February 2018
Dolomiti's hub, Munich airport launches 'Josie', a humanoid robot, to greet passengers
Meet Josie Pepper. She's 1m20cm all, big round eyes and a pleasant voice. From now on, you'll find her at Munich airport answering questions for passengers in Terminal 2. Whether they need directions to their gate or want to stop at a certain restaurant or shop, Josie Pepper will look them in the eyes and answer their question expertly.
Munich Airport and Lufthansa are working together to break new ground: It is the first-ever test of a humanoid robot equipped with artificial intelligence at a German airport. For the next few weeks, Josie Pepper will welcome travellers to the non-public area of Terminal 2, which is jointly operated by Munich Airport and Lufthansa. In her initial deployment, Josie Pepper, who speaks English, will await passengers at the top of the ramp leading to the shuttle connecting the main terminal to the satellite building. This test phase will be used to show whether Josie Pepper is accepted by passengers.
Josie Pepper's "brain" contains a high-performance processor with a WLAN internet access. This creates a connection to a cloud service where speech is processed, interpreted and linked to the airport data. The airport says what sets the system apart is when this robot speaks, it does not just deliver pre-defined texts. With its ability to learn, it answers each question individually. Just like a real brain, the system gets steadily better at combining questions with the relevant information to provide more precise replies.
Josie was developed by the French company SoftBank Robotics and IBM Watson Internet of Things (IoT) cloud-based, artificial intelligence technologies determined her capabilities. The robot was given the name "Josie" by the staff of Munich Airport and Lufthansa when she arrived.
12th September 2017
Bmi regional: new codeshares with Air Dolomiti and Loganair mark new phase of development
On 7-Aug-2017 bmi regional began a new codeshare with Air Dolomiti, the Lufthansa-owned Italian regional airline. The agreement takes bmi's code onto five routes from Munich to Italy operated by Air Dolomiti (Venice, Verona, Bari, Bologna and Florence), adding significantly to the single destination in Italy that it serves with its own aircraft (Milan Bergamo).
Separately, a new (smaller) codeshare has been announced between bmi regional and its sister airline Loganair, both of which are owned by Airline Investments Limited.
These codeshares mark a new phase in bmi regional's development since it became independent of Lufthansa ownership, while also showing the continuing importance of its relationship with Lufthansa Group (its other codeshare agreements are with Brussels Airlines and Lufthansa itself).
After cutting capacity and trimming its network in 2014, bmi regional has enjoyed strong growth since then. The UK regional airline's Munich base, established in 2015, became its biggest airport by 2016. Double digit capacity growth has continued into 2017, but the pace is slowing. Codeshare expansion offers another way to build momentum.
---