Air Dolomiti Reservations with Alternative Airlines
Flights to and from Italy
Make an Air Dolomiti Booking and Find Some Amazing Deals
---
About Air Dolomiti
Air Dolomiti is an Italian regional airline owned by Lufthansa and serves passengers with a fleet of 12 Embraer ERK-190 to Italian destinations. The airline flies from Ancona, Bari, Bergamo to destinations such as Berlin, Ireland, Milan, Frankfurt and Moscow.
Air Dolomiti was founded in December 1989 by the L.A.E (Linee Aeree Europee). The 'Dolomiti' in the name derives from the Italian area of the Alps, known as the The Dolomites. The airline began operating in 1991 with a Trieste to Genoa route and in 1992 commenced international services with flights from Verona to Munich.
---
Air Dolomiti Fleet
The Air Dolomiti fleet includes 12 Embraer 195 aircraft.
---
Air Dolomiti Destinations
Austria (Vienna)
Czech Republic (Prague)
Italy (Ancona; Bari; Bergamo; Bologna; Cagliari; Crotone; Catania; Florence; Milan; Naples; Olbia; Palermo; Perugia; Pisa; Rome; Salerno; Turin; Trieste; Venice; Verona)
Ireland (Cork)
France (Nîmes)
Germany (Berlin; Germany; Frankfurt; Munich)
Romania (Timisara)
Russia (Moscow)
Switzerland (Zurich)
---

Air Dolomiti Baggage Rules and Information
Baggage Allowance for Air Dolomiti depends on which fare has been booked. If you go over your allocated allowance, Air Dolomiti may charge baggage at additional fees. Alternative Airlines customers are now able to book extra baggage onto your Air Dolomiti flight at the time of purchase.
Carry-on Baggage
Light
1 carry-on bag, weighing no more than 7kg.
Plus and Emotion
1 carry-on bag, measuring no more than 55 x 40 x 20cm, plus one personal item. The weight of these two items must not exceed 10kg.
Checked Baggage
Light
No checked baggage permitted.
Plus and Emotion
1 checked baggage. Must not weigh any more than 23kg.
---

Air Dolomiti Check-In Information
Online Check-In
Air Dolomiti open their online check-in 23 hours prior to departure.
Airport Check-In
Air Dolomiti offer airport check-in free of charge. For all airports, the check-in desk will open 2 hours before scheduled flight departure. However, the closing time for check-in at the airport is as follows:
Verna Valerio Catullo and Bari Palese - 30 minutes before departure
Florence Peretola - 35 minutes before departure
München Franz Josef Strauss and Bologna Marconi - 40 minutes before departure
Venice Marco Polo - 45 minutes before departure
Torino Caselle - 35 minutes before departure for Business Class; 45 minutes before departure for Economy Class
---
Economy
The economy fare is called "Light", and is the super budget fare.
Only carry-on baggage (max 8kg) is allowed, no checked-luggage. In-flight entertainment and digital newspapers/magazines available. Free drinks and snacks are available.
---
Premium Economy
The upgrade from the Light fare is the "Plus" fare. This upgrade is still economy, but with additional extras included. FLight dates can be changed for a fee. As well as 8kg of hand luggage, 1 checked bag at 23kg is allowed. Free drinks, snacks, and digital magazines/newspapers are available.
---
Business Class
The business class fare is called "Emotion".
Extras include: 2 pieces of carry-on baggage up to 8 kg each, plus 1 checked baggage, max weight 32kg; dedicated check-in; excellent catering, with free drinks and meals; free sear reservation; flight change available with a charge.
Business passengers can also access the business lounges.
---
Air Dolomiti Route Map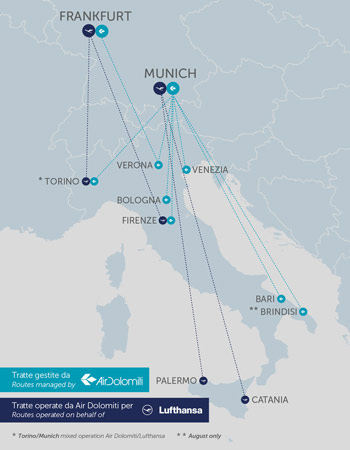 ---

Alternative Airlines to Air Dolomiti
Please click on the logos below to find out more about airlines that fly similar routes to Air Dolomiti:
---

Air Dolomiti Codeshare agreements
The following airlines are those which have codeshare agreements with Air Dolomiti:
---
Book Air Dolomiti Flights in English
At Alternative Airlines, we book Air Dolomiti flights in English to ensure that communication is such that we provide a trusting service from a helpful and approachable company, meaning any queries that arise from your booking are dealt with in a prompt manner.
---
Air Dolomiti Star Alliance
Air Dolomiti is part of the Star Alliance, which is one of the leading global airline networks. The Star Alliance was founded in 1997 with the five founding airlines: Scandinavian Airlines, Thai Airways International, Air Canada, Lufthansa and United Airlines and now has 27 members. The alliance has grown considerably now to airlines which fly to 1,321 airports and has a variety of different loyalty programs.
---

Air Dolomiti Hub Airport
Munich Airport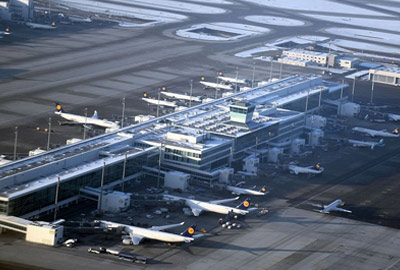 Photo Accreditation: Vasyatka1
Munich Airport, located in Bavaria in Germany is the hub airport for Air Dolomiti. It was opened in 1992, and currently has two terminals and two runways, with a third runway being planned. The airport currently serves over 44.6 million passengers, making it the 15th busiest airport in the world in terms of passengers handled. Munich Airport also serves a number of airlines, including Condor, Eurowings, easyJet, Lufthansa, Norwegian and Astra Airlines.