Albawings Tickets and Reservations with Alternative Airlines
Book Your Albawings Flight Tickets and Find Some Amazing Deals
---
About Albawings
Albawings is an Albanian low-cost airline based at Tirana International Airport. The airline operates services from its hub, at Tirana, to several Italian destinations.
Albawings was founded in February 2015 and was its Air Operator's Certificate (AOC) by the Albanian Civil Aviation Authority in February 2016.
The first aircraft of the company was a Boeing 737-500, followed by a Boeing 737-400, which the airline has been leasing since 2016.
---
Destinations
As of July 2020, Albawings flies to 11 destinations including a seasonal flight to London Stansted Airport, United Kingdom. These flights are operating from Tirana, Albania.
| COUNTRY | CITY | IATA | AIRPORT |
| --- | --- | --- | --- |
| Albania | Tirana | TIA | Tirana International Airport Nënë Tereza |
| Germany | Düsseldorf | DUS | Düsseldorf Airport |
| Germany | Frankfurt | FRA | Frankfurt Airport |
| Germany | Hamburg | HAM | Hamburg Airport |
| Italy | Bari | BRI | Bari Karol Wojtyła Airport |
| Italy | Florence | FLR | Florence Airport |
| Italy | Perugia | PEG | Perugia San Francesco d'Assisi – Umbria International Airport |
| Italy | Pisa | PSA | Pisa International Airport |
| Italy | Rimini | RMI | Federico Fellini International Airport |
| Italy | Venice | VCE | Venice Marco Polo Airport |
| United Kingdom | London | STN | London Stansted Airport |
---
Baggage Allowance
Carry-On Baggage
On all flights, each passenger may carry only one hand luggage with size not exceeding 55x40x20 cm. Baggage must not weigh more than 10 kgs for all Albawings scheduled flights.
Checked Baggage
For all scheduled flights in/from Albania the transport of checked baggage is subject to payment:
1 bag at 20 KGs: advance purchase 10 EUR; purchase on departure 20 EUR
2 bags at 30 KGs (total weight): advance purchase: 20 EUR; purchase on departure: 40 EUR
Please note that the price for excess baggage is 10 EUR per kg
---
Check-In Information
Check-in at the Airport
For all Albawings scheduled flights, the check-in desk opens anyway 2 hours before the scheduled departure and closes 45 minutes before departure.
Passengers must also be at the boarding gate at least 30 minutes before the scheduled departure of the flight.
Check-in Online
Albawings Online Check-in opening from 48 hours to 30 minutes prior to your scheduled flight time.
---
Economy Class
Economy Class Facilities
Beverages, snacks and meal options are available to purchase on-board. The airline has its own onboard magazine.
Additional optional fees:
Seat reservation, starting from 2,99 EUR
Checked baggage (see above)
Change in travel date: 35 EUR change fee + fare difference
Name change: 80 EUR
What are Economy Class Seats Like?
The padded seats are comfortable, with fold-down trays and adjustable lighting and air-con.
---
Codeshare Agreements
The airline has a codeshare agreement with Blue Panorama Airlines.
---
Fleet
As of July 2020, the airline operates a fleet of Boeing 737-400 aircraft.
---
Route Map
The routes in red are operated by Albawings; the route in blue is operated by Blu-express in codeshare with Albawings: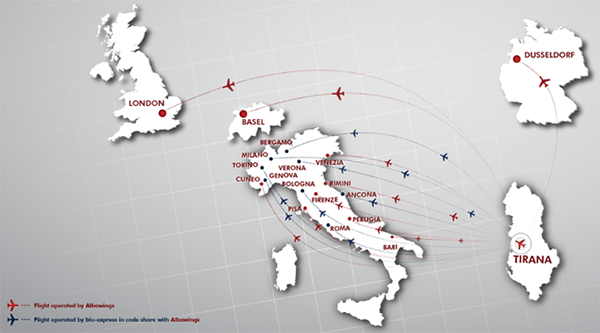 ---
Hub Airport
Tirana International Airport Nënë Tereza
Tirana International Airport Nënë Tereza, often referred to as the Rinas International Airport, is the main international airport of the Republic of Albania. The airport serves the city of Tirana and the surrounding region in the county of Tirana.
The airport serves as the main hub for the country's flag carrier, Air Albania, as well as Albawings. The airport also serves as a focus city for Adria Airways, Blue Panorama Airlines and Ernest Airlines.
---
Alternative Airlines
---
News
5th June 2019
Albawings connects Tirana with Dusseldorf
From the 5th June 2019, Albawings have launched seasonal services between Tirana (TIA) and Dusseldorf (DUS), scheduled to operate until 24th October 2019. The route will be operated twice weekly on Thursdays and Sundays using the 170-seat 737-400 aircraft.