Search and Buy Volotea Flights Online with Alternative Airlines
Make a Volotea Airlines Reservation and Find Some Amazing Deals
---
About
Volotea is a Spanish low-cost airline headquartered in Barcelona, Spain. The airline Volotea was established by Alaeo, which was created by former Vueling founders Munoz and Ros. In February 2012, Volotea signed a long term deal with Boeing for an undisclosed number of Boeing 717 aircraft. In November 2015, the carrier announced to phase out their 717 fleet over the next few years and replace it with Airbus A320 family.
The Boeing 717 is equipped with Rolls-Royce engines and is renowned for its comfort and reliability. It's an extremely reliable 125-seat aircraft and offers a high level of comfort due to its limited five seats per row.
Are you looking to buy Volotea flights on finance? When you book through Alternative Airlines you can buy ANY Volotea flight and spread the cost over time. Find out more on our Fly Now Pay Later - Volotea page.
---
Destinations
The airline flies to many destinations including Ajaccio, Alghero, Alicante, Ancona, Toulon, Toulouse, Tel Aviv, Brest, Bordeaux, Biarritz, Corfu, Faro, Genoa, Caen, Cagliari, Kos, Ibiza, Genoa, Lille, Majorca, Málaga, Malta, Menorca, Munich, Nantes and Naples.
---
Baggage
Checked baggage allowance is 20 kg per suitcase.
The suitcase you take on board has to be 55 cm high x 40 cm wide x 20 cm deep.
---
Route Map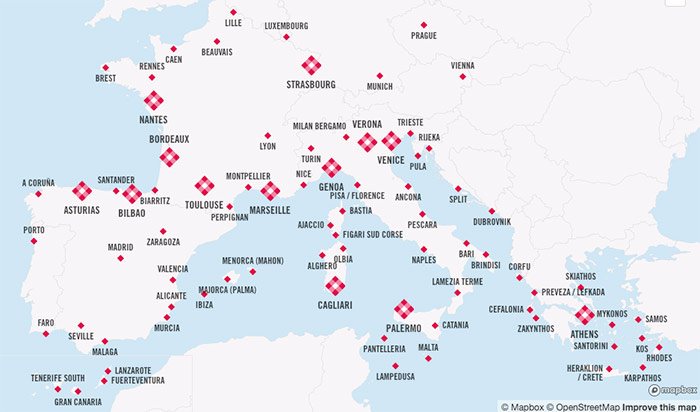 ---
Popular Routes
Venice

Toulouse
Nantes

Bordeaux
Naples

Bordeaux
Malaga

Palermo
Asturias

Vigo
Athens

Strasbourg
---
The Fleet
Volotea's fleet consists of nineteen Boeing 717 aircraft and four Airbus A319s.
Airbus A319-100
Being 717-200
---
Hub Airport
Madrid Airport
Adolfo Suarez Madrid-Barajas Airport is the main international airport serving Madrid in Spain. It is the hub airport for Air Europa Express and Iberia. It has 4 runaways and can handle a passenger capacity of 45 million per year.
Other airlines which fly to and from Madrid Airport include Aegean Airlines, Aeroflot, Air China, Air France, Blue Air, Cubana, Czech Airlines, easyJet, Finnair, Ethiad Airways, evelop, Iberia, Iberia Express, LAN Airlines, Wamos Air and many others. Volotea also has a secondary hub at Toulouse–Blagnac Airport, in France, which is also the hub for APG Airlines.
---
Alternative Airlines to Volotea