Coastal Aviation Reservations with Alternative Airlines
Make a Coastal Aviation Booking and Find Some Amazing Deals
---
About
Coastal Aviation is a Tanzanian airline that offers scheduled passenger and charter flights with over 30 years of experience. The airline is based out of Julius Nyerere International Airport, Dar es Salaam and offers flights across East Africa, with a particular focus on serving remote safari destinations that are inaccessible by road. Check out our guide to domestic flights within Tanzania for more information.
The airline started out in 1987 when it flew its first charter service between Dar es Salaam and Selous Game Reserve. Years later, it began operating scheduled passenger services. Today, Coastal Aviation is the leading airline in offering flights to safari destinations in East Africa, with over 40 destinations served on scheduled and charter services. You can book Coastal Aviation flights with Tigo Pesa, Airtel, PayPal, MTN and many more accepted payment methods through Alternative Airlines.
---
Destinations
Domestic Destinations
| CITY | AIRPORT |
| --- | --- |
| Arusha | Arusha Airport (ARK) |
| Dar es Salaam | Julius Nyerere International Airport (DAR) |
| Grumeti | Grumeti Airstrip (GTZ) |
| Kilimanjaro | Kilimanjaro International Airport (JRO) |
| Kilwa Masoko | Kilwa Masoko Airport (KIY) |
| Lake Manyara | Lake Manyara Airport (LKY) |
| Mafia Island | Mafia Airport (MFA) |
| Musoma | Musoma Airport (MUZ) |
| Mwanza | Mwanza Airport (MWZ) |
| Pemba | Pemba Airport (PMA) |
| Seronera | Seronera Airstrip (SEU) |
| Tanga | Tanga Airport (TGT) |
| Zanzibar | Abeid Amani Karume International Airport (ZNZ) |

International Destinations
COUNTRY
CITY
AIRPORT
Kenya
Nairobi
Jomo Kenyatta International Airport (NBO)
Nairobi
Wilson Airport (WIL)
Rwanda
Kigali
Kigali International Airport (KGL)
---
Baggage
The maximum weight for baggage is 15 kg, this is inclusive of both carry-on and checked baggage.
Carry-on Baggage
Purses, handbags and small bags may be held onto in the cabin but other larger bags must be checked and stored away securely.
Checked Baggage
The cargo pod door measurements of 36cm x 68cm (14.5" x 27") and if your bag is too large it will not able to take onboard. The pilot has a scale to hand that they'll use to weigh baggage. If you wish to bring more baggage then you can purchase a premium class seat which allows you to carry a 30kg (66 lbs) bag. However, this is subject to the availability of seats.
---
Check-in
Online Check-in
Coastal Aviation doesn't offer online check-in for any of its flights.
Airport Check-in
Airport check-in desk opening times will vary for each flight, please either check with us or the airline directly for the exact check-in time. Please make sure to arrive at the airport before the time stated. The departure time is not the same as the boarding time. The gate will close at least 15 minutes prior to departure on all flights.
---
Economy Class
Economy Class is Coastal Aviation's only cabin class. The airline offers a simple service, with friendly and professional staff. As the flights are short and use small aircraft, there's no in-flight entertainment or food and drink served on the flight.
Seats
Seats are set out in a 1 x 2 formation.
---
In-Flight Entertainment
There's no in-flight entertainment system onboard Coastal Aviation flights.
---
WIFI
Due to the small, limited aircraft that Coastal Aviation use, WIFI isn't available on Coastal Aviation flights.
---
Food
There's no food or drink service on Coastal Aviation flights.
---
Frequent Flyer Program
Coastal Aviation doesn't have a frequent flyer program.
---
Airline Alliance
Coastal Aviation isn't a member of an airline alliance at this time.
---
Fleet
Coastal Aviation has a fleet that is made up of over 20 regional jets. The fleet consists of 16 Cessna Caravan 208s and 6 Pilatus PC12s.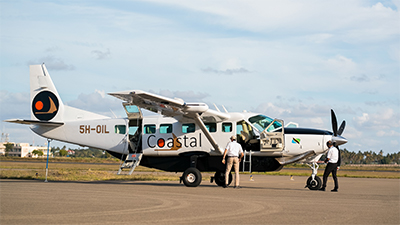 ---
Hub Airport
Julius Nyerere International Airport
Coastal Aviation is based at Julius Nyerere International Airport (DAR), which is an international airport in Dar es Salaam in Tanzania. It's located southwest of Dar es Salaam city centre. The airport is split into three separate terminals, with two runways and can handle up to 9.5 million passengers per year.
The airport is also a hub for Air Tanzania, Fastjet and Precision Air. Other airlines that fly to/from this airport include Air France, Air Tanzania, Air Zimbabwe and more.
---
Special Assistance
Wheelchair Assistance
If you or a member of your party require wheelchair assistance then Contact Us as soon as possible. We'll inform Coastal Aviation that you'll need a wheelchair getting to/from your flight. Alternatively, you can also request a wheelchair at the airport.
---
Book Flights in Tanzanian Shilling
Did you know that at Alternative Airlines, you can book your flights using Tanzanian Shilling? You can search for Coastal Aviation flights on our site and book those flights using Tanzanian Shilling, it's super easy! All you need to do is search for flights and use the currency converter in the top right of the screen. Search for 'TZS' and select 'Tanzanian Shilling'.
---
Alternative Airlines to Coastal Aviation
Please click on the logos below to find out more about airlines that fly similar routes to Coastal Aviation: