Search & Buy Coastal Aviation Flights
Airlines will always try to sit children with their parents (subject to check-in)
Some airlines will allow travel for unaccompanied minors. Please email us to check.
The fare is based on the child's age on the date of travel.
More detailed information can be found here Traveling with children
Most airlines will let infants travel with their parent(s) for free. However some airlines will charge up to 10% of the adult ticket price. Click on 'Price Breakdown' to find out more.
If you are pregnant, but due before the flight departure date, please contact us once your baby is born and has a name. We can then add him/her to your ticket.
Infants will not be given a seat. The airlines expect parents to travel with them on their lap.
Airlines regard infants as being under 24 months old.
The fare is based on the child's age on the date of travel.
More detailed information can be found here Traveling with children
Buy
Coastal Aviation

Flights
Coastal Aviation Reservations with Alternative Airlines
Make a Coastal Aviation Booking and Find Some Amazing Deals
---
About Coastal Aviation
Coastal Aviation is an airline that focuses on flying safaris. The East African airlines flies to many destinations in Kenya, Uganda and Rwanda.
---
Coastal Aviation Destinations
Coastal Aviation flies to some 100 strips located in some of the most isolated pockets of the East African Region hoping to create connections between destinations that are difficult to reach by road: Arusha, Dar es Salaam, Grumeti, Kleins Camp, Kilws Kisiwani, Kogatende, Mafia, Manyara, Mwanza, Pemba, Ruaha, Selous, Seronera, Tanga, Zanzibar and Rubondo. The scheduled Coastal network also connects visitors to Kenya, Uganda and Rwanda with the world-famous Serengeti, links with Southern Tanzania parks of Selous and Ruaha, and unites the tropical island paradises of Pemba, Zanzibar, Mafia and Fanjove Private Iasland with the National Parks and towns of the mainland. With links to many beautiful nature and wildlife hotspots in East Africa, Coastal Aviation is a great choice for those going on safari. Find out about the different airlines that offer safari flights. Most recently, the airline added flight routes from Arusha to Ruaha National and the Serengeti the new route will commence in June 2019.
---
Coastal Aviation Fleet
Coastal Aviation's fleet consists of Cessna 206, Cessna 208 and Pilatus.
---
Coastal Aviation Baggage
Carry-on Baggage
Purses, handbags and small bags may be held onto in the cabin but all other bags must be stored away and secured.
Checked Baggage
The cargo pod door measurements of 36cm x 68cm and if your bag is too large it will not able to taken onboard. The maximum weight is 15kg or 33lbs.
---
Coastal Aviation Check-in
Minimum check-in time will be displayed on your ticket. Please make sure to arrive at the airport before the time stated. The departure time is not the same as the boarding time. The gate will close at least 15 minutes prior to departure.
---
Economy Class
Economy Class is Coastal Aviation's cabin class. The airline offers a simple service, with friendly and professional staff. There is no in-flight entertainment or onboard refreshments on the flight.

Economy Class Seats
Seats are usually set out in a 1 x 2 formation.
---
Coastal Aviation Route Map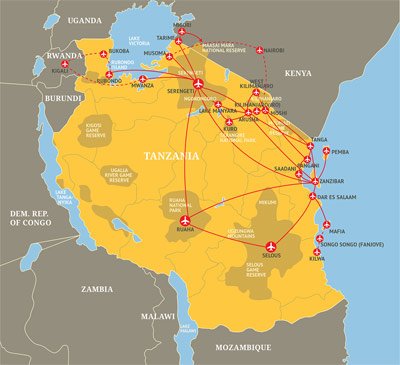 ---
Coastal Aviation Hub Airport
Julius Nyerere International Airport
Coastal Aviation is based at Julius Nyerer International Airport, which is an international airport in Dar es Salaam in Tanzania. It is located 12km southwest of the centre of the city. The airport averages around 2,700 passengers per day.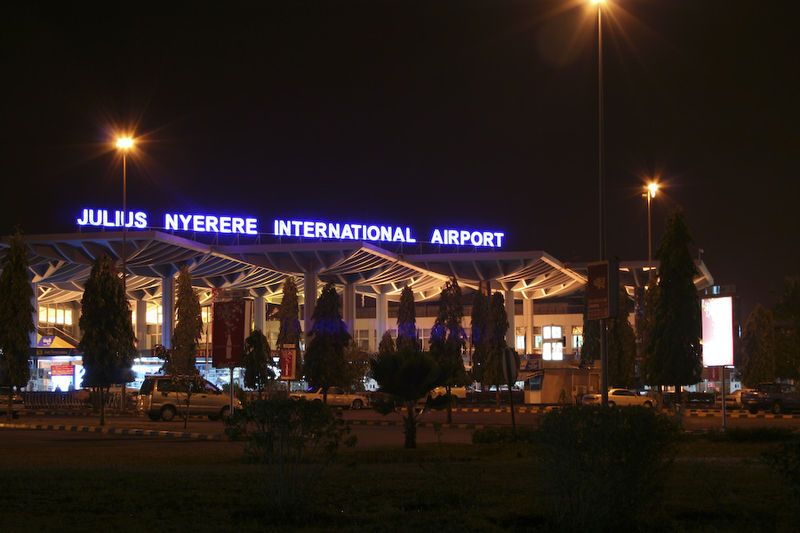 Photo credit: Ram Horizonte Betancourt
---
Alternative Airlines to Coastal Aviation
Please click on the logos below to find out more about airlines that fly similar routes to Coastal Aviation:
---
News
28th February 2018
Coastal Aviation appoints new MD and CCO
Coastal Aviation announced (15-Feb-2018) the appointment of Shafiul Syed as MD, effective later in Feb-2018, and Rob Prophet as chief commercial officer. Mr Syed replaces Julian Edmunds, who is stepping down.
August 2017
Tanzania: Tanga Airport for Major Expansion
The authorities are planning to expand Tanga Airport runway and other facilities to handle traffic in 24 hours.The airport operates only during the daylight since there were no lights and its runaway has a length of 1.6 kilometres. Tanga Region Assistant Administrative Secretary (Planning), Ms Anne Lyimo, said yesterday that to begin with, the airport will be installed with lights to enable 24 hours operations.
"Currently, Tanga airport is going to be installed with traffic lights to enable airplanes to land and take off all the time," Ms Anne said during 'Daily News Business Forum' held in the city. According to Tanzania Airport Authority (TAA), the airport has been earmarked with 107bn/- fund for the extension of existing runway and other facilities.
TAA report showed that the airport runway will be expanded from the current 1.6km to 2.5km to enable huge aircraft - the like of Boeing 787 Dreamliner and Airbus 350 - to land. At the moment, due to shorter runway, bigger airplanes landing at the port are those with less than 50 passengers - the like of ATR 42 and Bombardier Dash 8.
Data from regional office showed that the airport, currently handles 11,000 passengers and some 6,000 kilogrommes of cargo per year. The airport has scheduled flights to Arusha, Dar es Salaam and the Zanzibar Archipelago islands of Unguja and Pemba.
The three airlines are main frequenters of the airport like As Salaam Air, Auric Air and Coastal Aviation. The As Salaam is a Zanzibar based airline that operates with a fleet of two aircraft, while Auric Air is Mwanza based airline with 14 equipment and Coastal Aviation flies a fleet of 30 aircraft and flights to 42 destinations spanning across Tanzania, Kenya and Rwanda.
Meanwhile, Ms Anne said the region authorities assure investors of stable power to enable them invest in Tanga. She said they have worked out power supply stability ahead of Hoima-Tanga oil pipeline project in a bid to satisfy the entire investment.
The region has welcomed investors to invest in agriculture, livestock, fishing, industries and infrastructure development - namely airport, harbour, railway, tourism and hospitality industry.
July 2017
Coastal Aviation founder passed away at 73
The beloved founder of Coastal Aviation, "The flying safari company," Nicola Colangelo died in Fiumaretta, Italy, on July 24, 2017 at the age of 73.
Nicola is survived by Carolina Colangelo, his devoted wife; his mother, Delma Ventarelli; and his brother, Franco Colangelo. Nicola has also left behind an extended family of people he adopted along the way, who all shared his vision.
A leader, a friend, and a mentor, Nicola will be deeply missed. He was a real visionary man with exceptional intuition and a strong work ethic who always kept the well-being of his dear ones and his employees at the top of his mind.
Nicola was born on October 26, 1943, in La Spezia, to Delma Ventarelli and Giuseppe Colangelo. He married the love of his life, Carolina, in 1974. He came to Tanzania in 1965 and created what is now Coastal.
Nicola will be remembered for his drive to explore and build sustainable projects. His perseverance, aspirations, and work in conservation have placed a footprint in the industry, and have defined his legacy in the Tanzanian private sector. He will also be remembered for his generosity and the great role he played in advancing the lives of all those worked for him.
He has set milestones in many sectors of Tanzanian economic activities, among which are construction, transport, and the tourism industry. In his endeavors, he was always looking for innovation without forgetting the human factor.
---