Search Flights Online and Pay with Tigo Pesa
Let's fly!

Select your payment method to view total prices including any payment fees:
Book and Pay for Your Flights with Tigo Pesa
Alternative Airlines Announces Tigo Pesa as an Additional Payment Method
for Booking Flights Online

---
You can now use Tigo Pesa to pay for your flights when booking online through Alternative Airlines.
Just search for flights online as normal and simply select Tigo as your payment method when you decide to book.
Pay your flights online with Tigo Pesa through Alternativeairlines.com
---
What is Tigo Pesa?
Tigo's name derives from the Spanish word "contigo", which means "with you".
Tigo Pesa offers the possibilitiy to get services to communities in Tanzania that are most at risk, in districts that are complex to reach.
With Tigo Pesa you can send and receive money with more people and businesses than you can with any other service – including all MPesa and Airtel Money users. Make payments to over 300,000 merchants with Tigo Pesa.
Pay bills
Buy airtime
Send and receive money
Shop and pay
Use the Tigo Pesa App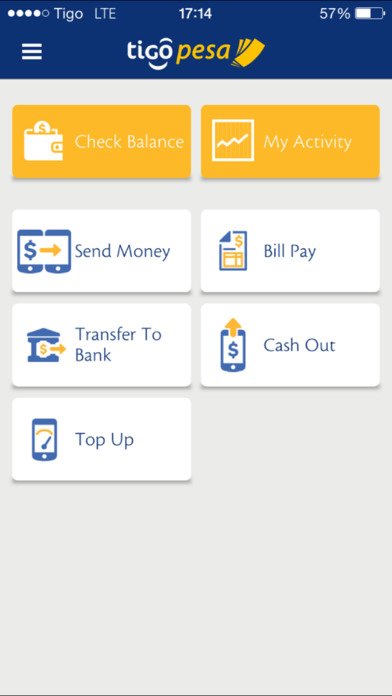 What is referred to as Tigo Money in Latin America, is called Tigo Cash in Africa and Tigo Pesa in Tanzania.
All three are dynamic, closely tailored product platforms for an award winning range of world-leading Mobile Financial Services (MFS).
Each of them simplifies and represents MFS to customers in nine very different markets (Ghana, Tanzania, Chad, Rwanda, Senegal, El Salvador, Guatemala, Paraguay, Honduras) where so many customers do not have access to formal banking institutions.
The take-up has been rapid with more than 9.6 million customers (Q1 2015) - more than nineteen per cent of our customer base within our MFS markets - now using services that range from international remittances and money transfers, to interest earning mobile money accounts, micro-credit, payments and billing.
At a glance, 6.12 million of these are in Africa, 1.9 million in Central America and 1.45 million in South America. In Tanzania, more than 50 per cent of the customer base uses MFS.
Since launching, Tigo Money, Tigo Cash and Tigo Pesa have together shown consistent and strong growth.
---
What are Mobile Payments?
Whether it is booking travel, buying online, paying back loans, or sending money to friends and family, payments need to be made. Mobile payments make that process efficient and effective. Instead of cash and credit cards, mobile payments allow customers to use a mobile device, which they carry everywhere, to pay for goods and services.
In the African travel industry, mobile payments simplify the reservation process by enabling users with a mobile money account in any country to instantly make travel purchases in their home and foreign countries.
Benefits of Mobile Payment Solutions
Ability to Provide Financial Services
Mobile payments are a great solution for providing financial services to the unbanked population of the world (estimated at 50% of the world's adult population, according to Financial Access' 2009 Report "Half the World is Unbanked"). Because 70% of Africa now has mobile phones and banks in this part of the world are inaccessible to most of the population, mobile payment solutions are an effective way to supply the banking services needed by the people.
---
Alternative Airlines, the specialist online travel agent in booking lesser known and niche destinations, is delighted to announce it accepts Tigo on all of its websites. Tigo allows customers to pay through their mobile, using their mobile number at a pace that is suitable and comfortable for them.
Commercial Manager Sam Argyle, stated, "At Alternative Airlines, we are always trying to make flight bookings easier for our customers. Adding a payment method like Tigo was a natural fit as many of our customers like using Tigo to enjoy the ease and comfort that Tigo offers."
---
About Alternative Airlines
---
Alternative Airlines is an Online Travel Agency bonded by the International Air Transport Association (IATA). We specialise in finding the best available fares on the widest range of airlines and making them available to you online, with prices in the currency of your choice.
Alternative Airlines handles all your travel arrangements and payments, complete with ticketed confirmation. We do not direct you to other websites or service providers.
We help you through the process. This is what makes us Alternative Airlines.
Browse for flights, find some amazing deals, make a reservation and pay in the currency of your choice today with Alternative Airlines.
Let Alternative Airlines help find you the best prices and make international and domestic flight reservations with us today.
Join the Alternative Airlines Members Club and get £100.00 back on your 5th booking with Alternative Airlines. You will have insight to many benefits and exclusive deals on over 650 airlines. Click on the Members section on the Alternative Airlines website for more information and join today.
We are open every day from 8am until 8pm (UK local time).
---
News
11th September 2017
Tanzanian Embracing Tigo Pesa To Pay Utility Bills
Thanks to Tigo Pesa digital payment system in Tanzania that is lately making life of people easier than before
Tigo Pesa is a local application for smartphone to allow customers pay their utility bills including buying kilowatt-hours of electricity energy from their mobile devices.
The system is fast and easy to use. It saves lot of time of consumers who now don't need to wait in queue for about an hour to buy electricity for home.
A 10,000 Tanzanian shillings can get 28 kilowatt-hours of energy that is enough to power for about a week a small house of one family.
TANESCO is the state power supplier in the country and with the wide use of digital payment it is able to reduce expenses and boost up revenues.
With the pre-payment the company don't need the manual meter reading done and overcome the scope of electricity theft too.
A study reveals with the digital payment new business opportunities can be created and improve cash flow for utilities. It increases transparency too and boosts up off-grid operations.
TANESCO spokesperson said most of their customers are now using the digital payment platform to buy electricity from them.
Gradually more African countries are embracing the digital payment system to help customers pay their utility bills with ease and on time to avoid penalty.
---