Search and Pay Flights with Airtel Money
Let's fly!

Pay for Flights with Airtel Money Through Alternative Airlines

Search for Flights to Anywhere and Pay with Airtel Money
Alternative Airlines Announces Airtel Money as a New Way to Pay for Flights
---
You can now use airtel to pay for your flights when booking through Alternative Airlines. Just search for flights as normal and simply select airtel as your payment method when you decide to book.
Book your flights with airtel through Alternativeairlines.com.
---
What is Airtel?
Airtel is India's leading telecommunications company, contributing to India economic resurgence and reformation. It is India's first mobile payment banking system, allowing customers to pre or post pay bills or transfer money.

Today airtel provides Mobile services, Telemedia services, to connecting India's leading 1000+ corporates. airtel also connects Indians living in USA, UK and Canada with a "call home" service.
---
Alternative Airlines, the specialist online travel agent in booking lesser known and niche destinations, is delighted to announce it accepts airtel on all of its websites. airtel allows customers to pay through their mobile, using their mobile number at a pace that is suitable and comfortable for them.
Commercial Manager Sam Argyle, stated, "At Alternative Airlines, we are always trying to make flight bookings easier for our customers. Adding a payment method like airtel was a natural fit as many of our customers like using airtel to enjoy the ease and comfort that airtel offers."
---
What are Mobile Payments?
Whether it is booking travel, buying online, paying back loans, or sending money to friends and family, payments need to be made. Mobile payments make that process efficient and effective. Instead of cash and credit cards, mobile payments allow customers to use a mobile device, which they carry everywhere, to pay for goods and services.
In the African travel industry, mobile payments simplify the reservation process by enabling users with a mobile money account in any country to instantly make travel purchases in their home and foreign countries.
Benefits of Mobile Payment Solutions
Ability to Provide Financial Services
Mobile payments are a great solution for providing financial services to the unbanked population of the world (estimated at 50% of the world's adult population, according to Financial Access' 2009 Report "Half the World is Unbanked"). Because 70% of Africa now has mobile phones and banks in this part of the world are inaccessible to most of the population, mobile payment solutions are an effective way to supply the banking services needed by the people.
---
Download the App today and book your flights with Alternative Airlines!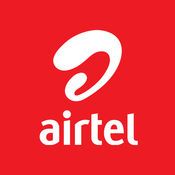 Description
India's first Payments bank is now part of the all new My Airtel App. The My Airtel App is now not just the fastest & most secure way to recharge mobile & DTH, pay postpaid & broadband bills but also lets you manage your Airtel Payments Bank savings account
What does MyAirtel app offer?

Airtel Payments Bank Account
Your Airtel Mobile number also becomes your Account Number
Earn the highest interest of 7.25% on every rupee you deposit
For every rupee that you have deposited you get equivalent talk time (applicable on first cash deposit) eg: If you deposit Rs 500 you will get a credit of 500 minutes
Free Personal Accident Insurance cover of Rs 1 lac
Instant account opening in less than 3 minutes with just your Aadhaar card
Deposit or withdrawal at any of our 6 Lakh Banking Points (Airtel recharge outlets)
Accepted at over 5 million outlets
Send money to friends and family with ease
Get real time alerts for every transaction on your registered mobile number and email ID

Prepaid
Enjoy exclusive offers, exciting deals and coupons on recharge
View tariff plans of full talk time, top ups, night packs, daily packs, SMS, internet packs, roaming packs, 3G and 2G usage, prepaid mobile recharge
Claim your handset bundled offer from the app to enjoy amazing benefits
You can buy international roaming packs from the APP
Repeat your frequent prepaid mobile recharge on the go
Alerts for your data usage & offers for more data packs
Lets you activate family share with few clicks

Postpaid
Use the app to register and receive postpaid bills on your email. If you have forgotten the password to retrieve your bill, you can request for the same through the app
You can check the credit limit of your mobile postpaid account from the app
Details of Data Balance, Account balance, Bills, Bill plan and Unbilled amount
Alerts for your data usage & offers for more data packs

DTH
Repeat your frequent DTH recharge on the go
Enjoy exclusive offers, exciting deals and coupons on easy recharge of DTH of all operators

DSL/Broadband
Enjoy 100% secure transaction on all your broadband bill payment with PCI-DSS.
View tariff plans of broadband & fixed line/landline bill payment.
You can check the history and status of your past service request from Smartbyte consumption detail APP. You can see the amount of data that has been purchased and consumed as Smartbytes

Others
- View all your transaction history for online recharge & bill payments
- Add and manage your dongle with ease from the MyAirtel App
- Notifications to remind you about your accounts and keep you on track
- Make payments and do mobile recharge using Airtel Money Wallet
- Make online payments using debit cards, credit cards and net banking facility
- MyAirtel app makes payments a super quick mobile experience.
How to Add Money to Airtel Payments Bank Wallet
You can Add money to your wallet with debit cards, net banking from all leading banks - using Visa, Mastercard, or transfer money to any Airtel Payments Bank Wallet.

Transfer Funds
Money transfer to your friends/family Airtel payments Bank Account with ease. You can also send money to other savings bank account of self/friends/family from Airtel Payments bank Account.
Features:
- Easy Prepaid Recharges, Bill Payments and DTH recharges for all operators
- PCIDSS certification makes the myAirtel app the safest app to use and allows fastest checkouts for prepaid recharge, postpaid bill payment and Airtel money load cash.
- You can also make life simpler by adding all your family/friends prepaid, postpaid, DTH & Broadband / Landline accounts to recharge & for bill payments at one single place.
- Enjoy exclusive offers, exciting deals and coupons on recharge of your mobile & DTH and bill payments. Recharge it now and enjoy free recharge and bill payment services.

Important: For Airtel broadband & digital TV users, My Airtel will work only on a registered mobile number which is in our records.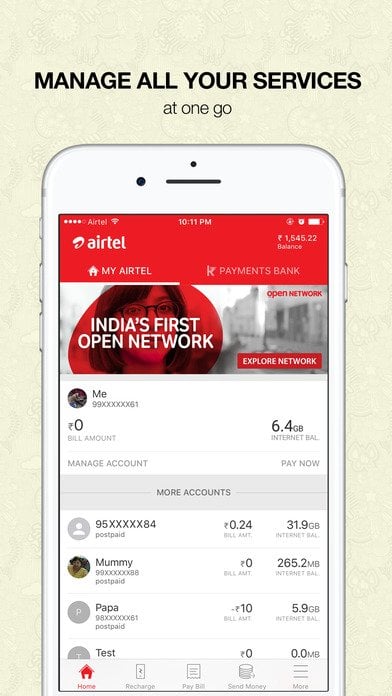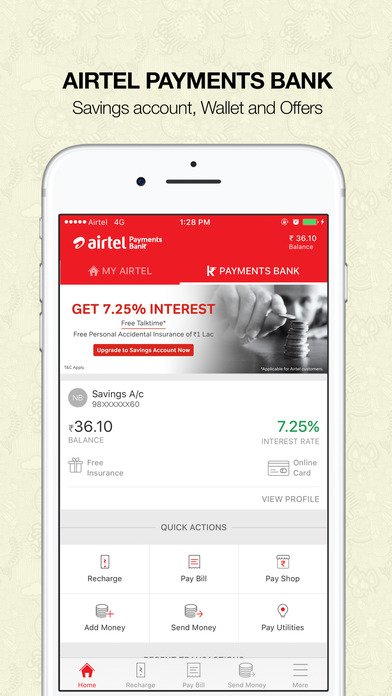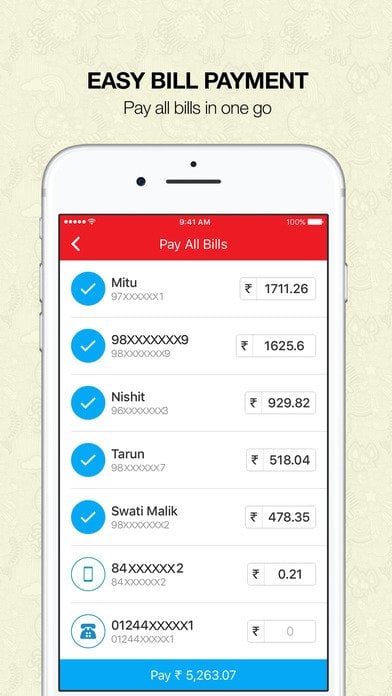 ---
About Alternative Airlines
---
Alternative Airlines is an Online Travel Agency bonded by the International Air Transport Association (IATA). We specialise in finding the best available fares on the widest range of airlines and making them available to you online, with prices in the currency of your choice.
Alternative Airlines handles all your travel arrangements and payments, complete with ticketed confirmation. We do not direct you to other websites or service providers.
We help you through the process. This is what makes us Alternative Airlines.
Browse for flights, find some amazing deals, make a reservation and pay in the currency of your choice today with Alternative Airlines.
Let Alternative Airlines help find you the best prices and make international and domestic flight reservations with us today.
Join the Alternative Airlines Members Club and get £100.00 back on your 5th booking with Alternative Airlines. You will have insight to many benefits and exclusive deals on over 450 airlines. Click on the Members section on the Alternative Airlines website for more information and join today.
We are open every day from 8am until 8pm (UK local time).
---
News
15th November 2017
Nigeria: Airtel picks up three awards
On Saturday 11 November 2017, telecommunications services provider, Airtel Nigeria, was awarded three accolades at the Nigeria Technology Innovation & Telecom Awards (NTIT) 2017 organised by the Association of Telecommunications Companies of Nigeria (ATCON) in Lagos.
The event which was well attended by telecom industry leaders saw Airtel's Touching Lives project adjudged as the CSR Initiative of the Year. The telco also bagged the Telecom Marketing Campaign of the Year Award while the Managing Director and Chief Executive Officer of the company, Segun Ogunsanya won the Telecom CEO of the Year Award.
Olusola Teniola, President of ATCON, in his citation during the presentation of the Telecom CEO of the Year Award to Ogunsanya, said the company has continued to grow bigger and better under the Airtel boss leadership. He stated that the award is a recognition of his outstanding performance.
Professor Umar Garba Danbatta, Executive Vice Chairman, Nigeria Communication Commission (NCC) in his remark at the event, commended ATCON for its mutual relationship fostered between the Association and NCC since his became the EVC of the regulatory body.
"As we build up our relationship with telecom bodies, NCC will continue to do its best in order to ensure that consumers are protected and empowered. Let me assure that the board of the NCC is full committed to ensuring that we attain the broadband innovation of 40 percent and be consistent with the Nigerian broadband plan", he said.
According to the President of ATCON, Mr. Teniola, NTITA is to recognise telecom and ICT companies that have led innovation and creativity. "ATCON thought the only way to further encourage innovation and creativity in the industry is to reward those who are not resting on their forte and to encourage them to do more. Secondly, we believe that as some companies and individuals receive awards today, it is our utmost believe that it will encourage innovation and creativity in others. This will also lead to further investment into the sector."
28th September 2017
Airtel deploys 5G capable technology; promises faster data speeds
Bharti Airtel said it has deployed a 5G capable technology, which will offer faster data speeds to consumers and improve network capacity.
Airtel said that the new technology will bolster the current network capacity by 5-7 times, and result in 2-3 times faster data speeds for customers.
India's largest telecom operator Bharti Airtel said it has deployed a 5G capable technology, which will offer faster data speeds to consumers and improve network capacity. The deployment of 'Massive Multiple-Input Multiple-Output (MIMO) technology', a key driver for futuristic 5G networks, will start from Bengaluru and Kolkata, the company said in a statement. The technology will also be rolled out to other parts of the country "soon", it added.
Airtel said that the new technology will bolster the current network capacity by 5-7 times, and result in 2-3 times faster data speeds for customers. "India joins a select group of countries globally to deploy Massive MIMO, marking a major technological leap for the telecom sector in the country," the Airtel release said.
Customers will enjoy faster data speeds on their existing 4G mobile devices without having to upgrade or change their tariff plans, it added.
"As one of the few commercial deployments of Massive MIMO globally, the deployment puts India on the world map of technology advancement and digital revolution," it said. The announcement comes as part of Airtel's Project Leap, an ongoing network transformation programme.
"Data speeds will now also be seamless, offering enhanced user experience even indoors, in crowded places and high rise buildings. It would enable multiple users and multiple devices to work simultaneously without facing any congestion," the statement added.
The move comes at a time when the government has formed a high-level forum to guide India to start 5G service by 2020, a technology that will deliver wireless broadband speed of about 10,000 mbps in urban areas and 1,000 mbps in rural belts. In a bid to facilitate research and development activities for 5G service rollout, the government is also looking at setting up a Rs 500-crore support fund.
14th September 2017
Airtel Ghana wins capacity Africa awards
Airtel Ghana's transformational CSR programme has been adjudged 'Best Corporate Social Responsibility Initiative' at the 2017 African Carrier Awards which took place in Uganda's capital Kampala on 5th September 2017.
Airtel Ghana picked the Best Corporate Social Responsibility Initiative at the Capacity Africa Carrier Awards 2017 for the second consecutive year.
The Capacity Africa Carrier Awards seeks to recognize telecom companies in Africa with outstanding performance in terms of growth, innovation, Corporate Social Responsibility amongst others.
The Award recognises Airtel Ghana's exceptional and far-reaching efforts to integrate sustainable corporate social responsibility initiatives which span education, health, and community development into its business operations.
This award is a clear and unequivocal affirmation of the continuous effort of Airtel Ghana in driving sustainable innovative initiatives that distinguishes itself with its approach and contribution to sustainable development.
Airtel Ghana received this award due to its excellent and far-reaching efforts to integrate sustainable corporate social responsibility initiatives across every sphere of what they do, especially through our school adoption and Evolve with Stem initiatives and other employee driven CSR initiatives in which employees engage in.
Commenting on the recognition, Hannah Agbozo, Director of Legal and Corporate Affairs at Airtel Ghana said "At Airtel, we are passionate about empowering local communities through our CSR and community investment programmes.
To be recognised for this at the continental level as the best in class in CSR is a great honor and a motivator for us to continue investing to improve lives and drive positive impact in our communities.
This award is a result of the ownership and commitment of our employees to embrace and volunteer in our CSR initiatives. We dedicate it to all our employees and our cherished customers.
Airtel Ghana has won multiple awards for its leadership in driving sustainable corporate social responsibility initiatives including "Best CSR Initiative" at the Africa Carrier Awards 2016, IPR Best community relations programme for three consecutive years, Bharti Change maker award (gold) for two consecutive years and best CSR Company in Education at the 2015 Ghana CSR Excellence Awards.
Airtel is Ghana's fastest growing telecommunications network providing unparalleled communication, connectivity and collaborative solutions to its customers.
8th September 2017
Airtel launches solution for GST filing
After BSNL, Jio now Airtel rolls out GST Advantage in partnership with ClearTax
Airtel GST Advantage is being offered free to all existing Airtel Business customers, who need to register on the site.
India's largest telecom operator, Airtel on Thursday announced the launch of its new initiative 'GST Advantage,' by its business to business arm. The company has tied up with ClearTax, an online income tax filing portal, for this initiative.
"Airtel Business, the B2B arm of India's largest telecommunications service provider Bharti Airtel, today launched Airtel GST Advantage – a solution specifically designed to enable small businesses and start-ups to file their GST returns accurately, securely and seamlessly," the company said.
Airtel GST Advantage is being offered free to all existing Airtel Business customers, who need to register on the site.

"The new GST regime is a landmark reform for the Indian economy and with Airtel GST Advantage, we would like to enable small businesses with free filing of returns, and free and secure data access. Airtel is also the data hosting and connectivity partner for the Goods and Services Network (GSTN)," Ashok Ganapathy, Director & CEO – Airtel Business said.
Ministry of Finance on Monday extended the return filing dates for three forms which was scheduled for submission in this week.

ClearTax offers customers cloud-based tools that help businesses with all their GST needs - right from creating invoices to filing returns and performing reconciliation. The Airtel GST Advantage will use ClearTax's technology to offer 'hassle-free' GST utilities to all its customers.
Airtel GST Advantage – a three-pronged offering for customers as listed by the company.

Get free and secure access to the GST Network via ClearTax: Airtel has partnered with ClearTax, India's largest tax filing platform, to enable easy digital submission of returns by companies. With Airtel GST Advantage, customers can access ClearTax's services free of charge. In other words, ClearTax's GST software and platform will be available to Airtel customers without the subscription fee. This access to ClearTax is available till March 31st, 2018.

Get the best on-demand professional advice about GST: All Airtel customers will have access to Airtel's newly launched GST Advantage Helpdesk between 8.00 am and 8.00 pm on all weekdays. The Helpdesk will be managed by GST experts who will be available to advise Airtel customers on any query relating to GST. Airtel has also published a GST knowledge bank – developed by renowned tax experts. This knowledge bank will empower all Airtel Business customers with an in-depth information about GST.

Additionally, preserve bandwidth while filing GST returns: Airtel GST Advantage will also enable customers to upload their returns without worrying about bandwidth charges. With GST Advantage, businesses will get free additional data with any Airtel corporate connection or device, to help them file returns.

The free data offered by the company will be up to 18GB spread over the course of three months. The company will offer 2GB per month per connection on a maximum of three devices.

BSNL and Reliance Jio had also rolled out similar GST starter kits to help businesses with filing returns under GST.

Archit Gupta, CEO - ClearTax added, "We are excited to partner with Airtel. Since the launch of GST, we have been working hard to help businesses and Tax Professionals become GST-ready and make compliance easier in the new tax regime. Together, we are sure to add many more milestones in our journey to getting India GST-ready."
4th September 2017
Reliance Jio effect: Airtel introduces new prepaid plans starting at Rs 5 *(Currency in indian Rupees)*
In a bid to take on Reliance Jio, telecom major Bharti Airtel has introduced new data and voice call plans for its prepaid customers in India. The company has introduced a range of plans priced at Rs 5, Rs 8, Rs 40, Rs 60, Rs 149, Rs 199, Rs 349 and Rs 399. Here's a quick look at all the new plans by Airtel:
Rs 5
Under this plan, users will get 4GB of 3G/4G data for 7 days. The offer will only be valid for a one-time recharge and for those customers who upgrade to Airtel's 4G SIM.
Rs 8
Under this plan, Airtel offers local STD calls at 30 paise/minute for 56 days.
Rs 40
Under this plan, Airtel offers talk time worth Rs 35 with unlimited validity.
Rs 60
Under this plan, Airtel offers talk time with Rs 58 with unlimited validity.
Rs 149
Under this plan, Airtel offers unlimited Airtel to Airtel calls, along with 2GB 4G data with 28 day-validity.
Rs 199
Under this plan, Airtel offers unlimited local mobile calls and 1 GB 2G/3G/4G data for 28 days.
Rs 349
Under this plan, Airtel offers unlimited local and STD calls along with 28 GB data (1 GB per day) for 28 days.
Rs 399
Under this plan, Airtel offers 1 GB data per day at 4G speed along with unlimited local and STD calls.