Auric Reservations with Alternative Airlines
Make an Auric Air Booking and Find Some Amazing Deals
---
About
Auric Air is a Tanzanian airline that offers both scheduled and air charter services. The airline is headquartered at Mwanza Airport, Tanzania, with secondary bases at Dar es Salaam and Arusha. It offers flights to several destinations within Tanzania, as well as to a small number of destinations in other parts of Africa. The airline provides daily scheduled services to more than 40 destinations and handles approximately 10000 passengers monthly. In order to keep up with standard and recommended practices, Auric Air Services Limited undergoes stringent safety and operational audits conducted by professional audit firms. This ensures safe operational practices and makes it the preferred air charter service provider for the corporates.
Looking to book a Tanzanian Safari?
Tanzania is a leading Safari destination, thanks to to its vast wilderness areas. The Serengeti National Park is one of the biggest and best known, where all of the 'big five' game animals can be found. As one of the leading airlines that offer safari flights to destinations along the east of Africa, Auric Air offers many charter flights to various remote safari airstrips in Tanzania. This includes airstrips in Selous Game Reserve, Serengeti National Park, Ruaha National Park and more.
Book flights in Tanzania with Alternative Airline
Alternative Airlines makes it easy to search and book the flights you're after. We specialise in making it easy to book flights to remote locations, in English, and with the support of our Customer Service team. You can pay the way you want, whether that's using Airtel, Mpesa, Tigo Pesa, PayPal and many more payment options. Simply use the search bar at the top of the page to begin.
Top Tip: If you're looking to explore the country, take a look at out full guide to domestic flights within Tanzania for more information, including an airline guide and travel FAQs.
---
Destinations
Auric Air flies to a number of airports and airstrips around East Africa. This includes destinations such as Arusha, Dar es Salaam, Pemba Island, Selous Game Reserve, Serengeti, Zanzibar, Entebbe and Kigali.
Domestic Destinations
CITY
AIRPORT
Arusha
Arusha Airport (ARK)
Dar es Salaam
Julius Nyerere International Airport (DAR)
Iringa
Iringa Airport (IRI)
Lake Manyara
Lake Manyara Airport (LKY)
Lake Tanganyika
Kipilli Airstrip
Mafia Island
Mafia Airport (MFA)
Masai Mara
Mara Serena Airport (MRE)
Morogoro
Morogoro Airstrip
Mwanza
Mwanza Airport (MWZ)
Pemba Island
Pemba Airport (PMA)
Ruaha National Park
Jongomero Airstrip
Msembe Airstrip
Rubondo Island
Rubondo Airstrip
Selous Game Reserve
Beho Beho Airstrip
Kiba Airstrip
Matambwe Airstrip
Mbuyu Airstrip
Mtemere Airstrip
Siwandu Airstrip
Stiegler's Airstrip
Sumbazi Airstrip
Serengeti
Fort Ikoma Airstrip
Grumeti Airstrip
Kogatende Airstrip
Kusini Airstrip
Lamai Airstrip
Lobo Airstrip
Mwiba Airstrip
Ndutu Airstrip
Sasakwa Airstrip
Seronera Airstrip
Songea
Songea Airport (SGX)
Tanga
Tanga Airport (TGT)
Zanzibar
Abeid Amani Karume International Airport (ZNZ)
International Destinations
| COUNTRY | CITY | AIRPORT |
| --- | --- | --- |
| Uganda | Entebbe | Entebbe International Airport (EBB) |
| Rwanda | Kigali | Kigali International Airport (KGL) |
---
Route Map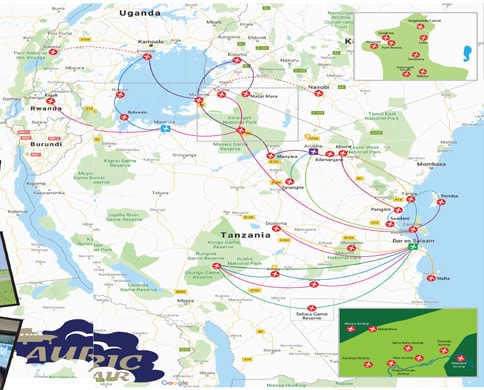 ---
Baggage Allowance
Checked and Carry-on Baggage
The total baggage allowance for each passenger (inclusive of carry-on and checked baggage) is 20kg. This includes all types of baggage, such as cameras, filming equipment and any other personal item.
If passengers anticipate having excess baggage, they can purchase in advance an excess baggage allowance (get in touch with our customer service team for rates on excess baggage). Excess baggage will be available in increments of 10kg with a maximum of four (40kg) permitted per passenger in all classes and routes operated by Auric Air.
For passengers needing a baggage allowance higher than 40kg, a 'freight' seat can be purchased at a child fare. This will give passengers an extra 75kg baggage. The captain and crew of the aircraft may weigh the bags at the airstrips to ensure weight restrictions are met.
Excess baggage will only be carried, at the sole discretion of the captain of the aircraft, if the payload of the aircraft and/or space permits and will be charged at the prevailing rate for carriage of freight. The captain also has the right to refuse any baggage.
Auric Air allows hard-case suitcases on their aircraft as long as they are within the permitted dimensions.
---
Check-In
Online Check-In
Online check-in isn't available for Auric Air flights at this time.
Airport Check-In
To check-in for their flight, passengers must check-in at the airport. This can be done by visiting one of the check-in agents at the airline desk at the airport of departure. Airport check-in closes 20 minutes before scheduled flight departure time at major airports and 15 minutes before scheduled flight departure time at airstrips.
---
Economy Class
Auric Air only offers one cabin class, Economy Class, also known as Safari class.
The cabin is clean, spacious and is designed to keep passengers safe and comfortable throughout the flight. The airline doesn't offer any extra services on-board but the professionally trained cabin crew are available to assist with anything that you might need.
---
In-Flight Entertainment
There's no in-flight entertainment system on Auric Air flights. However, the airline does provide passengers with a copy of its in-flight magazine, Auric Explorer, which has features on the airline's destinations, as well as the latest news and updates.
---
WIFI
Due to the small aircraft that Auric Air flies, there's no WIFI network onboard its flights.
---
Food
Auric Air doesn't offer any refreshments once in-flight. However, passengers can enjoy food and drink pre-flight at the airport lounge, depending on which airport they fly from.
---
Frequent Flyer
Auric Air doesn't have a frequent flyer program that rewards regular passengers for flying with the airline.
---
Airline Alliance
Auric Air isn't part of an airline alliance.
---
Fleet
The airline uses Cessna 208B and Cessna 208B-EX aircraft on all flights.
Auric Air operates a fleet of more than 15 aircraft manufactured by Cessa, (Cessna Grand Caravans C208Bs and Cessna Grand Caravan EXs), a fleet which is amongst the youngest of Caravan fleets in this region. With highly reliable turbine engines, these type of all-weather aircraft have been chosen to meet the specific requirements of operating into bush airstrips within Tanzania's world-famous game parks, hunting strips and to not so well maintained airstrips within East Africa. All of Auric Air's aircraft are equipped with the Glass cockpit, and, in order to enhance safety, optional state of the art avionics including latest in traffic terrain avoidance systems - Synthetic Visual Technology and Satellite Based real time tracking systems have been installed.
2021 Update: In 2021, the airline also acquired its first Dash 8-100. The aircraft is able to carry up to 37 passengers.
---
Hub Airport
Mwanza Airport
Mwanza Airport is a regional airport in Mwanza, Tanzania and is the hub airport for Auric Air. The airport is small, with only one runway and one passenger terminal. It facilitates flights from airlines flying to destinations across East Africa.
Auric Air is currently the only airline using Mwanza Airport as its primary hub, although, Precision Air uses it as a secondary hub. Other airlines that fly to/from Mwanza Airpot include Air Tanzania, Coastal Aviation and Fastjet.
Auric Air also uses Julius Nyerere International Airport (JNIA) and Arusha Airport (ARK) as secondary hubs.
---
Alternative Airlines to Auric Air
---
FAQs
Where does Auric Air fly?
Auric Air is a domestic carrier which flies to a number of airports and airstrips within East Africa. This includes popular Safari destinations, such as Arusha, Dar es Salaam, Pemba Island, Selous Game Reserve, Serengeti, Zanzibar, Entebbe and Kigali.
Can I book Auric Air flights online?
Alternative Airline is a specialist online travel agent. As well as all major carriers, we ticket many smaller domestic carriers around the world, including Auric Air! You can use the search bar at the top of the page to begin searching for flights within Tanzania with Auric Air.
What is Auric Air's flight schedule?
Auric Air operates regular scheduled passenger flights. Enter your departure and arrival airports into the search form at the top of the page
Is Auric Air still operating?
Yes! The airline may have reduced the frequency of its flights and route network as a result of the Coronavirus pandemic. But Auric Air is still flying! You can search and book flights with Auric Air through Alternative Airlines.