Flying to Tanzania? Why not try Precision Air?
Precision Air was established in 1991started operations in 1994 and is now the largest airline in Tanzania. It currently operates frequent scheduled services for tourist and business passengers from 10 regional airports in Tanzania, plus Nairobi and Mombassa in Kenya and Entebbe Uganda.

Precision Air is based in Julius Nyerere International Airport in Dar es Salaam and operates with a mixed fleet of 10 jet and turboprop aircraft. Due to the growth of the tourist market Chief Executive Alfonse Kioke has announced that they are looking to expand the fleet over the next 5 years with the arrival of an additional 11 aircraft. The new aircraft will serve new routes to Johannesburg in South Africa, Pemba and Nampula in Mozambique, Moroni in Comoros, Lumumbashi in the Congo, Lusaka in Zambia, Harare in Zimbabwe and Blantyre in Malawi
Using Precision Air as part of your experience in Tanzania would be a great choice of airline, after all their vision is "To be the airline of choice". Whether you want to fly to, from or within Tanzania please use the alternative airlines web site to book your flights or call our friendly team who will be more than happy to help.
Explore Tanzania with Precision Air
If you wish to explore the natural and breathtaking scenary or view the amazing animals of Tanzania, then Precision Air should be your first choice for flights.
Tanzania is a country situated in East Africa with its eastern coast on the Indian Ocean.
Dar Es Salaam is today the principle commercial city of Tanzania and the major seaport for the country. The village museum and the colourful markets are all worth visiting and Saint Josephs Cathedral is a gothic church facing the harbour with its most notable feature being its stained glass windows behind the altar.
Moshi is the home of Mount Kilimajaro and is located at the base of the great mountain. Moshi is the coffee-producing centre of the country and the seasonal coffee auctions are a sight not to be missed. However, the main reason why tourists are attracted to Moshi is to climb the famous Mount Kilimanjaro. Climbing expeditions normally start off in the morning before the clouds have gathered their daily cloaking of the mountaintop.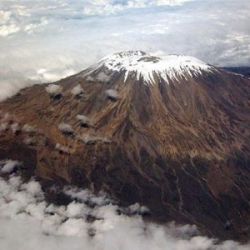 Arusha is located in the northerly part of Tanzania and rests between the twin peaks of Mt Meru and Mount Kilimajaro. If it's a safari you want, then Arusha is the place for you. Most northern safaris stop in Arusha to prepare for the journey into the African bush. The dramatic crater of Mt Meru stands proudly over the busy town and it's a sight that will certainly take your breath away
Tabora is a major transit point in the country. Railway lines branch at Tabora to both Kigoma and Mwanza and those chosing to use the train often stop off at Tabora. Tabora is renowned producer of honey, which can normally be purchased at local markets.
Mwanza is a major port on Lake Victoria, with exports and transport between neighbouring countries being the foundation for the local economy. Nearby Rubondo Island National Park offers exciting days of hiking and some wonderful bird watching opportunities along the lakes shores. Mwanza is the home for the Sukuma tribe, who are the largest tribe in Tanzania.
Kigoma is a great base for chimpanzee safaris, with easy access to both Gombe Stream and Mahale Mountains National Parks. The area is surrounded by rugged mountains and forests and is a profoundly beautiful part of Tanzania.
Travel the world with Precision Air
As well as their domestic flight network Precision Air is spreading its wings internationally. The new routes that they are planning tio operate will mean that the wonderful delights of Tanzania will be more accessible than ever. Although Precision Air does not currently fly from the UK, our team will be able to plan your connections from the UK through to the start of your adventure in Tanzania including flying with Precision Air.

The Precision Air Mission and Vision statements:-
Their Mission - "To Develop And Provide Superior Air Transport Services That Exceeds Customer Expectations"
Their Vision - "To Be The Airline Of Choice"
Book a flight on Precision Air - with Alternative Airlines
With more than 26 years experience, the Alternative Airlines team are specialists in connecting you to the more unusual destinations around the world, places that are rarely served by mainstream airlines.
If you are considering a trip to Tanzania and want to sample the delights of this wonderful country then you have come to the right place. You can book here and now using our on-line booking engine or you can call our team and make your booking over the phone. We will give you a personal service as well as providing you with up to date news about Precision Air and your destination.