Search & Buy Fastjet Flights
Airlines will always try to sit children with their parents (subject to check-in)
Some airlines will allow travel for unaccompanied minors. Please email us to check.
The fare is based on the child's age on the date of travel.
More detailed information can be found here Traveling with children
Most airlines will let infants travel with their parent(s) for free. However some airlines will charge up to 10% of the adult ticket price. Click on 'Price Breakdown' to find out more.
If you are pregnant, but due before the flight departure date, please contact us once your baby is born and has a name. We can then add him/her to your ticket.
Infants will not be given a seat. The airlines expect parents to travel with them on their lap.
Airlines regard infants as being under 24 months old.
The fare is based on the child's age on the date of travel.
More detailed information can be found here Traveling with children
Buy
Fastjet

Flights
FastJet Reservations with Alternative Airlines
Make a FastJet Booking and Find Some Amazing Deals
---
About FastJet
Fastjet Plc is an African low-cost airline based in Tanzania.
Fastjet currently flies from 5 airports in Tanzania, covering routes between Dar es Salaam, Mwanza, Kilimanjaro, Mbeya, Zanzibar and South Africa. Fastjet flies internationally from Tanzania to Johannesburg, Lusaka, Harare, Entebbe and Nairobi. Fastjet also operates from its Zimbabwe bases: Harare, Victoria Falls and Johannesburg.
The company's stated aim is to become the continent's first low-cost, pan-African airline, and the operation was initially created with the acquisition of Fly540, an airline operating in East Africa; flights in Fastjet's own name commenced in November 2012 in Tanzania. In September 2016, Fastjet launched a connecting flight service through its Dar es Salaam's Julius Nyerere International Airport hub that will see the company offering its customers with linking flight options. With Fastjet, you can find flights to Serengeti National Park and other safari destinations. Find out more about safari flights here.
Fastjet is featured on our blog,
The Cheapest Airlines in the World
, as one of the best-value airlines in Africa. Read more about what makes this airline great value, and which other airlines are featured on this list.
---
FastJet Destinations
Mozambique
Beira, Maputo, Nampula and Tete
South Africa
Johannesburg
Tanzania
Dar es Salaam, Kilimanjaro, Mbeya and Mwanza
Zambia
Lusaka
Zimbabwe
Harare and Victoria Falls
---
FastJet Frequent Flyer Program
Fastjet has introduced a flight bundle solution known as FlexiTrip, which allows frequent flyers to purchase 10 one-way flights at a fixed price inclusive of taxes and fees.
The FlexiTrip solution provides flexibility as flights can be booked up to six hours before departure time and is valid for travel within a year of purchase, subject to flight availability.
The 10 flights can be used by any of the three passengers nominated at the time of making the booking, allowing passengers the choice of who can benefit from the bundle flights.
The FlexiTrip package is available for domestic flights in Zimbabwe between Harare and Victoria Falls at a further charge.
---
---
FastJet Route Map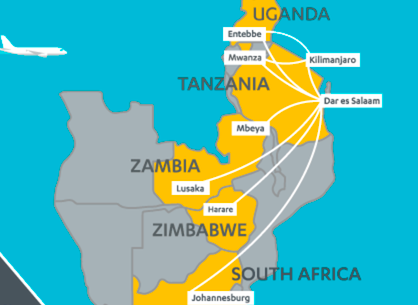 FastJet Popular Routes
Dar es Salaam

Kilimanjaro
Dar es Salaam

Entebbe
Dar es Salaam

Mwanza
Dar es Salaam

Johannesburg

---
Fastjet Fleet
---
FastJet Hub Airport
Julius Nyerere International Airport
Julius Nyerere International Airport is the international airport of Dar es Salaam, the largest city in Tanzania. It is located about 12 kilometres southwest of the city centre. The airport has flights to destinations in Africa, Europe, and the Middle East. It is named after Julius Nyerere, the nation's first president.Airlines that fly from and to Julius Nyerere International Airport include Emirates, Ethiopian Airlines, Kenya Airways and KLM.
Julius Nyerere International is also the hub airport for Air Tanzania, Precision Air and Flightlink.

Alternative Airlines to FastJet
---
---
Buy Discounted Fastjet Tickets at Alternative Airlines
---
FastJet News
6th November 2017
Fastjet Mozambique launches Maputo operations
Fastjet Mozambique commenced its first operations from Maputo (MPM) on 3 November, starting domestic links to Beira (BEW), Nampula(APL) and Tete (TET). The airline will operate the routes using its sole ERJ 145, with all three services going head-to-head with LAM Mozambique Airlines, currently the only carrier offering domestic services in Mozambique.
The latter carrier already operates the three sectors launched by fastjet Mozambique, with it offering 18 weekly flights on the 721-kilometre link to Beira, 13 on the 1,389-kilometre sector to Nampula, and eight on the 1,096-kilometre city pairing with Tete. fastjet Mozambique will provide nine weekly flights to Beira, a daily rotation to Nampula, and four weekly services to Tete.
Fastjet Mozambique launched these routes as it continues to compete with other airline in Mozambique, such as LAM Mozambique Airlines and Kaya Airlines.
30th October 2017
Fastjet scraps Easyjet model for a new African flight plan
New management will launch operations in oil and gas-rich Mozambique to augment existing services in Tanzania, Zimbabwe and South Africa.
Nico Bezuidenhout, chief executive, said that although the dream remained the same the delivery plans had been radically altered from attempts to create an Easyjet for Africa. "You cannot take a first-world model and transplant it to a third-world environment," he said.
18th October 2017
fastjet to start Mozambican operations in mid-4Q17
fastjet has announced its entry into the Mozambican market will take place on Friday, November 3.
Solenta Aviation (SET, Lanseria) was one of seven carriers awarded domestic Mozambican route authorities last month, the others being CFM - Transportes e Trabalhos Aéreos, TTA - Sociedade de Transporte e Trabalho Aéreo, Ethiopian Airlines, Malawian Airlines, and incumbents LAM - Linhas Aéreas de Moçambique and MEX - Mocambique Expresso.

In a statement, the African low-fare carrier said its virtual Fastjet Mozambique (Maputo) unit would connect Maputo with each of Beira (9x weekly), Tete (4x weekly), and Nampula (7x weekly) using ERJ-145 equipment operated by technical partner Solenta Aviation Mozambique.

With the launch of Mozambican services, fastjet will have a direct operational presence in three African countries alongside Fastjet in Tanzania and Fastjet Zimbabwe. Entry into the South African market using the Fastjet South Africa vehicle will be undertaken by Federal Air.

Prior to the delivery of its first two EMB-190s to Fastjet for its Tanzanian operations, it has temporarily wet-leased a B737-300 from Star Air (South Africa) (BRH, Johannesburg O.R. Tambo) until the end of this month, the latter's chief executive Peter Annear has confirmed to ch-aviation.
Source: ch-aviation
7th September 2017
Fastjet Facebook community larger than any other airline brand in Africa
Fastjet has become the airline with the largest Facebook community in Africa due to its reimagined content strategy on the platform. The airline's Facebook pages for Tanzania, South Africa, Zimbabwe and Zambia collectively passed the 1.1 million mark in the number of followers.
A recent customer survey by Fastjet indicated that Facebook remains the most popular method of engagement for its customers at a preferred rate of 80% compared to Twitter and Instagram. Evident in its organic growth rate, Instagram is fast becoming more popular as an engagement platform, while Twitter's newsfeed-style remains a platform where price and special-offers are digested quickly and responded to fast.

"Over the past few years different social media platforms have become quite defined in shape and purpose and according to our customers, Facebook remains the most popular channel to engage on all levels," says Hein Kaiser, Fastjet spokesperson.
Redefining channel specifics. Beyond customer service, the carrier leverages its social media channels to drive network and destination awareness as well as communicating commercially. To this end, Fastjet has redefined the common and channel specific purpose of its social media presence.

"Customer service is an absolute priority with our response rate shortened from 55% over 2 days to 96% within an hour. In addition, we have repurposed our content strategy to balance hard sales with engaging, more visual content and increased our posting frequency to match feedback," says Kaiser.

Twitter feeds have become a higher volume platform while Instagram and Facebook have a strong lifestyle element to content.

"Thus far the strategy seems to be effective with Fastjet's social reputation improving vastly," continues Kaiser.
Management of social communities

"Our objective is to effectively manage social communities across all aspects of engagement; from consumer-relevant content through to sales and special offers as well as customer service."

As the airline grows, so it plans to develop its community to reflect the airline's growing pan-African footprint. "Fastjet plans to touch the lives of everyone on the continent as we grow our brand into its ambition of being Africa's pan-continental low-cost airline."

"Social media is an animal of its own and the key lies in simplicity. Successful commercial campaigns have shown that the hard-sell is okay, but must be tempered with engaging content and reliable information. Brands need to be authentic and consumers will accept and engage on these mutually agreed, tacit terms. Fastjet has been experimenting with pure organic growth and measuring its rate of attrition against its redefined community and content strategy. Our rate of attrition has reduced significantly while organic growth has enabled Fastjet's Facebook community to grow into pole position amongst its peers," concludes Kaiser.
June 2017
Fastjet announced it had acquired the company name from its founder, Sir Stelios Haji-Ioannou.
The high-profile easyJet founder had been earning a fee from the Johannesburg-based airline by licensing out the name but said the "fair price" he and the company's board had agreed was below what it would have paid to use the brand over the next five years.
2017 has been a busy year for the company so far after it raised $28m from investors in January by placing 143m shares at the same time as signing up new shareholder Solenta to help stabilise the business.Solenta, a specialist aviation group, provided Fastjet with three leased aircraft in return for a 28pc shareholding, making it the airline's largest stakeholder.
Search and Buy Fastjet flights
Make a Fastjet reservation and find some amazing deals with discounted Fastjet tickets at Alternative Airlines. Fastjet flies to many destinations worldwide, offering a cost effective and safe service to all its passengers. Let Alternative Airlines help find you cheap Fastjet tickets and make international and domestic flight reservations on Fastjet today.
Browse the most popular Fastjet flight routes to cities worldwide. Alternative Airlines can help you make reservations on Fastjet for international flights to lots of destinations. Use the following list of routes to help you plan your next flight. Book Fastjet flights on Alternative Airlines to save big! Alternative Airlines is an online travel agency, specialising in booking lesser known airlines and remote destinations.
---
About Alternative Airlines
Alternative Airlines is an online flight search complete with customer service specialising in booking flights on lesser known airlines and to remote destinations. We offer you a wider choice of airlines supported by a team of customer service and travel specialists for help and advice on your travel plans. We specialise in finding the best available fares on the widest range of airlines and making them available to you online, with prices in the currency of your choice.
Alternative Airlines handles all your travel arrangements and payments, complete with ticketed confirmation. We do not direct you to other websites or service providers. We help you through the process. This is what makes us Alternative Airlines.Check out our reviews: Alternative Airlines - Feefo Reviews
Browse for flights, find some amazing deals, make a reservation and pay in the currency of your choice today with Alternative Airlines. Let Alternative Airlines help find you the best prices and make international and domestic flight reservations with us today.