Search & Buy Air Namibia Flights
Select your payment method to view total prices including any payment fees:
Airlines will always try to sit children with their parents (subject to check-in)
Some airlines will allow travel for unaccompanied minors. Please email us to check.
The fare is based on the child's age on the date of travel.
More detailed information can be found here Traveling with children
Most airlines will let infants travel with their parent(s) for free. However some airlines will charge up to 10% of the adult ticket price. Click on 'Price Breakdown' to find out more.
If you are pregnant, but due before the flight departure date, please contact us once your baby is born and has a name. We can then add him/her to your ticket.
Infants will not be given a seat. The airlines expect parents to travel with them on their lap.
Airlines regard infants as being under 24 months old.
The fare is based on the child's age on the date of travel.
More detailed information can be found here Traveling with children
Buy
Air Namibia

Flights
Air Namibia Reservations with Alternative Airlines
Make an Air Namibia Booking and Find Some Amazing Deals
---
About Air Namibia
Air Namibia is the national airline of Namibia and is headquartered in Windhoek and operates scheduled domestic, regional and international passenger and cargo services. Air Namibia is a member of both IATA and African Airlines Association and was founded in 1978. Air Namibia flies to many destinations including Luanda, Ondjiva, Gaborone, Maun, Frankfurt, Munich, Accra, Grootfontein, Halali, Katima Mulilo, Keetmanshoop, Luderitz, Mokuti Lodge, Okaukuejo, Ondangwa, Oranjemund, Oshakati, Rundu, Swakopmund, Tsumeb, Walvis Bay, Windhoek and Alexander Bay. Air Namibia has a codeshare agreement with Kenya Airways.
Air Namibia flies to 36 destinations worldwide and has convenient connections to over 17 European countries through Frankfurt and connects to North America via New York. Within the regional, the airline flies to 6 destinations in Africa and 6 towns within Namibia. It is wholly owned by the Namibian Government. Air Namibia operates a fleet of Airbus, Embraer and A340 aircraft.
Air Namibia is positioned as a niche carrier serving domestic points within Namibia, the immediate regional markets of South Africa, Zimbabwe, Angola, Zambia and Botswana. The airline also serves the entire European network through Frankfurt.
---
Air Namibia Baggage
| | | |
| --- | --- | --- |
| | | For carry-on baggage, Air Namibia allows 1 piece of hand baggage with a maximum weight of 8kg and 2 pieces of hand baggage with maximum weight of 8kg. For checked baggage, on flights between Europe and Africa, passengers are allowed 1 piece of 23kg for economy class and 2 pieces of baggage of 32kg for business class. On flights between Windhoek and Cape Town, Johannesburg, Luanda and Accra the same policy applies as flights between Europe and Africa. |
| | | |
| | | Air Namibia has a Frequent Flyer Programme called Reward$ which enables passengers to earn miles from travelling with Air Namibia. These miles can be redeemed and exchanged for free tickets, discounts on future ticket purchases and be used to upgrade from economy to premium and business class cabins. |
---
Air Namibia Route Map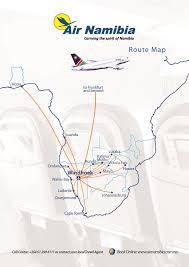 ---
Air Namibia Popular Routes
Cape Town

Windhoek
Windhoek

Oranjemund
Rundu

Windhoek
Windhoek

Luderitz
Katimo

Windhoek
Windhoek

Maun
---
Air Namibia Fleet
The Air Namibia fleet includes Airbus A330-200 and Embraer ERJ 135 aircraft.
---
Air Namibia Hub Airport
Windhoek Hosea Kutako International Airport
Windhoek Hosea Kutako International Airport is the main international airport serving the Namibian capital city of Windhoek. Air Namibia uses this airport as its main hub. Other airlines which fly to and from Air Botswana, Air Namibia, Airlink, British Airways, Condor, South African Airways and TAAG Angola Airlines. The airport has two runaways and can handle nearly 1 million passengers.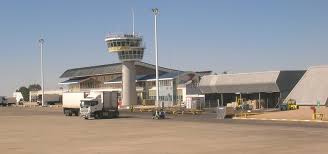 ---
Alternative Airlines to Air Namibia

---
Air Namibia News
9th November 2018
Air Namibia resumes flights to Zimbabwe
After briefly suspending their Harare International and Victoria Falls services in October, Air Namibia has announced the services to Zimbabwe are to recommence. The Harare route will run three times weekly from the 28th October. The Victoria Falls flights will run six times per week.
20th June 2018
Welcome back Air Namibia: Opening up land of the Brave
After some four years absence from the runway and apron at the Kotoka International Airport (KIA), Air Namibia is making a comeback. On June 29 2018 the Airbus A319-100 would be landing at KIA, propitiously, to a swanky new terminal with all the modcons of modern aviation.
Air Namibia took a temporary leave of our airspace just when I was preparing to leave Accra to take up residence in Windhoek as High Commissioner to Namibia. In the event, I had to make do with a rival airline, which added several hours to a journey that was direct with Air Namibia.
Doubtlessly, as soon as I settled in my post, the return of Air Namibia to Ghana became one of my baptismal diplomatic assignments. In that, I was encouraged by other diplomats who found the Windhoek-Accra route convenient for their European connections. In fact, it was the Ambassador of an EU-Member country who more or less gave me my marching orders on that when I paid her my freshman's courtesy call.
A later meeting with my Nigerian colleague sealed it for me as he agreed that Lagos should be part of the route. With that in the mix, negotiations assumed a more determined tone!
Good-naturedly, senior Namibian officials also were forthcoming on the issue. On one occasion, when I raised it at a briefing, I was told rather endearingly that, "That is why you are here".
The senior management of Air Namibia also kept their doors wide open to the Ghana High Commission in Windhoek as discussions and negotiations went to and fro. The new Ghanaian envoy, after my departure followed up assiduously, as well as the Head of Mission of the newly established Namibian Mission in Accra, making visa acquisition much more convenient. The Namibian Mission in Abuja, Nigeria, used to handle that. All these efforts, eventually culminating in this June-ending return.
When I arrived in Windhoek on that July 2014 morning via Johannesburg, it was to a bitingly cold reception. Though I had been forewarned to expect very low temperatures, it being winter in southern Africa, I had completely underrated the warning and so was hit hard in the face by a chill that nearly flew me back to Accra! There was no frost but the dry cold I felt was more biting than many of the winters I had experienced in freezing Europe. This was Africa and yet the temperature was telling me a different story.
But even that could not diminish the warmth of love that was beginning to envelope me as I was driven from Hosea Kutako International Airport into the city of Windhoek. Humps and humps of hills kept rolling by and the sparse vegetation allowed one to see far and wide. The vistas were hauntingly seductive and one wished it could go on forever!
12th April 2018
Air Namibia to commence flight to Nigeria in June
The national airline of the Republic of Namibia will inaugurate its flight to Nigeria in June.
The Air Namibia's Windhoek-Lagos-Accra service is expected to provide a direct connection between Namibia and the two West African countries of Nigeria and Ghana, the airline said on Monday.It added that the four times weekly operation on Sunday, Monday, Wednesday and Friday from Windhoek would provide smooth and convenient connections inbound and outbound to its regional flights, connecting West Africa via Windhoek to Johannesburg, Cape Town, Luanda, Harare, Lusaka, Victoria Falls, Gaborone, Walvis Bay and Durban.
According to the airline, it is partnering APG Network as its general sales and services agent in Ghana and Nigeria to provide full sales and marketing services, as well as call centre and customer care services.
"We are happy for having established this relationship with the APG Network, as through innovation and utilising their extensive experience in the field of aviation, and being a key global player in the airline distribution environment, offering outsourced services such as passenger sales, marketing and reservations; Air Namibia is positioned to make its West Africa operations a success," the Manager, GSA and Offline Markets, Air Namibia, Ms. Juanita Klassen, said.
According to Klassen, the carrier, as the national airline of the Republic of Namibia, operates scheduled air passenger and cargo services in domestic points within Namibia; the immediate regional markets of South Africa, Botswana, Zambia, Zimbabwe and Angola; and also offers a daily service connecting Namibia to Europe through Frankfurt, Germany.
She added, "Air Namibia brings to West Africa its award-winning service, which is recognised by many, having won the 'Feather Awards' as the best regional airline of Southern Africa at Johannesburg and Cape Town more than 10 times over the past 15 years.
"We have also been recognised by Skytrax Airline Awards as Africa's second best regional airline in 2016 and 2017. The airline operates a fleet carefully selected to meet performance dependability and comfort."
4th December 2017
Air Namibia connects Ondangwa to Walvis Bay
Air Namibia commenced flights between Ondangwa and Walvis Bay on 21 November, with the ground crew and passengers showing their enthusiasm for the new service at the latter airport. Flights will operate three times weekly on the airline's ERJ 135s. The 583-kilometre route will face no direct competition.
Air Namibia began flights between Ondangwa (OND) and Walvis Bay (WVB) on 21 November. The 583-kilometre route will be flown by the national carrier three times weekly (Tuesdays, Thursdays and Saturdays) on its fleet of 37-seat ERJ 135s. According to the airline's social media accounts, the inaugural service carried 25 passengers, representing a load factor of 68%. No other airline currently operates on the city pairing between the northern and coastal cities in Namibia, meaning that Air Namibia is still the sole provider of domestic flights in the African nation. By introducing direct flights on this routing, it now means people can travel between the two destinations in 60 minutes, as opposed to an eight-hour drive. This route also becomes the only domestic route in Namibia that does not connect to either of the two capital airports in Windhoek.
18th September 2017
Air Namibia flies West Africa service in Summer 2018
Air Namibia in the week of 17SEP17's filed planned service resumption to West Africa, reflecting the airline's announcement in August 2017. From 25MAR18, schedule shows the airline operates Windhoek – Lagos – Accra routing 4 times a week, on board Airbus A319 aircraft.

SW507 WDH1630 – 2020LOS2105 – 2105ACC 319 x246
SW508 ACC2205 – 0005+1LOS0050+1 – 0705+1WDH 319 x246
11th September 2017
Air Namibia planned codeshare service expansion with Condor, which sees Air Namibia's SW-coded flight numbers being placed on following routes. (approximate from 11SEP17)

Air Namibia operated by Condor
Frankfurt – Anchorage
Frankfurt – Austin
Frankfurt – Havana
Frankfurt – Las Vegas
Frankfurt – Portland OR
Frankfurt – Seattle


6th September 2017
Air Namibia Adds Lagos and Accra to its Route Network
Air Namibia announced that in line with its strategic plan, the airline will add Lagos and Accra to its route network effective 25 March 2018.
The routing for the two new destinations will be Windhoek-Lagos-Accra, and the return will be Accra-Lagos-Windhoek four times per week using an Airbus A319-100 aircraft. Apart from providing direct connection from Namibia to West Africa, the operation will further transport passengers and cargo on the Lagos-Accra-Lagos route, using the fifth freedom traffic rights granted by the Ghanaian and Nigerian Governments, as contained in the existing Bilateral Air Service Agreements.
Days of operation departing from Windhoek will be Sundays, Mondays, Wednesdays and Fridays. The operating schedule and flight timings allow smooth and convenient connections inbound and outbound to our regional flights, connecting West Africa via Windhoek to Johannesburg, Cape Town, Luanda, Harare, Lusaka, Vic Falls, Gaborone Walvis Bay and Durban.
"This much needed service will give our passengers a better alternative travel option, and will reduce travel times between Namibia and West Africa by more than 60%. We are happy to introduce our Award Winning Service in this market and we are already receiving positive feedback on the launch of this new route. The operation fits within our existing capacity in terms of aircraft and crew, thereby improving the utilization rates of these resources while increasing revenue catchment opportunities. Especially as it means we are entering Africa's largest regional air travel market," said Advocate Mandi Samson, Air Namibia Acting Managing Director
Xavier Masule, General Manager for Commercial Services at Air Namibia said:
"We are grateful to the Namibian, Ghanaian and Nigerian Governments for the commitment to promote easy access and the much needed improved levels of mobility on the continent, which will help promote intra-Africa trade and tourism flows."
June 2017
Air Namibia annoucned it was calming market fears that the troubled airline will abandon the loss-making Frankfurt route
Last month, state-owned daily, New Era newspaper, reported that the airline has been incurring losses of N$60 million per year. In addition, Air Namibia urged Namibia to support the national airline as the preferred carrier to facilitate their air transport services.
July 2017
Air Namibia has been informed by the Namibian government that it will not be receiving any subsidy in July 2017 due to a lack of funds. At the airline's annual stakeholder conference held in May, Minister of Works and Transport, Alpheus Naruseb said that he wanted to see Air Namibia become self-supporting in the future.
The airline has received NAD10 billion in government subsidies since the country became independent in 1990. The state airline serves seventeen destinations in southern Africa, and one long-haul route to Frankfurt, Germany with a fleet of four A319-100s, two A330-200s and four ERJ-135s.
July 2017
Air Namibia announced it had been rated the second-best regional airline in Africa by Skytrax World Airlines Awards. It is the second time in a row that Air Namibia bagged this award. The Skytrax World Airline Awards are very prestigious and highly regarded in the airline industry. They are often referred to as "the Oscars of the aviation industry," and are a global benchmark of airline excellence. Travellers across the globe take part each year in the world's airline passenger satisfaction survey to decide the winners.
Air Namibia extends extends Managing Director's tenure for six months
Advocate Mandi Samson has received the support of Air Namibia's Board of Directors for the next six months. She has been Managing Director for the past 6 months and the extension took place since the 13th of August to the 12th of February, 2017. Gerson Tjihenuna, the Board's chairman sent the memo regarding the subject on Friday.

"We also want to urge the staff members of Air Namibia to render Advocate Samson the required assistance and support to ensure that the operations of the airline continue to flourish," the memo read. On the same day of her appointment, Air Namibia graduated 23 new cabin crew who will begin serving the airline as of this week. "We have thoroughly prepared you for this, so go ahead and soar high, embrace it with vigour, commitment, dedication and a sense of duty and service. Air Namibia is synonym to excellent service delivery and this is what we expect you to do, as the faces of our national carrier," Samson said when she congratulated the graduates.
Air Namibia announces a new codeshare agreeemnt with Condor in March 2017. he twice-weekly Condor flights from Frankfurt (Mondays and Fridays) are being supplemented with flights from Air Namibia. This means that passengers can make their plans with more flexibility and chose from nine weekly connections during the summer flight plan and from seven weekly connections in the upcoming winter. From April onwards, all codeshare flights will be available with a Condor flight number and airline code "DE" through the Condor booking channels.
The Condor codeshare flight number will also be used on connecting Air Namibia flights within southern Africa. This will result in passengers benefitting from convenient connections to Johannesburg, Cape Town Harare and Walvis Bay. As part of the agreement, Air Namibia flight numbers with the 'SW' code will also be offered on many routes in the Condor route network. The codeshare routes, such as in the Caribbean, to North America or in the Mediterranean, open up a selection of many new holiday destinations and connections for Air Namibia guests.
March 2017
Air Namibia announced it was expanding on its Windhoek - Gaborone - Durban routes
Barely six months after introducing the Windhoek – Gaborone – Durban flights, Air Namibia is proud to announce that the route has been performing well and the national airliner plans to increase capacity on this route.
Effective 26 March 2017, Air Namibia will now service the Windhoek-Gaborone- Durban route with Airbus A319 which offers 112 seats, with 16 seats for business class and 96 seats for economy class. Airbus A319 replaces Embraer ERJ 135 which only offered 37 economy seats on that route. Air Namibia will continue to service the destination to Gaborone and Durban four times per week, on Mondays, Wednesdays, Fridays and Sundays, using the Airbus A319.
Apart from offering more seats and business class, the Airbus A319 also provides a fresh new look, more space in the overhead compartments, more leg room and cargo. Due to the bigger capacity, baggage allowance has increased from one piece (1 of 23kg) to two pieces of 23 kg in economy class and two pieces of 32kg for business class passengers.
As part of welcoming the Airbus A319 to the Windhoek – Gaborone – Durban route, Air Namibia will have return promo fare specials for our passengers travelling on that route. A return ticket from Windhoek to Durban via Gaborone will start from N$ 3,600 in economy class and N$ 5,900 in business class. The same fare structure applies to the Windhoek – Gaborone – Windhoek route.