Search & Buy Air Botswana Flights
Let's fly!

Select your payment method to view total prices including any payment fees:

Buy
Air Botswana

Flights

Search and Buy Air Botswana Flights with Alternative Airlines
Flights to and from Botswana
Make an Air Botswana reservation and find some amazing deals with discounted Air Botswana tickets at Alternative Airlines.
Check out what people are saying about Alternative Airlines - Alternative Airlines Reviews
---
About
Air Botswana, is Botswana's state-owned national flag carrier. Air Botswana operates scheduled domestic and regional flights from its main base at Sir Seretse Khama International Airport to cities and regions such as Kenya, Malawi, South Africa, Zimbabwe, and Zambia. Customers can benefit from Air Botswana's frequent flyer Program, accommodation and cargo carriage on scheduled passenger services throughout the week.
Botswana is rated highly for its democratic traditions and stability, its robust economy, its sound and transparent administration, and its outstanding natural attractions.
Air Botswana has contributed fully to the phenomenal growth of the country that it serves well, and in so doing has built a wide reputation for quality air services that is quite disproportionate to its modest size.
Civil aviation is a key barometer of national development. A country's ability to provide reliable air services and to handle air travellers safely and efficiently is essential if it is to take its place as a full member of the international community.
A spacious new terminal and runway extensions at Sir Seretse Khama International Airport firmly reinforces Gaborone's position as an important regional aviation hub. An all-new airport at Francistown and major airport developments at Maun and Kasane enable these important centres to receive larger aircraft and handle more passengers.
Air Botswana is committed as the national carrier to continuing to provide world-class services to domestic travellers and to visitors who come in increasing numbers to do business in a vibrant economy, and as tourists to experience the outstanding natural attractions with which Botswana is so richly blessed.
The country's first airline, Botswana National Airways Corporation, wholly owned by the Government, was not profitable and had to be liquidated. The economy at the time was chronically underdeveloped and the travel and tourism industry in its infancy. A second attempt by the Government and some private investors to operate a viable airline also failed.
Then came the formation of Air Botswana (Pty) Limited as a subsidiary of the Botswana Development Corporation, which was established by the Government in 1970 to be the country's main financing agency for commercial and industrial development.
Air Botswana (Pty) Limited was essentially a ticketing and ground services company, with scheduled air services being carried out on its behalf by a partner airline, Air Services Botswana, which was owned by South African and Swiss interests.
This arrangement operated from l973 to 1982 when the Government again took over responsibility for the provision of national air services.
In the 1980s the economy was developing rapidly, with impressive growth in foreign trade and tourism, and the Government gave full support to the development of air transport, designating Air Botswana the national flag carrier in 1987.
In April 1988 with the enactment of the Air Botswana Act the airline became a parastatal under the then Ministry of Works, Transport and Communications (now the Ministry of Transport and Communications).
This marked the true birth of today's Air Botswana, and signalled the start of concerted development of what was to become a model African carrier, quickly earning a wide reputation for quality air services that was – and continues to be – quite disproportionate to its modest size.
A major later development was the introduction of online reservation and ticket payment.
---
Destinations
Botswana

Francistown
Gaborone
Kasane

Maun

Kenya

Nairobi

Malawi

Blantyre
Lilongwe

South Africa

Johannesburg
Johannesburg
Cape Town

Zimbabwe

Victoria Falls
---
Pets, Emotional Support Animals and Service Animals on Air Botswana
All rules and regulations on traveling with a service animal, pet, or an emotional support animal, on Air Botswana flights. All the information on Alternative Airlines needed for flying with an animal on a plane.
---
News
27th June 2018
Air Botswana - add ATR72-600s
Despite repeated failed attempts, Botswanan Government has not relented in its plans to privatize ailing national carrier Air Botswana.
The Minister of Transport and Communications Kitso Mokaila told the country's parliament on 8th March 2018, that for the state to successfully wean Air Botswana off its dependency on the national fiscus, then several steps would have to be taken. This would render Air Botswana as a more operationally efficient airline that will be valuable and attractive to potential investors. THe actions include implementing a fleet renewal plane and new aircraft.

It is later confirmed that Air Botswana would replace its current all-Avions de Transport Régional fleet of 3 ATR42-500s (averaging 21.7 years of age) and one ATR72-500 (9.9 years of age) with two ATR72-600s as well as an unspecified 100-seater jet.

The airline currently assists in catering Botswana's buoyant tourism industry and its growing business travel niche. It also connects its Gaborone base with Francistown, Kasane, and Maundomestically and with Johannesburg O.R. Tambo and Cape Town (suspended as a result of ACMI partner CemAir's recent regulatory woes) in South Africa.

10th August 2017
Air Botswana worth P300m – Mokaila

The national carrier, Air Botswana is currently valued at P300 million including its aircraft and property, says the Minister of Transport and Communications, Kitso Mokaila.
Addressing Parliamentarians recently, the minister said government is still continuing with the privatisation of the national airline with plans to turn it into a private company where on its own right would be able to raise its own loans.
"The value of Air Botswana today is P300 million looking at its assets being aircraft and property.
If we refleet, it would have a different value and we should also consider that it has developed capacity on its ability to maintain aircraft repairs.
They can become a regional player in this," he said.
Early this year, the minister said about 17 companies expressed interest in buying the ailing national airline with tourism operator, Wilderness Holdings emerging the preferred bidder.
Wilderness, however later withdrew their interest.
Air Botswana has been dogged by financial losses and poor service delivery due to an aging fleet and high operational costs for quite some time.
Last year, the national airline launched a code-sharing partnership with Qatar Airways; a move that chairperson, Tebogo Masire is upbeat will boost the country and the airline's exposure on the international market.
Meanwhile, about five airlines have been granted traffic rights into Botswana, which include Air Namibia, South African Express (SAX), South African Air Link, Ethiopian Airlines as well as Air Services.
Air Namibia operates Windhoek, Gaborone, Durban, Victoria Falls, while SAX operates Johannesburg-Gaborone route and South African Air Link operates Capetown, Maun, Johannesburg and Gaborone routes. Ethiopian Airlines operates Gaborone, Addis Ababa and Victoria Falls routes.
According to the minister, the fifth one, Fast Jet Airlines was issued with an Air Licence to operate on the Harare, Francistown, and Gaborone routes, but have not yet commenced operations. However, their licence expired on January 17 this year and has not been renewed to date.
Late last year, the national carrier announced that they have suspended the Gaborone-Harare route as part of its plans to enhance the scheduled rationalisation exercise for the upcoming summer period.
According to Air Botswana public relations officer, Thabiso Leshoai the rationalisation was part of the airline's plan to enhance schedule integrity and improve customer experience without compromising its commercial viability.
Air Botswana was flying the Gaborone-Harare route three times a week.
9th June 2017
Wilderness Safaris withdraws Air Botswana bid
Tourism giant Wilderness Safaris has issued a statement withdrawing its expression of interest in the privatization of the ailing national carrier, Air Botswana.
Posted on the Botswana Stock Exchange website, part of the board order from Wilderness Safaris reads, "…after careful deliberation, the Company has decided to not pursue the matter any further.
Accordingly, the Company has withdrawn its Expression of Interest and has advised the Government of its decision.
The Company wishes the Government of Botswana and Air Botswana well in their efforts to achieve a turnaround of the national carrier."
The letter from Wilderness Safaris continues to state that the company had submitted an Expression of Interest in the privatization of Air Botswana on February 2017 and there had not been further progress in the matter.
The Company has been informed by the Ministry of Transport and Communications that the Government of Botswana wishes to enter into discussions with the Company regarding the matter.
Assurances are that the Company's primary listing is on the BSE and its secondary listing on the Johannesburg Stock Exchange (JSE).
---
Route Map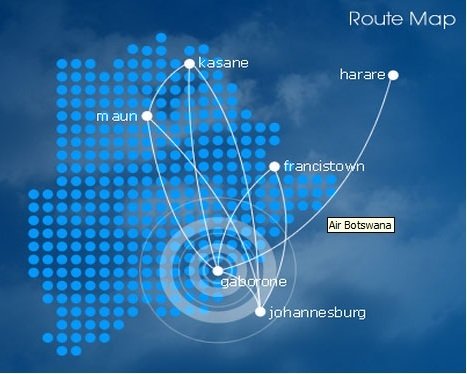 Popular Routes
Capetown

Gaborone
Johannesburg

Gaborone
Gaborone

Francistown
Maun

Gaborone
Maun

Johannesburg

---
The Fleet
---
Sir Seretse Khama International Airport
HUB Airport
Sir Seretse Khama International Airport is the main international airport of the capital city of Botswana. It offers large capacity to handle regional and international traffic and has the largest passenger movement in the country. Airlines that fly from and Sir Seretse Khama International Airport include Ethiopian Airlines, Kenya Airways, South African Express and TAAG Angola Airlines.

---
---
Book Flights with Air Botswana
Make an Air Botswana reservation and find some amazing deals with discounted Air Botswana tickets at Alternative Airlines. Air Botswana flies to many destinations worldwide, offering a cost effective and safe service to all its passengers. Let Alternative Airlines help find you cheap Air Botswana tickets and make international and domestic flight reservations on Air Botswana today.
Browse the most popular Air Botswana flight routes to cities worldwide. Alternative Airlines can help you make reservations on Air Botswana for international flights to lots of destinations. Use the following list of routes to help you plan your next flight. Book Air Botswana flights on Alternative Airlines to save big! Alternative Airlines is an online travel agency, specialising in booking lesser known airlines and remote destinations.
Alternative Airlines is an Online Travel Agency bonded by the International Air Transport Association (IATA). We specialise in finding the best available fares on the widest range of airlines and making them available to you online, with prices in the currency of your choice.
Alternative Airlines handles all your travel arrangements and payments, complete with ticketed confirmation. We do not direct you to other websites or service providers.
We help you through the process. This is what makes us Alternative Airlines.
Browse for flights, find some amazing deals, make a reservation and pay in the currency of your choice today with Alternative Airlines.
Let Alternative Airlines help find you the best prices and make international and domestic flight reservations with us today.
Join the Alternative Airlines Members Club and get £100.00 back on your 5th booking with Alternative Airlines. You will have insight to many benefits and exclusive deals on over 650 airlines. Click on the Members section on the Alternative Airlines website for more information and join today.
We are open every day from 8am until 8pm (UK local time)
.
Flying to Botswana ? Why not try Air Botswana ? Air Botswana, based in the capital, Gaborone, is the national carrier and has been operating scheduled services for nearly forty years. The airline has a proud history of connecting Botswana to neighbouring countries and has a major part to play in getting passengers to the main tourist areas of Botswana from the popular African gateway in Johannesburg. Air Botswana has its headquarters close to the newly modernised Sir Seretse Khama International Airport in Gaborone and the modern facilities complement perfectly the friendliness of all the Air Botswana staff, both on the ground and in the air. Although the airline only operates a small fleet of aircraft, with five Franco-Italian ATR turbo prop aircraft currently in service, it provides a fast and efficient service to a total of seven regional destinations. Air Botswana may be the only airline registered in Botswana to operate scheduled services but its strong management team ensures that it meets the expectations of both local and international passengers on all its flights. Explore Botswana with Air Botswana For those who want to experience all that magical Botswana has to offer, Air Botswana could be the ideal airline around which to plan your trip. With flights from its operating hub in Gaborone to the tourist airport at Maun, which serves the world famous Okavango Delta, and to the local airport at Kasane, ideal for tourists looking to experience the fabulous Elephant viewing in the Chobe National Park, Air Botswana make a flying visit to two of Africa's essential sights a pleasurable experience. Air Botswana flights to Gaborone are a perfect way to enter to country. Gaborone is the country's political, commercial and administrative capital with Air Botswana providing regular services from South Africa (Johannesburg), Zambia (Lusaka) and Zimbabwe (Harare). Gaborone is a modern relaxed city containing the regional offices of the Southern African Development Community, as well as the Botswana Stock Exchange and very important Debswana Diamond company offices. The Botswana economy is built on the diamond trade, with the country having become the world's largest producer of diamonds since independence in 1966. The real joys of visiting Botswana are both the unique wild life viewing and the natural friendliness of its people. You would expect a capital city to be busy and often fraught with traffic noise and bottlenecks. Gaborone is the opposite, with charm, grace and courtesy always evident amongst its smiling population. Too few visitors stop to explore this modern, but historic city choosing instead to by-pass it on their way to the wildlife sanctuaries. The surprise of Gaborone is the ease in which you can visit and learn about the democratic institutions which keep this wonderful country stable and we would recommend a visit to the peaceful plaza housing the National Assembly and the House of Chiefs during your visit. Of course, Gaborone isn't the primary reason for a visit to Botswana, most travellers jet off to the unique and absolutely world class wildlife to be seen, in particular, in the Okavango Delta and the Chobe National Park. Air Botswana flights to Maun Airport serve the Delta and Kasane is the gateway for Chobe. Botswana is an important sight for the preservation and study of the African Wild Dog and the Botswana Predator conservation trust charity (http://www.bpctrust.org) is prominent in researching the development of conservation with respect to the maintenance of this important indigenous species. Travel to Botswana from Johannesburg with Air Botswana As well as the domestic flights, Air Botswana flies passengers into Botswana from a number of important international gateways, giving passengers from all around the world easy access to the country and the delights of its wildlife sights. The most important and popular African entry point is the South African city of Johannesburg. Air Botswana operates a minimum of four direct flights a day from Johannesburg to Gaborone and two direct flights a day to Maun, with Kasane having direct flights five time per week. Flights from Lusaka in neighbouring Zambia fly on Mondays, Wednesdays and Saturdays with the same days seeing flights flown to Harare in Zimbabwe. From the UK, convenient connecting flights are available using one of the three main international carriers flying form London to Johannesburg, these are British Airways, SAA and Virgin Atlantic. In addition many of the growing airlines based in the Middle East, such as Emirates, Etihad, Qatar and Gulf Air offer convenient and very competitively priced one-stop services through their respective home airport hubs. If you are on business and wish to visit Botswana's second largest city, Francistown, Air Botswana operate direct flights twice a week from Johannesburg on Tuesdays and Thursday. Francistown is an important centre for the Botswana mining industry with the commercial importance of the city being recognised with recently upgraded facilities at Francistown Airport. Air Botswana operates a single class, all economy aircraft configuration, with cold snack catering plus hot and cold drinks. Book a flight on Air Botswana with Alternative Airlines With more than 25 yeas of experience, Alternative Airlines has become a specialist in arranging flights to the more unusual destinations around the world, airports and places that are rarely served by mainstream airlines. If you are considering a trip to Botswana, we can help you plan your journey. Your flight reservations will be confirmed immediately and you can rest assured that the price you pay includes all taxes and other charges. To book a flight on Air Botswana, simply use our comprehensive search tool to provide details of the flights available for your chosen journey. If you have any questions, please don't hesitate to get in touch - we can also keep you up to date with the latest travel news.
Archived News
---
---
---
---
---
---
---
---
---
---
---
READ MORE ABOUT AIR BOTSWANA
How to pay
You can pay for your flights with Air Botswana in the currency and payment method of your choice when booking through Alternative Airlines.
We accept PayPal making flight purchases with Air Botswana easy and more secure for customers. PayPal is one of the leading forms of online payment, with more than 169 million accounts worldwide.