Search & Buy Air Botswana Flights
Select your payment method to view total prices including any payment fees:
Airlines will always try to sit children with their parents (subject to check-in)
Some airlines will allow travel for unaccompanied minors. Please email us to check.
The fare is based on the child's age on the date of travel.
More detailed information can be found here Traveling with children
Most airlines will let infants travel with their parent(s) for free. However some airlines will charge up to 10% of the adult ticket price. Click on 'Price Breakdown' to find out more.
If you are pregnant, but due before the flight departure date, please contact us once your baby is born and has a name. We can then add him/her to your ticket.
Infants will not be given a seat. The airlines expect parents to travel with them on their lap.
Airlines regard infants as being under 24 months old.
The fare is based on the child's age on the date of travel.
More detailed information can be found here Traveling with children
Buy
Air Botswana

Flights
Air Botswana Reservations with Alternative Airlines
Make a Air Botswana Booking and Find Some Amazing Deals
Check out what people are saying about Alternative Airlines - Alternative Airlines Reviews
---
About
Air Botswana, is Botswana's state-owned national flag carrier. The airline operates scheduled domestic and regional flights from its main base at Sir Seretse Khama International Airport to cities and regions such as Kenya, Malawi, South Africa, Zimbabwe, and Zambia. Customers can benefit from Air Botswana's frequent flyer Program, accommodation and cargo carriage on scheduled passenger services throughout the week.
Botswana is rated highly for its democratic traditions and stability, its robust economy, its sound and transparent administration, and its outstanding natural attractions.
The carrier has contributed fully to the phenomenal growth of the country that it serves well, and in so doing has built a wide reputation for quality air services that is quite disproportionate to its modest size.
Civil aviation is a key barometer of national development. A country's ability to provide reliable air services and to handle air travellers safely and efficiently is essential if it is to take its place as a full member of the international community.
A spacious new terminal and runway extensions at Sir Seretse Khama International Airport firmly reinforces Gaborone's position as an important regional aviation hub. An all-new airport at Francistown and major airport developments at Maun and Kasane enable these important centres to receive larger aircraft and handle more passengers.
The national carrier of Botswana is committed as the national carrier to continuing to provide world-class services to domestic travellers and to visitors who come in increasing numbers to do business in a vibrant economy, and as tourists to experience the outstanding natural attractions with which Botswana is so richly blessed.
The country's first airline, Botswana National Airways Corporation, wholly owned by the Government, was not profitable and had to be liquidated. The economy at the time was chronically underdeveloped and the travel and tourism industry in its infancy. A second attempt by the Government and some private investors to operate a viable airline also failed.
Then came the formation of Air Botswana (Pty) Limited as a subsidiary of the Botswana Development Corporation, which was established by the Government in 1970 to be the country's main financing agency for commercial and industrial development.
Air Botswana (Pty) Limited was essentially a ticketing and ground services company, with scheduled air services being carried out on its behalf by a partner airline, Air Services Botswana, which was owned by South African and Swiss interests.
This arrangement operated from l973 to 1982 when the Government again took over responsibility for the provision of national air services.
In the 1980s the economy was developing rapidly, with impressive growth in foreign trade and tourism, and the Government gave full support to the development of air transport, designating Air Botswana the national flag carrier in 1987.
In April 1988 with the enactment of the Air Botswana Act, the airline became a parastatal under the then Ministry of Works, Transport and Communications (now the Ministry of Transport and Communications).
This marked the true birth of today's Air Botswana, and signalled the start of concerted development of what was to become a model African carrier, quickly earning a wide reputation for quality air services that was – and continues to be – quite disproportionate to its modest size.
A major later development was the introduction of online reservation and ticket payment. The airline flies you to popular safari destinations such as Chobe National Park, find out about other airlines offering safari flights here.
---
Destinations
Botswana

Francistown
Gaborone
Kasane

Maun

Kenya

Nairobi

Malawi

Blantyre
Lilongwe

South Africa

Johannesburg
Johannesburg
Cape Town

Zimbabwe

Victoria Falls
---
Pets, Emotional Support Animals and Service Animals
All rules and regulations on traveling with a service animal, pet, or an emotional support animal, on Air Botswana flights. All the information on Alternative Airlines needed for flying with an animal on a plane.
---
Route Map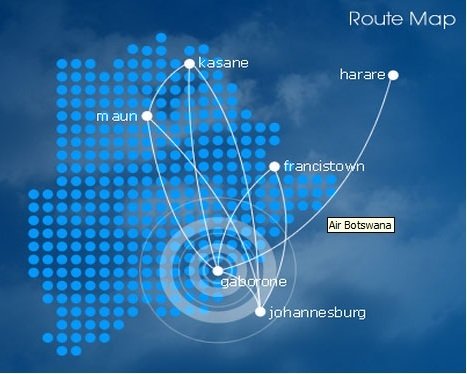 ---
Popular Routes
Capetown

Gaborone
Johannesburg

Gaborone
Gaborone

Francistown
Maun

Gaborone
Maun

Johannesburg
---
Fleet

ATR 42-500
Avro RJ85
ATR 72-500
BAe 146-100
---
Hub Airport
Sir Seretse Khama International Airport
Sir Seretse Khama International Airport is the main international airport of the capital city of Botswana. It offers large capacity to handle regional and international traffic and has the largest passenger movement in the country. Airlines that fly from and Sir Seretse Khama International Airport include Ethiopian Airlines, Kenya Airways, South African Express and TAAG Angola Airlines.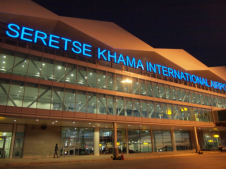 ---
Alternative Airlines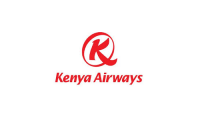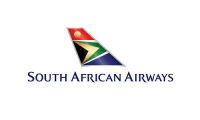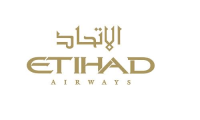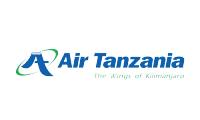 ---
News
27th June 2018
Air Botswana - add ATR72-600s
Despite repeated failed attempts, Botswanan Government has not relented in its plans to privatize the national carrier.
The Minister of Transport and Communications Kitso Mokaila told the country's parliament on 8th March 2018, that for the state to successfully wean the airline off its dependency on the national fiscus, then several steps would have to be taken. This would render the carrier as a more operationally efficient airline that will be valuable and attractive to potential investors. THe actions include implementing a fleet renewal plane and new aircraft.

It is later confirmed that flag carrier of Botswana would replace its current all-Avions de Transport Régional fleet of 3 ATR42-500s (averaging 21.7 years of age) and one ATR72-500 (9.9 years of age) with two ATR72-600s as well as an unspecified 100-seater jet.

The airline currently assists in catering Botswana's buoyant tourism industry and its growing business travel niche. It also connects its Gaborone base with Francistown, Kasane, and Maundomestically and with Johannesburg O.R. Tambo and Cape Town (suspended as a result of ACMI partner CemAir's recent regulatory woes) in South Africa.

10th August 2017
Air Botswana worth P300m – Mokaila

The national carrier of Botswana is currently valued at P300 million including its aircraft and property, says the Minister of Transport and Communications, Kitso Mokaila.
Addressing Parliamentarians recently, the minister said the government is still continuing with the privatisation of the national airline with plans to turn it into a private company where on its own right would be able to raise its own loans.
"The value of Air Botswana today is P300 million looking at its assets being aircraft and property.
If we refleet, it would have a different value and we should also consider that it has developed capacity on its ability to maintain aircraft repairs.
They can become a regional player in this," he said.
Early this year, the minister said about 17 companies expressed interest in buying the ailing national airline with tourism operator, Wilderness Holdings emerging the preferred bidder.
Wilderness, however later withdrew their interest.
The airline has been dogged by financial losses and poor service delivery due to an aging fleet and high operational costs for quite some time.
Last year, the national airline launched a code-sharing partnership with Qatar Airways; a move that chairperson, Tebogo Masire is upbeat will boost the country and the airline's exposure on the international market.
Meanwhile, about five airlines have been granted traffic rights into Botswana, which include Air Namibia, South African Express (SAX), South African Air Link, Ethiopian Airlines as well as Air Services.
Air Namibia operates Windhoek, Gaborone, Durban, Victoria Falls, while SAX operates Johannesburg-Gaborone route and South African Air Link operates Capetown, Maun, Johannesburg and Gaborone routes. Ethiopian Airlines operates Gaborone, Addis Ababa and Victoria Falls routes.
According to the minister, the fifth one, Fast Jet Airlines was issued with an Air Licence to operate on the Harare, Francistown, and Gaborone routes, but have not yet commenced operations. However, their licence expired on January 17 this year and has not been renewed to date.
Late last year, the national carrier announced that they have suspended the Gaborone-Harare route as part of its plans to enhance the scheduled rationalisation exercise for the upcoming summer period.