South African Express Tickets and Reservations
Book Your South African Express Flight Tickets and Find Some Amazing Deals
---
UPDATE: Unfortunately, South African Express ceased all operations in 2020. Check out our alternative airlines that fly similar routes.
Alternative Airlines
---
About South African Express
South African Express (SA Express) was a domestic and regional, state-owned airline based in South Africa. The airline was founded in 1994 and its hub was O.R Tambo International Airport. SA Express flight services were incorporated with South African Airways and were an affiliate of Star Alliance.
SA Express had a significant role in South Africa's travel and tourism industry and it pride itself in contributing to the country's socio-economic development. In March 2017, SA Express and Ethiopian Airlines expanded their code-share service agreement by adding flight services to Cape Town, Durban and Toronto. Additional to this, a direct service has been added between Addis Abbaba to both Cape Town and Durban.
---
South African Express Destinations
The airline flew to domestic South African destinations and regional destinations in Namibia, Botswana, and the Democratic Republic of Congo:
Botswana (Gaberone)
Democratic Republic of Congo (Lubumbashi)
Nambibia (Walvis Bay)
South Africa (Bloemfontein; Cape Town; Durban; George; Hoedspruit; Johannesburg; Kimberley; Mahikeng; Port Elizabeth; Richards Bay and Sun City)
Zambia (Lusaka)
Zimbabwe (Harare and Bulawayo)
---
South African Express Fleet
The South African Express fleet included nine Bombardier CRJ200ERs, two Bombardier CRJ701ERs, ten Bombardier Dash 8-q400, one Fokker 70, one Embraer EMB 120 Brasilia, two Boeing 737-31L and Boeing 737-500 aircraft.
---
South African Express Baggage
Carry-on Baggage
South African Express permitted passengers to carry one piece of hand baggage with a maximum weight of 7kg. The item must not have exceeded 115 linear cm.
Checked Baggage
The free baggage allowance for South African Express passengers was 20kg for Adults, 20kg for children and 10kg for infants. Any luggage exceeding 32kg would not be able to be accepted. Life Plat, Plat, Pelt and Gelt passengers were permitted a checked baggage allowance of 30kg. Silv passengers were permitted 10kg.
---
South African Express Check-in
Online Check-in
Although online check-in was not available for South African Express flights, passengers could use self-check-in kiosks at the airport.
Airport Check-in
South African Express passengers should have arrived for check-in at least two and a half hours before regional flights. For domestic flights, passengers should have arrived at least one and a half hours before scheduled departure. The check-in desk closed 50 minutes before departure for regional flights and 30 minutes prior to departure for domestic flights.
---
Class Fares
Economy Class
SA Express provided an onboard service of snacks and meals on all its flights.
The airline operated modern and sophisticated aircraft, offering new levels of passenger comfort due to their advanced design features; including adjustable personal lighting and air-con, as well as comfortable padded seats. There was a maximum capacity of 74 passengers on the airline's largest aircraft and 50 passengers on its smallest.
---
South African Express Hub Airport
O.R Tambo International Airport
South African Express was based at O.R Tambo International Airport (formerly known as Johannesburg International Airport) which is a major international airport in Kempton Park in South Africa. The airport is located near Johannesburg and serves as the main airport for domestic and international travel to and from South Africa. The airport also serves as the location for the South African Airways museum, as originally 2 fans began collecting memorabilia there in 1987. The museum is now located in Rand Airport.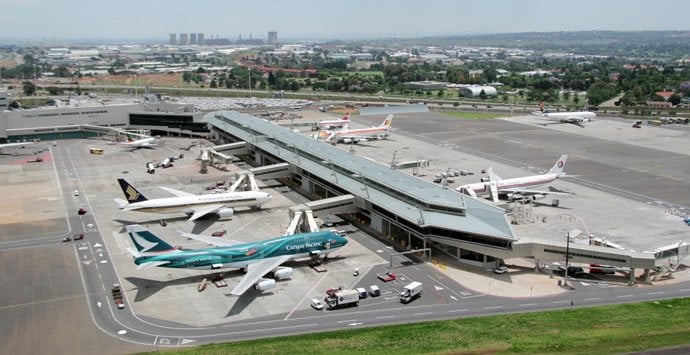 ---
South African Express News
21st June 2018
Mango Airlines, SA Express and South African Airways will merge into one airline
Mango Airlines, SA Express and South African Airways will all join forces by order of the state and operate as one airline. Public Enterprises Minister Pravin Gordhan announced that the state has realised that having each airline run independently isn't the way to offer the people of South Africa the best air travel options possible, which is something that has always been a priority. The Public Enterprises Minister continued that by having all three airlines under one umbrella, it will be much easier to manage and the state can really focus on giving South Africa the most convenient and in demand flights that it can. As of now, there is no preliminary date for the merger or any decision on the name that the three airlines will operate as.