Kulula Reservations with Alternative Airlines
Book a Flight with Alternative Airlines and Find Some Amazing Deals
Unfortunately, Kulula ceased operations in June 2022. Click on the logos below to see airlines that operate similar routes to Kulula.
---
About Kulula
Kulula.com, sometimes simply known as Kulula, (from the Nguni languages of Zulu and Xhosa, meaning It's easy) was a South African low-cost airline that operated major South African domestic routes, as well as other regional African routes. The airline's main hub airports were OR Tambo International Airport and Lanseria International Airport, both just outside of Johannesburg.
The airline was headquartered at Bonaero Park, Kempton Park, Ekurhuleni, Gauteng. The airline's parent company was Comair, an airline that was also based in South Africa which operated scheduled services on domestic services as a British Airways franchise. From June 2013, Kulula served the following destinations before it fell into liquidation; Cape Town, Durban, East London, George and Johannesburg.
Kulula operated its routes using Boeing aircraft, including Boeing's 737-400 and 800 series. They previously operated using Boeing's 737-200 series and McDonnell Douglas MD-82's. The livery for Kulula's became very distinctive for its brightly coloured and often humorous aircraft livery. One of their aircraft, known as Flying 101, was covered with a legend describing the different parts of the aircraft.
In March 2019, the airline announced a new interline agreement with big-player Delta Airlines. Unfortunately, in June 2022, Kulula fell into liquidation and ceased operations alongside its parent company Comair.
---
Fleet
The Kulula fleet consisted of two Boeing 737-400 and nine Boeing 737-800 aircraft. Kalua's fleet was famous for its creative 'Flying 101' airline livery, which featured humorous text labelling different parts of the aircraft.
---
Destinations
The airline flew to multiple destinations within Africa, including Johannesburg, Cape Town, Victoria Falls, Nairobi and more:
| | | | | |
| --- | --- | --- | --- | --- |
| O.R Tambo, South Africa | Lanseria, South Africa | Durban, South Africa | Cape Town, South Africa | George, South Africa |
| Port Elizabeth, South Africa | East London, South Africa | Windhoek, Namibia | Harare, Zimbabwe | Mauritius |
| Victoria Falls, Zambia | Livingstone, Zambia | Nairobi, Kenya | | |
---
Baggage Allowances
Carry-on Baggage
Passengers were permitted one piece of hand baggage, weighing a maximum of 7kg when flying with Kulula.
In addition, passengers were permitted one small personal item, such as a laptop bag or small handbag.
Checked Baggage
Passengers were also permitted 1 x checked bag, weighing up to 20kg. Passengers in need of additional baggage could simply purchase extra bags online at a discounted rate or at the airport. Any bag weighing between 20kg and 32kg would incur a heavy bag fee at the airport.
---
Check-In
Online Check-In
To check-in online, passengers would need to visit the airline's online check-in page and click on the airline that they were flying on (Kulala or one of its codeshare partners). Online check-in opened between 24—1 hour(s) before the scheduled flight departure time. Then, passengers would need to enter the relevant flight details and each passenger's details to complete the check-in process.
Airport Check-In
Passengers could check-in at the airport by either visiting the airport check-in counter or self-service kiosks. If the flight number began with MN passengers could visit the Kulala check-in counter, however, if the flight number began with BA, passengers would need to visit the British Airways check-in counter. Airport check-in closed 60 minutes before scheduled flight departure time on international flights and 45 minutes before on domestic flights.
---
Kulula Economy Class
Economy Class was the only cabin class available on Kulula-operated flights. It offered a relaxing journey in a friendly and comfortable environment.
Economy Class Facilities
Economy Class passengers could order hot meals, snacks and drinks from the airline's in-flight menu. These meals were available to purchase once onboard and were both delicious and great value.
There was no in-flight entertainment onboard the flight. However, passengers could enjoy articles, columns and other bits of reading material from the airline's in-flight magazine. In addition, passengers were welcome to use their phones for the entire duration of the flight. Kulula was one of the only airlines that allowed passengers to use their phones at all points during the flight, including take-off and landing.
Economy Class Seats
Seats were set out in a 3 x 3 formation. The Economy Class seats gave generous seat pitch and legroom for each passenger.
---
Route Map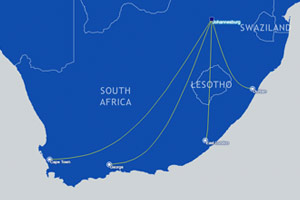 ---
Hub Airport
Tambo International Airport
Kulula was based at O. R. Tambo International Airport, which is a major international airport in Kempton Park, Ekurhuleni, Gauteng, South Africa] near the city of Johannesburg. It serves as the primary airport for domestic and international travel to/from South Africa and is Africa's busiest airport with a capacity to handle up to 28 million passengers annually with non-stop flights to all continents except Antarctica. Airlines that fly from and to Tambo International Airport include British Airways, Ethiopian Airlines and South African Airways.
---
Pay for Kulula flights with PayPal
Search for any Kulula flight with Alternative Airlines and pay with PayPal! Alternative Airlines accepts PayPal on any Kulula flight and over 600 other airlines. PayPal would appear as a payment option when you purchased a Kulula flight ticket.
---
Frequent Flyer Programme
Avios
Kulula's loyalty programme was Avios. With Avios loyalty card, Kulula travellers could earn and spend points on car rental, hotels, and flight tickets. Other Airlines that use Avios as a frequent flyer programme includes Iberia, British Airways, Aer Lingus and Vueling.
---
Kulula FAQs
Where can I book Kulula flights?
Kulula ceased its operations in June 2022. This means that you can no longer buy Kulula flights with Alternative Airlines or with Kulula directly. Alternatively, if you wish to fly to similar destinations as Kulula you can look at flights with South African Airways, RwandAir or Ethiopian Airways.
Where owns Kulula?
Kulula was owned by a subsidiary of Comair Ltd, which also. operated flights as a franchisee of British Airways. Kulula ceased its operation in July 2020 due to o financial complications caused by the Coronavirus pandemic.