Air Algérie Reservations with Alternative Airlines
Make an Air Algérie Booking and Find Discounted Air Algérie tickets at Alternative Airlines
---
About Air Algérie
Air Algérie, sometimes known as Algeria Airlines, is the national airline of Algeria, with its head office in the Immeuble El-Djazair in Algiers.
Algeria Airlines operates scheduled international services to 39 destinations in 28 countries in Europe, North America, Africa, Asia, and the Middle East, as well as domestic services to 32 airports from Houari Boumedienne Airport.
The airline is a member of the International Air Transport Association, the Arab Air Carriers Organisation and of the African Airlines Association since 1968. As of December 2013, Air Algérie was 100% owned by the government of Algeria.
Air Algérie's fleet consists of A330s, B767s, B737s and ATR 72s. Air Algérie was registered near IATA and became an IOSA company as it met the wholly standards required by IOSA audit. Air Algérie has been successfully submitted to another audit in 2010 and 2012.
---
Baggage Allowance
Carry-on Baggage
Algeria Airlines offers hand baggage allowance of one free cabin bag of 10kg maximum weight with 5 kg for ATR aircraft.
Checked Baggage
For domestic network passengers in economy are entitled to 20kg, business class passengers are allowed 30kg and first-class passengers are allowed 40kg. For International flights the baggage allowance for first and business classes is 40kg and for economy class 30kg within Europe, Morocco, Tunisia and France.
Excess Baggage
If your baggage exceeds the number, weight or dimensions of the allocated free allowance, you will be charged extra fees for this excess baggage. As the price of excess baggage is dependent on the route and class flying, check with the Air Algérie to find out prices of excess baggage.
---
Check-In Information
Online Check-In
Air Algérie offer online check-in for their passengers. This is available 24 hours before flying, and will close 3 hours before scheduled departure airport. The link to this can be found here.
Airport Check-In
Passengers who have not checked in online must do so at the airport. Visit the Air Algerie check-in counter where you will be checked in by a member of staff. For short and medium-haul flights this will open 3 hours before departure, but is increased to 4 hours for long-haul flights.
The closing time for the airport check-in desk is dependent in flying domestically or internationally:
For domestic flights, check-in will close 45 minutes before scheduled departure time
For domestic flights, check-in will close 45 minutes before scheduled departure time
---
Class Fares
The class fares available will depend on the aircraft being used. The fleet of A330 -202 have been completely redesigned, and accommodate 18 business class passengers, 14 premium economy passengers, and 219 economy passengers.
Economy Class
The economy fare is a competitive price, designed to offer accessibility for all passengers departing or arriving to Algeria.
Economy Class Facilities
During your journey, refreshments and meals are offered according to the duration of your flight. Shop Duty Free, with an exclusive selection of products.
On long-haul flights, an entertainment system is now available; enjoy great Hollywood films on your personal back-seat TV.
Economy Class Seating
Seats are designed to offer the perfect balance between comfort and competitive pricing. Staff will see you to your seat and ensure you are settled.
Business and First Class
Business and First Class Facilities
Air Algerie offers a premier check-in desk to save Business and First Class passengers time on their arrival.
In the "Salon Premiere" Business Class lounge passengers can connect to the internet and enjoy meals and refreshments. On board, Business Class passengers are provided with an in-flight magazine as well as gourmet meals. Refreshments are offered at any time during your journey. Enjoy the flight magazine and catch up with national press articles and media events.
Business and First Class Seating
Seating amenities will depend on the aircraft being used, but include: reclining seats, personal entertainment system, USB sockets, padded headrests.
---
Alternative Airlines to Air Algérie
Please click on the logos below to find out more about airlines that fly similar routes to Air Algérie:
---
Air Algérie Codeshare Agreements
Algeria Airlines has codeshare agreements with Aigle Azur, Royal Air Maroc, Tunisair and Turkish Airlines.
---
Air Algérie Offers and Deals
You can buy discounted Air Algérie tickets when using the available flight promo codes and paying with PayPal!
---
Air Algérie Frequent Flyer Program
Air Algérie has a frequent flyer program called Air Algérie Plus to reward regular passengers with the airline. It is quick and easy to collect your frequent flyer points when you buy your Air Algéri flights with us. For more information on how to do so, visit our Airline Alliance Page.
---
Book Flights in English
Alternative Airline lets you book your Air Algerie flight using a trustworthy website to ensure the best service which includes the ability to book in English, choose your preferred payment method and pay in multiple currencies.
---
Air Algérie Route Map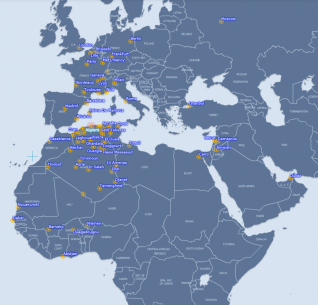 ---
Air Algérie Destinations
Paris

Algiers
New York

Algiers
Montreal

Algiers
Algiers

New York
---
Air Algérie Fleet
The Air Algerie fleet contains eight Airbus A330-200, 12 ATR 72-500, three ATR-600, five Boeing 737-600, two Boeing 737-700C, 25 Boeing 767-800, three Boeing 767-300, one Boeing 737-800 and one Lockhead L-100-30T aircraft.
---

Air Algérie Airport Hub
Houari Boumediene International Airport
Air Algé is based at Houari Boumediene Airport, which is also known as Algiers Airport or Algiers International Airport. It is an international airport serving Algiers, the capital of Algeria. It is located 10.5 mi southeast of the city. Airlines that fly from and to Houari Boumediene Airport include Air France, Air Madrid, Aigle Azur, Nouvelair and Qatar.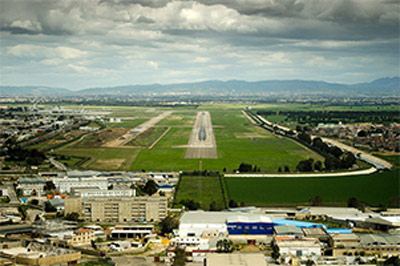 Photo credit: Ercan Karakas