Search and Buy Westaf Algeria Flights with Alternative Airlines
Make a Westaf Algeria Booking and Find Some Amazing Deals
---
About Westaf Algeria
Westaf Algeria is a new brand of the Westaf regional startup, set to be launched in 2021. It's being established by the WestAf company - which is also launching WestAf Gambia, which is to operate as the Gambian branch of the airline based at Banjul International (BJL).
Westaf has been revising its plans for a number of years and, since 2016, has been considering Algeria as a potential market. It was only in 2021 that Westaf announced that it plans on launching its Algerian branch.
Westaf will be the first Low Cost Carrier (LCC) to operate in West Africa, and Westaf Algeria to be the first LCC to operate domestic flights within Algeria. The airline will also operate international flights to/from Algeria to destinations including countries within Europe and Africa - but initially just Spain and France.
Like Westaf Gambia, Westaf Algeria will operate flights using the company's fleet of Dash8-400s.
Airline Update
Westaf Algeria is still in a process of being established and has yet to commence flights. In the meantime, you can take a look at our guide to domestic flights within Algeria to discover alternative airlines and more information on popular routes and airports.
---
Destinations
Domestic Destinations
From Alger and Oran, the airline will operate a number of domestic flights across Algeria, including flying to: Constantine, Annaba, Djanet, and Adrar. Please note that the airports listed below are subject to change until the airline's route network is finalised.
| CITY | AIRPORT | IATA |
| --- | --- | --- |
| Algiers | Algiers Houari Boumediene Airport | ALG |
| Constantine | Mohamed Boudiaf International Airport | CZL |
| Oran | Ahmed Ben Bella Airport | ORN |
| Annaba | Rabah Bitat Airport | AAE |
| Bechar | Boudghene Ben Ali Lotfi Airport | CBH |
| Timimoun | Timimoun Airport | TMX |
| Djanet | Djanet Inedbirene Airport | DJG |
| Tamanrasset | Aguenar – Hadj Bey Akhamok Airport | TMR |
| Ghardaia | Noumérat – Moufdi Zakaria Airport | GHA |
| Adrar | Touat-Cheikh Sidi Mohamed Belkebir Airport | AZR |
International Destinations
Initially, the airline will launch as a domestic carrier. However, long-term, the airline also hopes to operate international flights to cities in Africa and Europe, including Alicante and Barcelona in Spain, and Toulouse in France.
| COUNTRY | CITY | AIRPORT | IATA |
| --- | --- | --- | --- |
| France | Toulouse | Toulouse-Blagnac Airport | TLS |
| France | Montpellier | Montpellier-Méditerranée Airport | MPL |
| Spain | Alicante | Alicante Airport | ALC |
| Spain | Barcelona | Barcelona Airport | BCN |
---
Baggage Allowance
Checked Baggage
WestAf hasn't released information on what the baggage allowance will be for passengers. However, it has stated that it plans to unbundle its fares, in order to offer cheaper base-rate tickets, with the option to add extras such as baggage allowance. So, it is likely that the baggage allowance will not be complementary, and will need to be added to the booking (with fees applying). Or checked baggage may only be included with the higher ticket fare options.
Carry-On Baggage
The airline has yet to announce what the carry-on baggage allowance will be for passengers.
---
Check-In Information
Check-In Online
Westaf Algeria has yet to state whether online check-in will be available for passengers.
Airport Check-In
The airline has yet to make a statement regarding the recommended airport check-in times. However, in most instances it is recommended that passengers arrive at the airport early, no later than 2 hours prior to scheduled departure, in order to allow enough time to complete check-in and security procedures.
---
Class Fares: Economy
What is seating like?
Westaf Algeria will operate as a Low Cost Carrier, meaning it will likely only offer an Economy Class cabin. This means that passengers can expect standard seating, although there might also be the option to upgrade the seats for extra legroom. Seats will be configured in a 2-2 formation.
Facilities
In order to reduce the cost of the tickets, the airline will offer a comfortable but stripped-back service. Passengers can purchase a seat-only unbundled fare, with the option to add on extras to upgrade their flight, including increased baggage allowance and in-flight meals. It may also be possible for passengers to purchase in-flight snacks and drinks during the flight.
Entertainment and Wifi
As a low-cost airline, it's very unlikely that the airline will offer in-flight entertainment. If Wi-Fi is available, it is likely that fees will apply.
---
Fleet
WestAf has plans to operate a fleet of Dash-8 Q400 aircraft.
---
Frequent Flyer Program
The airline does not currently offer a frequent flyer program.
---
Airline Alliance
The airline is not currently part of an airline alliance program.
---
Hub Airport
Algiers Houari Boumediene Airport
Although yet to be confirmed, it is likely that Westaf Algeria will be based at Algiers Houari Boumediene Airport (also known as Houari Boumediene Airport). Houari Boumediene Airport is the main international airport serving Algiers, the capital of Algeria, and is located 10.5 miles south of the city. The airport is currently also a hub for Air Algérie and Tassili Airlines. Other international airlines to fly to the airport include: Tunisair, Air France, Royal Air Maroc, Lufthansa, Air Canada, Alitalia, and British Airways.
---
Alternative Airlines
The following airlines also operate domestic flights within Algeria: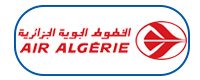 For international flights to Algeria, the following airlines operate scheduled passenger flights to Algiers Houari Boumediene Airport from elsewhere within Europe and Africa: