Search & Buy Air Nostrum Flights
Airlines will always try to sit children with their parents (subject to check-in)
Some airlines will allow travel for unaccompanied minors. Please email us to check.
The fare is based on the child's age on the date of travel.
More detailed information can be found here Traveling with children
Most airlines will let infants travel with their parent(s) for free. However some airlines will charge up to 10% of the adult ticket price. Click on 'Price Breakdown' to find out more.
If you are pregnant, but due before the flight departure date, please contact us once your baby is born and has a name. We can then add him/her to your ticket.
Infants will not be given a seat. The airlines expect parents to travel with them on their lap.
Airlines regard infants as being under 24 months old.
The fare is based on the child's age on the date of travel.
More detailed information can be found here Traveling with children
Buy
Air Nostrum

Flights
Air Nostrum Reservations with Alternative Airlines
Make an Air Nostrum Booking and Find Some Amazing Deals
---
About Air Nostrum
Air Nostrum is a regional airline based in Valencia, Spain. It's an independent carrier and franchise of Iberia Airlines. Air Nostrum is a regional partner and franchisee of Iberia and a member of Oneworld alliance. Air Nostrum operates 91 domestic and international routes to 51 destinations, and charter flights, primarily from three airports: Barcelona, Madrid and Valencia. The airline was established in 1994 and branched out into rail services in 2017.
In 2015, Air Nostrum partnered with Amaszonas to create a Paraguayan airline, Amaszonas Paraguay (now Paranair).
---
Air Nostrum Baggage Allowance
Your hand baggage has no weight restrictions but must be within 56 cm x 45 cm x 23cm in size. Air Nostrum aircrafts are smaller so there may be some limitations as to what you can take with you in the cabin. In this case, your luggage would be placed in the luggage hold for you to collect upon arrival.
Carry-on Baggage
For both domestic and international flights, passengers are allowed 1 piece of luggage weighing a total of 10kg or less. The combined dimensions must be no more than 115cm (55 x 40 x 25cm).
In addition, passengers are permitted one personal item. For example, items such as a laptop case, handbag, umbrella or camera.
Checked Baggage
Your checked baggage must weigh a maximum of 23kg.
Any baggage weighing between 24-32kg will be subject to additional charge.
Pieces over 32kg will not be permitted.
---
Air Nostrum Check-In Information
Online Check-In
Due to it's partnership with Iberia, Air Nostrum passengers can check in online with Iberia by following this link. This online check-in service is not valid for flights to or from Cuba, El Salvador, the USA, Great Britain, Guatemala, Mexico, Puerto Rico and South Africa.
Online check in closes 1 hour before scheduled departure time, or 1.5 hours when flying from Lagos, San Jose, or 3 hours in Caracas.
Airport Check-In
Passengers who have not completed check-in online must check-in at the airport desk. It is recommended that passengers arrive 3 hours prior to scheduled departure time to ensure enough time for check-in and security.
However, in most airports the airport check-in desk will close 45 minutes before scheduled flight departure.
---
Alternative Airlines to Air Nostrum
Please click on the logos below to find out more about airlines that fly similar routes to Air Nostrum:
---
Air Nostrum Fleet
CRJ1000
CRJ900
CRJ200
ATR 72-600
---
Air Nostrum Economy Class
Economy class is the standard class on Air Nostrum flights. Passengers will have to check-in on time, as per their ticket, and make sure their baggage is compliant to the weight and measurements provided.
Passengers can choose to purchase additional ammenities or food on board their flight, from the in-flight menu.
---
Air Nostrum Business Class
Passengers in business class receive a separate check-in desk which allows fast track. In addition, passengers will get fast track boarding and access to the VIP lounges at the airport. There is a greater allowance of baggage for business class passengers, and booking will earn you extra Avios points.
On board the plane, passengers can enjoy in-flight entertainment including free newspapers. Passengers can enjoy a delicious high-quality meal, with the meal dependent on the time of day and duration of the flight.
---
Air Nostrum Destinations
Under the Iberia brand, Air Nostrum flies to the many destinations:
Algiers,
Algeria
Oran,
Algeria
Dubrovnik,
Croatia
Bordeaux,
France
Lyon,
France
Marseille,
France
Nantes,
France
Nice,
France
Paris,
France
Strasbourg,
France
Toulouse,
France
Düsseldorf,
Germany
Corfu,
Greece
Crete,
Greece
Santorini,
Greece
Bologna,
Italy
Catania,
Italy
Milan,
Italy
Olbia,
Italy
Palermo,
Italy
Turin,
Italy
Luqa,
Malta
Marrakech,
Morocco
Rabat,
Morocco
Tangier,
Morocco
Funchal,
Portugal
Porto,
Portugal
Alicante,
Spain
Almeria,
Spain
Asturias,
Spain
Barcelona,
Spain
Bilbao,
Spain
Burgos,
Spain
Fuerteventura,
Spain
Granada,
Spain
Ibiza,
Spain
Jerez de la Frontera,
Spain
La Palma,
Spain
La Rioja,
Spain
Lanzarote,
Spain
Las Palmas,
Spain
Lleida,
Spain
León,
Spain
Madrid,
Spain
Málaga,
Spain
Melilla,
Spain
Menorca,
Spain
Murica,
Spain
Palma de Mallorca,
Spain
Pamplona,
Spain
San Sebastián,
Spain
Santander,
Spain
Salamanca,
Spain
Santiago de Compostela,
Spain
Seville,
Spain
Teneride,
Spain
Valencia,
Spain
Valladolid,
Spain
Vigo,
Spain
Zaragoza,
Spain
---
Air Nostrum Frequent Flyer Program
Avios
Air Nostrum allows its frequent flyers to collect Avios points when flying with Iberia and its partner airlines. Every time you fly you gain loyalty points which can be redeemed at a later date as part or full payment for flights.
---
Air Nostrum Oneworld Alliance
Oneworld Alliance was formed in 1999 with the goal of becoming the world's first-choice airline alliance for frequent international travellers. As of October 2017, Oneworld is the third-largest global alliance in terms of passengers with more than 527.9 million passengers carried, behind Star Alliance and SkyTeam. Since October 2017, its member airlines collectively operate a fleet of 3,447 aircraft, serve about 1,000 airports in more than 158 countries, carrying 527.9 million passengers per year on 12,738 daily departures, generating annual revenues of more than US$130 billion.
---
Book Air Nostrum in English
At Alternative Airlines, we provide booking of flights in English. We also offer a dedicated customer service team who speak English, so that any queries you may have can be answered smoothly. Choose to book your Air Nostrum flights with Alternative Airlines to ensure good communication, allowing for a smooth booking experience.
---

Air Nostrum Hub Airport
Madrid Barajas Airport
Madrid - Barajas Airport, or Adolfo Suárez Madrid–Barajas Airport is an International Airport serving Madrid in Spain. It is the largest airport in Europe by size, and currently has 5 passenger terminals and 4 runways.
It is the hub airport for Iberia, Evelop and Air Europa. It is also a focus city for Norwegian Air International, Ryanair, Vueling and Wamos Air. The airport also runs services for many airlines, including Ukraine International Airlines, Iberia Express, Lufthansa and El Al.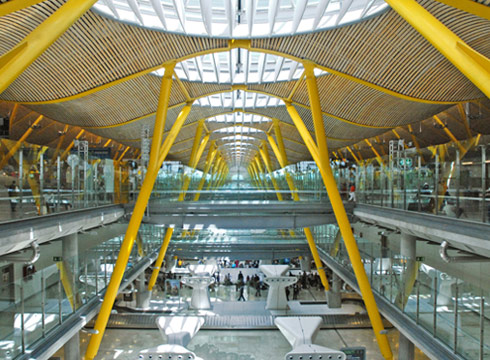 Photo Accreditiation: Jean-Pierre Dalbéra
---