Paranair Reservations with Alternative Airlines
Make a Paranair Booking and Find Some Amazing Deals
---
About Paranair
Founded in 2018, Paranair is an airline operating domestic flights within Paraguay, as well as some international flights travelling across South America, including Argentina.
Paranair is the successor airline of Amaszonas Paraguay (2015—2018). Amaszonas Paraguay was a Paraguayan airline created as a joint venture between Air Nostrum and Amaszonas. In 2018, Amaszonas removed itself from the airline, which saw Amaszonas Paraguay terminate. Paranair air was then created by Air Nostrum's parent firm ILAI and Canadian company Avmax Holdings.
Paranair gained its Airline Operator Certificate October 2018 and began flying commercial flights the same month.
---
Paranair Destinations
Paranair offers scheduled flights to the following destinations:
Domestic
Asunción
Ciudad del Etse
International
Buenos Aires
Curitiba
Florianópolis (seasonal)
Iquique
Montevideo
Punta del Este (seasonal)
Rio de Janeiro (seasonal)
Salta
São Paulo
---
Paranair Route Map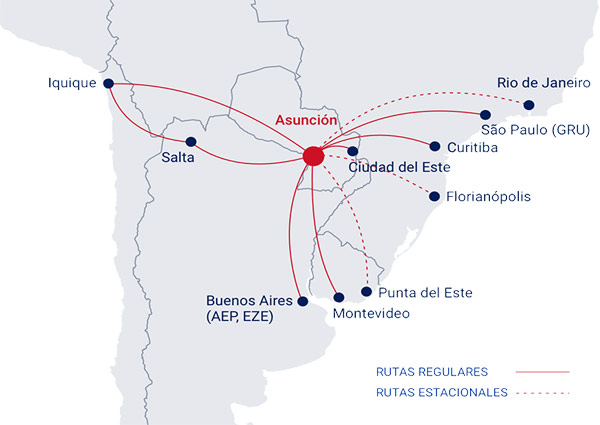 ---
Fleet
The airline fleet includes two Bombardier CRJ200ER and two CRJ200LR.
---
Baggage Information
Carry-on Baggage
The maximum carry-on baggage allowance for Paranair passengers is one piece of carry-on baggage with a maximum weight of 5kg. The bag must not exceed 30cm x 27cm x 20cm.
Checked Baggage
Paranair passengers are permitted checked baggage weighing no more than 23kg. The piece of baggage must not exceed 158 linear cm. Children under 23 months are permitted one piece of carry-on baggage only.
Excess Baggage
You can buy additional baggage to your flight when you book your flight. Please contact our passionate customer service team if you have any questions or require any assistance.
---
Paranair Check-In Information
Online Check-in
Online check-in opens 72 hours before and closes two hours before departure time. Please check-in on the airline website with your booking reference and your passport details.
Airport Check-in
Paranair recommends arriving at the airport check-in desk at least two hours prior to your flight's scheduled departure time. Those passengers flying without check-in baggage may arrive one hour prior. To check-in for their Paranair flight, passengers must present the relevant travel documents to a Paranair member of staff at the Paranair check-in counters.
---
Frequent Flyer Programme
As of April 2020, a frequent flyer programme is not currently available.
---
Airline Alliance
The airline does not belong to any airline alliance.
---
Book Paranair Flights in English
Find Paranair flights in English with Alternative Airlines. We give our customers the chance to book Paranair flights in English to avoid any misunderstandings. We think communication is the key to an easy booking experience, that's why our customers can contact our fantastic customer service team to discuss their booking anytime from 8am to 8pm (GMT).
---
Alternative Airlines to Paranair
Please click on the logos below to find out more about airlines that fly similar routes to Paranair:
---
Paranair Hub Airport
Silvio Pettirossi International Airport
Paranair is based at Silvio Pettirossi International Airport, which serves the city of Asuncion. The airport is the busiest in the country and served around 1.2 million passengers in 2017. It is the main hub for LATAM Paraguay. Other airlines that fly from this airport include Aerosul Taxi Aereo.
---
Buy Discounted Paranair Tickets at Alternative Airlines
---
Paranair News
16th November 2018
Paranair airline tickets now available at Alternative Airlines
Alternative Airlines is delighted to announce that we can now sell Paranair tickets through our site. Use the search form at the top of the page to search for flights on routes that Paranair fly.