Search and Buy CityJet Flights
Let's fly!

Select your payment method to view total prices including any payment fees:
Buy
CityJet

Flights

Search and Buy CityJet Flights Online with Alternative Airlines
Make a CityJet reservation and find some amazing deals with discounted CityJet tickets at Alternative Airlines
---
About
CityJet is an Irish airline, headquartered in Swords, Dublin and flies to many destinations within Europe.
Destinations include: Amsterdam, Cork, Jersey, Nantes, Florence, Antwerp, Dublin, London City, Paris and Rotterdam.
In 2014, German investor Intro Aviation acquired CityJet. CityJet also operates mainly under its own name with a codeshare agreement with Air France and KLM. Cityjet offers over 480 flights a week to major European and UK business centres. CityJet's fleet of 28 aircraft, ten CRJ-900s are currently wet-leased to SAS Scandinavian Airlines. Other ACMI and charter clients in 2017 will be Brussels Airlines, Sunair, Royal Caribbean, Inghams, Sundio Group/Sunweb, Joe Walsh Tours and Sunway Holidays, employing a combination of SSJ 100-95 and ARJ-85 equipment.
---
News
16th May 2018
Cityjet to hire additional 10 trainee pilots for mentoring programme
Irish-based airline aims to have sufficient qualified pilots for routes and aircraft mix
Irish-based regional airline Cityjet plans to hire a further 10 trainee pilots for entry into a mentoring programme managed by CAE Oxford Aviation Academy.
The move is designed to ensure that Cityjet has enough qualified pilots for current and new routes and its mix of aircraft.
Robert Campbell Smith, Cityjet's general manager of flight operations, said that the airline was continuing to grow, particularly its wet lease business, where it provides craft and crew to fly routes for other carriers.
"Our fleet includes the 90-seat Bombardier CRJ-900, 98-seat Superjet SSJ100 and our 95-seat Avro RJ85 aircraft which continues to serve us well," he said.
Cityjet has bases in Dublin, Brussels, Copenhagen, Helsinki, London, Stockholm and Vilnius. Trainees will complete courses in Oxford and in Phoenix, in the US state of Arizona.
3rd May 2018
Pro14 finals boost as CityJet partner up with the league
The Pro14 have received a boost with the announcement that they have partnered with CityJet as the Official Airline of this season's Guinness PRO14 Final Series.
The first-ever Guinness PRO14 Final takes place in Dublin on May 26 and throughout all six games of the Final Series CityJet will partner the Championship ahead of what will be an historic climax at Aviva Stadium
Fans of the Guinness PRO14 will be able to experience the benefits of this exciting partnership with CityJet providing exclusive discounted offers on tickets for the Guinness PRO14 Final, access to the Captain's Run ahead of the big game while everyone stepping onto a CityJet flight will have the opportunity to win tickets to the Final Series.
CityJet operates up to eight flights daily between Dublin and London City airports and offers complimentary drinks and snacks on board plus free seat selection and bag in hold.
Dermot Rigley, Commercial & Marketing Director of the league, welcomed the new deal which he feels shows the growing brand that is the Pro14.
'Our partnership with CityJet is just the latest illustration of the appeal that the Guinness PRO14 has for premium brands as we continue to go from strength to strength after expanding into South Africa.
'We have six thrilling games to look forward to in the Guinness PRO14 Final Series, including a Play-Off for a place in next season's European Champions Cup. Leinster and Cardiff Blues are representing the Championship in this year's European Finals in Bilbao which is a great indication of the calibre of rugby in the Guinness PRO14.'
And for their part CityJet, who continue to invest in the game of rugby, are proud to add the league to their existing partnerships. Pat Byrne, the airline's Executive Chairman said 'We are delighted to come on board as the Official Airline of the Guinness PRO14 Final Series. We have always been very supportive of sport and rugby, in particular, and are official partner to Leinster Rugby.'
Munster take on Edinburgh in the first semi final play off on Saturday, with Scarlets v Toyota Cheetahs facing the Cheetahs in the later game.
2nd May 2018
CityJet partner up with the Pro14
January 2018
Cityjet to resume Florence route
The regional airline says fares on the route will start from £64, with flights scheduled to depart London at 10:45 and return from Florence at 16:30 on weekdays. There will also be early morning departures on Saturdays and late afternoons on Sundays.
Pat Byrne, executive chairman of Cityjet, said: "We have been serving Florence for many years and we are delighted to return to the route after the winter break. London City to Florence has always proved to be a very popular route with our customers and we look forward to welcoming existing and new customers on board this summer."
November 2017
CityJet in talks to extend Air France deal as it adds Brussels Airlines jet
CityJet is in talks with Air France to extend an existing agreement to operate flights out of Paris on behalf of the larger carrier, according to CityJet executive chairman Pat Byrne.
An existing agreement to operate six routes from Paris for Air France, including one to Dublin, expires next March.
But Mr Byrne told the Irish Independent that the talks with Air France on extending the arrangement are progressing well.
Dublin-based CityJet serves Dublin, Dusseldorf, Newcastle, Stuttgart, Turin and Hanover from Paris Charles de Gaulle airport, where it has four aircraft. "I'd hope there will be another extension," said Mr Byrne, who added that CityJet had previously secured an extension to the deal up to the end of March next year.
Air France acquired full ownership of CityJet, which was founded by Mr Byrne, in 2000. Air France sold it in 2013 to Germany's Intro Aviation, which in turn sold it to Mr Byrne and investors in 2016.
Mr Byrne said that within the past two weeks, CityJet has also added a fourth jet to its wet leasing service for Brussels Airlines, part of the Lufthansa group, boosting the number deployed there to four.
CityJet signed an initial deal with Brussels Airlines earlier this year and began operating flights for the carrier in April. The jets in use by CityJet at Brussels Airlines are Sukhoi SuperJets.
Mr Byrne said the aircraft had been well received by customers and Brussels Airlines, prompting the deployment of the fourth Sukhoi with the carrier. CityJet currently has six Sukhois in its fleet.
He said that the certification process for the Sukhoi SuperJet for use at London City Airport continues.
The aircraft's winglets have already been redesigned in order to help slow it on approach, allowing it to land with a greater weight on board, he explained.Mr Byrne said he expects that certification will be secured for use at London City towards the end of 2019, allowing CityJet to use the jet there that year or by 2020.
CityJet posted a €30.2m loss last year due to exceptional costs. Its loss from operations was €1.8m. Revenue hit €198.2m in 2016 and is expected to be €276m this year. The airline is increasingly focused on generating more revenue from wet leasing activity than from scheduled operations.
May 2017
CityJet announced it it will retain its fleet of ARJ-85s in service beyond their previously anticipated 2018/18 retirement timeline
CityJet currently operates fifteen of the type with an average age of just over eighteen years. The quadjets were to have been withdrawn from service with the introduction of the carrier's incoming fleet of fifteen SSJ 100-95s of which five have thus far been delivered.
The ARJ85s are primarily deployed to London City, Amsterdam, Copenhagen Kastrup, Dublin Int'l, and Paris CDG where they are used on flights to Italy, France, Latvia, Germany, the United Kingdom, Ireland, Poland, Sweden, Norway, Belgium, and the Netherlands, both on its own scheduled services and on ACMI flights operated for Air France (AF, Paris CDG), KLM Royal Dutch Airlines (KL, Amsterdam) and SAS Scandinavian Airlines (SK, Copenhagen Kastrup).
May 2017
CityJet announced it is set to take delivery of another three Sukhoi Superjet 100s this year, following the arrival of a fifth of the type
The airline is to operate the latest aircraft (EI-FWE) for Brussels Airlines, and will be the third Superjet flying for the Belgian carrier.
CityJet started using the Russian-built aircraft in June last year and the manufacturer says it is to "focus" on delivering another three to the airline before the end of 2017. It is set to receive 15 in total.
April 2017
CityJet announced it was planning to open a base at Tallinn, Estonia for its fleet of CRJ-900s
As part of the process, the Irish ACMI/charter specialist has begun recruiting the requisite flight crews. CityJet currently operates twelve CRJ-900s for SAS Scandinavian Airlines under a white-label flying contract. As previously reported, it has a further ten on order from Bombardier which, on delivery, will be used to replace older airframes inherited from its Cimber unit.
CityJet maintains bases at Dublin Int'l, Amsterdam, Brussels National, Helsinki Vantaa, London City, Paris CDG, and Stockholm Arlanda.
March 2017
CityJet to lay off staff as it moves to downsize its operations at London City airport, reports The Irish Times
Executive chairman Pat Byrne confirmed that the Irish carrier is reducing its scheduled operations as it moves to become more of a wet-lease operator. Byrne added that 80% of CityJet's fleet will soon be on ACMI arrangements. CityJet will cancel flights from Paris Orly and Nantes to London City at the end of this month, while flights to Amsterdam will be reduced. However, scheduled Dublin Int'l flights are set to be increased. Other routes that remain from London City are Antwerp, Rotterdam and Florence Peretola.
Route Map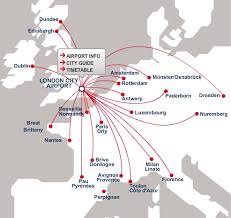 Popular Routes
Dublin

London
Cork

London
London

Amsterdam
London

Nantes
Paris

London
Florence

London

---
The Fleet
---
London City Airport
HUB Airport
London City Airport is an international airport located in the Royal Docks of London and has one runaway and can handle nearly 4 million passengers every year. London City Airport acts as a hub airport for City Jet and British Airways.
Other airlines which fly Alitalia, Blue Islands, British Airways, CityJet, Flybe, Lufthansa, Luxair, SkyWork Airlines and Swiss International Airlines.

---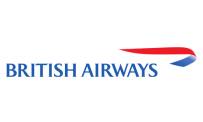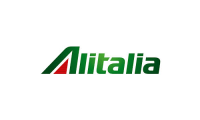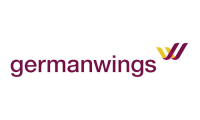 ---
---
Search and Buy CityJet Flights
Make a CityJet reservation and find some amazing deals with discounted CityJet tickets at Alternative Airlines. CityJet flies to many destinations worldwide, offering a cost effective and safe service to all its passengers. Let Alternative Airlines help find you cheap CityJet tickets and make international and domestic flight reservations on CityJet today.
Browse the most popular CityJet flight routes to cities worldwide. Alternative Airlines can help you make reservations on CityJet for international flights to lots of destinations. Use the following list of routes to help you plan your next flight. Book CityJet flights on Alternative Airlines to save big! Alternative Airlines is an online travel agency, specialising in booking lesser known airlines and remote destinations.
---
About Alternative Airlines
Alternative Airlines is an online flight search complete with customer service specialising in booking flights on lesser known airlines and to remote destinations. We offer you a wider choice of airlines supported by a team of customer service and travel specialists for help and advice on your travel plans. We specialise in finding the best available fares on the widest range of airlines and making them available to you online, with prices in the currency of your choice.
Alternative Airlines handles all your travel arrangements and payments, complete with ticketed confirmation. We do not direct you to other websites or service providers. We help you through the process. This is what makes us Alternative Airlines. Check out our revies on Feefo or our reviews page. If you want to know a little bit more about us, read our blog for our alternative travel secrets and stories.
Browse for flights, find some amazing deals, make a reservation and pay in the currency of your choice today with Alternative Airlines. Let Alternative Airlines help find you the best prices and make international and domestic flight reservations with us today.
Join the Alternative Airlines Members Club and get £100.00 back on your 5th booking with Alternative Airlines. You will have insight to many benefits and exclusive deals on over 650 airlines. Click on the Members section on the Alternative Airlines website for more information and join today. We are open every day from 8am until 8pm (UK local time).
City Jet is an Irish airline, based in Dublin but 100% owned by Air France/KLM. City Jet flights City Jet has two major activities, one as supplier of aircraft on 8 franchise routes on behalf of Air France between Paris CDG and Dublin, London City, Birmingham, Edinburgh, Gothenburg, Zurich and Florence, Dublin to London City, and Paris Orly to London City. The second initiated in 2007, City Jet in conjunction with Air France, launched the City Jet for Air France network out of London City Airport. City Jet for Air France routes consist of 5 new routes to include Belfast City, Geneva, Madrid, Nice and Zurich. These new services are in addition to the existing services to Paris Orly and Dublin. City Jet Ireland Don't be confused about City Jet - it's an Irish airline but owned by Air France and does a great job of using the short runway BAE 146 to generate oodles of profit from short haul sectors - either by providing connections to long haul routes from Paris or by ferrying businessmen to city centre meetings at convenient times. The new 2007 services fro London City are worth considering if you want to start your journey with the shortest walk between car and plane plus the unmissable experience of seeing London landmarks slide beneath you as you climb quickly from London city airport's oh so short runway ! City Jet FleetCity Jet Bae 146 As the Irish partner of Air France, City Jet operates a fleet of 20 BAe 146 series aircraft making City Jet a specialist in short runway regional operations
READ MORE ABOUT CITYJET
How to pay
You can pay for your flights with CityJet in the currency and payment method of your choice when booking through Alternative Airlines.
We accept PayPal making flight purchases with CityJet easy and more secure for customers. PayPal is one of the leading forms of online payment, with more than 169 million accounts worldwide.