Search and Buy CityJet Flights with Alternative Airlines
Make a CityJet Booking and Find Some Amazing Deals
---
About
CityJet is an Irish airline, headquartered in Swords, Dublin and flies to many destinations within Europe. The airline started off offering scheduled passenger services, however, in 2017 it changed its business model and now only deals with charter flights and wet-leasing aircraft.
Destinations include: Amsterdam, Cork, Jersey, Nantes, Florence, Antwerp, Dublin, London City, Paris and Rotterdam. These destinations depend on the airline who leases the aircraft, the airline would choose which destination
In 2014, German investor Intro Aviation acquired CityJet. CityJet also operated mainly under its own name with a codeshare agreement with Air France and KLM. Cityjet offered over 480 flights a week to major European and UK business centres.CityJet's fleet of 28 aircraft, ten CRJ-900s are currently wet-leased to SAS Scandinavian Airlines. Other ACMI and charter clients are Brussels Airlines, Sunair, Royal Caribbean, Inghams, Sundio Group/Sunweb, Joe Walsh Tours and Sunway Holidays, employing a combination of SSJ 100-95 and ARJ-85 equipment.
---
Baggage
Carry-on Baggage
The carry-on baggage allowance for CityJet flights allows for passengers to take one item of carry-on baggage at, along with an additional small item, such as a laptop or handbag. The combined weight of this baggage can't exceed 12kg. For passengers flying on the AVRO RJ85 or the Embraer E195 aircraft, carry-on baggage must fit within the dimensions of 55 25 x 35 cm. For passengers flying on ATR aircraft, carry-on baggage can't exceed the dimensions of 47.5 x 35 x 20 cm.
Checked Baggage
The checked baggage allowance for CityJet flights is one 20kg bag for all passengers in all classes, except for infants, who are allowed one bag at 10kg. In addition to the 10kg checked bag, infants are also allowed one pushchair or buggy.
---
Check-In
Online Check-In
Online check-in is available from 48 hours before your flight up until one hour before. You can check-in online using the CityJet online check-in page and entering your flight details.
Airport Check-In
The check-in counters for CityJet open 2 hours before your flight and close anywhere between 15—40 minutes before your flight depending on which airport you're flying from. CityJet check-in is also available at the self-service kiosk at Amsterdam and London City Airport which passengers can use at the airport for a quicker alternative to the check-in counters.
---
Economy Class
Economy Class is CityJet's most basic cabin class.
Economy Class Facilities
The Economy Class service is carried out by the airline's professionally trained cabin crew.
Food and drink are available to order once in-flight.
There is no in-flight entertainment system on board flights.
Economy Class Seats
Economy Class seats are set out in a 3 x 3 formation and designed to give passengers a relaxed journey.
---
Business Class
CityJet Business Class is a small upgrade from Economy Class but offers some great additional perks in an exclusive section of the cabin at a low-cost price.
Business Class Facilities
Business Class passengers can enjoy a more personalised service from the airlines Business Class cabin crew.
Business Class passengers are given complimentary food and drink for the duration of their flights.
There is no in-flight entertainment system, but passengers can find an in-flight magazine in the back pocket of the seat in front of them.
Business Class Seats
Business Class seats are designed to give more cushioning and comfort. Seats are set out in a 2 x 2 or 3 x 3 configuration.
---
Route Map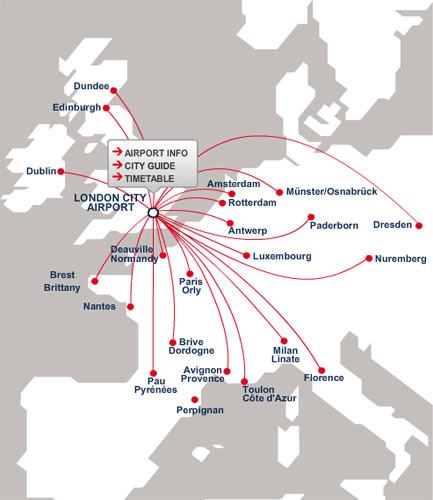 ---
Fleet
CityJet has a fleet of around 30 aircraft. It uses both AvroRJ85 and Bombardier CRJ900 aircraft.
---
Hub Airport
London City Airport
London City Airport is an international airport located in the Royal Docks of London and has one runaway and can handle nearly 4 million passengers every year. London City Airport acts as a hub airport for City Jet and British Airways.
Other airlines which fly Alitalia, Blue Islands, British Airways, CityJet, Flybe, Lufthansa, Luxair, SkyWork Airlines and Swiss International Airlines.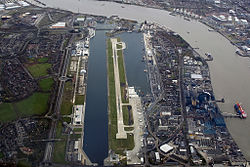 ---
Alternative Airlines to CityJet