Search & Book City Jet Flights
Book
City Jet

Flights

Book Direct with CityJet and Alternative Airlines
CityJet is an Irish airline which is headquartered in Swords, Dublin and flies to many destinations within Europe. These destinations include Amsterdam, Cork, Jersey, Nantes, Florence, Antwerp, Dublin, London City, Paris and Rotterdam. In 2014, German investor Intro Aviation acquired CityJet. CityJet also operates mainly under its own name with a codeshare agreement with Air France and KLM. Cityjet offers over 480 flights a week to major European and UK business centres. In March 2017, CityJet to lay off staff as it moves to downsize its operations at London City airport, reports The Irish Times. Executive chairman Pat Byrne confirmed that the Irish carrier is reducing its scheduled operations as it moves to become more of a wet-lease operator. Byrne added that 80% of CityJet's fleet will soon be on ACMI arrangements. CityJet will cancel flights from Paris Orly and Nantes to London City at the end of this month, while flights to Amsterdam will be reduced. However, scheduled Dublin Int'l flights are set to be increased. Other routes that remain from London City are Antwerp, Rotterdam and Florence Peretola. Of its fleet of 28 aircraft, ten CRJ-900s are currently wet-leased to SAS Scandinavian Airlines. Other ACMI and charter clients in 2017 will be Brussels Airlines, Sunair, Royal Caribbean, Inghams, Sundio Group/Sunweb, Joe Walsh Tours and Sunway Holidays, employing a combination of SSJ 100-95 and ARJ-85 equipment.
In April 2017, CityJet announced it was planning to open a base at Tallinn, Estonia for its fleet of CRJ-900s. As part of the process, the Irish ACMI/charter specialist has begun recruiting the requisite flight crews. CityJet currently operates twelve CRJ-900s for SAS Scandinavian Airlines under a white-label flying contract. As previously reported, it has a further ten on order from Bombardier which, on delivery, will be used to replace older airframes inherited from its Cimber unit. CityJet maintains bases at Dublin Int'l, Amsterdam, Brussels National, Helsinki Vantaa, London City, Paris CDG, and Stockholm Arlanda. In May 2017, CityJet announced it is set to take delivery of another three Sukhoi Superjet 100s this year, following the arrival of a fifth of the type. The airline is to operate the latest aircraft (EI-FWE) for Brussels Airlines, and will be the third Superjet flying for the Belgian carrier. CityJet started using the Russian-built aircraft in June last year and the manufacturer says it is to "focus" on delivering another three to the airline before the end of 2017. It is set to receive 15 in total.
In May 2017, CityJet announced it it will retain its fleet of ARJ-85s in service beyond their previously anticipated 2018/18 retirement timeline. CityJet currently operates fifteen of the type with an average age of just over eighteen years. The quadjets were to have been withdrawn from service with the introduction of the carrier's incoming fleet of fifteen SSJ 100-95s of which five have thus far been delivered. The ARJ85s are primarily deployed to London City, Amsterdam, Copenhagen Kastrup, Dublin Int'l, and Paris CDG where they are used on flights to Italy, France, Latvia, Germany, the United Kingdom, Ireland, Poland, Sweden, Norway, Belgium, and the Netherlands, both on its own scheduled services and on ACMI flights operated for Air France (AF, Paris CDG), KLM Royal Dutch Airlines (KL, Amsterdam) and SAS Scandinavian Airlines (SK, Copenhagen Kastrup).
Route Map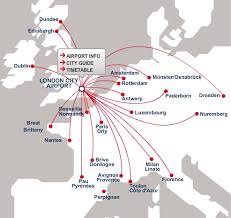 Popular Routes
Dublin

London
Cork

London
London

Amsterdam
London

Nantes
Paris

London
Florence

London

---
The Fleet
---
London City Airport
HUB Airport
London City Airport is an international airport located in the Royal Docks of London and has one runaway and can handle nearly 4 million passengers every year. London City Airport acts as a hub airport for City Jet and British Airways. Other airlines which fly Alitalia, Blue Islands, British Airways, CityJet, Flybe, Lufthansa, Luxair, SkyWork Airlines and Swiss International Airlines.

---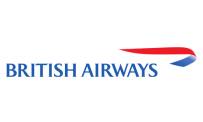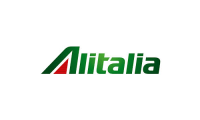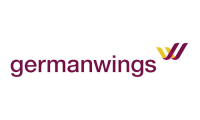 ---
Book Flights with CityJet
Make a CityJet reservation and find some amazing deals with discounted CityJet tickets at Alternative Airlines. CityJet flies to many destinations worldwide, offering a cost effective and safe service to all its passengers. Let Alternative Airlines help find you cheap CityJet tickets and make international and domestic flight reservations on CityJet today.
Browse the most popular CityJet flight routes to cities worldwide. Alternative Airlines can help you make reservations on CityJet for international flights to lots of destinations. Use the following list of routes to help you plan your next flight. Book CityJet flights on Alternative Airlines to save big! Alternative Airlines is an online travel agency, specialising in booking lesser known airlines and remote destinations.
City Jet is an Irish airline, based in Dublin but 100% owned by Air France/KLM. City Jet flights City Jet has two major activities, one as supplier of aircraft on 8 franchise routes on behalf of Air France between Paris CDG and Dublin, London City, Birmingham, Edinburgh, Gothenburg, Zurich and Florence, Dublin to London City, and Paris Orly to London City. The second initiated in 2007, City Jet in conjunction with Air France, launched the City Jet for Air France network out of London City Airport. City Jet for Air France routes consist of 5 new routes to include Belfast City, Geneva, Madrid, Nice and Zurich. These new services are in addition to the existing services to Paris Orly and Dublin. City Jet Ireland Don't be confused about City Jet - it's an Irish airline but owned by Air France and does a great job of using the short runway BAE 146 to generate oodles of profit from short haul sectors - either by providing connections to long haul routes from Paris or by ferrying businessmen to city centre meetings at convenient times. The new 2007 services fro London City are worth considering if you want to start your journey with the shortest walk between car and plane plus the unmissable experience of seeing London landmarks slide beneath you as you climb quickly from London city airport's oh so short runway ! City Jet FleetCity Jet Bae 146 As the Irish partner of Air France, City Jet operates a fleet of 20 BAe 146 series aircraft making City Jet a specialist in short runway regional operations
READ MORE