Air Calin is the national airline of New Caledonia based in the captal city of Noumea.
---
Air Calin flights to Noumea

Air Calin flies international scheduled services from its hub at Noumea's international airport. Destinations include Auckland, Brisbane, Nadi, Osaka, Papeete, Port Vila, Sydney, Seoul and Tokyo. Worth mentioning separately are the services to the French Territory: Wallis and Futuna. Domestic scheduled services are operated by Air Caledonie.
Air Calin operates a fleet of 4 aircraft: 2 Airbus A330-200, 1 Airbus A320-200 and 1 De Havilland Canada DHC-6 Twin Otter Series 300.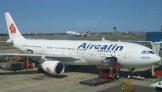 Air Calin Flights to Polynesia
With beautifully painted aircraft plus a beguiling mixture of French and Polynesian cultures, Air Calin is everything you'd want or expect from a carrier based in paradise.

Aircalin gets OK to fly to US.
The expanding carrier of the Pacific nation of New Caledonia, Aircalin, has been granted permission by the US authorities to start flying to the United States of America.
Aircalin acquires new Airbus A320 and new
To support the development of its regional network, New Caledonian airline, Aircalin has acquired a new A320 aircraft due to arrive in August.