Air Calédonie Reservations with Alternative Airlines
Make an Air Calédonie Booking and Find Some Amazing Deals
---
About Air Calédonie
Air Calédonie, officially known as Société Calédonienne de Transports Aériens, is a French airline based in New Caledonia. It is a domestic airline, which operates scheduled passenger and cargo flights to 5 destinations in New Caledonia.
The airline started out in 1954 as Transpac - an airline with the aim to create an air service between Nouméa on the mainland of New Caledonia, and the surrounding islands. It changed its name in 1961 to its current form; Air Calédonie.
---
Air Calédonie Baggage
Carry-on Baggage
Air Calédonie allow one piece of hand luggage per person, weighing a maximum of 5kg. The dimensions of this must be within 45 x 35 x 20 cm.
In addition, passengers are allowed one piece of personal luggage, which can be items such as a handbag, laptop bag or camera.
Checked Baggage
Passengers are permitted 12kg of checked luggage, or 8kg of luggage for a child.
---
Air Calédonie Check-In Information
Online Check-In
Air Calédonie are yet to offer online check-in for their flights.
Airport Check-In
Passengers must check-in at the airport check-in desk for their Air Calédonie flight. Air Calédonie recommend that passengers to all destinations arrive at the airport 70 minutes before departure time to ensure enough time to check-in and go through security. The check-in desk will close 30 minutes prior to departure.
---
Economy Class
Economy Class is Air Calédone's only cabin class. There a number of different fares that passengers can purchase within the cabin class. These fares give extra perks such as flexible changes and refunds but do not make a difference to the in-flight experience.
Economy Class Seats
Passengers on Air Calédonie flights are given a complimentary drink at the start of the flight. Passengers then have the option to order snacks from the inflight menu, as well as hot and cold drinks. All refreshments are served by the airline's professionally trained cabin crew. Passengers also have the option to purchase items and gifts from the inflight duty-free shop.
Each passenger is given an in-flight magazine to read during the flight.
What are Economy Class Seats Like?
Seats have a pitch of 30 inches and are set out in a 2 x 2 formation.
---
Alternative Airlines to Air Calédonie
Please click on the logos below to find out more about airlines that fly similar routes to Air Calédonie:
---
Air Calédonie Routes
Air Calédonie flies to the following destinations, from Nouméa Magenta Airport:
Moue Airport - The Isle of Pines
Ouloup Airport - Ouvéa (Loyalty Islands)
Wanaham Airport - (Loyalty Islands)
La Roche Airport - (Loyalty Islands)
Koné
---
Air Calédonie Hub Airport
Nouméa Magenta Airport
Nouméa Magenta Airport is located on the island of New Caledonia, near the capital of Noumea. It is a domestic airport, with 2014 seeing it handle nearly 450,000 passengers. It provides passengers with Shops, Restaurants, Free WiFi, ATM, mailbox and phone services.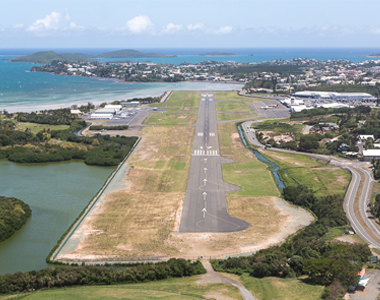 Photo Accreditation: Maloff1
---
Air Calédonie Fleet

ATR 72-600
---
Buy Discounted Air Calédonie Tickets at Alternative Airlines
---
Air Calédonie News
16th February 2018
Air Loyauté flights may be disrupted as cyclone ventures nearer: Air Caledonie put on additional flights to transport passengers from the Isle of Pines
Cyclone Gita has caused a maximum level 2 alert in parts of New Caledonia. This means the islands' residents have to stay indoors until the alert is lifted. Mr Diver said people were remaining vigilant and in Noumea the strongest impact of the cyclone was expected to be felt this evening. Noumea is where the airport hub for Air Loyauté is situated. This has caused Air Loyaute, which flies to the Loyalty Islands to cancel today's flights. Air Caledonie put on additional flights to transport passengers from the Isle of Pines, where the airport is now closed, while Noumea's Magenta Airport remains closed.
"We do expect some storm surges in this. And since it's a category three system it's also a hurricane," Mr Prasad said. "It's a category three system that is heading towards them, and we are expecting damages to infrastructure too." Mr Prasad said on its current track the cyclone was likely to impact New Caledonia for the next 30 to 48 hours.