Search & Buy Air Vanuatu Flights
Airlines will always try to sit children with their parents (subject to check-in)
Some airlines will allow travel for unaccompanied minors. Please email us to check.
The fare is based on the child's age on the date of travel.
More detailed information can be found here Traveling with children
Most airlines will let infants travel with their parent(s) for free. However some airlines will charge up to 10% of the adult ticket price. Click on 'Price Breakdown' to find out more.
If you are pregnant, but due before the flight departure date, please contact us once your baby is born and has a name. We can then add him/her to your ticket.
Infants will not be given a seat. The airlines expect parents to travel with them on their lap.
Airlines regard infants as being under 24 months old.
The fare is based on the child's age on the date of travel.
More detailed information can be found here Traveling with children
Buy
Air Vanuatu

Flights
Air Vanuatu Reservations with Alternative Airlines
Make an Air Vanuatu Booking and Find Some Amazing Deals
---
About Air Vanuatu
Air Vanuatu is an airline based in Vanuatu and is the country's flag carrier. Air Vanuatu flies to many destinations including Craig Cove, Lamap, Norsup, Paama, South West Bay, Longana, Naone, Redcliffe, Anatom, Aniwa, Auckland, Brisbane, Honiara, Luganville, Nadi, Melbourne, Noumea, Port Vila, Suva and Sydney. Air Vanuatu has codeshare agreements with Air New Zealand, Fiji Airways (formerly Air Pacific) and Qantas. If you're looking for airlines that fly around New Caledonia, please visit our Air Loyaute and Air Calin pages.
The airline operates flights to Australia, New Zealand and many points within South Pacific.
Air Vanuatu allows passengers to see the outer islands of Vanuatu with Air Vanauatuc, our flights to /from Santo and Tanna Island are operated by ATR72-500 aircraft. All flights to / from Noumea (New Caledonia) and Fiji are operated by ATR 72-500 aircraft which each have 69 seats.
---
Air Vanuatu Baggage
Air Vanuatu entitles passengers in:
Business Class to 30kg checked luggage and 23kgs, 2 pieces of cabin luggage
Economy Class to 23kgs on International flights and 1 piece of cabin luggage
For passengers originating in Vanuatu, the allowance is 10kg and for passengers travelling to and from Australia, New Zealand using an Air Vanuatu or Qantas International Flights, travelling on ATR-72 operated flights only 23kgs apply.
For passengers travelling from or to Australia or New Zealand, using any other international flight 10kgs applies.
---
Air Vanuatu Frequent Flyer Program
Air Vanuatu offers Qantas Frequent Flyers the opportunity to earn Qantas Frequent Flyer Points on any Air Vanuatu operated service, booked with an Air Vanuatu flight number.
Passengers may also book reward flights on Air Vanuatu; reservations for these must be made directly with Qantas.The Qantas Frequent Flyer offers frequent travellers a range of benefits and the more you fly with Air Vanuatu and other airline partners, the more points you will be able to earn.
---
Air Vanuatu Route Map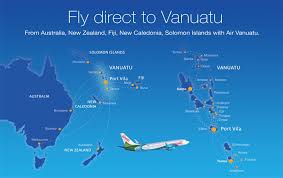 ---
Air Vanuatu Popular Routes
Santo

Port Villa
Banks

Torres
Aniwa

Tanna
Melbourne

Port Vila
Honiara

Santo
Noumea

Port Vila
---
Economy Class
Service onboard reflects the warm and friendly Melanesian culture from the moment you enter the plane and throughout your flight.
Economy Class Facilities
Passengers can enjoy the inflight entertainment on board economy class, which includes free wifi on some aircraft which allows passengers to stream Vanuatu entertainment app which includes TV shows, films, documentaries and radio. On flights to/from Australia and NZ, the ticket price includes baggage, meals, drinks and entertainment.
Economy Class Seats
The leather seats onboard are set up in a spacious 3 x 3 set up which allows passengers their own space to relax and enjoy the flight.
---
Business Class
Business Class passengers enjoy the same entertainment system that economy class enjoy, with a intricate and delicious meal.
Business Class Facilities
The meal provided on business class consists of 5 courses, starting with canapes. Drinks such as French Champagne and wine are served throughout the flight, and with your meal to compliment the flavours.
What are the Business Class Seats Like?
Domestic seats are more luxurious and spacious, with a separate cabin at the front of the plane to allow passengers peace to relax in business. The seats have a 2 x 2 configuration, allowing more space between seats to the side and plenty of legroom.
---

Air Vanuatu Fleet
ATR 72-500
Boeing 737-800
Harbin Y-12
Boeing 737-800YJ-AV1
---
Air Vanuatu Hub Airport
Bauerfield International Airport
Bauerfield International Airport is an airport located in Port Vila, Vanuatu. The airport serves as the hub for Vanuatu's flag carrier airline, Air Vanuatu. Other airlines which fly to and from this airport include Aircalin, Air New Zealand, Air Niugini, Fiji Airways and Solomon Airlines. The airport has one runway.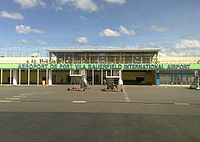 ---
Alternative Airlines to Air Vanuatu
---
Air Vanuatu News
18th May 2018
Air Vanuatu contemplate expanding B737 fleet
CEO and Managing Director of Air Vanuatu has revealed the airline is thinking about growing out its B737 fleet next year. Initial ideas include dry-leasing either a B737-800 or a B737-700 on a contract of at least five years for mid-2019. Joseph Laloyer has said that the jet would expand Air Vanuatu's network, increasing the amount of times that they fly existing routes, while also looking to fly to new routes in Australia and the surrounding area.
The airlines fleet currently consists of one existing B737-800, one ATR72-500, one ATR72-600, three DHC-6-300s, and two Islander aircrafts. With the new B737, Laloyer highlighted Melbourne Tullamarine as a potential destination they will look to fly to.
9th May 2018
Air Vanuatu jet deemed safe to fly after volcanic ash appears in atmosphere
National flag carrier of Vanuatu, Air Vanuatu, have announced that they will restart operations to Longana airport (LOD) after they stopped services due to the presence of volcanic ash in the air around the area.
CEO Joseph Laloyer stated, "The airline's non-turboprop aircraft, the Islander, has been deemed safe to fly to Logana by our flight operations, engineering and safety systems departments, subject to daily ash reports from the island."
However, the carrier will temporarily stop using he DH6-6-300 turopoprop aircraft on flights to Longana until they are certain that the jet is safe to fly.
21st February 2018
Founder of Air Vanuatu attempts to set up new airline
Four months ago, Bill Ravel, a New Caledonia-based businessman lodged an application to set up a new airline, called Islands, to compete against Air Tahiti. The new company has told Tahiti-infos that it has received no official reply and now wants the court to formalise the apparent rejection. It also said that there was no legal obstacle to be issued a license. Mr Ravel, who founded Air Calin and Air Vanuatu, wants to use Embraer aircraft to fly to the territory's five archipelagos, undercutting Air Tahiti's fares by 15 to 20 percent. He also said the plan was also to fly to the Cook Islands twice a week and to Samoa three times a week. Last year, transport minister Luc Faatau said he feared the new airline would only fly to the most lucrative destinations, such as Bora Bora. He said additional taxes may then have to be levied to sustain unprofitable flights operated by Air Tahiti to many of the 40 smaller islands.
---