Airlines operating

biofuel operated

flight
The first-ever flight using a blend of biofuel took off in 2008. In the 10 years + since, there have been over 150,000 flights that have used biofuels. The following are airlines which have used biofuel in their commercial flights:
Lufthansa committed to a programme of long-term testing of biofuels, from July - December 2011. This was undertaken on their Airbus A321 aircraft, and cost a 6.6 million euro investment. In 2014, the airline commenced further testing of biofuels, and further again in 2016. in February 2019, the airline signed a letter of intent for the production and use of environmentally friendly synthetic kerosene.
Scandinavian Airlines have operated a few biofuel flights on Boeing aircraft, using waste vegetable oil from cooking oil. One of these was also the first commercial flight from Arlanda Airport, which is also one of the worlds most eco-friendly airports.
KLM have trialled many biofuel flights since the first commercial flight in June 2011 using waste vegetable oil where it carried 171 passengers from Amsterdam to Paris, but also some since in 2013, 2014 and 2016.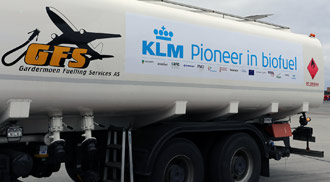 This airline announced that in 2019, they had fuelled more than 700 flights using biofuel Gevo. This is a commitment to regular flights using biofuel, and working towards a more sustainable aviation industry.
Virgin Atlantic was also working towards sustainable biofuel alternatives, such as those derived from waste gases of steel mills.
This Brazillian airline announced that they will be trialling a new jet fuel made from Brazillian sugarcane. Although still in testing stages, it is expected to be a sustainable fuel and reduce greenhouse gases.
British Airways have worked with Velcys to convert household waste into jet fuel, and have tested with regular flights.