Fuzhou Airlines Tickets and Reservations with Alternative Airlines
Book Your Fuzhou Airlines Flight Tickets and Find Some Amazing Deals
---
About
Fuzhou Airlines is a Chinese airline headquartered at Fuzhou Changle International Airport (FOC), Fuzhou, Fujian province, China. It is a subsidiary of Hainan Airlines — one of China's largest airlines.
Fuzhou Airlines was founded in 2012 and began operating in 2014 and received its Air Operations Certificate (AOC) from the Civil Aviation Administration of China (CAAC). Fuzhou Airlines flies to eight domestic Chinese cities which include: Kunming, Chongqing, Hefei, Haikou, Tianjin, Shanghai-Pudong and Xi'an.
The airline plans to expand its routes to over 12 domestic cities, and it is also part of the HNA group, a company that has Hainan Airlines, Grand China Air (previously Shanxi Airlines), Air Chang'an, Beijing Capital Airlines, GX Airlines, Suparna Airlines and many other Chinese airlines as subsidiaries.
Fuzhou Airlines consists of Boeing 737 MAX 8, Boeing 737-800s and Embraer 190s which are in delivery.
---
The Fleet

Fuzhou Airlines fleet is exclusively Boeing aircraft. The airline currently has over 16 aircraft, 14 of which are Boeing 737-800 models, which has a capacity to hold 187 passengers per aircraft. The rest of the fleet is made up by Boeing 737 MAX 8s. Fuzhou Airlines is looking to add 20 Embraer 190 aircraft to its fleet in the near future. Whether these will replace the existing Boeing aircraft or will be an addition the fleet is unknown.
---
Destinations
| CITY | AIRPORT | IATA |
| --- | --- | --- |
| Chongqing | Chongqing Jiangbei International Airport | CKG |
| Kunming | Kunming Changshui International Airport | KMG |
| Haikou | Haikou Meilan International Airport | HAK |
| Hefei | Hefei Xinqiao International Airport | HFE |
| Taiyuan | Taiyuan Wusu International Airport | TYN |
| Tianjin | Tianjin Binhai International Airport | TSN |
| Xi'an | Xi'an Xianyang International Airport | XIY |
| Shanghai Pudong | Shanghai Pudong International Airport | PVG |
---
Baggage Allowances
Carry-on Baggage
Fuzhou Airlines passengers are permitted to a piece of cabin baggage of a maximum weight of 7kg (15.4lb)
Checked Baggage
Fuzhou Airlines passengers are permitted a free checked baggage allowance of 20kg (44lb), and infants are permitted 10kg (22lb) of free checked baggage.
Any baggage in excess of the weight requirements will be subject to an excess baggage fee.
---
Book Fuzhou Airlines Tickets in English
Book Fuzhou Airlines flights in English when you make a reservation with Alternative Airlines. We understand the importance of being able to make a flight reservation in a language you fully understand. Ensure there are no mistakes made because of language barriers when you buy your Fuzhou Airlines flights in English with Alternative Airlines.
---
Route Map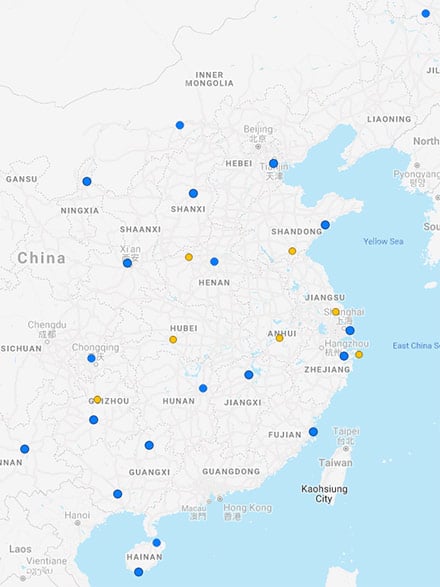 ---
Hub Airport
Fuzhou Changle International Airport
Fuzhou Changle International Airport (FOC) is located in Fuzhou, the capital of Fujian province in China. It is near the Taiwan Strait in Zhanggang Subdistrict, Changle, nearly 50km east of Fuzhou's city centre. The airport opened in 1997 and handles over 6.5 million passengers annually. Fuzhou Changle International Airport (FOC) was originally a dual-use military and civil airport and was re-designed by a Singaporean based architecture company. Other airlines that serve the Airport include Chengdu Airlines, China United Airlines, Cathay Dragon, Colorful Guizhou Airlines, Lucky Air, Hebei Airlines, Maldivian, Okay Airways, Shandong Airlines, Shanghai Airlines, Far Eastern Air Transport and Ruili Airlines.
---
News
10th December 2018
Fuzhou Airlines expands fleet with B737 MAX 8
Fuzhou Airlines has expanded its fleet with the intake a singular Boeing B737 MAX 8. The B737 MAX 8 will join Fuzhou Airlines' fleet that is already made up exclusively of Boeing aircraft. At this time, Fuzhou Airlines are expected to only take in this one Boeing B737 MAX 8, with the delivery of a number of Embraer E-190-E2 aircraft expected in the early stages of 2019.