Air Chang'an Reservations with Alternative Airlines
Make an Air Chang'an Booking and Find Some Amazing Deals
---
About Air Chang'an
Air Chang'an is a Chinese airline, which operates Chinese domestic flights from its hub at Xian International Airport in the Shaanxi province. Air Chang'an flies to many destinations in China including Changchun, Changsha, Dalian, Fuzhou, Guilin, Guiyang, Haikou, Hefei, Hohhot, Lianyungang, Mianyang, Nanchang, Sanya, Shenyang, Shijiazhuang, Tongliao, Wenzhou, Xi'an, Xining, Yichang, Yinchuan and Zhuhai.
Established in 1992, Air Chang'an has an interesting history as it was merged with Hainan Airlines in 2000. In October 2002, Chang'an Airlines was further merged to be operated by Hainan Airlines with Xinhua Airlines and Shaanxi Airlines together sharing the IATA code and airlines logo.
---
Air Chang'an Fleet
The Air Chang'an fleet includes 10 Boeing 737-800.
---

Air Chang'an Hub Airport
Xi'an Xianyang International Airport
Air Chang'an is based at Xi'an Xianyang International Airport which is the main airport serving China's Shaanxi province. The airport is one of the largest in Northwest China. Airlines such as Air China, Cathay Dragon, China United Airlines, Garuda Indonesia, Loong Air, Lion Air, Joy Air, Okay Airways, 9 Air and Sichuan Airlines operate flights to the airport.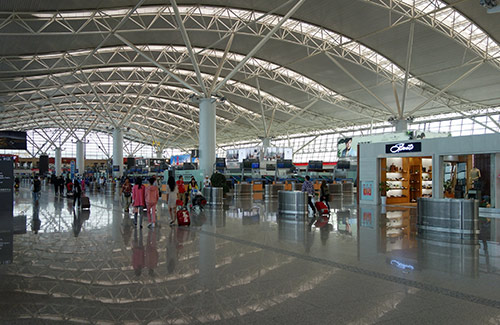 Photo credit: 颐园新居
---
Air Chang'an News
May 2016
Air Chang'an began operating as an independent airline in May 2016.
The airline rebranded as its original name and unveiled its own livery. After receiving its air operator's certificate in April 2016, Air Chang'an resumed operations as an independent airline on 9 May 2016. The inaugural flight was from Xi'an to Zhuhai. Air Chang'an has three Boeing 737-800s in its fleet. Hainan Airlines' subsidiary Chang'an Airlines has resumed independent operations instead of merging with Hainan Airlines, Xinhua Airlines and Shanxi Airlines. The Xi'an-based carrier is expected to launch its inaugural flight in May and will operate a Boeing 737-800 initially on routes from Xi'an to the cities along China's Silk Road. Chang'an Airlines started formal operations in 1993 and merged with Hainan Airlines in August 2000.
In December 2016, Air Changan, HNA Group's newly-launched airline in Xi'an, has received permission to expand its domestic flight operations. Under the terms of its upgraded Air Operator's Certificate, issued by the Civil Aviation Administration of China (CAAC), the airline will now be able to set up new operating bases in other Chinese cities.
---