Shanxi Airlines Reservations with Shanxi Airlines
---
About Shanxi Airlines
In 2007, Shanxi Airlines merged with China Xinhua Airlines and Chang An Airlines to become Grand China Air.
Shanxi Airlines was a Chinese airline based at Taiyuan Wusu International Airport that began operations in 2001. The carrier merged with Chang An Airlines and China Xinhua Airlines to form Grand China Air in 2007, as part of a brand consolidation strategy by parent company HNA Group. Grand China Air is owned by Hainan Airlines and operates services under Hainan Airlines' 'HU' code. Therefore, the airline has the same route network as Hainan Airlines.
---
Shanxi Airlines Fleet
Under the Shanxi Airlines name, Shanxi Airlines' fleet operated its domestic scheduled passenger services with a mix of Boeing and Dornier aircraft. At the time of the merger with Chang An Airlines, the airline had 3 Boeing 737-700 aircraft, 3 Boeing 737-800 aircraft and 2 Doriner 328 Jet aircraft.
---
About Hainan Airlines
Hainan Airlines Group (HNA) is a large privately-owned airline group based in Hainan, China which owns Grand China Airlines (previously Shanxi Airlines). Originally founded in 1989, Hainan Airlines is part of Chinese conglomerate HNA Group, and together with its affiliates, the Hainan Airlines Group operates an extensive network of domestic and international services from its main hub at Haikou Meilan International Airport. Hainan Airlines is based in Hainan, China and operates service to many destinations includes Abu Dhabi, Aksu Airport, Almaty, Ankang, Anshan, Baise, Bangkok, Baotou, Beijing, Berlin, Chengdu, Chicago, Chifeng, Chita, Changzhi, Guangzhou, Guiyang, Guilin, Haikou, Jiamusi, Jinan, Jinzhou, Nanjing, Paris, Phuket, Paris and many others.
In 2013, Hainan Airlines retained the "Skytrax 5-Star Airline Company" title for a third year in a row and in February 2016, was listed as one of World's Top 5 safest airlines by JACDEC. Hainan Airlines has codeshare agreements with many airlines including Air Berlin, American Airlines, Brussels Airlines, EVA Air, Garuda Indonesia, Hong Kong Airlines, Korean Air, S7 Airlines. Hainan Airlines is one of the seven Asian airlines rated as 5-star by Skytrax, along with All Nippon Airways, Asiana Airlines, Cathay Pacific, Garuda Indonesia, Qatar Airways and Singapore Airlines. Hainan Airlines' fleet consists of Boeing 787 Dreamliner, Airbus A330-200, Airbus A330-300, Boeing 787-800 and Boeing 737-700.
---
Hainan Airlines Route Map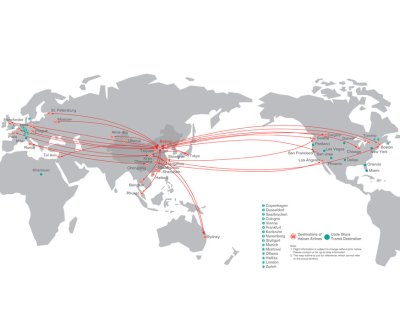 ---
Shanxi Airlines Hub Airport
Taiyuan Wusu International Airport
Shanxi Airlines was based at Taiyuan International airport, in Taiyuan in the Shanxi province of China. The airport is able to handle around six million passengers a year. It is a focus city for China Eastern Airlines and Hainan Airlines.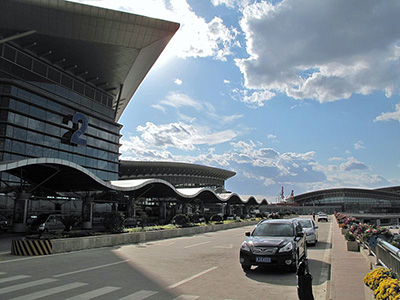 Photo credit: Francisco Anzola
---