Suparna Reservations with Alternative Airlines
Make a Suparna Booking and Find Some Amazing Deals
---
About Suparna
Suparna Airlines is an airline owned by the HNA group that is headquartered in Pudong, Shanghai. Suparna Airlines operated its first flight between Shanghai and Sanya in 2015, it now operates flights to destinations such as Shanghai, Prague, Luxembourg, Shanghai, Amsterdam, Dallas, Los Angeles and Novosibirsk. The HNA group is affiliated with a number of other airlines including Air Chang'an, Beijing Capital Airlines, Fuzhou Airlines, Hainan Airlines among others.
Suparna previously operated under the names Yangtze River Expres and Yangtze River Airlines.
---
Suparna Fleet
The Suparna fleet is made up of entirely Boeing aircraft, with around 25 aircraft in total that are used for passengers services and cargo. Within their passenger fleet, Suparna uses 9 different Boeing 737-800 aircraft to operate services. In February 2019, Suparna took delivery of its first B787-9 aircraft. The new jet will be used on its daily flight service from Shanghai Pudong and Sanya and between Zhengzhou and Sanya.
---
Book Suparna Flights in English
With Alternative Airlines you can book your Suparna flights in English! Alternative Airlines provides you with a safe and secure booking service in English. You can also contact our dedicated customer service team with any of your queries about your Suparna reservation. Find Suparna flights in English today.
---
Suparna Baggage
Carry-on Baggage
For domestic flights around China, the maximum baggage allowance for passengers flying with Suparna, or any other flight operated by the HNA group, is 5kg. Maximum dimensions must not exceed 20cm x 40cm x 55cm. First Class passengers are permitted to carry two bags each meanwhile Economy Class passengers are allowed one bag. For flights departing from the US, only one piece of carry-on baggage is allowed per passenger weighing no more than 10kg with total dimensions of no more than 115cm.
Carry-on Baggage
Business Class passengers are permitted 32kg and Economy Class passengers are permitted 23kg.
---
Suparna Check-In Information
Online Check-In
Online check-in can be completed on the Suparna online check-in page. Passengers who have a Suparna Airlines booking must enter their personal and flight details on the page to check-in.
Airport Check-In
Passengers can check-in for their Suparna Airlines flight at the airport by visiting a Suparna check-in agent at the airport of departure. Airport check-in opening times differ depending on which airport of departure, but generally, check-in opens 2 hours—90 minutes before flight departure time and closes 45 minutes—30 minutes before.
---
Suparna Hub Airport
Shanghai Pudong International Airport
Suparna Airlines is based at Shanghai Pudong International Airport which is one of the two international airports in Shanghai. With a third terminal planned, it is hoped that the airport will be able to handle 80 million passengers per year in the near future. The airport is a hub for China Eastern Airlines as well as Shanghai Airlines.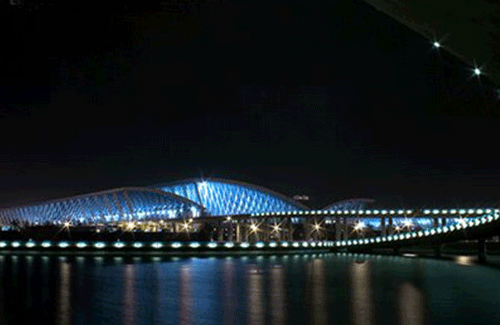 Photo credit: Alex Needham
---
Suparna Airlines Class Information
Suparna provides passengers with a comfortable and enjoyable flight, with friendly staff who will attend to your every need. Passengers get generous baggage allowance, with specific service on board depending on the route flying.
---