Hong Kong International Airport | HKG
Airlines will always try to sit children with their parents (subject to check-in)
Some airlines will allow travel for unaccompanied minors. Please email us to check.
The fare is based on the child's age on the date of travel.
More detailed information can be found here Traveling with children
Most airlines will let infants travel with their parent(s) for free. However some airlines will charge up to 10% of the adult ticket price. Click on 'Price Breakdown' to find out more.
If you are pregnant, but due before the flight departure date, please contact us once your baby is born and has a name. We can then add him/her to your ticket.
Infants will not be given a seat. The airlines expect parents to travel with them on their lap.
Airlines regard infants as being under 24 months old.
The fare is based on the child's age on the date of travel.
More detailed information can be found here Traveling with children
Hong Kong International Airport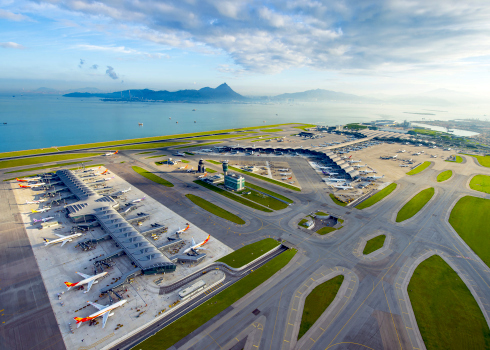 Hong Kong International Airport (IATA: HKG), is a major commercial airport serving Hong Kong and Pearl River Delta. The airport is also known as Chek Lap Kok Airport, where it takes its name from the island it's built on; the Isle of Chek Lap Kok.
Since opening in 1998, the airport has been an important regional trans-shipment centre, passenger hub and gateway for destinations in Mainland China (with 45 destinations) and the rest of Asia. The airport is the world's busiest cargo gateway and one of the world's busiest passenger airports. It is also home to one of the world's largest passenger terminal buildings and was the largest when it opened.
Hong Kong International Airport is the primary hub for four passenger service airlines: Cathay Pacific, Cathay Dragon, Hong Kong Airlines and Hong Kong express—as well as a hub to 12 airlines offering cargos services. The airport acts as a focus city for low-cost carriers China Airlines, Singapore Airlines, Air India and Emirates.
The airport operates 24 hours a day with a 65,000 around employees. More than 100 airlines operate flights from the airport to over 180 cities around the world. In 2015, Hong Kong International Airport handled 68.5 million passengers, making it the 8th busiest airport worldwide by passenger traffic. Since 2010, it exceeded Memphis International Airport to become the world's busiest airport by cargo traffic.
Airport Location
The airport is located 20 miles (32.2 km) West of Hong Kong:
Facilities
Hong Kong International Airport has outstanding services on offer to meet all its passenger's shopping, dining and service needs.
Facilities Include:
Nursing Rooms
Prayer Rooms
Free Wi-Fi
Banks, ATM's, and currency exchange
Shower Facilities
Smoking Lounges
Caring Corner
Wheelchair Assistance
Lounges Include:
Centurion Lounge: amenities include TV, food and drinks, WiFi, showers, wine, spirits and liquor, newspapers and magazines.
Plaza Premium First Lounge: One of the airport's premium first lounge service lounges offers food, hot and cold drinks, TV, WiFi, Showers, Newspapers, Magazines, Spa and Massage.
Plaza Premium Lounge (Arrivals): This terminal 2 lounge is for arrivals offering food and drinks, WiFi, showers. Private rooms and spa services available, for an additional fee
Plaza Premium Lounge (East Hall): amenities include food and drinks, newspaper and magazines, TV, WiFi, seated massage, power outlets, and shower facilities.
Plaza Premium Lounge (West Hall) offers a good range of amenities: a hot shower, food and drinks, comfortable seating, WiFi, Newspapers and Magazines. Spa services and private rooms are available for an additional fee.
Qantas Club: facilities include alcoholic and non-alcoholic drinks, showers, WiFi, Apple computers, magazines and newspapers.
United Club offers WiFi accessibility, snacks, hot and cold beverages as well as a selection of beer, wine and spirits.
Runways
Hong Kong International Airport has two runways, which both run parallel and aligned. The 07L/25R runway is located to the north of the terminal whereas the 07R/25L runway is located to the south of it.
Departures: 07R/25L
Arrivals: 07L/25R
Terminals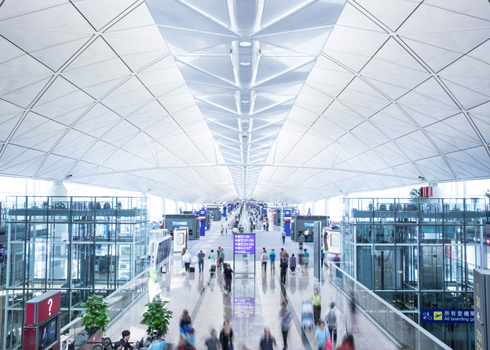 The airport hosts two terminals, Terminal 1 and Terminal 2, where all passengers check-in and claim bags.
Terminal 1
Terminal 1 is located west to Terminal 2 which are both located east side of the airport. This terminal is the third largest airport passenger terminal building in the world. Terminal 1 offers counter check-in as well as self-check-in
Terminal 2
Terminal 2 is only a check-in and processing facility for departing passengers with no gates or arrival facilities (passengers are transported underground to gates at Terminal 1). However, most low-cost carriers and some full-service airlines have relocated their check-in operations to Terminal 2. Terminal 2 also hosts SkyPlaza which is a large entertainment and retail centre.
Airlines that fly to Hong Kong International Airport
The following airlines are Hong Kong International Airport's Hub airlines:
The following airlines fly to Hong Kong International Airport:
Airline
Destinations
Aeroflot
Moscow-Sheremetyevo
AirAsia
Kota Kinabalu, Kuala Lumpur–International
Air Astana
Almaty
Air Busan
Busan
Air Canada
Toronto–Pearson, Vancouver
Air China
Beijing–Capital, Chengdu, Chongqing, Dalian, Tianjin, Yinchuan. Seasonal: Yuncheng
Air France
Paris–Charles de Gaulle
Air Mauritius
Mauritius
Air New Zealand
Auckland
Air Niugini
Port Moresby
Air Seoul
Seoul–Incheon
Air Nippon Airways
Nagoya–Centrair, Osaka–Kansai, Tokyo–Haneda, Tokyo–Narita
American Airlines
Dallas/Fort Worth, Los Angeles
Asiana Airlines
Seoul–Incheon
Bangkok Airways
Koh Samui
British Airways
London–Heathrow
Cathay Dragon
Bengaluru, Beijing–Capital, Busan, Changsha, Chengdu, Chiang Mai, Chongqing, Clark, Da Nang, Davao, Denpasar/Bali, Dhaka, Fukuoka, Fuzhou, Guangzhou, Guilin, Haikou, Hangzhou, Hanoi, Jeju, Jinan, Kaohsiung, Kathmandu, Kolkata, Kuala Lumpur–International, Kunming, Medan, Naha, Nanjing, Nanning, Ningbo, Penang, Phnom Penh, Phuket, Qingdao, Sanya, Shanghai–Hongqiao, Shanghai–Pudong, Siem Reap, Taichung, Taipei–Taoyuan, Tokyo–Haneda, Wenzhou, Wuhan, Xi'an, Xiamen, Yangon, Zhengzhou. Charter: Komatsu. Seasonal: Tokushima
Cathay Pacific
Adelaide, Amsterdam, Auckland, Bahrain, Bangkok–Suvarnabhumi, Barcelona, Beijing–Capital, Boston, Brisbane, Brussels,, Cebu, Chennai, Chicago–O'Hare, Colombo, Delhi, Denpasar/Bali, Dubai–International, Dublin, Frankfurt, Ho Chi Minh City, Hyderabad, Jakarta–Soekarno–Hatta, Johannesburg–O.R. Tambo, Komatsu, London–Gatwick, London–Heathrow, Los Angeles, Madrid, Malé, Manchester, Manila, Melbourne, Milan–Malpensa, Mumbai, Nagoya–Centrair, New York–JFK, Newark, Osaka–Kansai, Paris–Charles de Gaulle, Perth, Rome–Fiumicino, San Francisco, Sapporo–Chitose, Seattle/Tacoma, Seoul–Incheon, Shanghai–Pudong, Singapore, Surabaya, Sydney, Taipei–Taoyuan, Tel Aviv, Tokyo–Haneda, Tokyo–Narita, Toronto–Pearson, Vancouver, Washington–Dulles, Zurich. Seasonal: Cape Town, Christchurch
Cebu Pacific
Cebu, Clark, Iloilo, Manila
China Airlines
Tainan, Taipei–Taoyuan
China Eastern Airlines
Hangzhou, Kunming, Nanjing, Shanghai–Hongqiao, Shanghai–Pudong, Taiyuan, Wuxi, Xi'an. Seasonal: Taiyuan
China Southern Airlines
Beijing–Capital, Meixian, Shenyang, Wuhan, Yiwu
Druk Air
Charter: Paro
Eastar Jet
Seoul–Incheon
EgyptAir
Bangkok–Suvarnabhumi, Cairo
El Al
Tel Aviv
Emirates
Bangkok–Suvarnabhumi, Dubai–International
Ethiopian Airlines
Addis Ababa, Bangkok–Suvarnabhumi, Manila
Etihad Airways
Abu Dhabi
EVA Air
Taipei–Taoyuan
Aznis Airways
Ulaanbaatar
Fiji Airways
Nadi
Finnair
Helsinki
Garuda Indonesia
Denpasar/Bali, Jakarta–Soekarno–Hatta
Hong Kong Airlines
Bangkok–Suvarnabhumi, Beijing–Capital, Changchun, Chengdu, Chongqing, Denpasar/Bali, Fuzhou, Guiyang, Haikou, Hangzhou, Hanoi, Ho Chi Minh City, Kagoshima, Los Angeles, Manila, Naha, Nanchang, Nanjing, Nanning, Okayama, Osaka–Kansai, Saipan, San Francisco, Sanya, Sapporo–Chitose, Seoul–Incheon, Shanghai–Hongqiao, Shanghai–Pudong, Taipei–Taoyuan, Tianjin, Tokyo–Narita, Vancouver, Yonago. Charter: Yancheng
Hong Kong Express
Bangkok–Suvarnabhumi, Busan, Chiang Mai, Chiang Rai, Da Nang, Fukuoka, Hiroshima, Ishigaki, Jeju, Kagoshima, Kumamoto, Nagasaki, Naha (begins 26 September 2019), Nagoya–Centrair, Nha Trang, Ningbo, Osaka–Kansai, Phuket, Saipan, Seoul–Incheon, Shimojishima , Siem Reap, Taichung, Takamatsu, Tokyo–Haneda, Tokyo–Narita Charter:Zhangjiajie
IndiGo
Bengaluru, Kolkata (begins 20 August 2019)
Japan Airlines
Tokyo–Haneda, Tokyo–Narita
Jeju Air
Seoul–Incheon , Jeju
Jetstar Asia Airways
Singapore
Jetstar Japan
Osaka–Kansai, Tokyo–Narita
Jetstar Pacific Airlines
Da Nang, Hanoi
Jin Air
Seoul–Incheon
Juneyao Airlines
Shanghai–Pudong
KLM
Amsterdam
Korean Air
Seoul–Incheon
Lanmei Airlines Phnom Penh
Sihanoukville
Lufthansa
Frankfurt, Munich
Malaysia Airlines
Kuala Lumpur–International
Malindo Air
Kuala Lumpur–International
Mandarin Airlines
Kaohsiung, Taichung
MIAT Mongolian Airlines
Ulaanbaatar
Myanmar National Airlines
Yangon
Nepal Airlines
Kathmandu
Peach Aviation
Naha, Osaka–Kansai
Philippine Airlines
Manila
Philippines AirAsia
Manila
Qantas
Brisbane, Melbourne, Sydney
Qatar Airways
Doha
Royal Brunei Airlines
Bandar Seri Begawan
Royal Jordanian
Amman–Queen Alia, Bangkok–Suvarnabhumi
S7 Airlines
Irkutsk, Vladivostok. Seasonal: Novosibirsk
Scandinavian Airlines
Copenhagen
Scoot
Singapore
Shandong Airlines
Jinan, Yantai
Shanghai Airlines
Shanghai–Hongqiao, Shanghai–Pudong, Zhanjiang
Shenzhen Airlines
Quanzhou, Wuxi
Sichuan Airlines
Chengdu
Singapore Airlines
San Francisco, Singapore
South African Airways
Johannesburg–O.R. Tambo
SpiceJet
Delhi, Mumbai
Spring Airlines
Shanghai–Pudong, Shijiazhuang, Xuzhou, Yangzhou
Swiss International Air Lines
Zurich
Thai AirAsia
Bangkok–Don Mueang, Chiang Mai, Krabi, Phuket
Thai Airways
Bangkok–Suvarnabhumi
Thai Smile
Bangkok–Suvarnabhumi, Phuket
Top Destinations
Hong Kong's Most Popular Domestic Destinations
| Rank | Destination |
| --- | --- |
| 1 | Kowloon, Florida |
| 2 | Tsuen Wan |
| 3 | Yuen Long |
| 4 | Sha Tin |
| 5 | Tuen Mun |
| 6 | Tai Po |

Hong Kong's Most Popular International Destinations
| Rank | Destination | Airlines |
| --- | --- | --- |
| 1 | Bangkok, Thailand | Hong Kong Airlines, Hong Kong Express |
| 2 | Tokyo, Japan | Hong Kong Airlines, Cathay Pacific |
| 3 | Beijing, China | Cathay Dragon, Hong Kong Airlines |
| 4 | London, United Kingdom | British Airways, Virgin Atlantic |
| 5 | Singapore, Malaysia | Cathay Pacific, Jetstar Asia Airways |
| 6 | Manila, Philippines | Delta |
How to get to Hong Kong International Airport
By Taxi
Taxis offer a door to door service to and from the Hong Kong International Airport. Arriving passengers can grab a taxi at the Taxi Station, located near the left-hand ramp outside the Arrivals Hall. Between the airport and the city, in a taxi, it takes 38 minutes. Taxis are colour-coded according to their operated areas. Red taxis operate in most Hong Kong areas, Green taxis mainly operate in the north-western part of the new territories and Blue taxis only operate in Lantau Island and Chek Lap Kok.
By Bus
Hong Kong International Airport is well served by public bus routes. The buses provide a convenient and relatively inexpensive transport option. Between the airport and the city centre, it takes around 41 minutes.
By Airport Express Rail
Airport Express is the fastest service between the airport to and the city and it takes just 24 minutes. The rail service can be used to all major cities around Hong Kong.