Search & Buy MIAT Flights
Select your payment method to view total prices including any payment fees:
Airlines will always try to sit children with their parents (subject to check-in)
Some airlines will allow travel for unaccompanied minors. Please email us to check.
The fare is based on the child's age on the date of travel.
More detailed information can be found here Traveling with children
Most airlines will let infants travel with their parent(s) for free. However some airlines will charge up to 10% of the adult ticket price. Click on 'Price Breakdown' to find out more.
If you are pregnant, but due before the flight departure date, please contact us once your baby is born and has a name. We can then add him/her to your ticket.
Infants will not be given a seat. The airlines expect parents to travel with them on their lap.
Airlines regard infants as being under 24 months old.
The fare is based on the child's age on the date of travel.
More detailed information can be found here Traveling with children
Buy
MIAT

Flights
Buy MIAT Mongolian Airlines Flights Online with with Alternative Airlines
Make an Mongolian Airlines Booking and Find Some Amazing Deals with discounted MIAT tickets at Alternative Airlines
---
About MIAT Mongolian Airlines
MIAT Mongolian Airlines, commonly known as simply MIAT or Mongolian Airlines, is the Mongolian national airline and flag carrier, which is headquartered in Ulaanbaatar, Mongolia and operates to many destinations.
The only other international carrier, Hunnu Airlines, launched in 2011 with former MIAT employees. MIAT's business is highly seasonal as it caters to the peak northern summer period, which is the only main tourism season and is also when Mongolia has long holidays, allowing wealthier Mongolians to travel.
MIAT Mongolian Airlines mission is to be a leading national carrier dedicated to connecting Mongolian with the rest of the world by providing air transportation services of the highest quality, reliability and efficiency.
MIAT Mongolian Airlines fly to a number of destinations across Asia and Europe. These destinations include Ulaanbaatar, Moscow, Berlin, Frankfurt, Erlian, Beijing, Hong Kong, Seoul, Osaka and Tokyo.
MIAT Mongolian Airlines has codeshare agreements with Aeroflot and Korean Air. MIAT Mongolian Airlines has an interline Electronic Ticketing Agreement and Special Proteate Agreement with Airberlin. With these agreements MIAT Mongolian Airlines passengers have more flexibility when travelling to selected European, US and Canadian cities through Airberlin's extensive route network at very attractive prices.
MIAT Mongolian Airlines is headquartered in the MIAT building in Ulaanbaatar, the capital of Mongolia. The airline operates from its base at Chinggis Khaan International Airport in Ulaanbaatar. MIAT Mongolian Airlines in January 2016 launched a direct service to Delhi from its capital city Ulanbator by March that year. MIAT Mongolian Airlines is one of the two international Mongolian carriers in the east-central Asian country.
MIAT Mongolian Airlines' fleet consists of Boeing 737-800s with 12 seats in Business Class and 150 seats in Economy Class. In addition to MIAT's Boeing 737, they also have 2 Boeing 767-300ER's again offering a two class service. Either 18 or 25 seats in business class and 245 or 195 seats in economy (depending on the aircraft).
---
MIAT Mongolian Airlines Baggage
Carry-on Baggage
MIAT allows its passengers two pieces of carry-on baggage for Business Class with a total weight of 10 kg and one piece for Economy with a total weight of 5 kg.
Checked Baggage
MIAT allows its Business Class passengers two pieces of checked baggage at 32kg per bag and one piece of checked baggage at 23kg for Economy Class passengers.
---
MIAT Mongolian Airlines Check-In
Online Check-In
Unfortunately, MIAT Mongolian Airlines do not offer online check-in. However, you can check-in at the airport.
Airport Check-In
MIAT Mongolian Airlines recommend that passengers arrive at the airport 2 hours and 30 minutes before their flight departures as to leave enough time to check-in and go through security.
---
Alternative Airlines to MIAT
Please click on the logos below to find out more about airlines that fly similar routes to Mongolian Airlines:
---
MIAT Mongolian Airlines Frequent Flyer Program
MIAT operates a frequent flyer program called Blue Sky Mongolia to reward regular travellers with MIAT Mongolian Airlines. Blue Sky Mongolia program provides its members with opportunities to earn Blue Sky miles and earn substantial opportunities to get bonus miles during promotion campaigns. To ensure passengers receive these advantages, passengers should present their membership card when making reservations and check-in for flights.
---
MIAT Mongolian Airlines Airline Partners and Alliances
MIAT Mongolian Airlines have codeshare agreements with Hong Kong airline, Cathay Pacific. This partnership allows MIAT to place OM code on Cathay Pacific flights between Hong Kong and Perth, Melbourne, Sydney and Brisbane, Australia and Singapore. On other hand, Cathay Pacific will place CX code on MIAT Mongolian Airlines operated flights between Ulaanbaatar and Hong Kong.
---
Buy Discounted MIAT Tickets at Alternative Airlines
---
MIAT News
5th January 2018
MIAT Mongolian Airlines will not make any route applications to China until the end of March
MIAT Mongolian Airlines is one of many that have been mandated to cease adding more scheduled services, charters and route applications over Chinese airspace. The Civil Aviation Administration of China (CAAC) has imposed this regulation until March.
7th September 2017
The shape of things to come: Tamir Tumurbaatar, MIAT Mongolian Airlines
Tamir Tumurbaatar, President and CEO of MIAT Mongolian Airlines, tells Graham Newton about the massive changes looming on the airline's horizon
Are the business plans you put in place for the airline proving successful?
We have made a small profit for the past two years, which is related to the success of the mid-term business plan that started in 2014.
Until 2012, Mongolia was experiencing double-digit economic growth. But commodity prices dropped and, as we are an extraction economy, our growth understandably levelled out. But prices are starting to go up again, and we are seeing renewed investment in the country.
That has sparked a revival in traffic and the first quarter 2017 passenger figures are very positive.
Basically, the mid-term business plan was about cutting unnecessary expenses and enhancing our sales through the expansion of our distribution channels and the development of new products and services.
We joined ARC in 2015, which was a major step forward as that made our seats available in all the major online travel agencies. We also improved our Chinese coverage, which, of course, is a very important market for us. By 2020, there will be 200 million outbound Chinese tourists.
At the moment, there are fewer than one million visitors to Mongolia each year from all countries. So, clearly the potential for increasing inbound traffic from our nearest neighbor is huge.
It must be admitted that the relatively low fuel prices have also been extremely important to our turnaround too. We have to import all our fuel, which means it is a much higher percentage of cost than it is for most airlines.
How will you build on this platform?
We currently operate a fleet of six aircraft and we have four Boeing 737-8 MAX on order to be delivered in 2019 and 2020. These will be used for replacement and expansion.
We are also transitioning our passenger service system to an Amadeus platform, which we think will give us greater flexibility and opportunities in the future.
The link between these two major transformation programs is a desire to improve the customer experience. We want to be a four-star SkyTrax carrier. But, just as crucial to our long-term plans, we want to achieve that without increasing our overall budget.
The emphasis on keeping control of our costs will remain. That discipline must not be lost even when you're making money.
And always the key to a successful airline is being safe. We have to renew our IATA Operational Safety Audit and IATA Safety Audit for Ground Operations registrations in 2017 and that must be our main focus. Even with all the other work going on, safety is far and away the top priority.
Can niche carriers survive in the modern aviation market?
We are a small airline. We have six aircraft and fly to seven international destinations. We are 100% state-owned. But we have never had a subsidy from the government.
It is never a good idea for politics and business to mix. That means it is essential for us to find a way to thrive in a competitive market.
One idea is to increase frequency on existing routes. These are routes where we have market presence and our brand is known. That will keep us strong.
Then, the expansion of the network will come mainly through partnerships with other airlines. We are still looking at how we might deploy our new aircraft. In Europe, for example, we would want a hub that offers excellent onward connections.
The choice of the European hub and the choice of an airline to partner with go hand-in-hand. We will look at all the possibilities.
It will also be prudent to diversify our revenue sources. Previously, 90% of our revenue came from passenger transportation and that made us extremely vulnerable to external shocks. Now, we are developing our ground handling, our maintenance division, and our cargo.
Are you getting the help you need from partners in the aviation value chain?
The airline is getting a lot of support. There is going to be a new Ulaanbaatar International Airport next year, for example. That will be very useful in developing each of the new revenue segments.
Of course, when you factor in the new airport with the new aircraft and the new IT system, you can see that the airline is undergoing a major transition. To ensure we don't lose sight of our goals, new products and services must be perfectly aligned with the main areas of growth.
The airline must appeal to the corporate sector for routes to Hong Kong and Seoul, where we are already strong and we are working closely with the government to boost tourism to the country.
The Civil Aviation Authority of Mongolia has also played its part in helping us improve our operational efficiency and reducing greenhouse gas emissions.
The implementation of performance-based navigation routes is estimated to provide annual reductions of some 240,000 nautical miles, 24,000 flight minutes, and 2,250 tons of fuel burn compared with the previous infrastructure.
So how far and how fast can the airline grow?
There has to be a balance between exploring new opportunities and ensuring MIAT remains relevant to the markets it serves.
The country's civil aviation policy is to open up the aviation market step by step. We need to be prepared. But we think we have an advantage in the expertise we have in the Mongolian market. We have been flying here for more than 60 years and the knowledge we have will be hard for a competitor to replicate.
We are a small market but our strategy is looking at how to develop the regions and not just Ulaanbaatar. Mongolia is a landlocked country between Russia and China.
We need to help the country develop its economy. Because although the airline may be small in world terms, in Mongolia we are one of the major companies.
That means we have a responsibility to make a contribution to the country and to make air transport affordable so that the country can reap the full benefits of air connectivity.
Is MIAT able to be an actor on the global aviation stage?
We would always like to have more attention. It is important for smaller carriers to be able to influence global thinking in the industry.
Issues, such as safety, affect us all. And while we are a small carrier and the Mongolian aviation market is small, this is a big country.
In airspace terms, we are a big player. Our air traffic control is of a global standard and we have no problems in setting up new routes.
Will trends in the industry help or hinder your performance?
I have mixed feelings about trends in the industry. There is real potential in the consolidation and mergers that we see taking place in many other regions.
But, as a small, state-owned carrier, it is very hard for us to position ourselves correctly to be able to take advantage of any opportunities. And even in Mongolia we are feeling the impact of low-cost carriers coming in to take market share.
Finding the right strategy with so many challenges is hard.
What is clear to me is that traditional routes, traditional marketing, and traditional processes are not working any more. An airline must be creative and think about the business in new ways.
As mentioned, when we look at our European destination we are also thinking about finding the right partner.
The strategy must be cohesive and yet explore new avenues all the time. We always work hard to innovate and think creatively.
3rd April 2017
MIAT Mongolian Airlines will lease two Boeing 737 Max 8 aircraft from Avolon
The carrier will place the jets into service in early 2019, says Boeing. It will operate the new aircraft on existing routes to South Korea, China, Japan, Russia, Germany and other new routes. The airline is an all-Boeing operator. The carrier said in 2015 it will defer orders for two 737-800s, with the intention of converting them to the Max.
In June 2014, MIAT Mongolian Airlines selected Frankfurt as its third destination in Europe. On 19 June the airline began twice-weekly (Thursdays and Sundays) services on the 6,640-kilometre route from Ulaanbator (ULN) using the airline's 767-300s. The new service will operate until mid-September and faces no direct competition. The airline's other destinations in Europe are Berlin Tegel and Moscow Sheremetyevo, while Beijing, Hong Kong, Osaka Kansai, Seoul Incheon and Tokyo Narita complete the airline's international network. MIAT has long relied on Moscow and Berlin as its European points, which MIAT attributes to business ties with Moscow and Berlin's sizeable (relatively) Mongolian expat community. Berlin has typically been served as a tag from Moscow with local uplift rights in both directions. MIAT also offered limited non-stop service to Berlin, including over northern summer 2013, but in northern summer 2014 instead had twice-weekly non-stop 767-300ER scheduled service to Frankfurt.
MIAT had served Frankfurt (via Moscow) early last decade. MIAT operates its five aircraft in four different configurations, according to information from the carrier. Its newest 767, with angled lie-flat business class seats, seats 220 across 25 in business and 195 in economy. Its older 767 seats 263 across 18 in business and 245 in economy. Its 737-800s are in either a 174 (12 business, 162 economy) or 162 (12 business, 150 economy) configuration.
MIAT in 2014 supplemented its Moscow-Berlin service with a non-stop to Frankfurt in order to facilitate a greater range of transfers and take advantage of Frankfurt's transfer facilities, which do not require Schengen visas. MIAT's Beijing service was extended to Singapore in hopes of building business ties and also growing tourism. MIAT is considering launching flights to Bangkok and New Delhi while a new capital city airport that will open in 2016 with a transit area could give MIAT transit traffic flows from Europe to Asia over Ulaanbaatar.
MIAT Airlines has announced in March 2017 that it is considering starting flights to Oceania this year as part of a business restructuring and expansion plan. Aside from upcoming routes to Busan in South Korea and Bangkok Suvarnabhumi in Thailand, MIAT is also looking to open several routes in Southeast Asia and Australia, the CEO was quoted in a government press release. At present, MIAT's services focus on China, Japan, South Korea, and Hong Kong with intercontinental flights offered to Germany (Berlin Tegel and Frankfurt Int'l) and Moscow Sheremetyevo in Russia. In addition to regular passenger flights and MRO, MIAT is an IOSA-certified carrier. It has, thus, ventured into the ACMI/charter sector proffering its three B737-800s and two B767-300(ER)s to the European and global market at large.
MIAT Mongolian Airlines has signed an agreement with Boeing 737s to restructure a 2011 order involving two B737-800s and one B767-300ER. The B767 was delivered in 2013 while the two B737s were to have arrived in 2019. During a ceremony in Ulaanbataar on Friday, March 24, the carrier and the manufacturer announced that the purchase agreement for the two -800s has now been converted into a lease with Avolon to deliver two B737 MAX 8s to MIAT in 2019 and 2020 on twelve-year contracts. The USD1.9 million in deposits already paid by MIAT to Boeing has since been transferred to Avolon.
In April 2017, MIAT Mongolian Airlines announced the long term lease placement of two new Boeing 737 MAX 8 aircraft with Air Lease. The aircraft are scheduled to deliver from Air Lease's order book with Boeing in late 2019 and early 2020.
---
MIAT Mongolian Airlines Route Map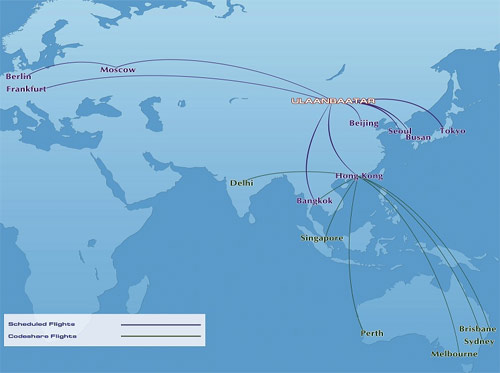 MIAT Mongolian Airlines Popular Routes
Ulaanbaatar

Osaka
Ulaanbaatar

Beijing
Erenhot

Ulaanbaatar
Hong Kong

Ulaanbaatar
Ulaanbaatar

Pyongyang
Seoul

Ulaanbaatar

---
The Fleet
---
MIAT Mongolian Airlines Hub Airport
Chinggis Khaan International Airport
Chinggis Khaan International Airport is the international airport serving Ulaanbaatar, Mongolia. It is the hub airport for MIAT Mongolian Airlines, Aero Mongolia and Hunnu Air. The airport has two runways and can handle nearly 1.5 million passengers. Other airlines which fly to and from Chinggis Khaan International Airport includes Aero Mongolia, Aeroflot, Air Astana, Air China, Korean Air, Hunnu Air and MIAT Mongolian Airlines.

---
Pay your way
Pay for flights in USD or 70 other currencies of your choice with Alternative Airlines.
Choose from over 18 payment methods, including PayPal, Apple Pay , Fly now Pay later and Alipay
Check out all of our payment methods here.
---
Search and Buy MIAT Flights
Make a MIAT Mongolian Airlines reservation and find some amazing deals with discounted MIAT Mongolian Airlinestickets at Alternative Airlines. MIAT Mongolian Airlinesflies to many destinations worldwide, offering a cost effective and safe service to all its passengers. Let Alternative Airlines help find you cheap MIAT Mongolian Airlinestickets and make international and domestic flight reservations on MIAT Mongolian Airlines today.
Browse the most popular MIAT Mongolian Airlines flight routes to cities worldwide. Alternative Airlines can help you make reservations on MIAT Mongolian Airlines for international flights to lots of destinations. Use the following list of routes to help you plan your next flight. Book MIAT Mongolian Airlines flights on Alternative Airlines to save big! Alternative Airlines is an online travel agency, specialising in booking lesser known airlines and remote destinations.
---
About Alternative Airlines
Alternative Airlines is an online flight search complete with customer service specialising in booking flights on lesser known airlines and to remote destinations. We offer you a wider choice of airlines supported by a team of customer service and travel specialists for help and advice on your travel plans. We specialise in finding the best available fares on the widest range of airlines and making them available to you online, with prices in the currency of your choice.
Alternative Airlines handles all your travel arrangements and payments, complete with ticketed confirmation. We do not direct you to other websites or service providers. We help you through the process. This is what makes us Alternative Airlines. Check out our reviews on Feefo or our reviews page. If you want to know a little bit more about us, read our blog for our alternative travel secrets and stories.
Browse for flights, find some amazing deals, make a reservation and pay in the currency of your choice today with Alternative Airlines. Let Alternative Airlines help find you the best prices and make international and domestic flight reservations with us today.
---