Search and Buy Flybe Flights with Alternative Airlines
Make a Flybe Booking and Find Some Amazing Deals
---
Flybe Update
Flybe Update September 2021:
Although yet to be confirmed, Flybe could be set to return to the skies again soon. This news comes as the airline has begin recruiting for key personnel. More information can be found in our news section below.
Flybe Update March 2020:
Flybe ceased operations on 4th March 2020. However, it was announced in October 2020 that the airline hopes to resume regional flights in the U.K., perhaps as early as 2021. When it resumes flights, the capacity will be much smaller than when the airline previously operated. For more information, take a look at our news section at the bottom of the page.
Looking for flights in the U.K?
Since Flybe ceased flying in 2020, a number of other domestic carriers have taken over routes previously operated by the airline, including: Aer Lingus Regional, Aurigny, Blue Islands, British Airways, Eastern Airways, easyJet and Loganair.
You can book flights with any of these airlines (+ hundreds more!) with Alternative Airlines. No matter which airline or route you book, you can spread the cost of your flights with one of our payment instalment options. Book today, and pay later, hassle-free. If you live in the UK, you can choose to split the cost with PayPal Credit, Klarna, Zip, or Clearpay. Simply use the search bar at the top of the page to begin your search.
---
Alternative Airlines to Flybe
Unfortunately, Flybe ceased flying in 2020. But don't worry, Alternative Airlines makes it easy to book flights with lots of other airlines that operate the same or similar routes to the ones previously operated by Flybe. Please click on the logos below to find out more about these airlines:
---
About Flybe
Flybe was a British low-cost regional airline based in Exeter, and was the largest regional airline based in Europe until January 2019 when it was sold to Connect Airways. The airline carries 8 million passengers a year from over 70 airports in the UK and across Europe, covering over 180 routes and 12 countries. The airline was the most punctual in the UK and 8th in Europe, awarded by FlightGlobal in January 2019.
The airline was launched in 1979 from the merger of Intra Airways and Express Air Services, where it was called Jersey European Airways. In 2000 the airline was renamed to British European, and then again in 2002 to its current form.
In February 2019, the airline was sold to Connect Airways which is backed by Virgin Atlantic and Stobart Aviation. As part of the purchase, it was announced that Flybe will rebrand as Virgin Connect starting in 2020.
---
Flybe Destinations
Flybe flew to destinations in Europe and domestically within the UK. The tables below summarise the domestic and international destinations that the airline flew to (correct of 2019, before the airline ceased all operations). If the airline does commence flying once again, it is not yet know which routes the airline would resume.
If you're looking for flights within the U.K., between cities, for example, then take a look at our guide to domestic flights in the U.K..
Domestic Destinations
| CITY | AIRPORT |
| --- | --- |
| Aberdeen | Aberdeen Airport (ABZ) |
| Belfast | George Best Belfast City Airport (BHD) |
| Birmingham | Birmingham Airport (BHX) |
| Cardiff | Cardiff Airport (CWL) |
| Durham | Teesside International Airport (MME) |
| Edinburgh | Edinburgh Airport (EDI) |
| Exeter | Exeter Airport (EXT) |
| Glasgow | Glasgow Airport (GLA) |
| Inverness | Inverness Airport (INV) |
| Leeds/Bradford | Leeds Bradford Airport (LBA) |
| Liverpool | Liverpool John Lennon Airport (LPL) |
| London | London City Airport (LCY) |
| London | Heathrow Airport (LHR) |
| Manchester | Manchester Airport (MAN) |
| Newcastle upon Tyne | Newcastle International Airport (NCL) |
| Newquay | Newquay Airport (NQY) |
| Nottingham | East Midlands Airport (EMA) |
| Southampton | Southampton Airport (SOU) |
International Destinations
| COUNTRY | CITY | AIRPORT |
| --- | --- | --- |
| Austria | Innsbruck | Innsbruck Airport (INN) |
| France | Avignon | Avignon – Provence Airport (AVN) |
| France | Bastia | Bastia – Poretta Airport (BIA) |
| France | Bergerac | Bergerac Dordogne Périgord Airport (EGC) |
| France | Biarritz | Biarritz Pays Basque Airport (BIQ) |
| France | Bordeaux | Bordeaux–Mérignac Airport (BOD) |
| France | Brest | Brest Bretagne Airport (BES) |
| France | Chambéry | Chambéry Airport (CMF) |
| France | La Rochelle | La Rochelle – Île de Ré Airport (LRH) |
| France | Limoges | Limoges – Bellegarde Airport (LIG) |
| France | Lyon | Lyon–Saint-Exupéry Airport (LYS) |
| France | Nantes | Nantes Atlantique Airport (NTE) |
| France | Paris | Charles de Gaulle Airport (CDG) |
| France | Perpignan | Perpignan–Rivesaltes Airport (PGF) |
| France | Rennes | Rennes–Saint-Jacques Airport (RNS) |
| France | Toulon | Toulon–Hyères Airport (TLN) |
| Germany | Berlin | Berlin Tegel Airport (TXL) |
| Germany | Düsseldorf | Düsseldorf Airport (DUS) |
| Germany | Hanover | Hannover Airport (HAJ) |
| Germany | Stuttgart | Stuttgart Airport (STR) |
| Guernsey | Guernsey | Guernsey Airport (GCI) |
| Ireland | Dublin | Dublin Airport (DUB) |
| Ireland | Knock | Ireland West Airport Knock (NOC) |
| Ireland | Cork | Cork Airport (ORK) |
| Isle of Man | Isle of Man | Isle of Man Airport (IOM) |
| Italy | Milan | Milan Malpensa Airport (MXP) |
| Italy | Verona | Verona Villafranca Airport (VRN) |
| Jersey | Jersey | Jersey Airport (JER) |
| Luxembourg | Luxembourg City | Luxembourg Airport (LUX) |
| Netherlands | Amsterdam | Amsterdam Airport Schiphol (AMS) |
| Netherlands | Rotterdam | Rotterdam The Hague Airport (RTM) |
| Switzerland | Geneva | Geneva Airport (GVA) |
---
Flybe Baggage
Carry-on Baggage
Passengers flying on Flybe were allowed 1 cabin bag which must not exceed the dimensions of 55 x 35 x 20cm. In addition, passengers were allowed a small personal item which must fit under the seat in front of you. This could be items such as a handbag or laptop case. The combined weight of these two items must not have exceeded 10kg.
Checked Baggage
The amount of hold luggage that Flybe offered was dependent upon the fare class selected at checkout.
'Just Fly' class - no hold luggage was included in the price of the ticket. Checked baggage can be added for a fee.
'Get More' class - passengers are allowed 1 item of hold luggage of up to 23kg
'All In' class - 2 items of hold luggage of up to 23 kg per bag
---
Flybe Check-In Information
Online Check-in
Passengers could check-in online for their Flybe flights via the airline's website. This service was usually available 36 hours before flight departure time and closed one hour before, although there were some exceptions.
Airport Check-in
Passengers could check-in for free at the airport either at the self-serve kiosks or at the airline's check-in desk. In most cases, the airport check-in service closed between 60 minutes and 30 minutes before flying.
---
Flybe Fleet
The table below summarises Flybe's fleet in 2019, before it ceased operations in 2020.
| AIRCRAFT | IN SERVICE | ORDERS |
| --- | --- | --- |
| ATR 72-600 | 3 | / |
| De Havilland Dash 8-400 | 54 | / |
| Embraer 175 | 10 | / |
| Embraer 195 | 3 | / |
---
Flybe Hub Airport
Birmingham Airport
Birmingham Airport is an international airport located southeast of Birmingham city centre, at Bickenhill in the Metropolitan Borough of Solihull and in Birmingham within the West Midlands, England. The airport was the hub airport for Flybe and still currently is a hub for Monarch, Ryanair, Thomas Cook Airlines and Thomson Airways. The airport offers both domestic flights within the UK, and international flights to destinations in Europe, the Middle East, the Indian subcontinent, North America and the Caribbean.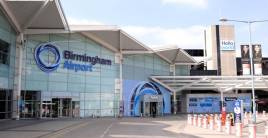 ---
Flybe Class Information
Economy Class
Flybe only offered Economy Class, however, there were a number of different ticket types within Economy Class that gave passengers extra perks, such as more flexibility with cancels and changes.
Facilities
Although onboard service and amenities were the same in Economy Class regardless of the ticket type that you purchase, Flybe offered a number of different ticket types that gave passengers extra perks on the ground. The three different types of tickets were:
Just Fly
Regular seating
One carry-on bag
One additional small bag
Option to purchase extras
Get More
Reserved seating
One carry-on bag
One small bag
One item of 23kg checked baggage
Changeable ticket
Option to purchase extras
All In
Reserved extra legroom seating
One carry-on bag
One small bag
Two items of checked baggage at 23kg
Changeable ticket
Fast track security
Access to the executive lounge
Complimentary food and drink
Premium Economy
Flybe didn't have a Premium Economy class. However, passengers could pay to sit in a limited number of seats that have extra legroom.
Business Class
Flybe didn't have a Business Class cabin. However, passengers could purchase the 'All In' ticket and be given access to the airlines' Executive lounge at selected airports.
First Class
Flybe didn't offer a First Class cabin.
---
Flybe In-Flight Entertainment
Flybe didn't offer a personal TV or overhead cabin TV on their flights. However, there was an in-flight magazine called Flight Time for passengers to read and enjoy. In addition, passengers were welcome to bring their personal devices in their cabin baggage, as long as they were used only when in flight mode.
---
Flybe Food
Passengers could purchase food for their flight via the in-flight menu 'Cafe Flybe'. There was a range of foods such as breakfast pastries, soups, sandwiches, platters, noodles, crisps and chocolate bars. In addition, there were a variety of drinks to choose from including tea, hot chocolate, coffee, gin, soft drinks, wine, beer, cider and other spirits. Passengers who were flying in the All In fare will receive a complimentary drink and snack at the price of their ticket.
---
Flybe WiFi
Flybe didn't provide WiFi to its passengers on board.
---
Flybe Frequent Flyer
Before being bought by Virgin, Flybe offered a frequent flyer program called Spend&Fly which rewarded regular passengers. However, this was closed on 20th September 2019.
After this, the airline announced that they were working on a brand new frequent flyer rewards program, which was supposed to be announced inline with the new rebranding of Flybe to Virgin Connect. However, this frequent flyer program was never launched before Flybe ceased operations.
---
Flybe Airline Alliance
Flybe was previously part of the Avios airline alliance. However, in May 2019 this was terminated. This means that passengers using Flybe could no longer collect Avios points on their flights.
Flybe had codeshare agreements under the 'One Stop to the World' programme with airlines such as BA, Air France, Finnair, Aer Lingus, Cathay Pacific. Similarly, Flybe had an interline agreement with Pakistan International Airways. The airline also had three franchise partners, Loganair, Stobart Air and Blue Islands .
---
Flybe Special Services
Special Assistance
Passengers could request special assistance for their flights. This included within the airport terminal, assistance checking in and dropping off bags, going through security and to the departure gate and getting on or off the aircraft. You could request this service from the airline's website at the time of booking.
---
Flybe News
3rd September 2021
Flybe edges closer to returning to the skies
Flybe, the defunct UK airline, is edging closer to returning to the skies. The carrier, which ceased operations in 2020, is currently recruiting for key personnel. It's the clearest sign so far that the airline is getting closer to resuming operations. The airline company, which is currently owned by Thyme Opco, had previously stated that it hopes to restart once travel restrictions are eased following the Coronavirus pandemic.
19th October 2020
Flybe could be back in 2021, after a deal is struck to restart the airline
Collapsed regional airline Flybe could restart operations as soon as 2021, after administrators announced a deal had been struck with investors to restart the airline. The administrators have said that they are working with the airline's new owners and the Civil Aviation Authority (CAA) to prepare for Flybe's return to the skies.
Flybe was a key carrier for many of the UK's smaller airports, operating the majority of flights (about 80%) from Southampton, Exeter and Belfast City airports. When the airline returns, it will operate at a much smaller capacity, although more information has yet to be announced.
5th March 2020
Flybe has collapsed, announces administrators
The UK Civil Aviation Authority (CAA) has announced that the airline had entered administration. All flights were cancelled with immediate effect, putting over 2,000 jobs at risk.
Flybe's administrator referred to coronavirus as a significant cause in its statement.