Airlines will always try to sit children with their parents (subject to check-in)
Some airlines will allow travel for unaccompanied minors. Please email us to check.
The fare is based on the child's age on the date of travel.
More detailed information can be found here Traveling with children
Most airlines will let infants travel with their parent(s) for free. However some airlines will charge up to 10% of the adult ticket price. Click on 'Price Breakdown' to find out more.
If you are pregnant, but due before the flight departure date, please contact us once your baby is born and has a name. We can then add him/her to your ticket.
Infants will not be given a seat. The airlines expect parents to travel with them on their lap.
Airlines regard infants as being under 24 months old.
The fare is based on the child's age on the date of travel.
More detailed information can be found here Traveling with children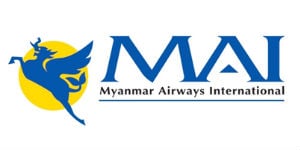 Search & Book Flights

With Myanmar Airways International
Cancellation Protection
Protects
Trusted Choice
Rated 4.5 Stars. Based on 3,581 service ratings over the past year
Dedicated customer service team on hand to help
Secure payments
Cancellation Protection
Protects
Trusted Choice
Rated 4.5 Stars. Based on 3,581 service ratings over the past year
Dedicated customer service team on hand to help
Secure payments
Buy
Myanmar Airways International

Flights
Search and Buy Myanmar Airways International (MAI) Flights
Make a Myanmar Airways International Booking and Find Some Amazing Deals
---
About Myanmar
Myanmar Airways International (MAI) is a privately owned airline headquartered in Yangon, Myanmar at Yangon International Airport.
The airline was founded in 1946 by the government, where it was called Union of Burma Airways, and operated only domestic flights. It wasn't until 1950 that the first international flights were added. In 1972, the airline changed its name to Burma Airways, and then to Myanma Airways in 1989 after the country changed its name from Burma to Myanmar. It wasn't until 1993 that the airline renamed to its current form, after a joint venture between Myanma Airways and Highsonic Enterprises which began international services.
The airline now operates scheduled international services to destinations mainly in Southeast Asia. It's hub airport, Yangon International Airport, is the only international entry point into the country for air travellers.
This airline has codeshare agreements with a number of airlines including Malaysia Airlines, Korean Air, Asiana Airlines and Garuda Indonesia.
As of May 2022, the airline flies to many destinations including domestic destinations such as Yangon (Rangoon), Bagan, Mandalay, Inlay Lake, Kyaik Hti Yo, Bangkok, Gaya, Guangzhou, Kuala Lumpur, Kunming, Taipei, Osaka, Seoul and Singapore.
---
Destinations
Domestic Destinations
As of May 2022, the airline operates regular domestic flights to the following cities in Myanmar:
| CITY | AIRPORT | IATA |
| --- | --- | --- |
| Yangon | Yangon International Airport | RGN |
| Mandalay | Mandalay International Airport | MDL |
| Myeik | Myeik Airport | MGZ |
| Sittwe | Sittwe Airport | AKY |
| Heho | Heho Airport | HEH |
| Dawei | Dawei Airport | TVY |
| Kawthaung | Kawthaung Airport | KAW |
| Myitkyina | Myitkyina Airport | MYT |
| Putao | Putao Airport | PBU |
| Nyaung-U | Nyaung U Airport | NYU |
| Thandwe | Thandwe Airport | SNW |
International Destinations
As of May 2022, the airline operates regular international flights to the following cites in Thailand, Taiwan, United Arab Emirates, South Korea, Singapore, Malaysia, Jordan, Japan, Bangladesh, India and China.
| COUNTRY | CITY | AIRPORT |
| --- | --- | --- |
| China | Guangzhou | Guangzhou Baiyun International Airport (CAN) |
| China | Hangzhou | Hangzhou Xiaoshan International Airport (HGH) |
| China | Hefei | Hefei Xinqiao International Airport (HFE) |
| China | Nanchang | Nanchang Changbei International Airport (KHN) |
| China | Fuzhou | Fuzhou Changle International Airport (FOC) |
| India | Gaya | Gaya Airport (GAY) |
| India | Kolkata | Netaji Subhas Chandra Bose International Airport (CCU) |
| Singapore | Singapore | Singapore Changi Airport (SIN) |
| South Korea | Seoul | Incheon International Airport (ICN) |
| Thailand | Bangkok | Suvarnabhumi International Airport (BKK) |
| Taiwan | Taipei | Taoyuan International Airport |
| United Arab Emirates | Dubai | Dubai International Airport |
---
Route Map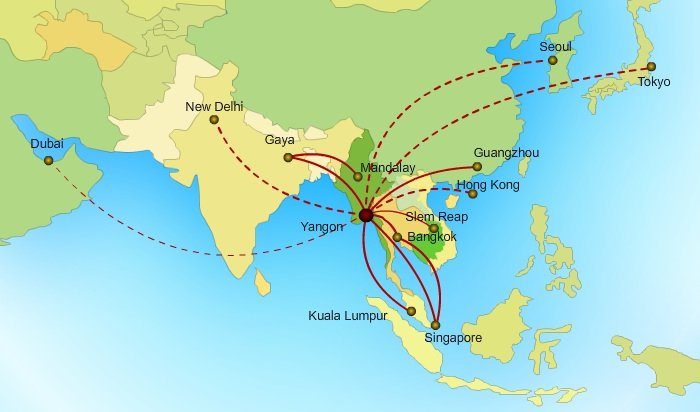 ---
Baggage
Carry-on Baggage
Passengers are permitted 1 x 7kg bag on any MAI flight, which must not exceed the dimensions of 58 x 34 x 23cm. In addition, passengers are permitted one additional item from the following: coat, umbrella, walking stick/crutches, camera, binoculars, books or magazines, baby basket or a folded pushchair.
Checked Baggage
Passengers have a checked baggage allowance dictated either by piece concept or weight concept. The allocation can be found on the booking confirmation.
Piece Concept
Piece concept is a policy when passengers are travelling with MAI and are interlining to other carriers to and from USA/CANADA. In this situation, passengers are permitted 2 pieces of baggage, which must not exceed the combined linear dimensions (L+W+H) of 158cm and combined weight of 30kg.
Weight Concept
This concept is applicable to all other flights, with passengers in Economy having a maximum weight allowance of 30kg, and passengers in Business having a maximum baggage weight of 40kg.
Excess Baggage
If your baggage allowance is determined by the piece concept, passengers will be subject to excess baggage fees at the airport if their bags exceed the number of pieces, the maximum dimensions or the maximum weight.
Passengers who are under the weight concept will be subject to excess baggage fees for overweight baggage. For every kilo the bag is overweight, you will be charged accordingly.
---
Check-In
Online Check-in
This airline does not currently operate an online check-in service. However, passengers can select a seat online from 24 hours to 2 hours before scheduled flight departure time.
Airport Check-in
Passengers must check-in at the airport, ensuring they arrive in plenty of time to complete check-in, security and get to the boarding gate. The check-in counters at the airport open 2.5 hours before the flight departure time, and will close 40 minutes before the flight departure time.
---
Class Information
Economy Class
Economy Class is the airline's best value, most-simple cabin class. The cabin is split into two sections — one with a full meal service and one without.
Facilities
Economy Class passengers are given plenty of reading material, as well as the option to use the MAI WiFi in-flight entertainment network, which gives passengers access to the airline's in-flight entertainment system through their personal electronic device.
Passengers that have chosen a full meal service will have the option to order two different meal types from the airline's in-flight menu. Each meal comes with a dessert and a drink. Other snacks and drinks are available to order on request.
Seats
Seats are set out in a 3 x 3 configuration on most flights. Each seat gives plenty of room, for a relaxed and laid-back journey.
Premium Economy
There is currently no premium economy service available on MAI flights.
Business Class
The Business Class cabin offers passengers an exceptional in-flight experience with a kind and focused cabin crew at service.
Facilities
The Business Class cabin gives all passengers a full-meal service, unlimited drinks and snacks and a pre-takeoff glass of champagne.
Business Class passengers can also use their personal electronic devices to connect to the airline's in-flight WIFI entertainment system and watch a range of TV shows and movies.
Seats
Business Class seats are set out in a 2 x 2 formation, with each seat giving generous pitch and width.
First Class
First Class is not yet available on Myanmar Airways flights.
---
In-Flight Entertainment
There is an in-flight magazine, called Mingalarbar, available for passengers who want to read whilst onboard.
Passengers can access the inflight entertainment program, consisting of movies, TV shows, music and games. To access this, simply download the MAI WiFi App before flying, and connect whilst onboard so that you can access the entertainment through your own personal device.
---
Food
Meal Options
MAI offer passengers a complimentary drink and snack on board shorter flights, with some longer flights having a meal and drinks service. Food is tasty and well presented, composing of items from curry to sandwiches, depending on the route, time and duration of your flight.
Special Dietary Requirements
Passengers can request a special meal for their flight for medical or religious reasons. The following list are the available ones for order:
Vegetarian Lacto-Ovo Meal
Western Vegetarian Meal
Low Sodium Meal
Low Cholesterol Meal
Oriental Meal
Seafood Meal
Fruit Platter Meal
Drinks & Alcohol
On the drinks service, passengers can choose between alcoholic drinks such as beer and wine, or soft drinks and also some hot beverages.
---
WIFI
You can access the in-flight WiFi by downloading the 'MAI WIFI' App before your flight. Once onboard, you will be able to connect to the 'maiair' wifi network to be able to browse or access the inflight entertainment system.
---
Frequent Flyer
MAI are part of the Sky Smile Privilege Program, which is in partnership with Air KBZ. With this frequent flyer rewards programme, passengers are awarded points, or 'miles', based on the flights they make and the class they fly in. These can then be accumulated and redeemed at a later date in exchange for flight upgrades, discounts or baggage.
There are currently two levels of membership: Diamond and Ruby. Passengers who have travelled on three return flights within one calendar year are entitled to apply for the Ruby membership and start earning points required to qualify for the next level. If a passenger has completed a minimum of six return flights with their Ruby membership, the membership will automatically be moved up to the Diamond membership scheme.
---
Airline Alliance
Myanmar Airways is not currently part of an official airline alliance scheme, but it does have partnerships with a number of airlines including Malaysia Airlines, Asiana Airlines, Garuda Indonesia, SriLankan Airlines and Air KBZ.
---
Fleet
The former fleet of MAI has included Airbus, Boeing, Fokker and McDonnell aircraft. The table below shows the current state of the fleet (correct as of September 2019).
---
Hub Airport
Yangon International Airport
Yangon International Airport, located in Mingaladon, 15 kilometres (9.3 mi) north of downtown Yangon, is the primary and busiest international airport of Myanmar and the third largest airport in the country after Mandalay International Airport and Naypyidaw International Airport.
Once, it was regarded as the best and most modern airport in Southeast Asia. It is also the hub for airlines such as Air Bagan, Air KBZ and Asian Wings Airways. Additional airlines that fly to and from Yangon International Airport include AirAsia, Dragon Air, Thai Airways, Golden Myanmar Airlines and Vietnam Airlines.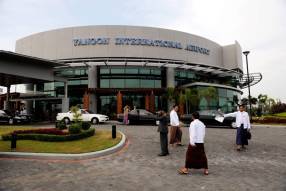 ---
Alternative Airlines to Myanmar Airways International
Please click on the logos below to find out more about airlines that fly similar routes to Myanmar Airways International:
---
Special Services
Sporting Equipment
MAI are happy to transport sporting equipment, accepting a wide range of items such as diving equipment or golf bags. Contact the airline before you fly, to ensure that they are aware and prepared for any additional or awkwardly shaped baggage.
Special Assistance
MAI are happy to arrange any form of special assistance where they are able to, and when contacted at least 48 hours in advance. For example, wheelchair users, children travelling alone and expectant mothers may all require additional information about their flight which can be obtained by contacting the airline directly.
---
Deals and Promotions
Save money on by flights by grabbing a discount with a Myanmar Airways International promo code. Pay with PayPal when using a voucher code to get discounted fares.
---
Myanmar Airways FAQs
Does Myanmar Airways International still fly to Yangon Airport?
Myanmar Airways International is one of the only airlines still offering flights from Yangon International Airport. Recently, a number of airlines had stopped flying from the airport. But, Myanmar National Airlines, along with seven other airlines is continuing to most its route from the airport. Other airlines flying to the airport include JC Cambodia Airlines, 9air, Sichuan Airlines and Thai Airways.
Where can I book flight tickets to Yangon?
Through Alternative Airlines. We specialise in making it quick and easy to book flights with all major airlines as well as smaller airlines flying to more remote locations and that cannot be easily booked elsewhere online. Book flights in English with the support of our expert Customer Service team. Simply enter your departure airport and 'Yangon' as your arrival airport into the search form at the top of the page.
Can I book flights to Myanmar from USA
Yes you can! Myanmar Airways operates international flight to Myanmar from Southeast Asia. However, if you're looking to fly to Myanmar from the US, you'll need to do so with an alternative airline, including Qatar, Singapore Airlines and Malaysia Airlines.