Search & Book Myanmar Airways Flights
Book
Myanmar Airways

Flights

Book Direct with Myanmar Airways and Alternative Airlines
Myanmar Airways International is a privately owned airline headquartered in Yangon, Myanmar.It operates scheduled international services to destinations mainly in Southeast Asia and is based at Yangon International Airport. Yangon International Airport is the only international entry point into the country for air travellers. Myanmar Airways has codeshare agreements with Malaysia Airlines, Korean Air, Asiana Airlines, Garuda Indonesia. Myanmar Airways flies to many destinations including domestically to Yangon (Rangoon), Bagan, Mandalay, Inlay Lake, Kyaik Hti Yo, Bangkok, Gaya, Guangzhou, Kuala Lumpur, Kunming, Taipei, Osaka, Seoul and Singapore. Myanmar Airways' fleet consists of Airbus A319-110 and Airbus A320-200.
In 2015, Air KBZ (K7) together with Myanmar Airways International (MAI-8M) has signed a code share agreement on 6 Oct 2015. Under the agreement, MAI will place its "8M" code on some routes of Air KBZ flights such as Yangon to Heho , Heho to Yangon, Naung U to Mandalay, Mandalay to Heho. The code share agreement will provide a seamless travelling experience when passengers travel both international as well as domestic to and in Myanmar. Passengers can now look forward to greater convenience when traveling on Air KBZ and Myanmar International Airways (MAI). The code share flights will be starting to operate on 26 October 2015.
Myanmar Airways offers a frequent flyer program to reward its regular passengers. Myanmar Airways offers two levels of membership - Diamond and Ruby. Passengers who have traveled on three return flights within one calendar year are entitled to apply for the Ruby membership and start earning points required to qualify for the next level. If a passenger has completed a minimum of six return flights with his Ruby membership, the membership will automatically be moved up to the Diamond membership scheme. A Sky Smile Privilege Program member can redeem the mile points earned by flying with MAI for free travel tickets. MAI flies between Yangon and Singapore, Kuala Lumpur, Bangkok, Gaya, Guangzhou, Siem Reap, Phnom Penh, and Mandalay - Gaya - Mandalay. MAI started its charter flight to Korea and Japan in March 2013. MAI is a member of the IATA Clearing House (ICH) and a partner of the IATA, MITA system. MAI is the only recipient in Myanmar of the IATA Operational Safety Audit Program (IOSA) Operator.
Passengers can take one piece of hand baggage aboard any MAI flights, for example a small travelling bag, a portable computer or a briefcase. Hand baggage may not exceed the dimensions 58 x 34 x 23 cm. Each passenger traveling in Economy Class is entitled to a free allowance of 2 pieces of baggage with a maximum dimension not exceeding 158cm (L+W+H) and not exceeding the weight of 23kg (50lbs) each. Business Class passengers are allowed to have 30 kgs of checked baggage. Myanmar Airways International (MAI), was established in August 1993, as a joint venture between Myanma Airways and Singapore based company. Effective from January 2014, MAI becomes a complete member of KBZ Group - a Myanmar National owned private company.
Myanmar Airways International began operating a thrice-weekly service between Mandalay and Bangkok. The 1,024-kilometre route will be operated by the airline's A319s. Bangkok Airways (daily flights) and Myanmar National Airlines (thrice-weekly flights) also serve this airport pair. Myanmar Airways International already serves Bangkok twice-daily from Yangon. This is the airline's fifth international route, but first from Mandalay. Myanmar National Airlines (MNA) will add five more flights per week on its Singapore-Yangon route starting December 1, when the visa waiver between the two countries comes into effect. Demand for the route, which MNA commenced as a daily service in August 2015, has been slow to moderate, according to some outbound agents in Singapore. With the help of government subsidies, MNA flies to 27 destinations in Myanmar. Most of its competitors in the domestic market fly to no more than 10 destinations.
In April 2017, Myanmar Airways has been operating a flight on Yangon-Gaya route in the tourist season (October-March) for the last several years, the airline would be, for the first time, operate an off season flight too. However, the frequency of the flight would be scaled down. From May onwards till the commencement of tourist season, the airline would operate a weekly flight every Monday. Air India too operates a weekly flight on the Delhi-Gaya-Yangon route. Unlike pilgrims and tourists from Europe and several South East Asian countries, Sri Lankans visit Bodh Gaya in large numbers in the rainy season (July-August) and for that reason SriLankan Airlines has scheduled its flights to synchronise it with demand.
In May 2017, Myanmar Airways International announced a sixth international route from Yangon (RGN). On 1 December the carrier began twice-weekly (Thursdays and Sundays) flights on the 1,027-kilometre route to Kolkata (CCU) in India using its A319s. Competition comes from Air India's weekly service. Myanmar Airways' other international routes from Yangon are to Bangkok, Gaya, Guangzhou, Kuala Lumpur and Singapore. The Myanmar-India market is a developing market with just 14 flights per week between the two countries; eight from Myanmar Airways, four from Air India and two from Myanmar National Airlines. Three of the weekly flights are to Kolkata while the remaining 11 are all to Gaya, which serves the Buddhist temple city of Bodhgaya, popular with Buddhist tourists from south-east Asia.
Route Map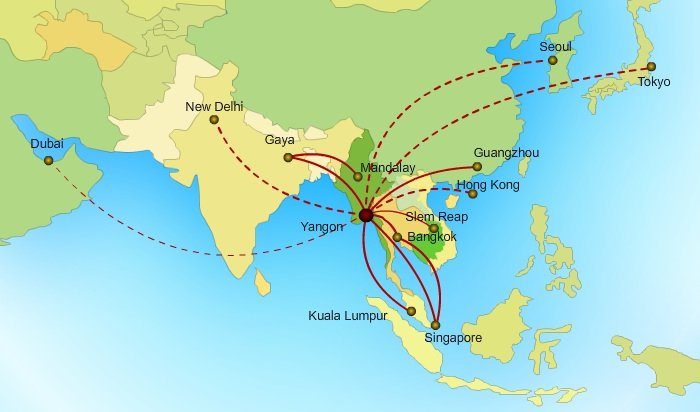 Popular Routes
Singapore

Bangkok
Gaya

Mandalay
Yangon

Kuala Lumpur
Singapore

Bangkok

---
The Fleet
---
Yangon International Airport
HUB Airport
Yangon International Airport, located in Mingaladon, at 15 kilometres (9.3 mi) north of downtown Yangon, is the primary and busiest international airport of Myanmar and the third largest airport in the country after Mandalay International Airport and Naypyidaw International Airport. Once, it was regarded as the best and most modern airport in Southeast Asia. Airlines that fly from and to Yangon International Airport include AirAsia,Dragon Air, Thai Airways and Vietnam Airlines.

---
---
Book Flights with Myanmar Airways
Make a Myanmar Airways a reservation and find some amazing deals with discounted Myanmar Airways tickets at Alternative Airlines. Myanmar Airways flies to many destinations worldwide, offering a cost effective and safe service to all its passengers. Let Alternative Airlines help find you cheap Myanmar Airways tickets and make international and domestic flight reservations on Myanmar Airways today.
Browse the most popular Myanmar Airways flight routes to cities worldwide. Alternative Airlines can help you make reservations on Myanmar Airways for international flights to lots of destinations. Use the following list of routes to help you plan your next flight. Book Myanmar Airways flights on Alternative Airlines to save big! Alternative Airlines is an online travel agency, specialising in booking lesser known airlines and remote destinations.
Travelling to Myanmar is not only a voyage into a different geographic region, but also a voyage back in time. How far back in time you can travel depends on the destinations you choose to visit. Myanmar's capital Yangon can take you back 20 or 30 years compared to most other capital cities in South East Asia. However, a visit to the backwash hill tribes is more like a voyage into the middle ages! MAI Myanmar Airways International Myanmar Airways International (MAI) is an international carrier with three major routes into this fascinating, unique and vast country. Flights from Bangkok, Kuala Lumpur and Singapore operate into Yangon, which was until recently the capital of the country (see Alternative View). The fleet is made up of various types of ATR, Fokker and a MD 82 aircraft. The only daily service is between Yangon and Bangkok, which takes around 45 minutes and currently operates at 10:15 each morning from Bangkok. Yangon International Airport is the only international entry point into the country for air travellers. Flights to Burma on Myanmar Airways The capital of Myanmar (or Burma as it was known before independence from British rule in 1948) is Yangon formerly Rangoon, Yes? No, as from 2006 the administrative capital has been moved by the Government to Naypyidaw which is away from the coast and an overnight train journey from the major city of Yangon. This is a country unlike any other in the world today, the alternative airlines on-line booking process may be the easiest part of your journey into this military run, ethnic melting pot. Alternative Airlines the UK site for immediate confirmed on-line bookings. Myanmar sits at the crossroads of Asia's great civilisations of India and China, and looks out onto the vast Indian Ocean next to Thailand.
READ MORE