JC International Airlines Tickets and Reservations
Book Your JC International Airlines Flight Tickets and Find Some Amazing Deals
---
About
JC (Cambodia) International Airlines is an airline based at Phnom Penh International airport. It has five aircraft in its fleet and flies to 33 destinations. The Cambodian airline began operations on 17th March 2017. They registered themselves with the Cambodian Ministry of Commerce in June 2014 and began with three domestic routes, soon expanding to international destinations across Asia.
It took delivery of two Airbus A320s in February 2017 and commenced operations to Phnom Penh, Siem Reap and Sihanoukville the following month. As of November 2019, the JC International fleet consists of 5 Airbus A320-200s, each with a capacity of 180 passengers. The airline recently announced additional routes to China including to Chengdu, Nanning and Shenzhen.
---
The Fleet
As of October 2019, the airline consisted of five Airbus A320-200.
---
Economy Class
Economy Class Facilities
On most flights, a goodie bag will be given to each passenger, comprised a travel amenity kit and a USB drive! It was going to be the only gesture to mark this inaugural flight. Complimentary meals or snacks, depending on the duration and length of the flight. There is no in-flight entertainment however the airline does offer an in-flight magazine to keep you entertained.
Economy Class Seating
Enjoy slimline but comfortable black leather seats with an ample amount of legroom.
---
Baggage
Carry-on Baggage
You may carry one piece of baggage free of extra charge. Your free baggage allowance as well as the baggage restrictions are shown on your Ticket or e-Ticket Receipt/Itinerary and are dependent also on our Regulations in force on the date of your flight. The size must not exceed 55cm x 40cm x 23cm.
Checked Baggage
The overall weight and size of a single piece of checked baggage shall not exceed 32kg and overall dimension of 185cm. Overweight and extra-large items (except for walkers, sports equipment, etc.) must be repackaged or split into lighter units or they will not be checked.
---
Check-In Information
Airport Check-in
You must check-in for JC Airlines domestic flights at least 40 minutes in advance.
Online Check-In
There isn't any information online regarding JC International Airlines online check-in.
---
Hub Airport
Phnom Penh International Airport (PNH) is Cambodia Angkor Air's hub and is the largest airport in Cambodia. Airlines which use Phnom Penh International Airport (PNH) include AirAsia, Bangkok Airways, China Airlines, EVA Air, Korean Air and Cambodia Airways The airport has 1 runaway and has a design capacity of 5 million and handles 2.5 million passengers per year, with two terminal buildings, one for international and one for domestic operations. Other airlines flying from Phnom Penh International airport include AirAsia Cambodia and Cambodia Bayon Airlines.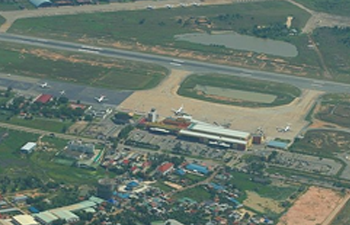 ---
Destinations
As of November 2019, JC International Airlines flies to three domestic destinations within Cambodia, as well as 30 international destinations in 9 countries.
Domestic Destinations
| CITY AND COUNTRY | AIRPORT |
| --- | --- |
| Phnom, Cambodia | Phnom Penh International Airport (PNH) (HUB) |
| Siem Reap, Cambodia | Siem Reap International Airport (REP) (Focus City) |
| Sihanoukville, Cambodia | Sihanouk International Airport (KOS) |
International Destinations
| CITY AND COUNTRY | AIRPORT |
| --- | --- |
| Baotou, China | Baotou Airport (BAV) |
| Chengdu, China | Chengdu Shuangliu International Airport (CTU) |
| Chongqing, China | Chongqing Jiangbei International Airport (CKG) |
| Fuzhou, China | Fuzhou Changle International Airport (FOC) |
| Guangzhou, China | Guangzhou Baiyun International Airport (CAN) |
| Guiyang, China | Guiyang Longdongbao International Airport (KWE) |
| Hangzhou, China | Hangzhou Xiaoshan International Airport (HGH) |
| Huai'an, China | Huai'an Lianshui Airport (HIA) |
| Kunming, China | Kunming Changshui International Airport (KMG) |
| Nanchang, China | Nanchang Changbei International Airport (KHN) |
| Quanzhou, China | Quanzhou Jinjiang International Airport (JJN) |
| Sanya, China | Sanya Phoenix International Airport (SYX) |
| Shenzhen, China | Shenzhen Bao'an International Airport (SZX) |
| Tianjin, China | Tianjin Binhai International Airport (TSN) |
| Wanzhou, China | Wanzhou Wuqiao Airport (WXN) |
| Wuhan, China | Wuhan Tianhe International Airport (WUH) |
| Xiamen, China | Xiamen Gaoqi International Airport (XMN) |
| Xi'an, China | Xi'an Xianyang International Airport (XIY) |
| Xishuangbanna, China | Xishuangbanna Gasa International Airport (JHG) |
| Xuzhou, China | Xuzhou Guanyin International Airport (XUZ) |
| Nanning, China | Nanning Wuxu Airport (NNG) |
| Macau, Macau | Macau International Airport (MFM) |
| Mandalay, Myanmar | Mandalay International Airport (MDL) |
| Yangon, Myanmar | Yangon International Airport (RGN) |
| Seoul, South Korea | Taoyuan International Airport (TPE) |
| Bangkok, Thailand | Suvarnabhumi International Airport (BKK) |
| Denpasar, Indonesia | Ngurah Rai International Airport (DPS) |
---
Alternative Airlines
Please click on the logos below to find out more about airlines that fly similar routes:
---
Special Services
The airline doesn't currently have any information online on its special services.
---
Airline Alliance
The airline isn't part of any airline alliance currently.
---
Frequent Flyer Program
The airline doesn't have a frequent flyer program.
---
Wi-Fi Connectivity
The airline currently doesn't have any Wi-Fi available onboard.