Cambodia Bayon Airlines Reservations with Alternative Airlines
Make a Cambodia Bayon Airlines Booking and Find Some Amazing Deals
Unfortunately, Cambodia Bayon Airlines ceased operations in 2019. Please click on the alternative airlines below:
---
About
Cambodia Bayon Airlines was an airline based in Phnom Penh, Cambodia, with its main hub at Phnom Penh International Airport. The airline provided daily flights from Phnom Phnom International Airport to Siem Reap International Airport and from Siem Reap International to Sihanoukville International Airport. The airline's destinations included Cambodia and Vietnam. Other airlines flying from Phnom Penh International airport include AirAsia Cambodia and Cambodia Airways.
Founded in 2014, the airline was seeking to expand its international services to Taiwan, Hong Kong, Macau, China, South Korea and Japan. In 2017, Cambodia Bayon airlines announced it would be heavily recruiting Taiwan's TransAsia Airways, which closed its services last November and dissolved its business operations Wednesday.
Pilots who have experience flying TransAsia's fleet of A320s and A321s on international and cross-Taiwan Strait routes and those who flew ATRs on domestic flights will be of interest to the Cambodian carrier.
Update: Cambodia Bayon Airlines ceased operations in 2019 - it is not known why the airline ceased operations.
---
Destinations
Cambodia Bayon Airlines flew to a number of destinations in Cambodia and Vietnam including Phnom Penh International Airport, Siem Reap International Airport, Sihanoukville International Airport and Ho Chi Minh City.
---
Economy Class
The Economy Class experience was simple - it was designed to get passengers from A to B in a relaxing, safe and comforting way.
Economy Class Facilities
Passengers were each given complimentary water and a pastry.
As the airline only operated short flights, there was no in-flight entertainment onboard the service.
What are Economy Class Seats Like?
The Economy Class cabin was made up of 50 seats, with 48 of them being Economy. Seats were set out in a 2 x 2 configuration and were designed to give passengers enough legroom and space for a comfortable journey.
---
Business Class
Business Class passengers could enjoy the same great service as Economy but with bigger, comfier, cushioned seats. Business Class seats were set out in a 1 x 1 formation and were situated at the back of the cabin. There were only 2 Business Class seats per aircraft.
---
Route Map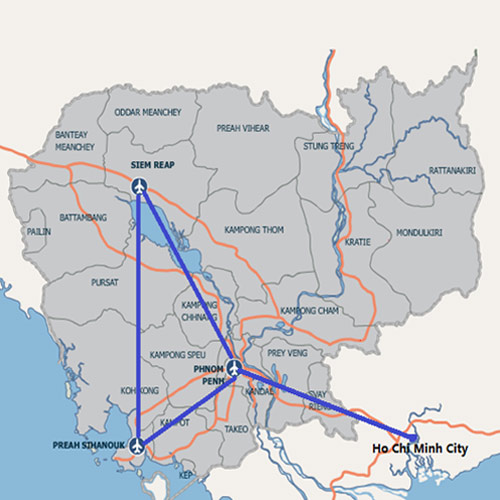 ---
News
27th February 2018
Cambodian aviation: seven airlines and more to come in 2018; start-ups and fleet proliferating
Cambodia's aviation sector is growing rapidly, leading to a rapid expansion of the Cambodian fleet. There are now seven airlines in Cambodia, together operating a combined fleet of 30 aircraft, compared to two airlines operating seven aircraft four years ago.

At least three new airlines are planning to launch operations in 2018, while several of the existing airlines are pursuing further fleet expansion. The Cambodian fleet will likely reach 40 aircraft by the end of 2018.
JC International Airlines, an ambitious start-up which began operations less than a year ago, could become the largest airline in Cambodia by the end of 2018, based on fleet size. Cambodia Angkor Air and Sky Angkor Air are now the largest local airlines and are also the most established.