Search & Buy Cambodia Bayon Airlines Flights
Let's fly!

Select your payment method to view total prices including any payment fees:
Airlines will always try to sit children with their parents (subject to check-in)
Some airlines will allow travel for unaccompanied minors. Please email us to check.
The fare is based on the child's age on the date of travel.
More detailed information can be found here Traveling with children
Most airlines will let infants travel with their parent(s) for free. However some airlines will charge up to 10% of the adult ticket price. Click on 'Price Breakdown' to find out more.
If you are pregnant, but due before the flight departure date, please contact us once your baby is born and has a name. We can then add him/her to your ticket.
Infants will not be given a seat. The airlines expect parents to travel with them on their lap.
Airlines regard infants as being under 24 months old.
The fare is based on the child's age on the date of travel.
More detailed information can be found here Traveling with children

Buy
Cambodia Bayon Airlines

Flights
Cambodia Bayon Airlines Reservations with Alternative Airlines
Make a Cambodia Bayon Airlines Booking and Find Some Amazing Deals
---
About Cambodia Bayon Airlines
Cambodia Bayon Airlines is an airline based in Phnom Penh, Cambodia, with its main hub at Phnom Penh International Airport. The airline provides daily flights from Phnom Phnom International Airport to Siem Reap International Airport and from Siem Reap International to Sihanoukville International Airport. Cambodia Bayon Airlines' destinations include Cambodia and Vietnam. Other airlines flying from Phnom Penh International airport include AirAsia Cambodia, Cambodia Airways and Cambodia Bayon Airlines.
Founded in 2014, Cambodia Bayon Airlines is based in Phnom Penh and has operational bases in Siem Reap and Sihanoukville in Cambodia and in Ho Chi Minh City in Vietnam. The airline is seeking to expand its international services to Taiwan, Hong Kong, Macau, China, South Korea and Japan. In 2017, Cambodia Bayon airlines announced it was heavily recruiting Taiwan's TransAsia Airways, which closed its services last November and dissolved its business operations Wednesday.
Pilots who have experience flying TransAsia's fleet of A320s and A321s on international and cross-Taiwan Strait routes and those who flew ATRs on domestic flights will be of interest to the Cambodian carrier.
---
Cambodia Bayon Airlines Destinations
Cambodia Bayon Airlines flies to a number of destinations in Cambodia and Vietnam including Phnom Penh Internationa Airport, Siem Reap International Airport, Sihanoukville International Airport and Ho Chi Minh City.
---
Cambodia Bayon Airlines Route Map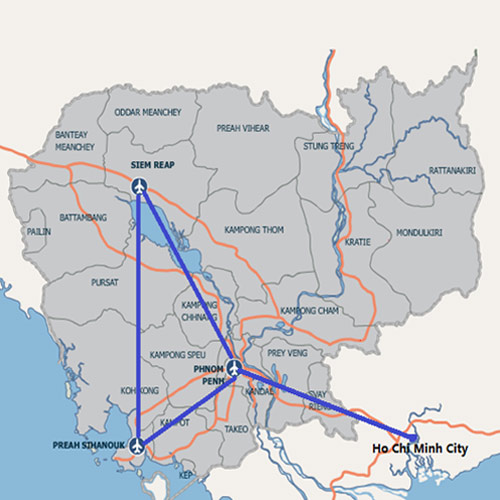 ---
Alternative Airlines to Cambodia Bayon Airlines
Please click on the logos below to find out more about airlines that fly similar routes to Cambodia Bayon Airlines:
---
Buy Discounted Cambodia Bayon Airlines Tickets at Alternative Airlines
---
Cambodia Bayon Airlines News
27th February 2018
Cambodian aviation: seven airlines and more to come in 2018; start-ups and fleet proliferating
Cambodia's aviation sector is growing rapidly, leading to a rapid expansion of the Cambodian fleet. There are now seven airlines in Cambodia, together operating a combined fleet of 30 aircraft, compared to two airlines operating seven aircraft four years ago.

At least three new airlines are planning to launch operations in 2018, while several of the existing airlines are pursuing further fleet expansion. The Cambodian fleet will likely reach 40 aircraft by the end of 2018.
JC International Airlines, an ambitious start-up which began operations less than a year ago, could become the largest airline in Cambodia by the end of 2018, based on fleet size. Cambodia Angkor Air and Sky Angkor Air are now the largest local airlines and are also the most established.
October 2017
Air rivalry heats up in Cambodia
AT LEAST five new passenger airlines are preparing to launch Cambodia-based operations over the coming year, effectively doubling the number of local carriers and raising the level of competition on domestic and international routes.
The new airlines have applied for air operator's certificates (AOC), with one already receiving approval and four more expected to be awarded within the coming year, said Sinn Chanserey Vutha, spokesman of the State Secretariat of Civil Aviation (SSCA).
He said seven airlines are currently licensed for operations in Cambodia, with two of the new air operator's certificates (AOC) issued in recent months to JC International Airlines and Lanmei Airlines, while Small Planet Airlines was awarded an AOC but has yet to commence service. Additional licences are in the pipeline for KC International Airline, Air Siem Reap, Prince International Airlines and Cambodia Airways.
"We will complete the AOC for KC International Airlines early next year, then continue to issue the rest over the course of the year," he said.
Earlier this month, the SSCA granted an AOC to Small Planet Airlines, allowing the Lithuania-based leisure airline to operate flights from its new regional hub in Cambodia. The airline, which operates charter flights to coastal resorts in the Mediterranean region from hubs in Lithuania, Poland and Germany, will use its new Cambodian base to overcome the challenges of seasonality in Europe by repositioning some of its fleet here during the European winter low season.
Erikas Zubrus, CEO of Small Planet Airlines Cambodia, said the airline will initially look to serve the Hong Kong, China and South Korean markets, while it has also applied for approvals to serve Thailand, Japan and islands in the Pacific region. "As for now, we have one aircraft registered in Cambodia, and it has completed its first test-flight successfully," he said. "We plan to expand our Cambodian fleet to three aircraft this winter and six aircraft in the upcoming two years."
KC International Airlines is the first airline in the queue for upcoming AOC approval. The airline startup, a US$100 million Chinese-Cambodian joint venture with ties to the ruling party, expects to launch service early next year to tap into the lucrative Chinese travel market.
Filling the niche
Vong Kong Leng, the airline's director of administration and human resources, said the new airline will leverage its Chinese director's 15 years of experience in the aviation business to fill a niche in the local market.
"We plan to launch in January and even though there are a lot of carriers competing in the aviation market it is still an opportunity for us because our strategy will be to operate to underserved destinations," he said.Prince International Airlines and its sister airline Cambodia Airways have also applied for AOCs and expect to commence commercial operations in early 2018. The two airlines, a project of the Chinese investors behind Prince Real Estate, are headed by a former executive of Cambodia Bayon Airlines and will look to convert their board's connections with Chinese travel agencies into ticket sales.
According to the company, PIA aims to launch with three A320 aircraft to serve the tourism charter market and two Gulfstream jets for local business clients.
Cambodia Airways has set plans to operate 10 Airbus 320s and two A330s within the next five years.
The airline is expected to operate scheduled flights to Japan, South Korea and Asean countries, as well as international routes to Europe and Asia.
Air Siem Reap, a joint venture between Thai "boutique" short-haul carrier Bangkok Airways and Cambodian tycoon and ruling party senator Ly Yong Phat, has applied to operate flights out of Siem Reap International Airport.
The new airlines will tighten competition in Cambodia's increasingly crowded air space where over 40 commercial airlines operate scheduled flights.
They could also put more pressure on locally registered carriers, particularly those that operate domestic services.
Cambodia has a reputation as one of the easiest markets for startup airlines to obtain an AOC and has been particularly attractive to operators targeting the high-growth Chinese market. Yet the kingdom has proven a challenging market, with a list of over 30 now-defunct airlines.
The most recent was Apsara International Air, which launched in October 2014 but within weeks had mothballed its sole Airbus 320 after incurring huge losses in a price war.
with other domestic carriers.In a report issued earlier this year, Australia-based aviation research and consulting firm the Centre for Aviation warned that startup airlines could face severe headwinds in Cambodia's already oversaturated aviation market.
It said the existing local carriers – which at the time comprised Cambodia Angkor Air, Sky Angkor Airlines, Cambodia Bayon Airlines and Bassaka Air – had all set their expansion hopes on China but lacked the scale and resources to compete with foreign carriers on these routes, or each other."Cambodia may not be able to support more than four local airlines over the long term," it said. "The four existing airlines, none of which operate more than seven aircraft, lack the scale to compete effectively with foreign airlines, and the proposed startups will face similar challenges if they succeed at launching services."Yet SSCA's Vutha said Cambodia's aviation regulator had no intention of capping the number of AOCs, though it could place restrictions on route permits."We expect more airlines to operate in Cambodia's aviation market as there is no rule limiting the number of airlines that can operate here," he said yesterday.
"This is a free market and it is possible to see some airlines appear and others disappear, though we might consider limiting approvals on routes to the various carriers if there are no parking slots [at airports] available."
Vutha added that with Cambodia's tourism sector growing rapidly competition in the aviation sector was in the best interest of air passengers.
"The more airlines we have the more competition there will be, which will bring lower prices and higher quality service to the aviation market," he said.
March 2017
Local airlines to face headwinds
Cambodian airlines trying to grow and capture a slice of the more promising Chinese market will face stern competition from more-established international carriers, while new startups could struggle to gain a foothold in the Kingdom's relatively small market, according to new research by the Centre for Aviation (CAPA).
All four of Cambodia's local airlines – Cambodia Angkor Air, Sky Angkor Airlines, Cambodia Bayon Airlines and Bassaka Air – have made China a focus of their international expansion. However, the airlines lack the scale and resources to compete with the 10 foreign carriers that already provide air connectivity between the Kingdom and China, the Australia-based aviation research and consulting firm said in a report released yesterday.
"Cambodia may not be able to support more than four local airlines over the long term," it said. "The four existing airlines, none of which operate more than seven aircraft, lack the scale to compete effectively with foreign airlines, and the proposed start-ups will face similar challenges if they succeed at launching services."
The four Cambodian carriers have a combined fleet size of 17 aircrafts, according to CAPA research. Bayon is expected to add two A320s this year, adding to its fleet of two MA60 turboprops, while Bassaka is planning to secure a third A320 and add more flights to China.
Additionally, newcomer JC International plans on operating two A320s this year, with Lan Mei Airlines expected to begin operations by the end of the year. Both airlines are owned by Chinese investors and expected to launch services to China.
Air passenger traffic between Cambodia and China has experienced double-digit growth since 2009 and currently accounts for about 20 percent of Cambodia's international scheduled seats. Some of the fiercest competition on these routes is expected to come from Chinese airlines plying these routes.
Brendan Sobie, chief analyst at CAPA, said despite the impressive growth in recent years of Cambodia's aviation market, which chalked up around 400,000 annual domestic passengers and 7 million international passengers last year, local carriers could struggle with commercial viability.
"Cambodia has a very limited domestic market, while its other international markets are not growing nearly as fast as China and are extremely competitive," he said.
Local airlines serving international destinations must compete with over 10 foreign low-cost carriers and more than 15 established Asian flag carriers that serve Cambodian airports. The top competitors include Vietnam Airlines, Bangkok Airways, Thai AirAsia and China Southern Airlines, which together operate nearly 50,000 weekly seats.
"Foreign airlines offer connections beyond their hubs, and have a huge competitive advantage over any Cambodian airline," he added.
Steve Kim, chief commercial officer for Cambodia operations of Small Planet Airlines, a Lithuanian-based carrier that is seeking government approval this year to fly from Cambodia to China and Korea, said fierce competition from established foreign carriers was unavoidable. However, he said Cambodian airlines could carve out a niche during the high tourist season.
"Cambodian airlines can rely on charter flights for maybe three or four months a year during the winter months to capture passengers from China," he said. "This is something they could do well with because they lack the scheduled flights and have no infrastructure and there is less risk."