Search and Buy Winair Flights with Alternative Airlines
Make a Winair Booking and Find Some Amazing Deals
---
About Winair
Winair, which is an abbreviation of Windward Islands Airways, is an airline based in Sint Maarten in the Caribbean. Winair serves flights within the Leeward Islands group of the Lesser Antilles in the North East Caribbean and has its headquarters at the Princess Juliana International Airport. The airline was founded in 1961, providing safe and efficient air transport in the Caribbean for over 50 years.
Winair flies to many destinations including St. John's, Marigot, Charlestown, The Bottom, Gustavia, Basseterre, Oranjestad, Road Town, San Juan and Pointe-a-Pitre. Winair has interline agreements with Delta Air Lines, United Airlines, Air Caraibes, Air France, KLM, Corsair International, British Airways, Virgin Atlantic, Copa Airlines, Caribbean Airlines, Air Antilles Express and previously, Insel Air.
---
Winair Destinations
| COUNTRY | CITY | AIRPORT | IATA |
| --- | --- | --- | --- |
| Antigua | St. John's | V. C. Bird International Airport | ANU |
| Aruba | Oranjestad | Queen Beatrix International Airport | ABA |
| Bonaire | Kralendijk | Flamingo International Airport | BON |
| Curaçao | Willemstad | Hato International Airport | CUR |
| Dominica | Marigot | Douglas–Charles Airport | DOM |
| Dominican Republic | Santo Domingo | Las Américas International Airport | SDQ |
| Guadeloupe | Pointe-à-Pitre | Pointe-à-Pitre International Airport | PTP |
| Haiti | Port-au-Prince | Toussaint Louverture International Airport | PAP |
| Puerto Rico | San Juan | Luis Muñoz Marín International Airport | SJU |
| Saba | Zion's Hill | Juancho E. Yrausquin Airport | SAB |
| Saint Kitts | Basseterre | Robert L. Bradshaw International Airport | SKB |
| Saint-Barthélemy | Gustavia | Gustaf III Airport | SBH |
| Sint Eustatius | Oranjestad | F.D. Roosevelt Airport | EUX |
| Sint Maarten | Philipsburg | Princess Juliana International Airport | SXM |
| Tortola | Road Town | Terrance B. Lettsome International Airport | EIS |
---
Winair Route Map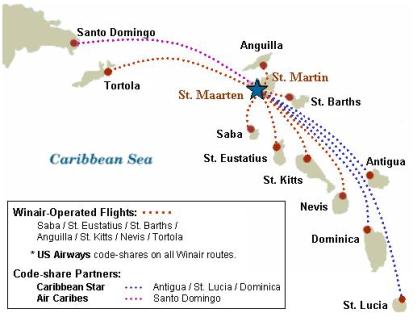 ---
Winair Baggage
Carry-on Baggage
When flying on the Twin-Otter aircraft, passengers are allowed 3kg of cabin luggage, and those travelling on bigger planes are permitted 7kg of cabin luggage. These items must be able to be stored under the seat in front of them.
In addition to the above item, passengers are allowed to carry a personal item free of charge. This can consist of items such as a coat, umbrella, camera, handbag or collapsible wheelchair.
Checked Baggage
Adult passengers are allowed one item of checked baggage, weighing a maximum of 23kg. The maximum dimensions (length + width + height) are 62 inches.
---
Winair Class Information
Economy Class
Winair's only cabin class in economy. Due to the small planes that the airline operates on, there will be limited service, but the seats are comfortable and spacious.
Premium Economy
There is no premium economy class onboard Winair flights. However, passengers can choose to purchase the 'VIP Plus' package, which allows passengers fast-track to disembark and through the customs process, to get you to your destination as soon as possible.
Business Class
There is currently no business class offered with Winair.
First Class
Winair do not yet have a first-class service onboard their flights.
---
Winair In-Flight Entertainment
Due to the small planes that Winair operate on, they do not currently provide any in-flight entertainment onboard their flights.
---
Winair Food and Drink
This airline does not have the facilities onboard their planes to offer food and drinks. You are welcome to bring your own food on the plane with you, as long as they fit with standards of the country.
---
Winair WiFi
Winair is yet to offer passengers either free or paid WiFi onboard their flights.
---
Winair Check-In Information
Online Check-in
Passengers can check-in for their flight online via the airline website. This will open 24 hours before your flight and will close 2 hours before departure.
Airport Check-in
Passengers can alternatively check-in at the airport by heading to the airport check-in counter. The airline recommends that you arrive at the airport to check-in at least 90 minutes before your flight time. For passengers departing from SXM, SAB, EUX, SBH, the airport check-in counter will close 45 minutes before the scheduled departure time, and for passengers from all other airports, the counter will close 60 minutes before.
---
Winair Frequent Flyer
Winair does not have any frequent flyer program.
---
Winair Airline Alliance
Winair is not part of any official airline alliance, but has codeshares and interlines with airlines such as KLM, Air France, Caribbean Airlines, Air Caraibes, Insel Air and Delta.
---
Winair Special Services
Winir asks that passengers in need of any special request should contact them directly with plenty of time before flying so that arrangements can be made.
---
The Fleet
The airline currently (correct of May 2019) operates its flights with the following aircraft. Previous aircraft in the now retired fleet included, BAE Jetstream, Britten-Norman BN-2P Islander and NAMC YS-11.
| AIRCRAFT | IN SERVICE | ORDERS |
| --- | --- | --- |
| ATR 42-500/600 | 3 | / |
| ATR 72-600 | 1 | / |
| de Havilland Canada DHC-6-300 Twin Otter | 4 | / |
---
Winair Hub Airport
Princess Juliana International Airport
This airport serves Saint Maarten and is the hub airport for Winair. It has one runaway. This airport has many airlines which fly to and from it including Air Antilles Express, Air Canada Rouge, Air Caraibes, Air France, Air Transat, Insel Air, Tiara Air, Sunwing Airlines, Winair, Anguilla Air Services and WestJet.
---
Alternative Airlines to Winair
Please click on the logos below to find out more about airlines that fly similar routes to Winair:
---
Winair News
15th May 2018
Winair launch new routes to Aruba and Bonaire
Starting July 2018, Winair will fly two new non-stop services out of Curaçao International Airport (CUR).
The first will be a service to Aruba that will operate three times a week. The journey is expected to take 35 minutes. The second service will fly to Bonaire and will operate 4 times a week. The journey will take an estimated 25 minutes. Both services will carry a passenger on the ATR42 aircraft.
15th February 2018
Winair expands in the Caribbean
St Maarten-based Winair is planning a massive expansion to its flight network towards the end of this month. Winair will be launching direct services to international destinations Curacao, Santo Domingo and Haiti beginning Feb. 26. The expanded network will include daily service to Curacao, five flights per week to Santo Domingo and two flights each week to Port-au-Prince, Haiti.
Winair will be operating the flights on ATR-42 aircraft with 48 seats, in partnership with the carrier's alliance partner, Air Antilles. "In keeping with Winair's tradition of providing safe, reliable transportation we are very pleased to recommence service to these destinations," said Michael Cleaver, CEO of Winair. "Winair looks forward to the continued support of the shareholders, employees and most importantly our customers with these new services. This positive development fills a much-needed void in air connectivity and will also provide additional employment to St. Maarten in these trying times."
7th January 2018
St Maarten's Winair new route to Haiti
Regional Caribbean air carrier Winair has launched a brand-new service to Port-au-Prince, Haiti. The new service between St Maarten and Haiti will begin operations by Sunrise Airways on Airbus A320 aircraft. While Sunrise is operating the flight, all seats are sold and marketed by Winair, according to the company. The flights will include 138 economy seats and 12 business class seats, with flights operating on Wednesdays and Saturdays. The flights will leave Haiti at 8:15 AM and return from St Maarten at 12 PM.
---