Aruba Airlines Reservations with Alternative Airlines
Make a Booking and Find Some Amazing Deals
---
About
Aruba Airlines is the flag carrier of Aruba. The airline is based at Queen Beatrix International Airport (AUA), Oranjestad and flies to destinations across the Caribbean, as well as to Colombia. In addition, the airline flies indirect to Miami, US.
The airline was founded in 2006 but didn't start flying until 2013. Initially, the airline only flew charter flights but, in 2013, after gaining its Airlines Operation Certificate, it launched scheduled flights, with a single service to Maracaibo, Venezuela as its inaugural flight. Shortly after, it began offering more flights within the Americas and the Caribbean.
Aruba Airlines is currently the only Aruban airline and one of the main airlines flying to/from the islands, although, passengers can fly to Aruba with airlines with the Caribbean. The airline was created to fill the gap that was left when Aruba's previous flag carrier, Air Aruba, ceased operations in the early 2000s. After Air Aruba stopped flying, a number of other Aruban airlines launched, but none of them survived for very long. Aruba Airlines is the longest-serving airline since Air Aruba.
---
Destinations
Aruba Airlines flies to many destinations around the world including Bogota, Georgetown, Havana, Kralendijk, Maracaibo, New York, Oranjestad, Punto Fijo, Philipsburg, Valencia (Venezuela) and Willemstad.
Here's a full list of destinations and the airports that it flies to:
Oranjestad, Aruba — Queen Beatrix International Airport
Kralendijk, Dutch Caribbean — Flamingo International Airport
Barranquilla, Colombia — Ernesto Cortissoz International Airport
Medellin, Colombia — José María Córdova International Airport
Riohacha, Colombia — Almirante Padilla Airport
Willemstad, Curaçao — Hato International Airport
Miami, US — Miami International Airport (indirect)
---
Route Map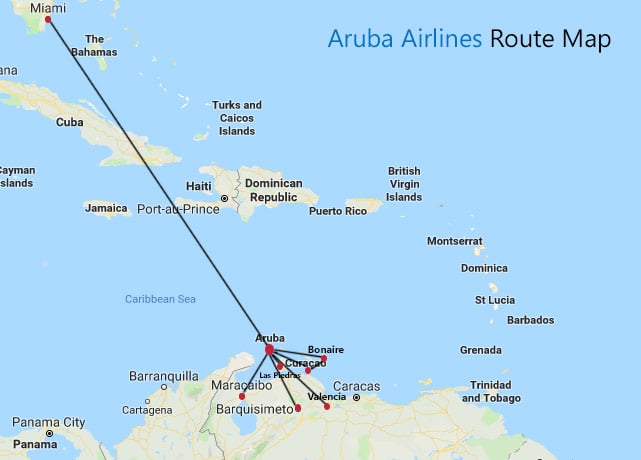 ---
Baggage
Carry-on Baggage
Aruba Airlines allows one piece of hand luggage with a maximum weight of 8kg. The maximum dimensions should not exceed 50cm x 35cm x 23cm including wheels and handles.
In addition to this, passengers can bring a personal item, such as a laptop bag or small backpacks. This can weigh no more than 2 kg.
Checked Baggage
Aruba Airlines allows one piece of checked baggage per passenger with a maximum weight of 23kg.
---
Economy Class
Economy Class is currently the only cabin class that the airline offers. It used to fly Business Class on flights to Miami, however, with new aircraft, the airline stopped this service.
The Economy Class cabin is a smooth and professional service, with food and drink offered on all flights. Each passenger is sat in a comfortable seat with plenty of room. Seats are set out in a 3 x 3 formation on all flights.
---
In-Flight Entertainment
There's no in-flight entertainment system available on flights. However, the airline may provide passengers with an in-flight magazine to read during the flight, depending on the route that they're flying.
---
Food and Drink
The airline doesn't offer food service but does serve drinks during the flight. If a passenger wants to bring their own food or drink onto their flight, they're able to do so, as long as the items are allowed through airport security and onto the flight.
---
Check-In Information
Online Check-In
Online check-in is currently unavailable for flights on this airline.
Airport Check-in
Airport check-in opens three hours prior to departure and closes one hour prior. Passengers can check-in for their flight at the airport of departure by visiting one of the check-in agents and the airline check-in desk.
---
Airline Alliance
Aruba Airlines isn't a member of any airline alliance. It also doesn't have any codeshare or interline agreements.
---
Frequent Flyer
The airline doesn't have a frequent flyer program at this time. Most flag carriers do have frequent flyer programs, so, Aruba Airlines may create one sometime in the future.
---
Fleet
Aruba Airlines' fleet is often updating and changing but currently includes Airbus A320200 and Bombardier CRJ200 aircraft.
---
Hub Airport
Queen Beatrix International Airport
Aruba Airlines is based at Queen Beatrix International Airport in Oranjestad, Aruba and the hub for Aruba Airlines. The airline has been based at Queen Beatrix International since it launched in 2013. Aruba Airlines is currently the only airline based at the airport. The airport itself has a single runway and terminal building, which is where all flights depart and take off from.
The airport has services that fly to the United States, Canada, Trinidad and Tobago and many countries in South America and the Caribbean. Other airlines that fly from Queen Beatrix International Airport include Sun Country Airlines, LASER Airlines, LATAM Colombia, Divi Divi Air, Aserca, Jetblue Airways, WestJet, Copa Airlines and American Airlines.