Trusted Choice
Secure Booking
Airlines will always try to sit children with their parents (subject to check-in)
Some airlines will allow travel for unaccompanied minors. Please email us to check.
The fare is based on the child's age on the date of travel.
More detailed information can be found here Traveling with children
Most airlines will let infants travel with their parent(s) for free. However some airlines will charge up to 10% of the adult ticket price. Click on 'Price Breakdown' to find out more.
If you are pregnant, but due before the flight departure date, please contact us once your baby is born and has a name. We can then add him/her to your ticket.
Infants will not be given a seat. The airlines expect parents to travel with them on their lap.
Airlines regard infants as being under 24 months old.
The fare is based on the child's age on the date of travel.
More detailed information can be found here Traveling with children
Over 65,000 happy customers
Search & Book Flights With
Sun Country Airlines
Buy
Sun Country Airlines

Flights
Sun Country Airlines Reservations with Alternative Airlines
Make a Sun Country Airlines Booking and Find Some Amazing Deals
---
About Sun Country Airlines
Sun Country Airlines, or Sun Airlines, is an American airline which is headquartered in Minneapolis, United States, and flies to over 45 destinations within the United States, Mexico and the Caribbean. The airline was founded in June 1982 and first began operations in 1983. Sun Country Airlines flies from Minneapolis to destinations that include Punta Cana, Montego Bay, Liberia, St. Maarten, San Juan, St. Thomas, San Jose del Cabo, Anchorage, Phoenix, Los Angeles, Palm Springs, Boston, Minneapolis, Gulfport, Savannah and many others.
Since July of 2011, the airline has been owned by members of the Davis family of Minnesota, who are also owners of Cambria, a manufacturer of premium countertops. Sun Country Airlines has been recognized for providing excellent service to passengers by being ranked in the Top Ten Domestic Airlines lists by both Travel and Leisure for five years in a row and Condé Nast Travellers three years in a row. Buy cheap Sun Country flights with Alternative Airlines.
In June 2018, the airline announced it will add 11 new routes to it's existing network. These include seasonal services from Dallas - Texas, Madison, Fort Worth and more.
---
Sun Country Airlines Baggage
Carry-on Baggage
The hand baggage limit for passengers on Sun Country Airlines is one personal item and a carry-on bag. The personal item must measure no more than 17 x 13 x 9 inches, and be able to stow under the seat. Every ticket permits passengers to bring one personal item with them.
Carry-on bags must measure no more than 24 x 16 x 11 inches. They must not exceed 35lbs in weight. Carry-on bags are only permitted for passengers who have elected the carry-on bag option, or for those travelling in First Class.
Checked Baggage
Search Results
Featured snippet from the web
Checked bag can be no larger than 62 linear inches (length + width + height) and weigh 50 pounds or less. Learn more about checked baggage policies. Carry-on item can be no larger than 24 x 16 x 11 inches, including wheels and handles.
Checked luggage must not exceed 62 linear inches (combining length, width and height) and must weigh 50lbs or less. Checked bags must be purchased or included in the original ticket, otherwise, fees may be applied at the airport.
---
Sun Country Airlines Check-In Information
Online Check-In
Sun Country Airlines offer online check-in for passengers travelling domestically within the USA. This opens 24 hours before scheduled departure time and closes one hour before the scheduled departure time. This can be done on the Sun Country online check-in page.
Airport Check-In
Airport check-in opens 2 hours before departure and closes up to 1 hour before departure time.
---
Sun Country Airlines Economy Class
Sun Country Airlines' only class of economy, provides for a comfortable flying experience and fantastic customer service.
Economy Class Facilities
Some seats in Sun Country have USB and AC power outlets so that passengers can charge their personal devices. The airline also offers passengers complimentary beverages such as tea, coffee, water, juices and fizzy drinks.
Economy Class Seats
There are three types of economy seats that passengers can choose from; Best, Better and Standard:
Best seats give passengers 34 inches of legroom, with seats that have a 150% recline and adjustable headrest. These seats are located at the front of the cabin. Passengers in this class also get priority boarding and a complimentary premium beverage.
Passengers in Better seats will get 32 inches of legroom, complete with a standard reeling and a full-sized dinner tray. These seats also have USB ports for passengers' personal devices.
Passengers choosing a Standard seat will get a seat consistent with other major US airlines, typically 29 to 30 inches of legroom and with a standard reclining chair. There will also be a chair dinner tray and a USB power charging slot.
---
Premium Economy Class
Premium Economy is not a class service currently offered on this airline. To get a premium experience, choose the Best Seat class available in economy class.
---
Business Class
Sun Country Airlines do not currently have a business class.
---
Sun Country Airlines First Class
Unfortunately, in 2018 Sun Country Airlines pledged to remove their First Class service from their flights by the end of the year. However, this is was previously was offered:
Passengers with a Sun Country Airlines First Class ticket can enjoy priority boarding, shorter check-in and security lines, larger seats, free drinks, a free meal or snack, free use of Sun Country Airline's in-flight entertainment system.
---
Sun Country Airlines In-Flight Services
WIFI
Sun Country Airlines currently does not offer WIFI on any of its flights.
Digital Entertainment Device
Sun Country Airlines offer its Digital Entertainment Device on all flights longer than 4 hours. The Sun Country Airlines Digital Entertainment Device is a seven-inch touch-screen tablet with a high-resolution screen. The tablet has a digital entertainment system that shows the latest releases from cinema, the most in-demand TV shows, games, as well as a kids section with age-appropriate movies and television.
Sun Country Airlines Digital Entertainment Device is free with every first class tickets, or available to rent for passengers with a Coach Class ticket.
---
Sun Country Airlines Fleet

Sun Country Airlines fleet consists of 4 x Boeing 737-700 and 21 x Boeing 737-800s. In total, Sun Country Airlines fleet consists of 25 aircraft.
---
Alternative Airlines to Sun Country Airlines
Please click on the logos below to find out more about airlines that fly similar routes to Sun Country Airlines:
---
Sun Country Airlines Frequent Flyer Program
Ufly Rewards
Sun Country Airlines operates a frequent flyer program to reward regular passengers with the airline called Ufly Rewards.
Ufly Rewards members can earn points on all purchases with Sun Country Airlines. For every $1 spent on flight tickets and any additional service such as car rental and seat upgrades, members can earn 10 points
---
Sun Country Airlines Destinations
International Destinations
| | | | |
| --- | --- | --- | --- |
| Aruba | Ixtapa/Zihuatanejo | Punta Cana | San Juan |
| Belize City | Liberia | Puerto Vallarta | Sint Maarten |
| Cancún | Mazatlán | Saint Kitts | St.Thomas |
| Cozumel | Montego Bay | San José del Cabo | |
Domestic Destinations
Anchorage
Honolulu
New York City
Santa Barbara
Austin
Las Vegas
Orlando
Santa Rosa
Boston
Los Angeles
Palm Springs
Savannah
Dallas/
Fort Worth
Madison
Phoenix
Seattle/
Tamcoma
Denver
Miami
Portland
St.Louis
Fort Myers
Minneapolis/
Saint Paul
Reno
Tampa
Gulfport/Bioxi
Myrtle Beach
San Diego
Tuscon
Harlingen
New Orleans
San Francisco
---
Sun Country Airlines Route Map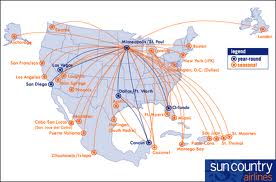 ---
Sun Country Airlines Popular Routes
Minneapolis

Phoneix
Anchorage

Minneapolis
Palm Springs

Minneapolis
Minneapolis

Montego Bay
San Juan

Minneapolis
Minneapolis

Liberia

---
The Fleet
Boeing 737-800
Boeing 737-800
---
Sun Country Airlines Hub Airport
Minneapolis-Saint Paul International Airport
Sun Country Airlines is based at Minneapolis-Saint Paul International Airport which is also the hub airport for Delta Airlines, Great Lake Airlines. It has 4 runways and can handle nearly 40 million passengers every year.
Other airlines which fly to and from this airport include Air Choice One Air France, American Airlines, Skywest Airlines, Delta Air Lines, Frontier Airlines, Icelandair, Spirit Airlines, Southwest Airlines and many other airlines.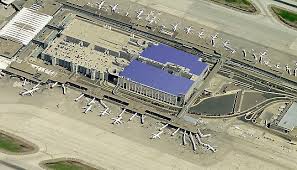 Sun Country Airlines Discount Codes
If you are looking to buy a Sun Country Airlines discounted ticket then you can when you reserve your Sun Country Airlines ticket with Alternative Airlines and use our flight promo codes. All our voucher codes will get you great discounted Sun Country Airlines tickets, when paying with PayPal.
---
Sun Country Airlines News
1st August 2018
Sun Country Airlines Adds New Routes - 11 of them!
Sun Country Airlines is adding 11 new routes to its network, the airline has announced. The new routes will add to their non-stop routes to a total of 64 available. The new routes added to the American airline include: Flights from Dallas - Ft Meyers Southwest Florida and Tampa; from Madison, Wisconsin - Ft Meyers Southwest; from Portland - Honolulu, Las Vegas, Palm Springs, phoenix, Reno-Tahoe; from St Louis - Ft Meyers Southwest Florida. Flights from MSP - LAX.
28th June 2018
Sun Country Airlines expand route network
Sun Country Airlines are adding several new routes to their schedule in Q32018. The American airline will launch a total of eleven new services, flying to destinations across the USA from airports in Florida and Oregon. Sun Country Airlines will use its fleet of Boeing 737-800 aircraft to carry passengers on all routes.
Sun Country Airlines will operate the following services from Fort Myers, Florida:
To Madison twice a week from the 28th September 2018
To Dallas/Fort Worth twice a week from 3rd October 2018
To St. Louis twice a week from 3rd October 2018
Sun Country Airlines will operate the following services from Tampa, Florida:
To Madison twice a week from 28th September 2018
To Dallas/Fort Worth twice a week from 5th October 2018
To St. Louis twice a week from 1st November 2018
Sun Country Airlines will operate the following services from Portland, Oregon:
To Las Vegas twice a week from 1st November 2018. Sun Country Airlines will double the frequency it flies this route from 15th November 2018, flying four times a week
To Palm Springs twice a week from 1st November 2018
To Honolulu four times a week from 14th November 2018
To Phoenix four times a week from 14th November 2018
To Reno twice a week from 16th November 2018