Caribbean Airlines Reservations with Alternative Airlines
Make a Caribbean Airlines Booking and Find Some Amazing Deals
---
About
Caribbean Airlines is the state-owned airline of Trinidad and Tobago. This airline has an extensive route network — flying more than 600 weekly flights to more than 20 destinations in the Caribbean, North America and South America. In addition to the hub at Piarco International Airport in Trinidad and Tobago, the Caribbean carrier also has another hub in Jamaica at Norman Manley International Airport. At present, the airline is the largest in all of the Caribbean.
The airline launched flights in 2007, with its first-ever flight taking place on the first day of the year. Soon after, it rolled out the rest of its flight schedule, with 128 weekly departures to 10 destinations and five Boeing 737-800 aircraft. In August 2007, it opened a new 2,000-square-foot sales and ticket office at Nicholas Tower, Independence Square, Port-of-Spain, Trinidad featuring state-of-the-art technology such as internet kiosks for ticket booking and the online check-in. Two months later, the airline purchased the remaining shares of the airline, Tobago Express. This acquisition included the airline's employees, its five aircraft and responsibility for operating the domestic air bridge between Trinidad and Tobago.
In early 2008, Caribbean Airlines began daily services to Caracas, Venezuela. The new daily return flight was the first network expansion since the start of operations in January 2007. The introduction of a daily service to Fort Lauderdale, Florida soon followed and we became the regional airline with the most direct services between Trinidad and South Florida. This growth was complemented by significant cost savings and increased quality control with the move to insource the heavy maintenance of the fleet.
Caribbean Airlines were the pioneers of the simplified one-way fare inclusive of taxes and fees that provided customers with flexible fare combinations and extended stay options. In the first two months of operation, its on-time performance was 93.9%, surpassing the average aviation industry's standard of 85%. It also exceeded industry standards with an impressive lost baggage rate of just 0.7 for January 2007 (less than one bag lost per thousand passengers).
In the past, to meet increased travel demand for major regional events, like the 2007 Cricket World Cup and the Tobago Jazz Festival in March and April, Caribbean Airlines have added extra aircraft and hundreds of extra flights to their schedule. The enhanced schedule also includes special charters to St. Kitts, Bermuda and Grenada, and is a clear example of Caribbean Airlines' commitment to the travel needs of the people of the Caribbean.
---
Destinations
The airline operates scheduled services to the following destinations: Toronto, New York, Orlando, Fort Lauderdale, Miami, Nassau, Montego Bay, Kingston, St. Maarten, Antigua, St. Lucia, Grenada, Caracas, Barbados, Tobago, Trinidad, Georgetown and Paramaribo.
| COUNTRY | CITY | AIRPORT | IATA |
| --- | --- | --- | --- |
| Antigua and Barbuda | Osbourn | V. C. Bird International Airport | ANU |
| Bahamas | Nassau | Lynden Pindling International Airport | NAS |
| Barbados | Bridgetown | Grantley Adams International Airport | BGI |
| Canada | Toronto | Toronto Pearson International Airport | YYZ |
| Cuba | Havana | José Martí International Airport | HAV |
| Curacao | Willemstad | Hato International Airport | CUR |
| Grenada | St. George's | Maurice Bishop International Airport | GND |
| Guyana | Georgetown | Cheddi Jagan International Airport | GEO |
| Guyana | Georgetown | Eugene F. Correira International Airport | OGL |
| Jamaica | Kingston | Norman Manley International Airport | KIN |
| Jamaica | Montego Bay | Sangster International Airport | MBJ |
| Saint Lucia | Castries | George F. L. Charles Airport | SLU |
| Saint Vincent and the Grenadines | Kingstown | Argyle International Airport | SVD |
| Sint Maarten | Philipsburg | Princess Juliana International Airport | SXM |
| Suriname | Paramaribo | Johan Adolf Pengel International Airport | PBM |
| Trinidad and Tobago | Port of Spain | Piarco International Airport | POS |
| Trinidad and Tobago | Scarborough | Arthur Napoleon Raymond Robinson International Airport | TAB |
| United States | Fort Lauderdale | Fort Lauderdale – Hollywood International Airport | FLL |
| United States | Miami | Miami International Airport | MIA |
| United States | New York City | John F. Kennedy International Airport | JFK |
| United States | Orlando | Orlando International Airport | MCO |
---
Route Map
The following is the current route map for Caribbean Airlines, with all the current destinations and routes that they serve.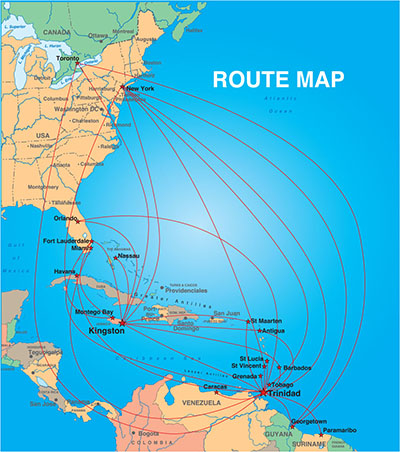 ---
Baggage
Carry-On Baggage
One piece of carry-on baggage is allowed per passenger. This piece of baggage can't weigh more than 10kg / 22lbs in weight and must be no bigger than the overall dimensions of 114cm / 44in. In addition to this, passengers flying on Caribbean Airlines are allowed to bring another small bag, such as a backpack, briefcase, handbag, or laptop. The additional small bag must be no larger than 91cm / 35in in overall dimension.
Checked Baggage
Checked baggage allowance will depend on the fare that is chosen. No one piece of checked baggage can weigh more than 23kg / 50lbs or be larger than 157cm / 61in overall.
Business Class
Flex & Semi-Flex
Passengers flying in Business Class are entitled to three items of free checked baggage, no matter which route they're flying.
Economy Class
Flex
Passengers flying in Economy Class with a flex fare ticket are entitled to two items of free checked baggage unless they're flying domestically within Trinidad and Tobago.
Semi-Flex
Passengers flying in Economy Class with a semi-flex fare ticket are entitled to two items of free checked baggage on routes flying to and from Montego Bay and Fort Lauderdale.
Passengers flying in Economy Class with a semi-flex fare ticket are entitled to one item of free checked baggage when flying any other Caribbean Airlines route.
Non-Flex
Passengers flying in Economy Class with a non-flex fare ticket are entitled to two items of free checked baggage when flying to and from Montego Bay and Fort Lauderdale.
Passengers flying in Economy Class with a non-flex fare ticket are entitled to one item of free checked baggage on all other routes.
---
Check-In Information
Online Check-In
Passengers can use web check-in by visiting our online check-in page and clicking on the Caribbean Airlines logo. Once redirected to the airline's own check-in page, click on the check-in tab and enter the relevant flight details. Online check-in is available between 24—3 hours before departure time.
Airport Check-In
Alternatively, passengers can check in for their flight at the airport by visiting the Caribbean Airlines check-in counters. Check-in counters close one hour before the scheduled flight departure time. Please arrive in good time to allow for check-in, baggage drop and security.
---
Economy Class
The great onboard atmosphere extends to Economy Class. Flight attendants are dedicated to looking after you, giving you a friendly welcome and sincere hospitality. It's all part of being Caribbean and part of all the Caribbean Airlines experience.
Enjoy a warm meal onboard and satisfy your thirst with a wide selection of complimentary non-alcoholic drinks. You can catch up on your favourite TV shows and recent movies by streaming above the clouds. Stay connected with friends and family with Wi-Fi connectivity onboard.
Seats
The Economy Class cabin is set out in a 2 x 2, 3 x 3 or 2 x 3 x 2 formation.
---
Premium Economy
Caribbean Plus is the equivalent of Premium Economy, which provides passengers with a little more comfort than economy class. Passengers receive earlier boarding, extra legroom seating, and extra room to recline and exit quicker on arrival at their destination.
---
Business Class
Enjoy extra comfort and relaxation with Business Class. Passengers are given access to a Business Class lounge, offering privacy and comfort. On top of this Business Class passengers receive a dedicated check-in, priority booking, baggage retrieval and a special Business Class meal.
Seats
Business Class seats are set out in a 2 x 2 for 2 x 2 x 2 formation and give ultimate room and comfort for a totally relaxed flight.
---
Frequent Flyer Program
Caribbean Miles
Caribbean Airlines operates a frequent flyer program called Caribbean Miles to reward regular passengers. This program offers many benefits to its members, and there is no joining fee. Read our blog for a breakdown of the best frequent flyer programs around the world.
There are three tiers to the program:
Silver

Gold

Executive Gold
Benefits:
Access to lounges and business centres

Discounted rates for co-applicants and corporate clients

Waiver of flight and date change penalty

Priority boarding

Preferential airport check-in
---
In-Flight Entertainment
Caribbean Airlines passengers can stream blockbuster movies, TV shows, games and much more to their personal devices. To access Caribbean Airlines inflight entertainment, please download the "Caribbean View" app via Google Play or App Store.
TV
There's an exciting range of classic sitcoms, kids' shows, travel documentaries and much more available to stream with the Caribbean View app.
Movies
With the Caribbean View app, passengers can enjoy new releases, comedies, cartoons and so much more. There's something for every age and every taste with Caribbean Airlines.
---
Food
The airline offers food and drinks on all flights. The Caribbean Airlines' in-flight menu is inspired by a mix of tastes from Caribbean islands and Western cuisine.
All food and drink are complimentary in the airline's Business Class cabin, while free soft drinks are offered to passengers who are flying in Economy or Premium Economy.
Passengers in Economy Class can order anything from the airline's regular in-flight menu, whereas passengers in Business Class are given a special Business Class menu, exclusive to their cabin.
---
Fleet
Caribbean Airlines' fleet consists of Boeing 737-800 and ATR 72-600 aircraft. Overall, the airline has 18 aircraft within its fleet. The airline was supposed to replace its Boeing 737-800 with Boeing 737 MAX 8s in 2019, however, this was delayed due to the 737 MAX 8s being grounded.
---
Hub Airport
Piarco International Airport
Piarco International Airport is one of two international airports serving Trinidad and Tobago and is Caribbean Airlines' hub. It is the seventh busiest airline in the Caribbean in terms of passengers served.
Piarco International Airport has direct scheduled service to destinations in the United States, Canada, Central America, South America and Europe. Piarco International Airport has two terminals and can handle almost two million passengers per year.
Airlines which use Piarco International Airport include American Airlines, Caribbean Airlines, Conviasa, Copa Airlines, Insel Air and Surinam Airways.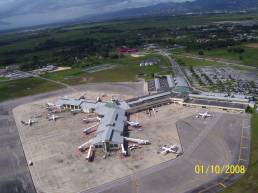 ---
Alternative Airlines to Caribbean Airlines
Please click on the logos below to find out more about airlines that fly similar routes to Caribbean Airlines:
---
Pay for Caribbean Airlines with PayPal Voucher Codes
Grab a great deal for your Caribbean Airlines flight with a PayPal Voucher code. Save money off your next Caribbean Airlines ticket by paying with PayPal and entering the available discount code.
Tip: want to discover other ways that you can save money on flights to the Caribbean? Check out our page on how to get cheap flights to the Caribbean.
---
Pay with a Payment Plan
Pay Caribbean Airlines tickets over time with Affirm, PayPal Credit or Klarna. Buying flights on finance is easy to set up and convenient, giving you an affordable way to purchase flights by allowing you to pay back the cost of your flight over time. Check out our Caribbean Airlines - Fly Now, Pay Later page for more information.
---
News
September 22nd 2022
Caribbean Airlines launches new Caribbean Club Lounge
Business Class passengers with Caribbean Airlines can now expect an elite pre-flight experience in the new Caribbean Club Lounge at Piarco International Airport in Trinidad. Club members and Business Class travellers can now relax in a modern, comfortable lounge before boarding. Amenities include a self-serve bar with catered breakfast, lunch and dinner options as well as a variety of snacks, free Wi-Fi, meeting pods, charging stations and cable TV.
September 12th 2022
Caribbean Airlines launches courier service
Caribbean Airlines has launched its Jetpak courier service allowing online shoppers to have their goods delivered directly to their doorsteps or workplaces. This service is currently only available in Trinidad but a delivery-only option should soon be available in Tobago and other countries within the airline's network.