Search & Buy Caribbean Airlines Flights
Select your payment method to view total prices including any payment fees:
Airlines will always try to sit children with their parents (subject to check-in)
Some airlines will allow travel for unaccompanied minors. Please email us to check.
The fare is based on the child's age on the date of travel.
More detailed information can be found here Traveling with children
Most airlines will let infants travel with their parent(s) for free. However some airlines will charge up to 10% of the adult ticket price. Click on 'Price Breakdown' to find out more.
If you are pregnant, but due before the flight departure date, please contact us once your baby is born and has a name. We can then add him/her to your ticket.
Infants will not be given a seat. The airlines expect parents to travel with them on their lap.
Airlines regard infants as being under 24 months old.
The fare is based on the child's age on the date of travel.
More detailed information can be found here Traveling with children
Buy
Caribbean Airlines

Flights
Caribbean Airlines Reservations with Alternative Airlines
Make a Caribbean Airlines Booking and Find Some Amazing Deals
---
About Caribbean Airlines
Founded in September 2006, Caribbean Airlines is the state-owned airline of Trinidad and Tobago. Caribbean Airlines has a huge route network — flying more than 600 weekly flights to 19 destinations in the Caribbean, North America, South American and the United Kingdom. In addition to Caribbean Airlines hub at Piarco International Airport in Trinidad and Tobago, the Caribbean carrier also has another hub in Jamaica at Norman Manley International Airport.
The airline operates scheduled services to the following destinations, including incorporated services formerly operated by Air Jamaica: Toronto, New York, Orlando, Fort Lauderdale, Miami, Nassau, Montego Bay, Kingston, St. Maarten, Antigua, St. Lucia, Grenada, Caracas, Barbados, Tobago, Trinidad, Georgetown and Paramaribo.
Caribbean Airlines first ever flight took place on 1st January 2007. Soon after, it rolled out the rest of its flight schedule, with 128 weekly departures to 10 destinations and 5 Boeing 737-800 aircraft.
Caribbean Airlines were the pioneers of the simplified one-way fare inclusive of taxes and fees that provided customers with flexible fare combinations and extended stay options. In the first two months of operation, their on-time performance was 93.9%, surpassing the average aviation industry's standard of 85%. Caribbean Airlines also exceeded industry standards with an impressive lost baggage rate of just 0.7 for January 2007 (less than one bag lost per thousand passengers).
Caribbean Airlines has codeshares with British Airways, with the first flight taking off between Port of Spain, Trinidad and London Gatwick International Airport. The codeshare allows Caribbean Airlines customers easy connectivity to London, a city well loved by travellers.
To meet increased travel demand for major regional events, like the Cricket World Cup and the Tobago Jazz Festival in March and April, Caribbean add extra aircraft and hundreds of extra flights to their schedule. The enhanced schedule also includes special charters to St. Kitts, Bermuda and Grenada, and is a clear example of Caribbean Airlines' commitment to the Caribbean region and its customers' needs.
Caribbean Airlines' fleet consists of a mix of Boeing and Airbus aircraft.
The airline offers a two-class service on their Boeing aircraft with 16 seats in business class and 138 in economy. In August 2007, Caribbean Airlines opened a new 2,000 square-foot sales and ticket office at Nicholas Tower, Independence Square, Port-of-Spain, Trinidad featuring state-of-the-art technology such as internet kiosks for ticket booking and online check-in. Two months later, the airline purchased the remaining shares of the airline, Tobago Express. This acquisition included the airline's employees, its five aircraft and responsibility for operating the domestic air bridge between Trinidad and Tobago.
In early 2008, Caribbean Airlines began a daily service to Caracas, Venezuela. The new daily return flight was the first network expansion since the start of operations in January 2007. The introduction of a daily service to Fort Lauderdale, Florida soon followed and we became the regional-airline with the most direct services between Trinidad and South Florida. This growth was complemented by significant costs savings and increased quality control with the move to insourcing the heavy maintenance of the fleet.
---
Caribbean Airlines Frequent Flyer Program
Caribbean Airlines operates a frequent flyer program called Caribbean Miles to reward regular passengers. This program offers many benefits to its members, and there is no joining fee. Read our blog for a breakdown of the best frequent flyer programs around the world.
There are three tiers to the program:
Silver

Gold

Executive Gold
Benefits:
Access to lounges and business centres

Discounted rates for co-applicants and corporate clients

Waiver of flight and date change penalty

Priority boarding

Preferential airport check-in
---
Caribbean Airlines Check-In Information
Online Check-In
Passengers flying on Caribbean Airlines use web check-in by visiting our online check-in page and clicking on the Caribbean Airlines logo. Once redirected to the Caribbean Airlines check-in page, click on the check-in tab and enter the relevant flight details. Online check-in is available on Caribbean Airlines flights between 24—3 hours before departure time.
Airport Check-In
Passengers can check-in for their Caribbean Airlines flight at the airport by visiting the Caribbean Airlines check-in counters. Check-in counters close one hour before scheduled flight departure time. Please arrive in good time to allow for check-in, baggage drop and security.
---
Pay for Caribbean Airlines with PayPal Voucher Codes
Grab a great deal with a Caribbean Airlines PayPal Voucher code with Alternative Airlines! Save money by paying with PayPal and PayPal discount codes.
---
Caribbean Airlines Baggage and Luggage Allowance
Carry-On Baggage
One piece of carry-on baggage is allowed per passenger on Caribbean Airlines flights. This piece of baggage can't weigh more than 10kg in weight and must be no bigger than the overall dimensions of 114cm. In addition to this, passengers flying on Caribbean Airlines are allowed to bring another small bag, such as a backpack, briefcase, handbag, or laptop. The additional small bag must be no larger than 91cm in overall dimension.
Checked Baggage
Checked baggage allowance will depend on the fare that is chosen. No one piece of checked baggage can weigh more than 23kg or be larger than 157cm overall.
Business Class
Flex & Semi-Flex
Passengers flying in Business Class are entitled to three items of free checked baggage, no matter which route they're flying.
Economy Class
Flex
Passengers flying in Economy Class with a flex fare ticket are entitled to two items of free checked baggage unless they're flying domestically within Trinidad and Tobago.
Semi-Flex
Passengers flying in Economy Class with a semi-flex fare ticket are entitled to two items of free checked baggage on routes flying to and from Montego Bay and Fort Lauderdale.
Passengers flying in Economy Class with a semi-flex fare ticket are entitled to one item of free checked baggage when flying any other Caribbean Airlines route.
Non-Flex
Passengers flying in Economy Class with a non-flex fare ticket are entitled to two items of free checked baggage when flying to and from Montego Bay and Fort Lauderdale.
Passengers flying in Economy Class with a non-flex fare ticket are entitled to one item of free checked baggage on all other routes.
---
Caribbean Airlines In-flight Entertainment
Carribean Airlines passengers can stream blockbuster movies, TV shows, games and much more to their peronal devices. To access Carribean Airlines inflight entertainment, please download the "Carribean View" app via the Google Play or App stores.
Caribbean Airlines TV
There's an exciting range of classic sitcoms, kids shows, travel documentaries and much more available to stream with the Carribean View app.
Caribbean Airlines Movies
With the Carribean View app, passengers can enjoy new releases, comedies, cartoons and so much more. There's something for every age and every taste with Carribean Airlines.
---
Caribbean Airlines Route Map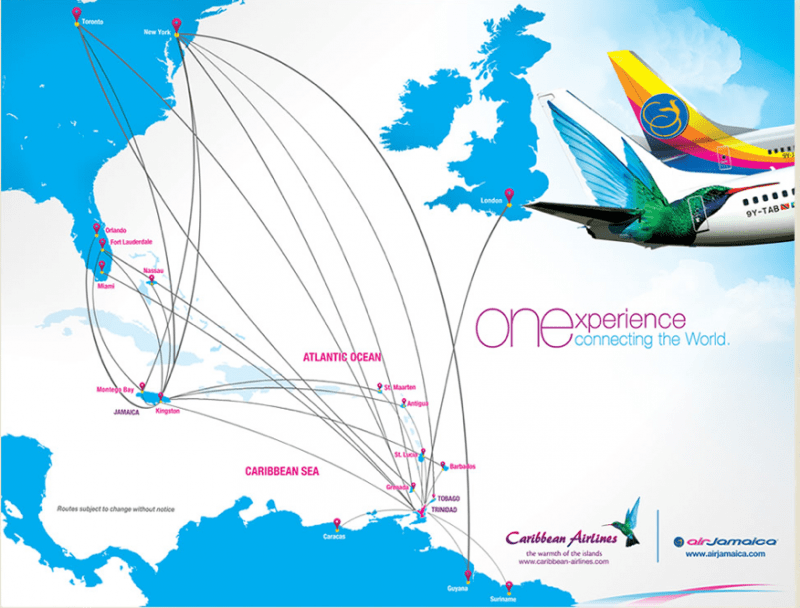 Caribbean Airways Popular Routes
London

Trindad
Orlando

Kingston
Montego Bay

Fort Lauderdale
Grenada

New York
Kingston

St Lucia
Barbados

Kingston

---
The Fleet
---
Caribbean Airlines Hub Airport
Piarco International Airport
Piarco International Airport is one of two international airports serving Trinidad and Tobago and is Caribbean Airline's hub. It is the seventh busiest airline in the Caribbean in terms of passengers served.
Piarco International Airport has direct scheduled service to destinations in the United States, Canada, Central America, South America and Europe. Piarco International Airport has two terminals and can handle almost two million passengers per year.
Airlines which use Piarco International Airport include American Airlines, Caribbean Airlines, Conviasa, Copa Airlines, Insel Air and Surinam Airways.

Alternative Airlines to Caribbean Airlines
---
Please click on the logos below to find out more about airlines that fly similar routes to Caribbean Airlines:
---
Buy Discounted Caribbean Airlines Tickets at Alternative Airlines
---
Caribbean Airlines News
19th June 2018
Caribbean Airlines Ranked In Top 10 Percentage in On-Time Performance Worldwide
For on-time performance (OTP), Caribbean Airlines has been ranked 34th in the world for May 2018 by United Kingdom-based air travel intelligence company Official Aviation Guide (OAG).
150 airlines were used to determine the ranking of on-time performances.
According to the OAG's monthly Flight Review and based on the 2693 flights operated by the airline, Caribbean Airlines on-time performance for May was 85.6%, placing Caribbean Airlines, in the top 10 percentile worldwide.
OAG's definition of on-time performance is a flight that arrives or departs within 14 minutes and 59 seconds (under 15 minutes) of its scheduled arrival/ departure time.
OAG leverages the world's largest network of air travel data to provide accurate, timely, actionable digital information and applications to the world's airlines, airports, government agencies and travel-related service companies. The company is trusted for the credibility of the information it publishes monthly and annually and is an IATA Strategic partner.
These latest statistics provided by the OAG, show a marked improvement in Caribbean Airlines' OTP globally.
Caribbean Airlines operates more than 600 weekly flights to 20 destinations in the Caribbean and North and South America.
25th May 2018
Caribbean Airlines will be the official airline for Orlando Carnival
Orlando carnival, taking place on Sunday, May 27 at the Amway Arena, Orlando. Caribbean Airlines is the new partner of Orlando Carnival Association as the official Airlines of Orlando Carnival Downtown. This is an opportunity for the airline to celebrate te culture and creativity of the caribbean.
5th March 2018
Caribbean Airlines to provide 1,220 flights to Tobago in March
Caribbean Airlines says it expects to provide a minimum of 83,648 seats on 1220 flights on the Tobago air bridge in March.
The number of passengers carried totalled 77,284 while on-time performance within 15 minutes was 87%, according to the airline.
Caribbean Airlines advised passengers on the air bridge to ensure that they hold confirmed tickets for their intended travel dates and those with confirmed bookings who do not plan to travel on the dates and times listed on their reservations, should advise the airline of their intent to not travel. The airline was called into action last month to accommodate displaced sea bridge passengers on the air bridge, in the absence of the TT Express ferry which had been out of commission.
The TT Express was expected to return to service on the weekend, Works and Transport Minister Rohan Sinanan said in Parliament on Friday. The boat – the only vessel doing duty on the TT sea bridge– was taken off the inter-island route after a rough seas bulletin, which the TT Meteorological Service has since lifted.
The boat's class certification had also expired on February 8, further complicating its ability to run. The licence verifies the boat's seaworthiness and is granted by international accreditors, the Norwegian-based DNV.
Port Authority chairman Alison Lewis told Newsday, foreign inspectors visited the boat this morning and the port is awaiting the official confirmation from Oslo that approval of the licence has been granted. The port also provided a shuttle service to ferry passengers between the Ports of Port of Spain and Scarborough and the Piarco and ANR Robinson International Airports, respectively.
Also on Friday, the National Infrastructure Development Company (NIDCO) provided an update on the delivery of the MV Galleons Passage, which is expected to service the domestic sea bridge. The statement said, having left the shipyard and cleared customs, the MV Galleons Passage left Hong Kong and was on its way to Hawaii.
The boat is expected to stop in Shanghai, China, on Tuesday to pick up fuel storage tanks, which is a requirement for the trans-Pacific and trans-Atlantic crossings. The statement said transport company, IMS, chose to obtain the tanks in Shanghai because of availability and cost. Finance Minister Colm Imbert on his Twitter account said the Galleons Passage was making good progress at 14 knots and was expected to arrive in Shanghai for refuelling on March 6. As the vessel continues its journey to TT, there is also a planned layover at the Damen Shipyard in Cuba for ten days to carry out additional works.
These additional works include: Sealing the gap between the ramp door and the hull of the vessel; installing a canopy on the vehicle deck to protect against sea spray; installing additional anchor rings for securing vehicles on the vehicle decks.
The government is expected to pay for the installing and outfitting of full canopies over the sundeck; installing and outfitting of additional male and female washroom facilities on the sundeck; installing of cafe/bar facilities on the starboard and port side of the sundeck; remodelling urinals in the men's washroom __ this entails the removal of the existing trough urinals - and the installing of fixed rains for new seating on the passenger deck, which entails replacing the bench seating with passenger contoured seats. These additions are expected to cost the government US$350,000 ($2.35 million) and Imbert has been reported as saying that the country has received value for money. The ferry was purchased for US$17.4 million.
13th January 2018
Caribbean Airlines makes triumphant flight to Cuba
Caribbean Airlines landed at Jose Marti airport in Cuba 10 minutes ahead of schedule on it's debut flight. Applause echoed through the cabin as they taxied down the runway and the plane was welcomed with sprayed water. Just after midday, the flight departed Cuba with 110 Cubans to Guyana. According to Trinidad & Tobago's Ambassador to Cuba, there is potential for a "brilliant future on these route, replete with sustainable successes for both countries".
The service will operate a twice-weekly from Trinidad and Tobago to Cuba, with connections to and from Barbados, Guyana, Grenada and other islands.
15th November 2017
Caribbean Airlines advised to cut non-profitable routes
The Trinidad and Tobago Parliament's Joint Select Committee (JSC) has recommended that Caribbean Airlines Ltd. immediately review the viability of some of its North American routes, as these have been unprofitable and resulted in an "unabated trend of declining passenger numbers and massive financial losses."
JSC chairman, independent Senator David Small, said the problem demanded urgent attention, adding that Caribbean Airlines needed to employ strategies to save such routes to prevent future financial leakages, the Trinidad Guardian reported.
Small said during 3 meetings the committee "struggled" to obtain information from Caribbean Airlines, as partial submission of information was given, adding there seemed to be a challenge with Caribbean Airlines regarding the way it managed its operations. The JSC recommended that Caribbean Airlines immediately put a freeze on any salary increases until such time as its operation was sustainably profitable.
30th October 2017
CAL passengers advised of airline security measures
Caribbean Airlines is advising of more stringent security measures for all Trinidad and Tobago passengers travelling to the US. In a statement, the airline said that the US Department of Homeland Security (DHS) now requires additional security measures for all international flights to the United States.
These measures may include: increased screening of travellers; questioning of some or all travellers and heightened screening of electronic devices larger than a standard smartphone. Travellers should be prepared to remove these devices from their cases for inspection.
For international flights, the Transportation Security Administration (TSA) recommends arriving at the airport at least 3 hours before one's flight, allowing time for the additional security measures.
10th October 2017
Caribbean Airlines appoints new CEO
Caribbean Airlines on Tuesday announced the appointment of Garvin Medera as its new chief executive officer with immediate effect. "He is looking forward to leading the transformation that Caribbean Airlines must embrace if the company is to meet the challenges of the fiercely competitive airline industry," according to a Caribbean Airlines statement.
Medera, a former chief executive officer of the telecommunications company, DIGICEL PLAY, has served in several key leadership positions at the telecommunications company including chief operating officer, and chief technical officer, managing the company's full operational portfolio.
9th October 2017
Air service returning to the Caribbean, but slowly
Commercial air service resumed on a limited basis last week at airports on St. Croix and Tortola, and they are set to resume Oct. 10 in St. Maarten. But while it's encouraging that those locations have joined airports on St. Thomas and in the Puerto Rican cities of San Juan and Aguadilla, which had already reopened in the wake of the September hurricanes Irma and Maria, U.S. carriers expect service reductions and cuts to linger for months to come.
United, for example, has suspended service to St. Thomas and St. Maarten, both of which were battered by Hurricane Irma, until Dec. 19 and has made its daily Newark-Aguadilla route weekly, also through Dec. 19. JetBlue has suspended weekly Boston-St. Maarten service through the winter and spring season and, at least until Jan. 1, will operate New York JFK-St. Maarten twice a week instead of daily. The carrier has also suspended its three weekly Boston-St. Thomas flights through Jan. 3. Similarly, Spirit has canceled its weekly St. Maarten service from Fort Lauderdale until at least February and, due to airport conditions, will fly just twice per week from Fort Lauderdale to St. Thomas instead of daily for the "foreseeable future."
American has taken a more cautious approach to scheduling, having thus far only made service reductions to St. Croix, St. Martin, St. Thomas and Turks and Caicos through November. Southwest said it is taking a wait-and-see approach to its winter Caribbean schedule. The carrier said it will launch Turks and Caicos service on Nov. 5 as planned. Delta, which offers service to San Juan, Turks and Caicos, St. Thomas, St. Maarten and St. Croix among other Caribbean destinations, did not respond to an inquiry about schedule changes.
Airlines last week were reluctant to discuss how the lingering impacts of Irma and Maria, both in terms of actual damages and as a result of perception, could affect revenue and Caribbean travel through the coming winter and spring. Southwest, though, did say in a Sept. 27 Securities and Exchange Commission (SEC) filing that it expects a $100 million impact from natural disasters during the third quarter, and Delta reported last week that Irma would cost the company an estimated $120 million. At a media briefing in late September, American, which has the largest presence among the four major U.S. airlines (American, Delta, United and Southwest) in the Caribbean as well as in San Juan, declined to estimate how much the storms would cost.
Airline industry analyst Bob Mann of R.W. Mann and Co. said that although numerous Caribbean destinations were spared the wrath of Irma and Maria, the storms could nevertheless depress demand throughout the region this winter. "We, as a nation looking for leisure travel, don't discriminate well between destinations in the same regions," he said. "Unless you are terribly cognizant of the distinctions of what actually occurred, it would be hard to assume that demand wouldn't be pretty seriously impacted."
As a proportion of their operations, JetBlue would likely be the airline most impacted by a broad slump in the Caribbean market this winter. JetBlue competes with American for the largest Caribbean operation of any U.S. airline, offering 207 flights in and out of the region on an average day, about 20% of its total flights. Thirty of JetBlue's 101 destinations are in the Caribbean, and it offers the most flights of any carrier to San Juan. Meanwhile, 11 of the 59 destinations to which Spirit flies are in the Caribbean, though the carrier said last week that the region accounts for just 3.7% of its capacity.
Spirit cited a reduced number of lodging options as a reason for cutting back on Caribbean service. "We will continue to assess regularly and resume full service as infrastructure and demand allow," the carrier said. Find out more about how storms and hurricanes affect air travel with our page on flying through thunderstorms and hurricanes.
5th October 2017
SAA agrees to hire recovery expert
State airline in talks to appoint UK's Peter Davies to help with restructuring. SAA says it is finalising steps that will lead to the appointment of a chief restructuring officer. South African Airways has agreed to hire a restructuring expert to help turn around the state-owned airline and meet conditions laid down by lenders to roll over debt, according to two people familiar with the matter.
Incoming chief executive officer Vuyani Jarana met with British industry veteran Peter Davies last month and he agreed to help try to return SAA to profit, said the people, who asked not to be identified as the plans are private. Davies is a former CEO of European airlines including Air Malta and Brussels Airlines and currently runs London-based consultancy Airline Management Group.
"We are finalising steps that will lead to the appointment of a chief restructuring officer," SAA spokesman Tlali Tlali said in emailed comments. "No announcement on the identity of the candidate can be made before we attend and resolve the outstanding issues."
Davies didn't immediately respond to a phone call and email seeking comment. The appointment of a strong management team is one of several conditions lenders have laid down to extend talks on loan repayments beyond Finance Minister Malusi Gigaba's mid-term budget update in October, the people said. One of those was a payment of R700 million ($51.5 million) to Citigroup as part of R1.8 billion of debt due to the US bank by the end of September, which was released by the National Treasury along with funds for working capital on Friday. Treasury confirmed the payment of R700 million to Citigroup and directed further questions to SAA.
Debt negotiations
A group of South African lenders led by Nedbank Group — and including FirstRand, Standard Bank Group, Barclays Africa Group and Investec Plc — are prepared to negotiate a refinancing of debt through March 2019, the people said. In his mid-term budget update, Gigaba is expected to announce proposals intended to make SAA break even by about that date, including details of a recapitalisation plan, they said. Nedbank, which is leading the talks, doesn't provide details of its banking relationships with its clients, a spokesman said in an emailed response to questions.
SAA is one of several South African state-owned companies in need of urgent funding and the government has said it needs a fresh management approach to stay in operation. The carrier hasn't made a profit since 2011 and has been surviving off debt backed by state guarantees. Jarana will become the company's first permanent CEO since 2015 when he joins from wireless carrier Vodacom Group on November 1. The Treasury has considered selling part or all of its R12 billion stake in phone company Telkom to help finance a bailout.
Cutting routes
SAA said last week it would reduce flights to the South African cities of Port Elizabeth and East London as part of its turnaround plan. The carrier will also scale back routes to Luanda, the capital of Angola, and Kinshasa in the Democratic Republic of Congo.
The airline is also working toward repatriating as much as $1 billion from Angola, Zimbabwe and Nigeria to help strengthen the balance sheet, according to the people. Money is trapped in those countries after exports collapsed leading to a shortage of hard currency.
Jarana brings private-sector experience from his time at Vodacom and Davies has been identified due to his aviation expertise, one of the people said.
Davies took over Air Malta when it was making an annual loss of 70 million euros ($82 million) and made the airline profitable, according to his LinkedIn page. He also started Caribbean Airlines in Trinidad and Tobago and made that carrier profitable as well.
SAA has had seven permanent or temporary CEOs since 2010. Chairwoman Duduzile Myeni, a former schoolteacher who also heads President Jacob Zuma's charitable foundation, has been on the airline's board since 2009 and acted as the board's chair until her permanent appointment in 2015. Her contract was renewed for a year in September 2016.
3rd October 2017
Mandatory regulations coming for accommodation providers
Hoteliers will soon be forced to adhere to specific standards when it comes to the accommodations they are offering to the public. Speaking at an appreciation function for stakeholders on Friday night, Minister of Tourism Shamfa Cudjoe said mandatory regulations are coming. She said the regulatory framework is being set up and noted that while the Trinidad and Tobago Industry Certification Programme is currently voluntary, it will soon be mandatory.
She noted that there are stakeholders who are very vocal against the setting up of a regulatory authority but vowed that she intends to make the sector better than she met it. "We cannot for one moment believe that in 2017 that we can stand up next to a Bahamas, Barbados or Jamaica without having mandatory standards to guide the industry. If we are serious about tourism and growing and having proper quality of our products we have to get on board," she said.
Speaking to Loop following her speech, Cudjoe said Trinidad and Tobago is the only destination in the region that does not have mandatory standards. "If you are in this business, whether or not you are getting assistance from the Government, what you do affects our profile and our reputation as a destination. If a tourist comes and spends time at your establishment and they get bad service or it wasn't cleaned for a couple days it leaves a bad reputation not just for your business, nut your community, the tourism sector and Trinidad and Tobago.
She said the implementation of the regulations are still being discussed particularly as it pertains to fines and certification marks for approved properties. Asked if the regulations will also apply to Airbnb properties, the Minister said they have to work with agencies such as those. "Let's look at Tobago for instance. Caribbean Airlines continues to move up to 17,000 people per weekend back and forth between Trinidad and Tobago but you hear hoteliers complaining they have no occupancy. If we are moving all these people then where are they staying? If they are not staying by you they staying somewhere else, they are using Air BnB, they are using Home Away, and they are using people who are offering the same services that not registered with the association and that gives us an opportunity to look at the wide variety of products we offer.
"Our research has to extend beyond the association and hoteliers need to check themselves to figure out why are they not staying with me, what am I doing or not doing and what can the association do to help members improve their profile and capacity," she said.
September 2017
Caribbean Airlines offering fee waivers for Irma-affected travellers
Caribbean Airlines is now operating flights to Tortola and Antigua to evacuate people from the islands ravaged by Hurricane Irma. "The airlines extend our deepest concern and empathy to those affected by the hurricanes in the region," the airline said in a release today.
Caribbean Airlines said it will operate another relief flight tomorrow, September 16, from Port-of-Spain to St Maarten departing at 7:00 am. The flight will leave St Maarten for Kingston at 9:35 am with Jamaicans and other CARICOM nationals who have been affected by the hurricane, the Caribbean Airlines release said. The aircraft will then depart Kingston at 11:15 am (Jamaica time) to St Maarten with supplies from Jamaica.
September 2017
Caribbean Airlines offering fee waivers for Irma-affected travellers
Caribbean Airlines is now offering rebooking fee waivers to travelers whose plans have been affected by Hurricane Irma. Travelers who have confirmed tickets for the period between Sept. 5 and Oct. 31 can now rebook without change fees. The carrier is also offering full refunds on fares paid for travel up to Oct. 31. The waivers apply to travel to or from Miami, Orlando, Fort Lauderdale, Antigua, St Maarten and Nassau.
September 2017
Caribbean Airlines announces changes to its schedule to Hurrican Irma
As Hurricane Irma is expected to make its landfall in the United States this weekend, Caribbean Airlines has cancelled a dozen flights directly affected. All flights in and out of Kingston and Montego Bay, Jamaica; Nassau, Bahama; Fort Lauderdale, Miami and Orlando in Florida on September 10 (Sunday) were cancelled.
Passengers have been advised to contact its reservation offices for rebooking on the next available service. Affected customers travelling on September 10, 2017 will be permitted to change or cancel their reservations without penalty subject to the following conditions: Passengers must have a confirmed ticket issued before September 10, 2017; Passengers who choose to have their tickets refunded, must do so by September 17, 2017; Passengers who choose to change their reservations, must complete their travel by September 17, 2017, unless travel on the original booking was after this date.
19th July 2017
Caribbean Airlines flights affected by Tropical Storm Don for 18th and 19th July
Caribbean Airlines advises that due to Tropical Storm Don and the consequent closure of the Maurice Bishop International Airport, Grenada, the following flights for today, Tuesday 18 July and tomorrow, Wednesday 19 July are cancelled. These flights affected were BW 448, B4 449, BW 415 BW 438 and BW 439.
10th July 2017
Caribbean Airlines now offers flights between St Vincent and Trinidad 5 x Weekly
This is up from the 2 x Weekly flights it had initially been operating when it became one of the first airlines to offer non-stop flights to the newly opened Argyle International Airport in April. It added the Thursday, Saturday and Monday flights last week, supplementing the original Sunday and Friday service. The airline said the expansion in service will improve the frequency with which passengers can connect seamlessly to other international and regional destinations. The Trinidad and Tobago-based carrier is celebrating its 10th anniversary this year and promised that "valued customers can look forward to more exciting developments and new destinations as the year progresses".
July 2017
Caribbean Airlines new flights between St. Vincent and Trinidad and Tobago
Caribbean Airlines announced it was now offering flights between St Vincent and Trinidad five times per week, up from the two weekly flights it had initially been operating when it became one of the first airlines to offer non-stop flights to the newly opened Argyle International Airport in April. It added the Thursday, Saturday and Monday flights last week, supplementing the original Sunday and Friday service. Caribbean Airlines announced that the expansion in service will improve the frequency with which passengers can connect seamlessly to other international and regional destinations.
April 2017
Caribbean Airlines now offers twice-weekly flights between St Vincent and Trinidad
Caribbean Airlines announced it was to introduce a twice-weekly service to the new Argyle International Airport in St Vincent and the Grenadines. The flights, which started on April 14, operate every Friday and Sunday.
The carrier is one of the first airlines to offer non-stop flights to the new airport, which serves as an international gateway to the Grenadine islands. The flights will operate twice weekly, every Friday and Sunday between Trinidad and Tobago and St Vincent and the Grenadines. Caribbean Airlines is one of the first airlines to offer non-stop flights to the new airport, which also serves as an international gateway to the beautiful Grenadine Islands. Customers will also benefit from seamless connections between St Vincent and the Grenadines and Caribbean Airlines' other international and regional destinations.
February 2016
Caribbean Airlines has successfully completed the upgrade of its reservations and Airport check-in systems to Amadeus
In 2010, 2011 and 2015 Caribbean Airlines won the 'Caribbean's Leading Airlines' - at the World Travel Awards. Caribbean also has many partners with different levels of involvement in the Caribbean Airlines, partners include RBC Royal Bank, Hertz and Massy Stores.
In March 2017, Caribbean Airlines announced that due to scheduled maintenance work being conducted on the airport runway by the Airport Authority of Trinidad & Tobago (AATT), the Piarco International Airport will be closed overnight between March 12 and 19. As a result of the airport closure, several Caribbean Airlines flights will be affected during this period, according to the airline's advisory. Any passengers affected by possible cancellations will be re-accommodated on other services.
January 2016
Caribbean Airlines consider change of fleet
Management considered replacing Caribbean Airlines fleet of ATR aircraft with the comparable Q400 turboprops sourced from Bombardier. In addition, the Caribbean Miles loyalty programme featured a seamless transfer of Miles from the BWIA West Indies Airways Frequent Flyer Miles programme. An initial base of 128,734 recorded Caribbean Miles members had risen to 136,789 members by the end of June 2007, a clear testament to our growing loyalty base.
Book Flights with Caribbean Airlines
Make a Caribbean Airlines reservation and find some amazing deals with discounted Caribbean Airlines tickets at Alternative Airlines. Caribbean Airlines flies to many destinations, offering a cost effective and safe service to all its passengers. Let Alternative Airlines help find you cheap Caribbean Airlines tickets and make reservations on Caribbean Airlines today.
Browse the most popular Caribbean Airlines flight routes to destinations within the Caribbean regions. Alternative Airlines can help you make reservations on Caribbean Airlines. Use the following list of routes to help you plan your next flight. Caribbean Airlines flights on Alternative Airlines to save big! Alternative Airlines is an online travel agency, specialising in booking lesser known airlines and remote destinations.
---
About Alternative Airlines
Alternative Airlines is an online flight search complete with customer service specialising in booking flights on lesser known airlines and to remote destinations. We offer you a wider choice of airlines supported by a team of customer service and travel specialists for help and advice on your travel plans. We specialise in finding the best available fares on the widest range of airlines and making them available to you online, with prices in the currency of your choice.
Alternative Airlines handles all your travel arrangements and payments, complete with ticketed confirmation. We do not direct you to other websites or service providers. We help you through the process. This is what makes us Alternative Airlines.Check out our reviews: Alternative Airlines - Feefo Reviews
Browse for flights, find some amazing deals, make a reservation and pay in the currency of your choice today with Alternative Airlines. Let Alternative Airlines help find you the best prices and make international and domestic flight reservations with us today.
---